The inaugural Motorcycle Spectacular in Melbourne on March 9 is expected to attract more than 100 custom motorcycles and over 1000 spectators.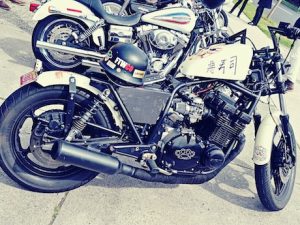 It's being run by the Classic and Custom Japanese Motorcycle Club and president Peter Sheringham says they hope to break even in their first year and make it the first of many. "We have already received some interesting entries of home-built bikes (such as there BMW and Suzuki pictured here) and we are expecting a Castrol 6 Hour replica from Motorcycling Australia and a special Triumph T120 from Triumph Australia," Peter says.
The family-oriented Spectacular will be held at the Austrian Club, 76-90 Sheehan Rd, Heidelberg West, from 9am to 6pm with a live band, stunt show, portable dyno and "loads of categories and great prizes". Click here to enter your bike.
If you have any community motorcycle events you would like to publicise, please email me at mark@webbikeworld.com.