Cuba is a mystery wrapped in an enigma – inside a time warp – that you have to see and ride now before its next revolution under the economic reforms of Raul Castro and the thawing of relations with the USA.
But good luck hiring a motorcycle!
About nine months before arriving, I contacted the Motorcycle Diaries travel company established by Ernesto Guevera, son of the legendary revolutionary, Che.
Unfortunately, they didn't have a tour at the time we needed, so I asked if I could hire a bike and possibly interview Ernesto.
Their PR agent told me she would have to pass my request through relevant government channels.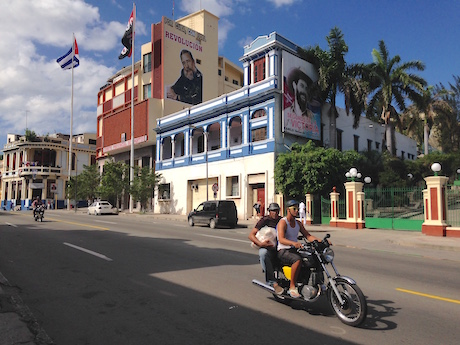 Months passed and finally I was told there would be no interview and I could only hire a Panhead Harley if I also hired another person to ride a second bike, plus two more people following in a support van.
Then I contacted Zander Combe from Extreme Bike Tours after I had published a story about his intentions to start motorcycle tours in Cuba.
He hadn't secured bikes yet and had to postpone the tours to start in 2017 because of a health issue. He also couldn't help with bike hire for me, but courteously assisted to plan our trip and book hotels; a frustrating task with confirmations only arriving days before we did.
Meanwhile, I heard that experienced world motorcycle travellers Mike and Denise Ferris from Ferris Wheels Motorcycle Safaris (to be known as World on Wheels from January 2016) would be coming to Cuba after their Tacos 'n' Tequila Tour through Mexico, Guatemala and Belize.
We were with them on the tour and said we would catch up with them in Cuba. Little did we know we would have so much trouble getting internet and a phone SIM card. In fact, the internet/phone company refused to sell us one saying they had "run out" and internet has been poor everywhere we have been!
Mike and Denise had planned to hire bikes and investigate the country for a possible future tour, but ran into the same problems we had, so they hoped to do it by hire car.
We also had to opt for a VW Passat hire car which we organised directly with a Cuban rental company as no Australian travel agent was able to make the arrangements.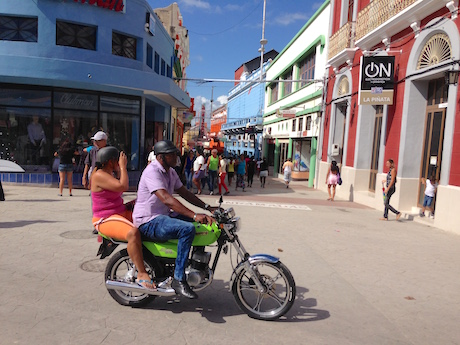 By now you are starting to get the picture of the level of frustration in doing business with Cuba.
Once you arrive, the frustration grows even stronger. Be prepared to be scammed, hassled, delayed, confused, lost and bewildered, yet beguiled.
Cuba is on the brink of another revolution – into a pseudo-capitalistic country!
And already the greedy English-speaking touts are hot on the trail of the Yankee dollar in this quick-fix tourist-based economy.
Just to confound you more, there are two currencies here. The convertible or cuc is used by tourists and the Cuban peso is used by the locals.'When you buy a product such as fuel, there will be prices listed in both. You will pay the tourist price! For example, "especial" fuel (PULP) is 130cuc per litre for tourists while the locals pay the equivalent of 89cuc.
They know to charge you as a tourist because you stand out in your modern Euro hire car.
There are also modern Chinese Geely or MG, or Korean hatchbacks available, but don't hire a 1940/50s American car to "fit in" as they will still know you're a tourist, it will cost a fortune and it is likely to break down.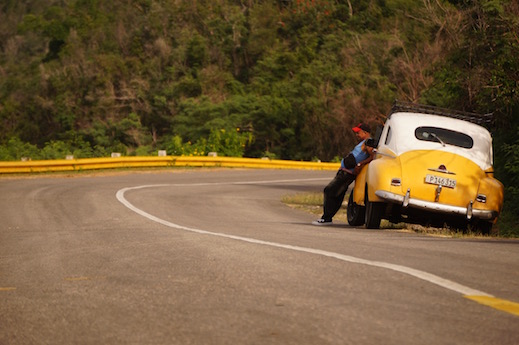 There are some bike hire places, but mostly they are scooters for getting around town only.
All the hassles are worth it for the captivating raw beauty of the grimy, untouched Spanish-era towns, the exotic jungle scenery, endless winding mountain and beach roads, and the raucous sounds and aromas (mostly low-octane gasolina and two-stroke!) of this Caribbean jewel.
Most of the country is flat, but there are a few ranges to the south and east that provide challenging roads. You will also be entertained by the beach roads that snake around the many pirate-sheltering coves.
The narrow country is connected by the spinal-cord, concrete Nacional Highway which for about 350km is six lanes wide with gaping potholes on odd occasions and police ready to pounce if you exceed 100km/h. It was designed so the army could quickly deploy from one end of the country to the other and planes could land on it.
The lesser highway system is a contrast of narrow, sometimes smooth, sometimes bouncy, sometimes potholed tarmac and crumbling concrete.
Meanwhile, the back roads are a real challenge of surface conditions; horse and cart traffic; smoke-belching buses and trucks; cyclists; stray pigs, goats and cattle; 1940s Yank Tanks; and old Russian and Eastern Bloc cars (mainly Ladas), bikes (MZ and Jawa) and sidecars (Ural) peddling as hard as they can at 80km/h.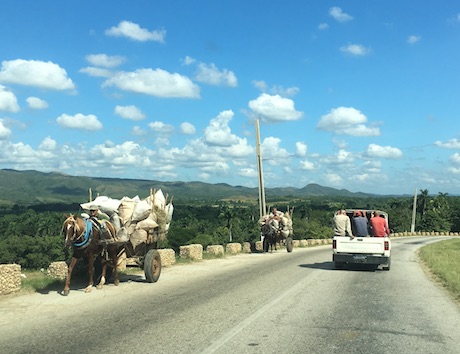 They can be easy and difficult to pass, depending on the conditions, but it keeps you on your toes the whole time. But don't stray off the side of the road as the tarmac drops several inches off a sharp edge that will shred your tyres. If that doesn't, the potholes or shrapnel on the road will.
We did. In fact, we blew two tyres at once on a stray piece of wire on the road.
That turned into quite an episode, which Mrs MBW tells us all about in her most amusing manner.
There is a distinct lack of street and city signage, confusing street designs, paper maps that bear little resemblance to the actual streets (the best maps are from www.excelencias.com) and if you stop to ask directions, the locals will beg for a lift and payment to help.
In fact, just getting out of Havana on the A1 Nacional Highway was a chore. We managed to find the tunnel out of town, then we were waved over by a guy in a faded uniform on the pretext of warning us about a bike race ahead (which failed to materialise).
He engaged us in conversation and asked where we were from and going. There followed a tale of confusing roads and the suggestion that we take him – for a price – to show us the way.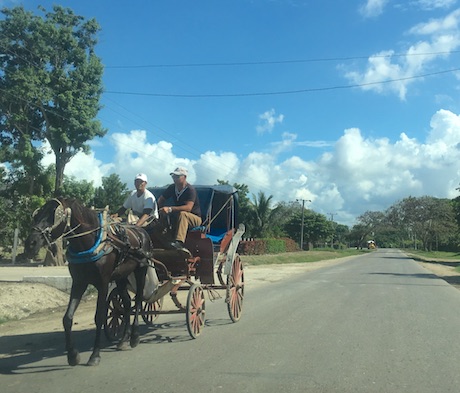 We refused but followed his directions which sent us back toward Havana. In the end, we followed our noses and iPhone compass which made it quite easy, even without relevant signs.
And that's been our experience throughout this wretchedly aggravating country: get lost, get scammed, keep your wits about you, follow your nose and you will be rewarded with a beautiful, challenging ride that can end at an exotic beach, mountain or city location where the beer and mojitos are cheap, cheap, cheap.