Cortech vs. Carhartt Jeans Review
Two pair enter, one pair leaves. Which will it be?
We all want to be as comfortable as we can be when riding our motorcycles.
And now with the weather warming up — here in the Northern Hemisphere anyway — the urge to quickly throw on a pair of blues and get out on the road just gets stronger and stronger.
A full face helmet, sturdy riding gloves (yes, with fingertips intact), a quality, protective jacket, and motorcycle boots are always in place when I'm riding.
Pants, however, don't always get the best of consideration as the temperatures rise.
Textile and/or leather pants are fine in the cooler months and can be quite comfortable up to certain temperatures, but once it starts getting over 80 F, they can become uncomfortable.
Add slow-moving traffic to those temperatures and it can get downright miserable.
While it's easy to open the zip on a jacket for more ventilation while riding or waiting at a traffic light, doing the same to a pair of pants is generally frowned upon in public.
Even the best perforated leathers or textile pants with zippered vents aren't going to do much good if you're not moving.
Riding jeans are certainly one of the most popular choices for many when the temperatures climb.
This review will pit a pair of riding jeans from an established motorcycle apparel manufacturer against a pair of dungarees from a name synonymous with durable working clothes. Is one truly better than the other?  You'll have to read on to find out, so let the slugfest begin.
Let's meet the contestants: In the tan corner, weighing in with 12 oz., 100% ring-spun cotton are the Carhartt Men's Double-Front Work Dungarees. These are popular pants for those who work outdoors in landscaping, construction, or other occupations where utility and durability of clothing is paramount.
This particular style of Carhartt pants is the B136, which is pre-washed and has an extra layer of material that covers the front of each leg, from just below the front pockets to about mid-shin. This extra material is one of the features that make these not-designed-for-motorcycling pants interesting to motorcyclists. We'll get into those other features a bit later on — but first, let's meet the other player…
In the blue corner, weighing with a full 13.5 oz. denim construction are the Cortech DSX Denim pants. Unlike the Carhartt dungarees, the Cortech DSX pants are designed specifically for motorcyclists.
The Cortech DSX pants may look like regular "riding" jeans, but they do not include Kevlar, nor do they have steel in the threads. Instead, Cortech took the approach of using very heavy denim and adding leather on the inside of the pants in certain areas.
Additionally, these pants have CE-rated armor in the knees. Both pairs of these motorcycle riding jeans have interesting and unique features, so let's start the rumble. Since the Cortech DSX pants lost the coin toss, we'll look at them first.
Carhartt Double-Front Dungarees
Fit and Comfort
"They call me the working man"
Carhartt makes a size for just about everyone. No small, medium or large here — they have many different sizing options; more than I have seen on most off-the-rack pants, motorcycling or otherwise. They also have multiple lengths for each waist size and they even offer intermediate waist sizes, such as 31, 33, and 35 inch.
The point is that if you can't find a Carhartt size that fits you well, you're most likely not trying hard enough. I found that the sizing runs true in the pre-washed versions shown here and breaking out the tape measure confirms that they know how to count.
The cotton duck material isn't as soft as your average denim, but it isn't uncomfortable either. The material itself feels very tough and it's a little stiff.
The Carhartt Dungarees have been worn on the bike to work, sat on all day at the office, ridden back home, and then worn out for the evening and they are as unnoticeable as any other pair of jeans or khakis I've worn. These particular Carhartt pants are available in 6 different colors, including the tan shade shown in the photos.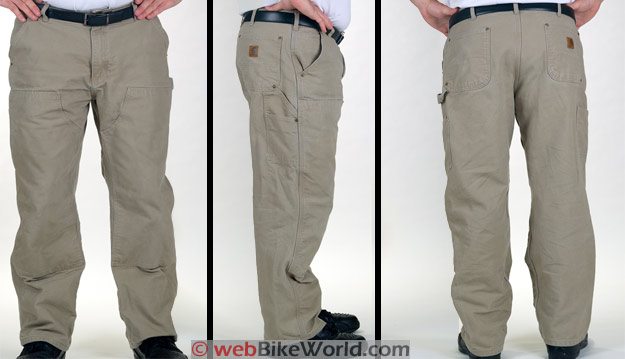 I've made a 200-mile trip in mild to very cool weather and recently rode in 80-degree temperatures in these pants, and so far they're proving to be rather versatile and comfortable. They are by no means warm in the cold weather, but the double knees do seem to help prevent the front of my legs from getting chilled.
The large leg openings, however, can let some air up inside, because the leg cuffs sit right at the top of my Alpinestars recon boots when I'm in the riding position. A longer pair may not have this problem. In this case, the pants were ordered in my normal jean size instead of adding a couple of inches for the normal riding position.
Speaking of boots, it should be noted that the Carhartt pants have a 19″ circumference opening at the end of the leg that should easily accommodate most any motorcycling boots. They also leave enough room for additional armor to be worn underneath, which we'll look at later.
The only fit issue I noticed about these pants is that they run a bit low in the waist. I would not classify them as low-rise by any means, but they do sit lower than my other jeans. In everyday wearing this poses no problem, but leaned over the average sport bike tank they tend to drift down bit lower than one may prefer; touring and cruiser riders will probably not run into this issue.
Durability / Protection
The Carhartt pants don't offer much in the way of impact protection over your regular pair of jeans without making some additions (see below). The ring-spun cotton duck material, however, should stand up to abrasion longer than the average weight denim and the double front is obviously even better still.
Without having crash tested them I can't verify how well they will stand up, but while the double fabric makes the front indeed more durable, I don't seem to recall a lot of crashes where I or others have slid on their front side. I'm sure it happens, but not very often.
The only extra protection you'll receive in the seat area is if you happen to slide on one of the rear pockets, but who knows — the material seems very tough there also.
When it comes to durability, the ring-spun cotton material isn't the only factor. The Carhartt pants definitely deliver in build quality as well. All the major seams are triple-stitched and a heavy-duty YKK zipper secures everything up front.
Another interesting fact I learned from the manufacturer's website and confirmed upon inspection is that pockets are sewn on to the pants and then turned inside out and sewn again for durability. This feature may not sound that interesting, but it is worth mentioning in this particular comparison, as we'll see.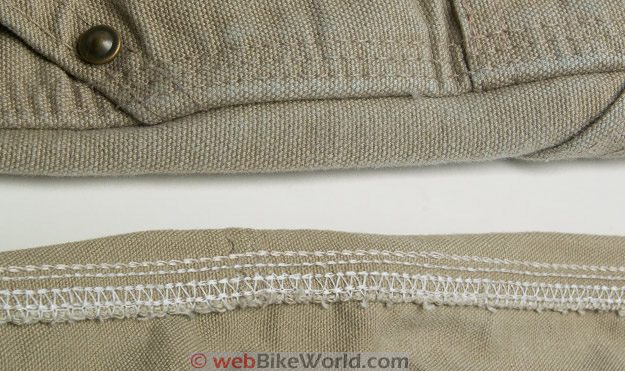 While there is no impact protection built into the Carhartt pants, there is an opening in the double front knee area called a "cleanout bottom". The opening is rather small, but I understand that some people have managed to get armor from jackets or other pants up through the hole for additional knee protection.
Elbow armor from two different jackets did not seem happy about being forced through the opening and I was concerned I would tear the threads; perhaps my armor isn't as pliable — your mileage may vary.
The good news is that the generous cut of the lower part of the leg allows for one to easily wear armor like the motocross-style Icon knee/shin guards (review) or Bohn body armor (review)underneath.
Either option would be preferable to inserting armor sections in the double front knee area because the dungaree fit is loose enough for installed armor to move around in the front and this would most likely not keep the armor in place in the event of a crash.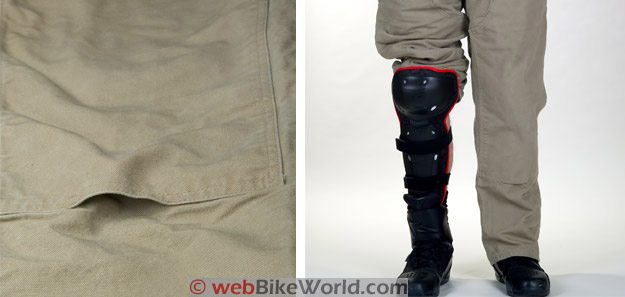 Conclusion and "Nits" – Carhartt Double-Front Dungarees
One nit I have to pick is with the rivets on the front of the pants. There is a potential for the rivets used on the top of the double front area (see photo) to come in contact with the fuel tank and possibly damage the paint.
Even if the rivets don't contact a painted surface when the rider is seated, they could touch the paint as a leg is thrown over the bike. One might find it best to either remove the offending rivets from areas of possible contact or somehow coat them with a rubberized finish.
In the final analysis, the rivets can't really be considered a mark against the Carhartt dungarees in general, as they were not designed specifically for motorcyclists.
What we do have in the end is a comfortable, durable pair of pants that are designed to take a lot of abuse. And by adding some armor, the pants also provide a measure of safety that might be a cut above the average pair of blue jeans. The Carhartt pants also look enough like regular khaki pants that they can be worn to work in an office setting without attracting too much notice.
This makes them an excellent choice for commuters who'd rather not have to change clothes when they get to work. Finally, the value is not to be overlooked; ordering direct from the Carhartt website, these pants sell for $50.00 and I feel confident saying they will outlast most any regular jean that cost twice as much.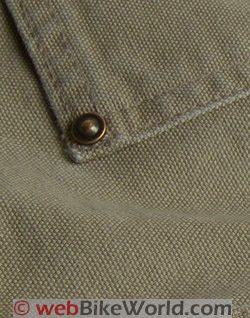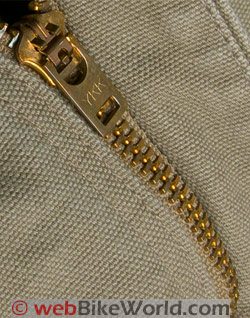 Watch out for these rivets. Some of them could come in contact with your tank (L). YKK Brass zipper (R).
Cortech DSX Motorcycle Jeans
Fit & Comfort
"If I ever get back my blue jeans."
The Cortech DSX Denim Pants are available in standard even waist sizes from 30″ to 44″ in two inch increments. Each size has three lengths available, so it should be easy to find a size combination that fits.
The DSX Denim Pants are definitely cut in a relaxed fit and may actually be too loose for some riders. The Cortech and Tourmaster products I've worn tend to run a bit generous in the sizing, and the DSX Denim Pants are no exception. My 38×30″ pants size felt a bit large and the measuring tape bears this out at a solid 39″ for the waist.
The inseam, however, is true at 30″. This minor oversize does help if you plan on wearing these over thermal underwear or similar garments in the winter.
The denim in the DSX Denim Pants is very soft and as comfortable as any other jeans I have worn. However, when you pick them up, you will certainly not mistake them for a pair of Wranglers. The DSX Denim Pants are heavy compared to regular jeans, even with the standard knee armor removed.
This is not a bad thing, as you want some heavy material between your skin and the street and when riding this is not a problem.  When not riding though, and if you are on the smaller side of a size, that extra weight does make them want to "creep" down a bit as you walk around.
Like most jeans, the Cortech DSX Denim Pants breathe rather well and are comfortable in mild to warm weather. The legs of the DSX Denim Pants are slightly tapered, which provides a couple of inches less room for wide boots or knee pads.
I can just get these on over my Alpinestars Reflex knee/shin guards but it's pretty tight, unlike the Carharrt pants which provide ample room. Most touring or cruising boots should work fine with the provided opening of 16 inches.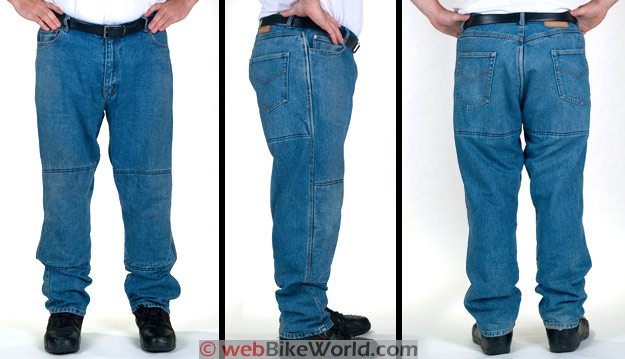 Durability / Protection
The Cortech DSX Denim Pants are designed specifically for the motorcyclist and have protection designed for riding use.
Starting from the top, the hips are internally lined with perforated Brazilian leather and this leather is covered with a perforated mesh to make it more comfortable against the skin. This will no doubt provide extra abrasion resistance which is much needed since denim tends to disappear quickly against the asphalt.
Other than leather and the heavy denim, there is no additional protection in the hip area nor are there provisions for inserting armor there for impact protection.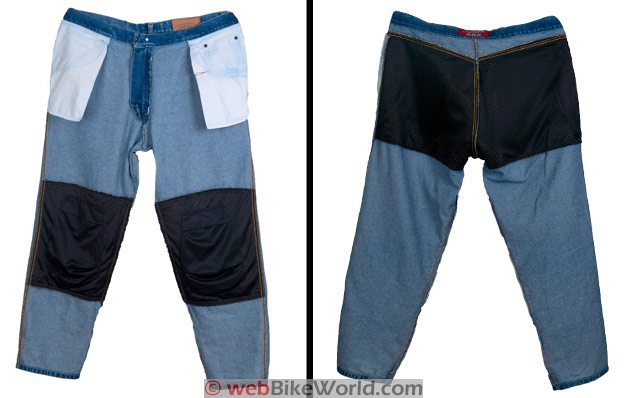 Now the knees are a little different; you can see from the outside that there is a panel sewn into the knee area and inside you will find more of the mesh covered leather just like in the hip area.
The bonus here is that Cortech has put a pocket for CE armor (included) here for impact protection. The armor fits well in the pockets but unfortunately they are not adjustable for height.
The result is that it may or not be the correct height for all owners. These pants tend to sit a bit low on my legs, though not terribly so.
The real downside though comes from the relaxed fit of the Cortech DSX Denim Pants. Once the armor is in place, the loose fit allows for the pants to twist, along with the armor in them, more than enough to slide the armor off to the side of the knee.
For riders with thick legs — make that very thick legs — this might not be an issue, but I am not a string bean myself and as you can see in the photos, I can easily move the knee armor off my knee.
My feeling is that Cortech made a good effort in providing armor in riding jeans at all, which seems to be somewhat of a rarity. The fact that loose armor can about as helpful as no armor at all though, makes me consider the real value of it in the case of the DSX Denim Pants.
I think if one goes with separate knee/shin guards as described earlier and combines them with these pants, you might end up with a much more protective, yet still comfortable and stylish solution for motorcycle riding.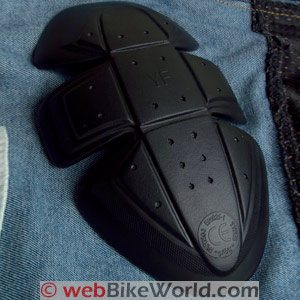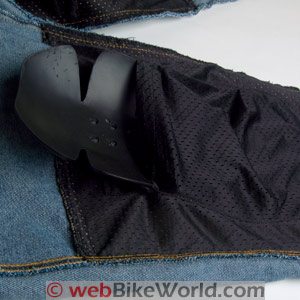 CE approved armor in the knees (L). Inserting the armor in the knee pockets (R).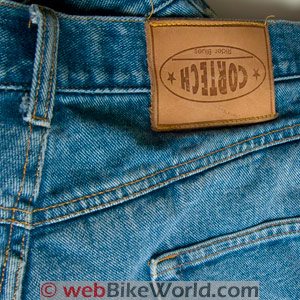 Closeup of the mesh and leather (L). Nope, not edited. The label came this way (R).
Conclusion and "Nits" – Cortech DSX Motorcycle Jeans
The only nit I have to pick with the DSX Denim Pants is the fact that the front right pocket has become torn inside. This occurred during the first three months of ownership and to this day (about two years now) I still forget to not put my keys in that pocket as they end up immediately on the floor next to my foot.
This is the only quality issue I have experienced. After owning them for more than two years now, the pants still look and feel good, so I let the pocket issue go — that is, until I read about and observed the construction of the Carhartt pants.
So we have a good effort from Cortech here overall. Most people that have seen them had no idea that the DSX pants are motorcycle-specific jeans, and some even commented that they like the cut of the jeans in general.
These jeans are also comfortable — assuming you like a very loose fit — and they even come in three colors, including black and a "classic" blue that has a lighter shade than the standard blue shown in the photos.
Additionally, unlike the Carhartt pants, there are no rivets in the Cortech DSX jeans in a location where they could scratch the fuel tank. I would prefer a little wider leg opening for the previously mentioned knee/shin guards, but it's not a deal-breaker.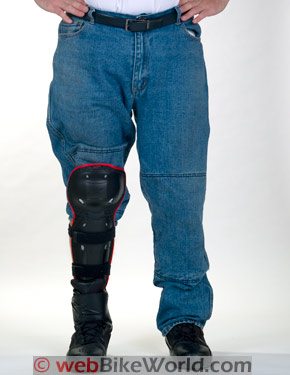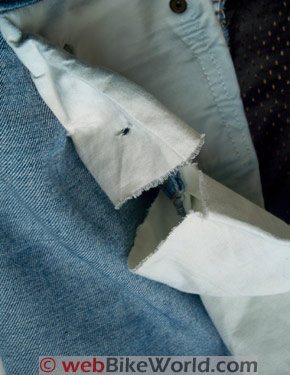 And the Winner Is..
A clear-cut winner here is hard to identify. The DSX jeans have the leather, the armor, and the pedigree. Where they disappoint is in their sizing and overall fit, not to mention the possibly faulty pocket design.
The Carhartt pants have some great features, and Carhartt's attention to detail and quality is certainly excellent. The overall fit and availability of extra sizes and colors doesn't hurt them either. For some, it will come down to whether you are a jeans or khakis kind of guy (or gal).
You cannot go wrong with either pair, really. If you work in an environment where you cannot wear jeans, the choice is clearer. If you feel more comfortable in a very relaxed fit and jeans are perfect for your destination, the Cortech DSX jeans may be for you.
But having both pants hanging in the closet for the past few months has presented me with a winner quite easily: I have worn the Carhartt pants probably 10 to 1 against the Cortech DSX Denim Pants.
The Carhartt pants fit great, they do not sag in the back like jeans do, and I can wear them at work, while riding or pretty much anywhere and they fit in. Add to that the fact that my knee/shin guards are easy to put on or remove without taking off the pants makes them the winner here for me.
Of course your "mileage" may vary so I would suggest trying both on before making a purchase.
More wBW Duluth Trading Company Fire Hose Loggers Review
w

BW

 Review: Carhartt Double-Front Work Dungarees
List Price (2009): $50.00
Colors: Moss, Gravel, Brown, Tan, Black.
Made In: Mexico (USA matls)
w

BW

 Review: Cortech DSX Denim Jeans
List Price (2009): $99.95
Note:
 For informational use only. All material and photographs are Copyright © webWorld International, LLC since 2000. All rights reserved. See the webBikeWorld® 
Site Info page
. Product specifications, features and details may change or differ from our descriptions. Always check before purchasing. Read the
Terms and Conditions
!
Owner Comments and Feedback
---
From "B.L." (4/10):  "I have been wearing the Carhartt Double Front Jeans (black duck material) for motorcycle riding for over ten years and find them to be very durable. I low-sided at 40 mph and slid on my butt about 40-50 feet; while the pocket wore through, the duck material on my backside did not. I've been wearing the replacement pants for about ten years and they still look great.
Carhartt does make some light duty foam knee pads that you roll up and insert into the small hole on the bottom of the double front, then unroll (approx. $15). While I'm sure they would provide a minimal amount of protection in a crash, I have always used them as insulation against the colder air (my knees NEVER get cold) and to protect against road debris. These have been great pants and I highly recommend them.
I've been thinking about buying the Duluth Trading Company Fire Hose (review) material double-chap logger pants or cargo pants (regular and wool lined)."
---
From "JMH" (6/09):  "Good test as always – but wanted to bring to your attention some great riding jeans I just received from Hood Jeans in the UK.
These are really good in that they have full CE armor option but it is located between the heavy denim and the knitted Aramid protection layer which very generously covers much of the inside of the jeans. This completely obviates the discomfort factor mentioned by one reviewer of the Cortech armor.
Due to varying exchange rates they are currently quite a bit more expensive than the Cortech but I can recommend both the product and the service from this family owned company. Usual disclaimers."
---
From "J.W." (5/09):  "I live in Albuquerque, where it can get pretty warm in the summer. I started wearing Darien jeans year-round with single layer silk long johns underneath. I know it sounds counterintuitive, but the combo is cooler in the summer than any jeans I've worn, probably because to some extent they keep the engine heat out. Give it a try and see what you think."
---
From "G.A.M." (5/09):  "Another great article on an important subject, comfortable yet safe riding gear. Here in Hot-lanta, staying cool while riding is important. I purchased the Fieldsheer Four Season's pants in gray, not black. They have great protection, I can wear them over shorts if I choose, and yet they breathe like I'm Gone with the Wind. And they work great up to 100 degrees.
But I think one reason we want to wear jeans while riding is being able to reach our destination and do what we went there to do without walking around looking like Robot from Lost in Space. Therefore, I looked for some protective jeans.
I purchased the Cortech jeans after a long process of checking out casual options that included more than the average amount of protection. The Cortech seemed to offer more protection than other options on the market. I ordered a pair from RideGear.com and immediately discovered that internet retailers are not created equal, and none I have done business with are the equal of New Enough.
I returned the first pair, which was my normal 31" inseam, because the armor hung well below my knee caps when I stood up in the jeans. I was not at all sure that my legs would remain bent if I had to "get off", and wondered if the knee armor would provide any protection. I hoped a shorter inseam would help, but the 29 inseam did not fix the problem.
The knee armor was still below my knee caps when standing, and even worse, the armor banged into the underside of my knee caps when I walked, which was quite annoying. Even worse than that, the thread used to affix the armor pocket was made from something abrasive (and probably abrasion resistant). I finally had my wife sew a t-shirt into the knee area inside the jeans, to avoid the abrasion. Had I not done so, it would not have been possible to wear the jeans anywhere and walk around in them.
Having adapted the jeans, they work pretty well. Some say the leather is too hot, but the t-shirt material also insulate. The knee armor will not likely be in place unless my knees are bent and I land just right, and the armor doesn't slide off the side of my knee in the loose fit legs.
The jeans are top quality, heavy material, and the leather is a good idea. The knee armor just doesn't work very well."
---
From "J.B.C." (5/09):  "Great job on the Cortech DSX Jeans vs. Carhartt Dungarees article!  I was particularly interested in this article since 95% of the time I ride I wear my leathers, but every once in a while I would like something more casual (errands, dinner, ride to work, etc.).
Many of the "riding jeans" I've looked at have good protection in the knee and seat (Kevlar, steel weave, leather, etc.), but the rest of the material in the pants is just regular denim. I have to wonder how well that will hold up if I were to contact the pavement at a decent speed.
Padded compression shorts and strap-on knee/shin armor like pictured in your article are part of my gear so that is something I am not looking for in a pant. My primary concern is abrasion protection – I want to keep my skin off the asphalt!
With that being said, I like some of the other people who have commented am also interested in Duluth's Firehose pants. From what I've read, they seem to be durable as heck, and according to Duluth's website they offer a "we dare you to wear them out guarantee", which says they'll replace them free of charge (including shipping) if they ever fray, tear, rip or give out. I'd love to see a test of these and the other "non-motorcycle" pants like the Carhartts.
Keep up the good work."
Editor's Note:  See our Duluth Trading Company Fire Hose Loggers Review. Note that it's not possible for us to evaluate and compare abrasion resistance in motorcycle clothing; thus, webBikeWorld reviews consist solely of subjective opinions. More about this on the Site Info page.
---
From "J.C." (5/09):  "Carhartt makes a 15 oz. blue denim (logger) version of the double-front jeans that should prove even more durable in a get-off than the 12 oz. version. Beyond the heavier weight material, they're pretty much identical in construction to the 12 oz. pants, rivets and all.
I'm a 40W, 30L, with way too much gut, and I really like the fit of the Carhartts, which are cut low to accommodate my Dunlop disease.
I ride a 955 Sprint ST, so there's always a concern about Plumber's cleavage, but I solved that problem by having jacket connection zippers sewn to all three pairs of my Carhartts (removing the center rear belt loop). My belt hides the zipper when I'm off the bike, and it's a simple matter to loosen the belt a smidge to access the zipper when I jacket-up for riding.
The catch is, the mating jacking needs stretch material flap (like most jackets have) on the zipper connection, "rigid" and/or high mounted jacket zippers can cause painful wedgies due to the low-cut of the Carhartts."
---
From "Bikerrandy" (5/09):  "I am really glad to see testing of riding pants that have some protection too. A couple years ago I got some GREAT riding pants on a closeout. But they weren't made for MC protection.
They (were) even American made !  They look like they were made for appliance repairs or jobs where you sometimes need knee protection. The pant is made of 65/35 cotton/poly but also have padded knees with Cordura for real protection. Also Cordura on the back pockets. I have no idea what they cost new but I only paid $11 a pair !
I've unfortunately tested the knee protection and it worked great on a slow speed get down I went thru on asphalt. My knees were unscathed but the Cordura fabric weave melted a little on impact. But the pants definitely saved my knees from any damage !  If I could I would tell the company they could sell a bunch of these style pants to MC riders I suspect for less than current leg protection pants.
Before I got these pants I was using a combination of CE padding and Kevlar in a combo strapped on my knees. Once I tested their real protection we/cotton jeans going down at an even slower speed than mentioned above…and the asphalt went thru the "Kevlar" like it was butter !!  Giving me NO knee protection at all !!  Luckily I was going slow enough that my knee only got skin abrasion. But since then I don't trust any Kevlar for real sliding protection.
Please, test some more riding pants."
---
From "M.S." (5/09):  "I have several pairs of Carhartt, and love 'em. In defense of C.C. , I also like the Fire Hose pants from Duluth, and they make a Kevlar-reinforced carpenter jean which I wear on a regular basis. You owe it to your self to give them a try. I have a sneaky feeling you'll like them too."
---
From "S.L." (5/09):  "Thanks for the review of the Carhartt and Cortech pants. I've recently had to admit to myself that regular jeans just don't cut it for riding gear anymore. I've actually thought Carhartt overalls might be a good option for cooler weather, providing yet another layer of wind protection for your chest, and more storage options (can never have enough pockets!).
P.S. Learn to use a needle and thread!  You've been walking around for two years with a hole in your pocket!"
---
From "C.C." (5/09):  "You missed one: The Duluth Trading Company Firehose Jeans. They come in a variety of sizes and colors, very comfy material with a gusseted crotch, they can be ordered fleece or wool lined, quality rivets and zippers and they easily hold up better than jeans or Carhartts.
I have been down in them in the dirt with no tearing or scuffing. I would have no problem wearing them as business casual or out to do some yard work. While I cannot vouch for their high-speed impact protection, I can say they are thicker, better stitched and are very tight nit cotton that would probably return a great result compared to the other pants in the review."
Editor's Note:  Just for the record, this article was not meant as a comprehensive survey of work jeans; it is a comparison of two different types of jeans owned by one motorcyclist.
---
From "D.M." (5/09):  "Still in search of decent hot weather protective gear, this year I have been riding in Kevlar skivvies with 5.11 tactical wear over. 5.11 pants are based on the current army field uniform, modified for police work. They are made of durable material, and have pockets for knee armor.
One version even has a rubberized material over the knee (the "SWAT" pants over at LA Police gear, they're on the web). They have about a million pockets, many of which secure with Velcro. It's easy to slip CE armor into the knee pockets.
All by themselves I doubt they are any better than jeans, but over the Kevlars they aren't terribly hot, even if you're sitting still. Being able to put the armor in a pocket instead of sticking it next to my skin is a great improvement in comfort. Might be worth a look."
---
From "L.B." (5/09):  "I'm guilty of not wearing over-pants in hot weather as well. I have a couple of pairs of Carhartt double fronts but my primary non-motorcycle specific pants for riding are now the "Firehose" pants from Duluth Trading Company. They are very heavy fabric and I think they fit me better than Carhartts. I think they make a style that will accept knee pads too."
Other WebBikeWorld Motorcycle Pants Reviews
wBW Motorcycle Pants Info