Famous seat manufacturer Corbin has introduced a new seat to soften the hard ride of the new Royal Enfield Interceptor 650.
If the mark of a successful model is the number of aftermarket accessory companies that provide premium parts, Royal Enfield is on a winner with the new Interceptor and Continental GT 650.
Swedish premium suspension company Ohlins was the first with full suspension upgrades for the twins.
The FSK145 fork springs cost $A399 and the RE911 twin shocks are $A1129 or $A949 for the RE912.
They will be followed by full suspension for the 400cc Himalayan adventurer. Prices are expected to be $A399 for the FSK 144 forks and $A1395 for the RE 907 shocks.
American engine giant S&S Cycle has followed up with 750cc and 865cc big-bore kits, mufflers and various other parts for the twins. (See end of article for a full price list.)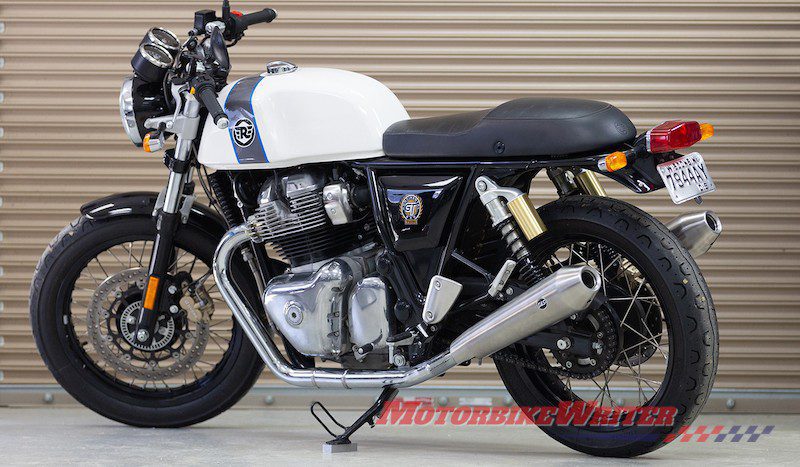 Corbin seat
Now Corbin has joined the parts rush with a $US497 Gunfighter & Lady seat.
It is made with Comfort Cell foam and accepts an adjustable removable passenger backrest ($US257).
A simple setscrew on the rear of the backrest sets the angle without removing it from the seat. Support hardware is built inside the seat to keep a clean look without external brackets.
There is also a small, plastic four-litre top box ($US393) available for the backrest to store wets, gloves, water, maps, etc.
S&S parts
Here is the full list of S&S performance parts for the new Royal twins.
| | | |
| --- | --- | --- |
| Part | Price (USD) | Price (INR – For Representation only) |
| Dynojet Power Commander V with Calibration | USD399.99 | INR27,760 |
| High-Flow Air Intake Eliminator Plate Kit | USD23.95 | INR1,662 |
| High-Flow Replacement Air Filter | USD59.95 | INR4,161 |
| High-Compression 11:1 Piston Kit | USD492.95 | INR34,211 |
| Stainless Muffler Set | USD641.95 | INR44,552 |
| Race only Stainless Muffler Set | USD474.95 | INR32,962 |
| Handlebar Adjuster Kit (INT 650) | USD69.95 | INR4,855 |
| Performance Clutch Kit | USD399.95 | INR27,757 |
| High-Performance Camshaft Kit with Shims | USD186.95 | INR12,975 |