The Continental TKC70 could be the new choice for long-range adventurers.
The TKC80 has been the choice of many an adventure rider, but they are known for wearing out too quickly, especially on heavy and powerful bikes such as the ubiquitous BMW R 1200 GS.
The TKC80 is excellent in the rough, but if you have to do any road miles on tar to get to the adventure part of your trip, you can quickly square them off and nearly deafen yourself in the process.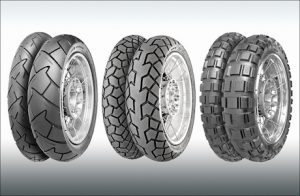 Riders doing more road miles have been opting for the ContiTrailAttack2, but they just don't have the off-road bite needed.
Now the German tyre company has released a tyre that sits right in the middle of the two: the TKC70.
Continental claims that on the road, the TKC70 has good stability, is hard wearing and has low noise levels thanks to the small central rear band.
They also claim wet grip is improved by a special tyre compound and wide "sipes". These are the thin cuts on the tyre that help pump water away from the contact patch, increasing grip on wet roads.
The Continental TKC70 is available in the following sizes:
100/90-19 M/C 57T TL M+S

110/80 R19 59V TL M+S

120/70 R19 60V TL M+S

3.00-21 M/C 51T TL M+S

90/90-21 M/C 54T TL M+S

120/90-17 M/C 64T TL M+S

130/80-17 M/C 65T TL M+S

140/80 R17 69T TL M+S

150/70 R17 69V TL M+S

170/60 R17 72V TL M+S

4.00-18 M/C 64T TL M+S

150/70 R18 70T TL M+S