Riders will be asked to insert a free CRASH Card filled with their medical information inside their helmet to help emergency services in the event of a crash.
The Caution Road Accident Serious Crash (CRASH) Card will be accompanied by a red-dot "Do not remove helmet" sticker to be placed on the outside of the helmet corresponding to where the card is inserted inside.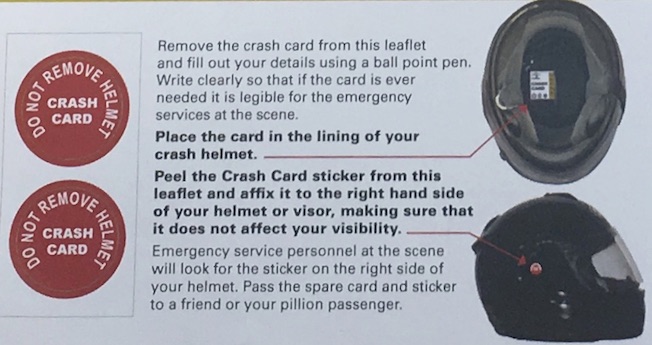 The scheme was initiated by Hornsby Council, north of Sydney, and follows a similar scheme created by the Ambulance Motorcycle Club in the United Kingdom.
It is now used by 1.9 million riders around the world and is due to be rolled out nationally with registration notices following support from police and ambulance services.
First Aid For Motorcyclists (FAFM) founder Roger Fance says he is "very supportive of the general intent to improve motorcycling safety", but has serious concerns, especially the "Do not remove helmet" sticker.
"An unconscious rider wearing a full-face helmet and an obstructed airway will die if the helmet is not removed immediately and the appropriate steps undertaken to attempt to re-establish normal breathing," he says.
"The response via NSW Ambulance is that the public should call 000 and take instructions on what to do. This is, of course, the correct advice if communication can be established. However vast areas of Australia have no mobile coverage.
"There are over 10,000 mobile blackspots around the country. Also what if the helper has no mobile phone or the battery is dead?"
Roger says that because the CRASH Card information is inside the helmet it may not be accessible to the first person on the scene.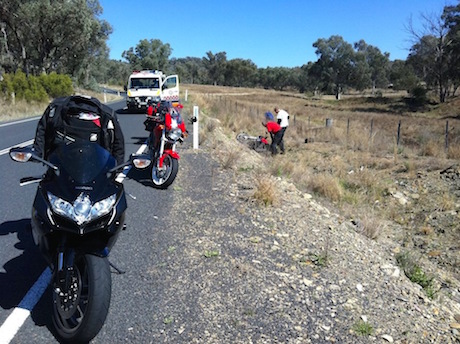 "The quicker this information becomes available to emergency services via 000 the better. It would be much better for the CRASH Card to be held in an accessible place such as on a jacket sleeve or even in a wallet, definitely not the inside lining of a helmet."
Other systems for carrying vital medical information and emergency contacts also exist, including a USB Key invented by a Perth rider.
Riders are advised to keep their medical records and emergency contact details with them whenever they ride. Apart from the CRASH Card and USB Key, there are also smart phone apps, wrist bands, ID cards for your wallet and stickers for your helmet or bike that you can use.
Roger is also concerned that the CRASH Card advises motorcyclists not to attempt to remove another rider's helmet on their own, as it is a skill which takes two people and is practised by trained personnel.
"Whilst it is certainly ideal that a helmet is removed by two people who have been trained correctly, this ideal situation may not be available," he says.
"We teach a one-person helmet removal to address this worst-case scenario of someone who has no help available and must remove the helmet immediately to avoid the casualty dying. This is a case of life over limb."
FAFM provides course participants with a helmet sticker that says "Only remove helmet if not breathing normally".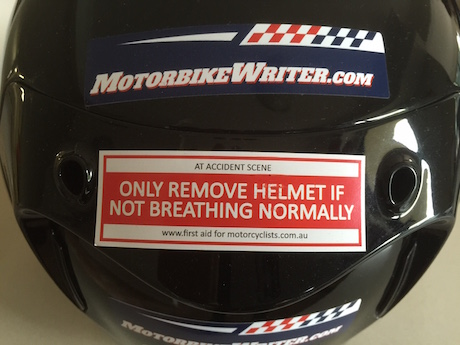 He says the CRASH Card roll-out should be delayed until the issues he has raised with the authorities are addressed.
Seems a simpler system would be a sticker on your helmet that says something like: "Medical information available in wallet".
What do you think of the CRASH Card? Have your say in the "Leave a reply" section below.