A driver who caused the death of rider Graham Jurott (pictured) has received a 200-hour community service order but no conviction for "driving without due care".
Graham's son, Lester "Doc" Jurott says he is a "little perplexed" that Sarah Winyard, 21, didn't have a conviction recorded.
"It would also have been good for a compensation order to help our family with the out-of-pocket expenses since dad's death," he says.
Doc suggested Sarah's community service should include educating other young motorists of the ramifications of not looking out for motorcyclists.
"She's done a defensive driving course since the accident but that's closing the gate after the horse has bolted," he says.
"I would like to see her get involved in educating other young people in the community about motorcycle awareness."
Crash details
The accident occurred in Juliette Street, Greenslopes, Brisbane, on September 27, 2017.
Graham, aged 87, was riding home after renewing his motorcycle licence which he had to do every year because of his age.
Doc says his dad had recently had laser surgery and could read the bottom line on the eye chart.
But it wasn't Graham who didn't see the other vehicle.
It was the driver who did not see Graham and T-boned his motorcycle. A clear case of SMIDSY.
"She was cutting across a double line from a side road feeding into Juliette St in order to gain access to a side street on the other side of the road," Doc says.
"Sadly, dad passed away in PA Hospital a few hours later as a result of his injuries.
"The investigating police officer advised me she was not texting or on the phone, but clearly distracted."
Driving charge
Doc says he cannot understand why the woman was not charged with dangerous driving causing death which carries a maximum sentence of 10 years.
"For some reason the cops went light on her. The magistrate (Justice Hay) questioned that herself."
Justice Hay had earlier reserved sentencing and called for impact statements from the family, a psychologist report on the driver and other documentation.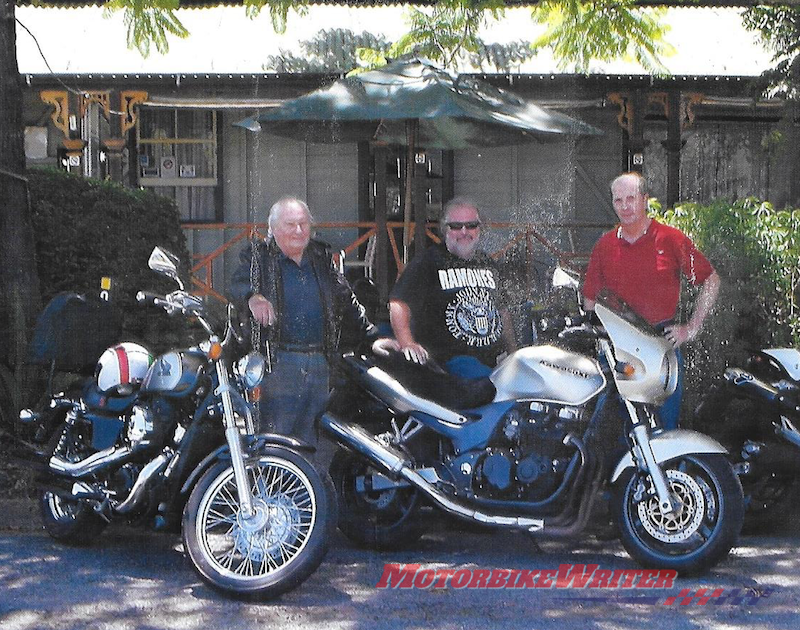 "The magistrate spent over half an hour reading and referring to previous cases to help explain how she came to her sentencing," Doc says.
Justice Hay took into account the driver's mental condition following the traumatic crash.
Doc says Justice Hay told the court a conviction would have a negative impact on Sarah's ability to assume her aspirations of studying to be a social worker with refugees.
The driver, who pleaded guilty in the Brisbane Magistrates Court, also received a 12-month driving disqualification, 12 months' probation and must get permission to leave the state.
Her 200 hours of community service must be completed within 12 months.
Riding companion
Doc says he misses riding his Kawasaki ZR-7 alongside his dad on his Honda VT750.
"I miss riding with him terribly," he says.
"I used to ride with him a lot. We had many circuits around the hinterland and the dams and we'd stop off and have a coffee and a scone together."
Graham was a professional photographer and took many photos of his bikes.
He was also a long-time rider who even took his pregnant wife, Esther, in their sidecar.
Graham and Ron Auburn formed the Brisbane branch of the Ulysses club in the early 1980s after amassing a group of like-minded mature-aged riding friends at MRA Rallies, Toy Runs, Blood Runs, etc.
Doc says his dad remained a member, but passed in his presidency around the early '90s in favour of riding with a close unit of friends, rather than a pack.