There is a growing trend for community motorcycle garages that is fuelling DIY custom motorcycles.
They are places where inexperienced DIY mechanics and custom builders can get to use exotic and expensive machinery and get some tuition while working on their bikes.
The latest is Brisbane's Moto Arcade, based on community garages such as Kustom Kommune in Melbourne, Rising Sun Workshop in Sydney and many other similar projects around the world.
Co-founder Aaron Green says they have started a crowd-funding campaign through Pozible to make the garage a reality at premises in Albion, but right now they are operating in a cramped space they call their "incubation workshop" at Brothers Garage in Fortitude Valley.
CLICK HERE TO HELP FUND THE GARAGE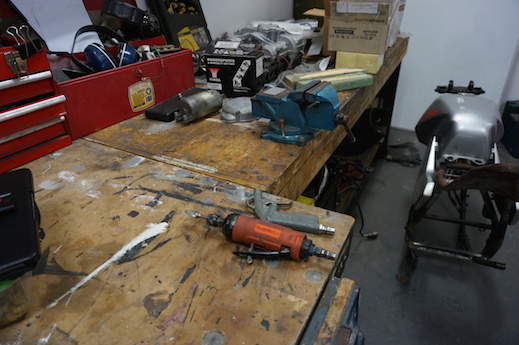 "It's served me for the past two years, working on my own motorcycles, as well as a few friends' projects," Aaron says.
"So far, they have amassed quite a deal of exotic equipment that no DIY builder could ever hope to afford, including a sandblaster to clean metal parts, a lathe, English wheel, bead roller, shrinker stretcher and tube bender. Also, they bought a garage door insulation kit."
"It's a proper tube bending machine, not pipe bending that crushes the radius," he says. "It won't reduced the radius more than 10%, so people will be able to make their own frames. Maybe down the track we'll get a planishing hammer which is two hammers facing each other that hammer sheets of metal into shape and smooth it."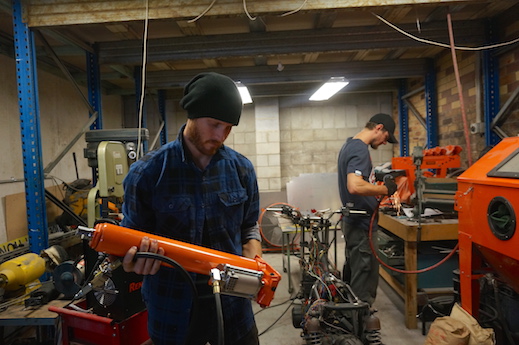 Amateur mechanics could potentially build anything from a cafe racer to a streamliner with equipment like that, plus the know-how of experienced mechanics to provide expert instruction. Aaron says that because of the machinery, everyone will have to go through a safety induction course first.
"We want to encourage Brisbane's motorcyclists to get well and truly out of the box and back into what Aussies do best, invention," Aaron says.
The Albion facility is much larger with a members' mezzanine floor that will include a bar, lounge, design bench and a "library" full of Clymer motorcycle manuals.
"No other community motorcycle workshop has catered to the extremist craftsman as of this stage," Aaron says.
"Some of the fundraising we're doing to get the community motorcycle workshop alive and running is crowdfunding with a Pozible campaign. We set a $30,000 goal, similarly to Rising Sun Garage and the Kustom Kommune."
Aaron says they will keep costs down by renting space in the same building as several other crafts businesses such as painters and even shoemakers whose skills may be harnessed to craft custom seats.
Moto Arcade is also raffling a 1982 Kawasaki KZ440 custom street tracker for Australian supporters of their Pozible funding campaign.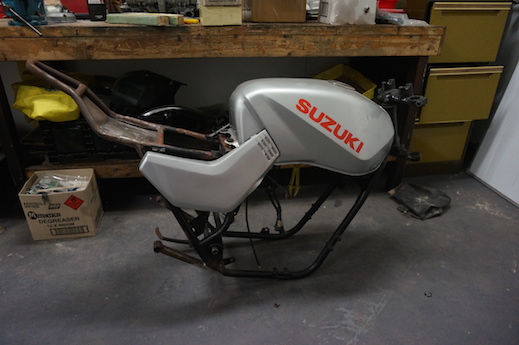 The membership fee to use the community motorcycle garage will be between $100-$150 to cover public liability, utilities and the safety induction.