The Ultimate Cold Weather Motorcycle Helmets To Protect You When You're Freezing You A** Off
It's cold outside! What do you do when you are a biker in the winter time in Michigan? (besides mope and pout), well you dream about what it can be like next year right? Get out the calendar and plan that first long trip, the first one that takes you down new roads and new places to eat, drink, and rest.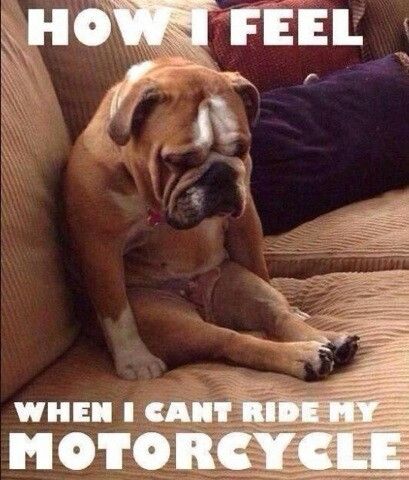 It's also a great time to get out the gear and see if there are any gaps or anything that you would like to upgrade for next year. One thing that I have learned is that if you wait for the weather to be just right outside before you get on your motorcycle, you might be waiting until next year, (or the year after, doh!)
Here are a few of my tips for riding in the freezing-a$$ cold weather.
To ride a motorcycle comfortably in cold weather, you must have the right choice of gear, but the bottom line is it's all about layering. Base layers allow our skin to breath while sweating; giving away the moisture. Base layers include full sleeve, full leg etc. such as those offered by Under Armor and other motorcycle companies. Base layers help the body to sweat in the cold, rather than turning to cold perspiration in the body. You can also wear socks, which wick away moisture.
For teens or those in their 20s, simply wearing a zip-up fleece with a neck collar over their base layers will do fine for most conditions when riding. It helps create another insulating barrier. When conditions gets coole, you can have another mid-layer such as a snug wool button up, or another layer.
Top 5 Cold Weather Motorcycle Helmets
Shoei X-11 Motorcycle Helmet
There are few helmets in the past few years that have generated as much interest as has the introduction of the Shoei X-14 Helmet, and for good reason. It is a true juggernaut of the track, and every line, every angle and every curve has been specially crafted to get the most out of you and your machine. It's no wonder that the most sophisticated racers in the world are already rocking it at the highest levels
Schuberth C3 PRO Helmet
The Schuberth C3 Pro has been designed to improve on the original C3, which was already one of the quietest and most technologically advanced helmets to date. The rear spoiler, which has been optimized during extensive wind tunnel testing, turns the C3 Pro into a real sport helmet, demonstrating outstanding aerodynamic properties at high speeds in excess of 100 mph. It is one of the quietest helmets in the world. The inner lining is made of carefully selected materials such as COOLMAX, Interpower and Thermocool and has been extensively re-shaped and redesigned setting high benchmarks with respect to comfort.
Scorpion EXO Motorcycle Helmet
The dynamic Scorpion EXO-GT920 modular helmet benefits form a completely redesigned shell, providing a more aerodynamic profile and greater stability. Packed with all of the features required by the modern discerning rider, the EXO-GT920 comes equipped with a SpeedView drop-down sun visor, KwikWick II liner and aero-tuned ventilation.
GM11S Snow Helmet
GMax outfitted their popular GM11D dual sport helmet with an electric face shield and breath guard to prevent fogging and added a chin curtain to battle the cold. The GM11 series helmets have a proven track record of handling low speed technical riding as well as all-out high speed bombing runs. The ram-air chin port coupled with crown intake and exhaust vents ensure you can keep your cool when trail conditions slow your pace. The peak visor is engineered to reduce lift at high speeds when the trails open up. The GM11S can easily transition from sporting a face shield to rocking goggles.
Nolan N44 Helmet
The Nolan N44 EVO is a fully modular helmet, ideally responding to the needs of expert motorcyclists and suitable for winter use. Designed for urban riding, the Nolan N44 EVO is equally at home on a long journey or weekend getaway, and has a unique style that is at home on any bike. The Nolan N44 EVO Helmet has six possible configurations which you can personalize through the addition or removal of the chin bar, face shield and peak, all of which are included. With the chin bar, face shield and peak removed it becomes a true three quarter open face helmet. This gives the rider a great range of flexibility.
Outer Moto-Gear/Accessories
When it comes to outer gear,  Gore–Tex is your friend. Waterproofing, breathability and the proper layering are what you want to do here. A winter suit; either a Klim Badlands setup or a Weise Explorer setup is a good choice too. For boots, again wear from Gore-Tex. Most of these cold weather boots have a decent tread to grip your frosty pegs or floorboards. If not, you can enhance the grip by adding gripper riding pegs.
Gloves
For winter riding you will love the Klim Element in short cuff with your jacket pulled over the glove for super water/windproofing,. The Alpinestars 365 Gore-Tex series have also become popular with many riders and you can bring them along as a backup for a friend or if yours get drenched. Wearing glove base layers with the gloves isn't necessary with the heated grips, but a good idea if you don't have them – which most of us don't.
Neck Warmer
Wear a neck warmer, such as an Aerostich Windstopper combined with your tightly-sealed cold weather motorcycle helmet with a fog-free faceshield. You can opt for heated gear, though most people don't like. A simple layering will keep the core hot, keeping you comfortable, as long as that core is protected from direct wind. Some bikers prefer to stick with good quality gear, even though today's electric-heated gear technology is top notch out of fear of the possibility of failure.
Preparation for Winter Riding
When you set up for motorcycle riding in the winter, it's the winter scenery that draws most of us to ride around in these crazy temperatures. The view is good from the car, but as the saying goes, "Riding in a car is like seeing a movie, riding your motorcycle is like staring in it."
The basics of winter riding is element protection; such as hand guards and large windscreen. You can also improvise some wind-guards to put on crash bars to keep the wind away from your legs and running up your crotch area. Some motorcycles are water-cooled; for those make sure the antifreeze is fresh and mixed properly. Check out the hoses for cracks and ensure they are in good overall shape as it is very frustrating having a busted hose or radiator when miles away from home in that cold weather.
Cold Weather = Cold Tires.
Cold weather means you need cold weather tires; it is that simple. But cold tires have limited traction–you need to note that when riding in them. Even though riding increases heat in the tire, even momentary stop quickly cools down the tire, proving lack of traction.
Getting heat to your tires will help. You achieve this by accelerating and decelerating quickly for a bit. Swaying back and forth like a NASCAR driver would be a waste of time as it won't bring significant heat. Effecting hard brakes and hard throttle puts heat on the tires. Ensure the tires have adequate tread and pressure for winter riding. Avoid penny pinching on the tires—as this is as foolish as penny pinching on the quality of a motorcycle helmet. You may need to channel snow/water more than ever on wet roads that are cold. Regularly check your tire pressure before every ride. This is crucial during winter as enough pressure is needed for optimal traction.
Plows and Black Ice are Cause for Fresh Cracks and Salt
Watch out for salt because it hinders traction and is an enemy to metal. If you see crystallized appearances on the side of the road, this are signs of salt. So, stay away from them. Plow cracks destroy roads causing new cracks, which can be huge to destroy rims. Enough tire pressure prevents a bend occurring on a rim. Since motorcycles were not designed for winter riding, so they can easily succumb to rusting from the salt. Give your motorcycle a thorough wash to free it off from the salt as much as possible.
Have a Towing Service Readily Available
Accidents are likely to happen in cold-weather riding due to slipperiness of the roads. That's one of the reasons to have a towing service readily available so you can get out of the accident spot faster. You can become a member of a motorcycle organization to get towing service. For example, the American Motorcycle Association offers towing service as part of the membership package.
Get Home Early Before Snow Starts Falling
Before it begins snowing, get home. Don't ride while snowing because the snow will quickly accumulate on the roads, proving the slickest conditions. Watch the weather forecast and if there is even a slight indication of snow coming, keep the bike at home. I know it's fun, but you gotta be careful, and you gotta pay attention.
Riding in snow off of the road on a lake or in a field can further build your riding skills. Buy a kit to create some studded snow tires for this. But ensure you are riding in a controlled environment. It can be challenging riding in the winter, but the tips provided will help you garner more miles throughout the winter season. Some riders even make it riding about 30, 000 miles on their bikes in winter.