The Clubmans Show 2011
DON'T MISS THIS SHOW!!
The Clubmans Show 2011 promises, as do all Clubmans Shows, to be a Must-See event for anyone with a love of Classic British Motorcycles. This is the 24th year of this amazing event. Sponsored by the Northern California Chapter of the BSA Owners Club, or BSAOC, the Clubmans is by far the best All-British Classic Motorcycle Show I have ever seen! There are generally between 100 and 200 bikes that are a mix of unmolested original, faithfully restored and/or tastefully modified. This is an all-indoor show also, so it's very comfortable & there's an excellent food concession that also sells beer. This is a judged show with trophies highly prized by entrants because the standards are so high.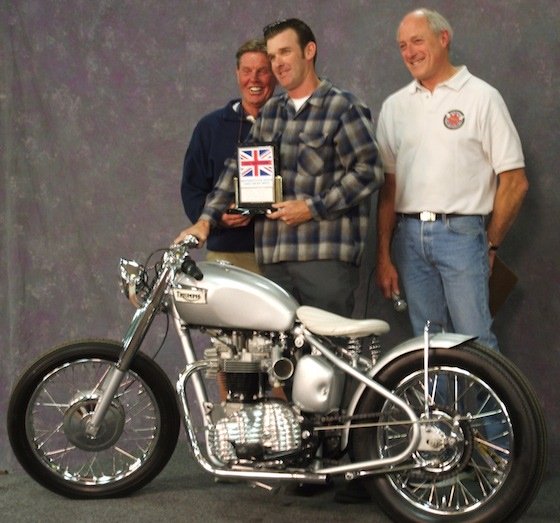 ABOVE: The Awards Presentation at the Clubmans Show 2011 is always a big deal.  Racing legend, Eddie Mulder (L), and BSAOCNC President Don Danmeier (R) pose with the proud winner of the Modified Class, with this tidy Triumph Bobber.
---
SHOW HIGHLIGHTS
When you walk up to the building (the Clubmans Show 2011 was, as always, an all-indoor show), you can feel it. There are incredible Classic British Motorcycles on trailers, parked in the lot that people rode to the show, bike in line checking in. Each one is so stunning that you want to stop & take your time to examine it. As you walk through the door & you get your first look at the vast ocean of gorgeous bikes, your first thought is, "How will I ever see them all?" But you will, believe me, you won't be able to help yourself. Plan on spending several hours looking at bikes. Then get a beer & a hot dog at the food concession there then spend another couple of hours going around looking at all the vendors' booths. Then take another hour to cruise the floor one more time, just to take in all that gorgeous British eye candy, enough to get you through until next year, when they do it again. Expect to see more eye-popping Classic British Motorcycles than you likely seen in one place for a long time, maybe ever. And this is the cream of the crop, among the best, most correct, most accurate examples around. The photos here are from a few recent Clubmans Shows that I attended. While it's impossible to convey with a photo the electricity in the air at a show like this, hopefully you'll get the idea. Once again, if you love Classic British Motorcycles, DON'T MISS THIS SHOW! Travel if you must, get a hotel, but you've got to see this show.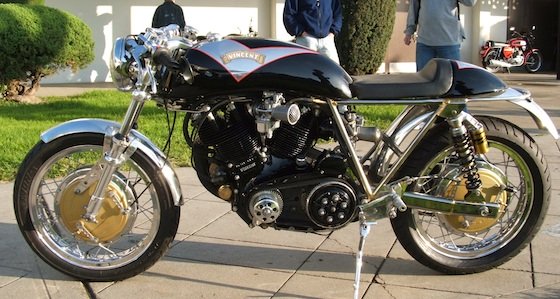 ABOVE: Even before you enter the building, the machinery it breathtaking. Here, an Egli Vincent cools off out front, after being ridden to the show. It wasn't even entered in the Clubmans Show 2011!
---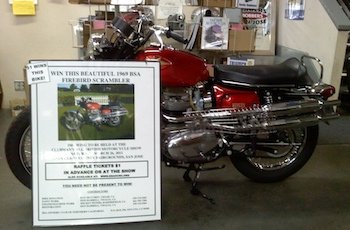 BSA 650 ONLY $1.00!
The Raffle Bike is a tradition at these shows & this year's Clubmans Show 2011 is no exception, offering this stunning 1969 BSA A65 Firebird Scrambler. Raffle tickets are only $1.00 each, so in theory, it is entirely possible to own this gorgeous BSA for just a buck!! It's been meticulously restored & looks like it did when it rolled off the assemblyline. Every detail is correct, or at least as far as I can see. I looked it over myself & the pictures don't do it justice.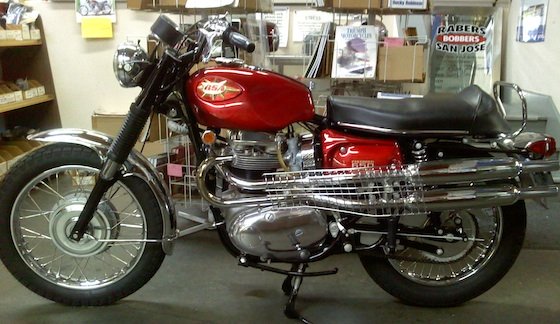 RAFFLE BIKE ON DISPLAY
The Raffle Bike is on display at Raber's Parts Mart located at 1984 Stone Avenue, San Jose. Check it out for yourself, or take me at your word. Then buy a ticket, or two, or twenty. It's for a good cause. The Raffle benefits the BSAOC, who put on the Clubman's All-British Weekend, on a shoestring budget with all-volunteer labor. It's a wonderful club by the way, of which I am a member personally. Go to BSAOCNC's website to get more information about the Clubmans Show 2011 & the Raffle Bike. You can buy the tickets on the website. And you don't have to be present at the show to win. But, why wouldn't you want to be at the Clubman's All-British Weekend anyway? I mean, where else could you possibly want to be that could be any better? See you there. Good luck in the Raffle.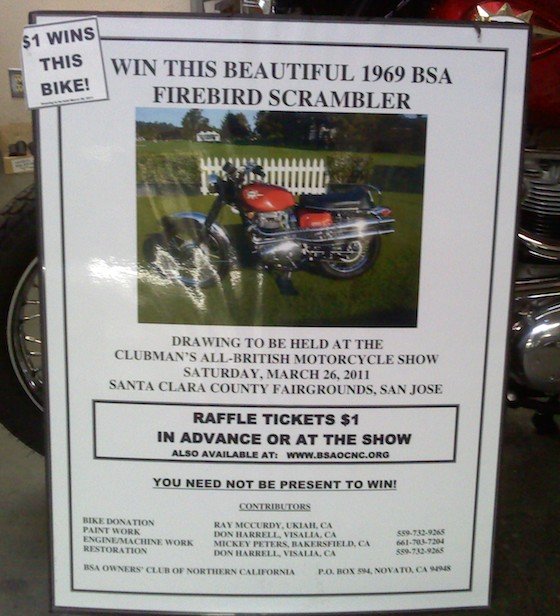 WE WILL HAVE A BOOTH AT THE SHOW!
VISIT OUR BOOTH – WE'RE TAKING PICTURES OF BIKES!
While at the Clubmans Show 2011, please come & visit Classic-British-Motorcycles.com booth at the show. We will have a professional photo studio set up, taking eye-popping professional photos of all the beautiful motorcycles at the show…all for FREE! During the course of the show, owners will roll their bikes from the show area a few yards to our booth, we will take a complete set of photos & provide them the high-definition digital images absolutely free. Why, you ask? Two reasons: First we want to promote the Classic-British-Motorcycles.com website to the people at the show; and Second, we need lots of eye-popping, studio-quality photos for the website. We will both post all photos on this site for the owners to see & download, and also we will email them the files so that they can print or edit them as they wish, or load them on a thumbdrive, all free of charge. If they want them on a disk, or they want prints, there will be a small charge for that. But, we're not out to make money as photographers, we just want to get some nice pictures & get the word out. So, please drop in to our booth and say "HI", we'll give you a free, 11″ X 17″ full-color Classic-British-Motorcycles.com poster as a gift.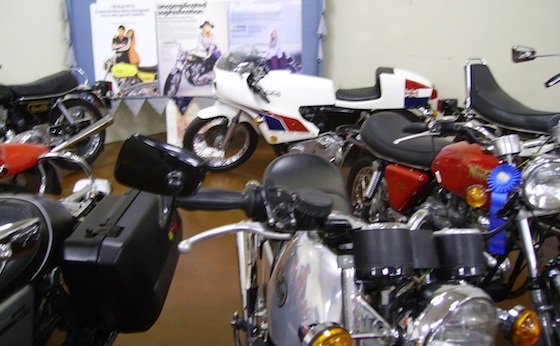 Several Owners Clubs set up booths and/or displays at the Clubmans Show 2011. The Norton Owners Club never fails to represent themselves, and the proud Norton marque well.
---
SHOW TIMES & PRICES
The Clubman's All-British Motorcycle Weekend is held at the Santa Clara County Fairgrounds in San Jose CA, in one of the larger exhibition halls. Just follow the signs. The show starts Saturday, March 26, 2011 at 8:00 a.m. & concludes at 4:00 p.m. Admission is an incredibly-low $5.00 for adults & children under 12 are free. Where can you spend a day looking at the finest collection of Classic British Motorcycles you're likely to ever see gathered in one place for just $5.00?
SPONSORED BY BSAOCNC
This is a non-profit show run entirely by volunteers. That's why it's so cheap. The BSA Owners Club, Northern California (BSAOCNC) is so passionate about Classic British Motorcycles that they have been doing this for 24 years as an expression of that passion & in my opinion, as a service to the Classic British Motorcycle community at large. I have been coming to this show every year since 2003. I've entered several motorcycles in the show over the years also, although I've never won a trophy or even gotten close (I told you their standards were high). But, it's always a good time, nice people, and of course…amazing Classic British Motorcycles.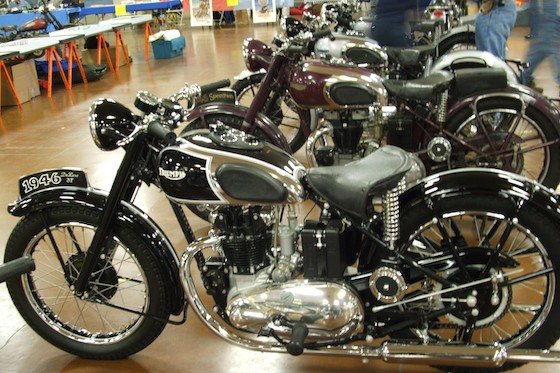 Row after row of luscious Classic British Motorcycles overwhelm the senses.
---
MORNING AFTER RIDE
An important part of the Clubman's All-British Weekend is the "Morning After Ride" held the Sunday morning after the Clubmans Show, and is usually host to dozens, if not a hundred or more, classic British motorcycles of every age, type & condition. I have ridden this one a few times & it's always a blast. The ride leaves Downtown Los Gatos at 10:00 a.m. then proceeds up Highway 9, through the picturesque town of Saratoga & up into the Santa Cruz Mountains. It takes you through the redwoods & along the rugged California coastline & Highway 1. Awesome ride. Lunch in San Gregorio then ride home. A nice, slow, easy ride, no one is racing, so you can relax. I will be on this ride myself riding my new project bike, a 1979 Triumph T140D Bonneville Special. The restoration process is underway (read that: "It's laying in pieces in my garage") but it should be running in plenty of time for the legendary Morning After Ride. Don't miss it. See you there.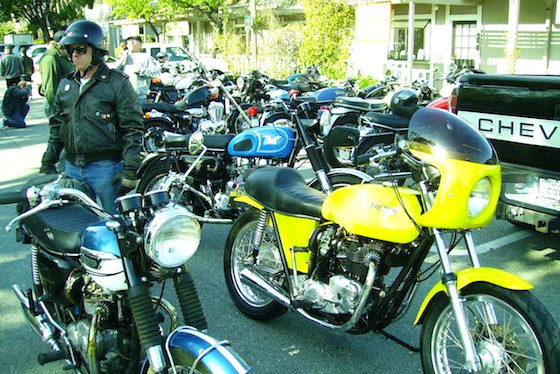 This was the 2008 Morning After Ride. A typical crowd with dozens of classic Triumphs, BSA, Nortons, Enfields & more. Of course, I was riding my Yellow Bike.