Coating the bodywork of my BMW F 800 GS with Cleararmour was the best motorcycle accessory I've ever added.
Despite bush bashing on the bike, brushing past lantana and being peppered with gravel and sand by other adventure riding companions, the bodywork was in pristine condition when it came time to selling.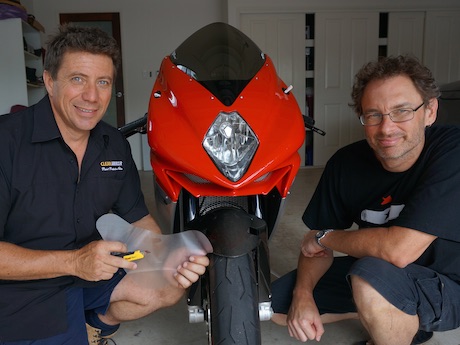 Cleararmour was started in 2008 by Brisbane rider Paul Contarini. He uses tough 3M film to create pre-packaged cutouts for virtually every road bike on the market. He has used both hand-drawn stencils and CAD to produce the images over thousands of hours of painstaking work so that they fit perfectly.
You can buy the packs and do it yourself or, if you live in South East Queensland, you can get Paul to do it for you.
I caught up with Paul again recently when he was coating the gorgeous panel work of an MV Agusta F3 owned by friend Harry Bohler.
Harry says he had difficulty selling one of his many Ducatis because there was "more white than red on the cowl from road rash". He has since had all his bikes coated by Paul's 3M panels.
You can get partial kits from $33 right up to full motorcycle packs that cost about $450 fitted, depending on the bike. It's  small insurance for your bike.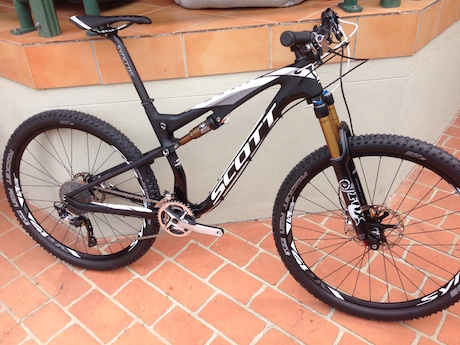 Paul also has kits for cars, mobile phones, trucks and even bicycles. He produced a bullbar kit for a Freightliner truck which still has a new-condition chromed bullbar after 350,000 kilometres of rugged Outback hauling.
The 3M kits come in high gloss or low-sheen to suit some of the matte-black paint jobs from brands as diverse as Ducati and Harley.
"Most of my work is for Harley-Davidsons," says Paul. "I get a lot of CVOs that want Cleararmour to preserve their custom paint. "When it's done, you can't even tell it's there."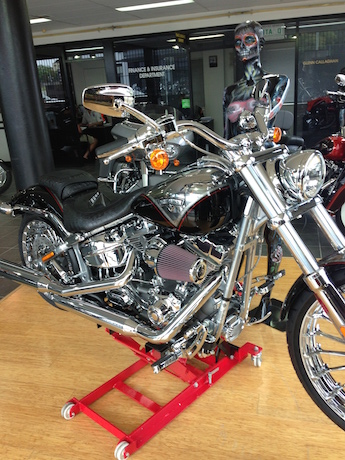 Paul says it not only preserves the paint from scratches, but also doesn't need to be polished to retain its brand new gloss. I found it was also easier to clean and dried bugs weren't as difficult to remove.
If it's applied correctly, it won't bubble and fingerprints are not as obvious, which is a bonus if you are using it on your iPhone.
You can also apply the Cleararmour to headlights as an invisible protector. That's an advantage for track days where you won't be required to tape it up to prevent shattered glass getting on the track.
Contact Paul on 0412 199 299 or email. mailto:paul@cleararmour.com.au