City speed limits used to be 60km/h, then they dropped to 50km/h, then 40km/h and now a Melbourne council wants to reduce speed limits in a special zone to 30km/h.
Interestingly, the Yarra Council cites crashes involving "vulnerable road users" including motorcyclists as the reason for the speed drop.
In fact, they point out that 12% of crashes in the Collingwood and Fitzroy area involve motorcyclists. (See stats at the end of this article.)
However, a council spokeswoman says they do not have the vital details on who caused the motorcycle crashes.
City speed trial
Yarra Council will begin their 12-month 30km/h trial in September on 8km of locals roads in the area bounded by Nicholson St, Hoddle St, Alexandra Pde and Johnston St. The area currently has a 40km/h speed limit.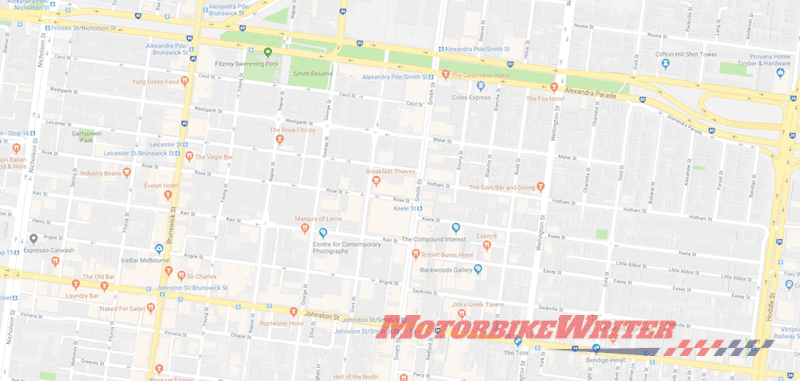 If deemed successful (and no doubt they will find a way to declare it a success), no doubt other councils around Australia will also apply for 30km/h speed zones.
There is equally no doubt police will be out in force to catch motorists breaking the speed limit.
It's already difficult enough trying to stick to slow speed limits around busy urban areas.
But having to concentrate on traffic and pedestrian activity while keeping an eye on the speedo at 30km/h with very little allowed margin will be a fine nightmare!
Click here to read about the dangers of speedo gazing.
Apart from shopping centre carparks and malls with 10km/h speed limits, the only slower limits in Australia are 25km/h in some roadworks.
How soon will we have to add 30km/h to our already burgeoning number of speed zones?
Austroads says we already have too many speed zones and too frequent changes in speed.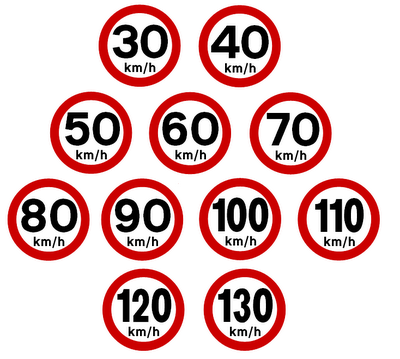 Trial funding
The Yarra Council's 12-month speed zone trial has received a $250,000 grant from the Transport Accident Commission.
Surely the TAC could have held on to their money and the trial could have been funded by speeding fines!
VicRoads crash statistics for Fitzroy/Collingwood
| | | | | | |
| --- | --- | --- | --- | --- | --- |
| YEAR | CRASHES | INVOLVING BICYCLISTS | INVOLVING PEDESTRIANS | INVOLVING MOTORCYCLISTS | TOTAL VULNERABLE ROAD USERS |
| 2012 | 21 | 12 | 4 | 4 | 20 |
| 2013 | 23 | 14 | 2 | 4 | 20 |
| 2014 | 22 | 18 | 2 | 1 | 21 |
| 2015 | 19 | 13 | 3 | 2 | 18 |
| 2016 | 15 | 10 | 2 | 1 | 13 |
| 2017 | 4 | 4 | 0 | 0 | 4 |
| Grand Total | 104 | 71 | 13 | 12 | 96 |
| | | | | | |
| | | | | | |
| YEAR | CRASHES | INVOLVING BICYCLISTS | INVOLVING PEDESTRIANS | INVOLVING MOTORCYCLISTS | TOTAL VULNERABLE ROAD USERS |
| 2012 | 21 | 57% | 19% | 19% | 95% |
| 2013 | 23 | 61% | 9% | 17% | 87% |
| 2014 | 22 | 82% | 9% | 5% | 95% |
| 2015 | 19 | 68% | 16% | 11% | 95% |
| 2016 | 15 | 67% | 13% | 7% | 87% |
| 2017 | 4 | 100% | 0% | 0% | 100% |
| Grand Total | 104 | 68% | 13% | 12% | 92% |