Amateur riders will be able to slide their bike around the Melbourne Showgrounds Main Arena dirt track with Troy Bayliss and Jason Crump at the biannual Moto Expo in November 2018.
While Melbourne lines up for its third Moto Expo, Brisbane still hasn't had a return event since the first and last Moto Expo in 2014 run by Troy Bayliss Events.
Managing director Mark Petersen told us in June that Brisbane will "no doubt have another stand alone show in the future but when the time is right for the industry".
City Slide
The Melbourne Moto Expo from 23-25 November 2018 will include a new flat-track event called Crumpy's City Slide named after three-time Speedway World Champion Jason Crump.
Jason and Troy Bayliss confirm they will take part in the social event. Organisers stipulate it is not a race, nor a timed event.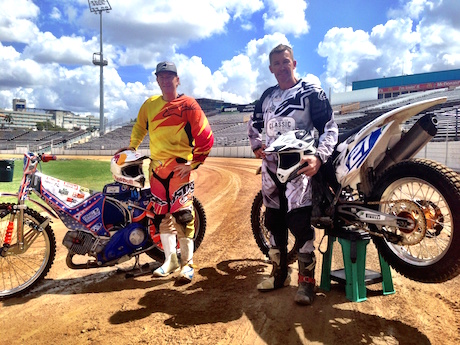 Only 200 fully licensed riders will be able to test their machine on the purpose-built gravel track.
Click here to book your spot in Crumpy's City Slide.
Crumpy's City Slide kickstarts at 4pm on Saturday 24 November. The on-track event runs to 8pm after the Moto Expo closes at 6pm.
A City Slide entertainment zone will host music, food and entertainment and include a fully licensed bar until 9pm.
Jason previously took part in on-track action during the 2014 Brisbane Moto Expo and has.
"City Slide brings public participation to flat track," he says.
"I am going to bring my slider and I know some of my mates are going to come and take part."
Entrants for the City Slide and those who attend will go in the draw to win a Royal Enfield 350 Classic. The winner will be announced at 8:pm and must be present to collect prize.
Riders who enter Crumpy's City Slide will receive an event T-Shirt as well as an entry into Moto Expo and have the option to display their bikes for the three days of Moto Expo.
Troy confirms he will take part.
"I haven't decided what I will ride yet, but I will definitely find something fitting," he says.
The event is expected to attract bikes of all shapes and sizes, new and old including old flat trackers, bobbers, postie bikes, monkeys, classics and vintage bikes.