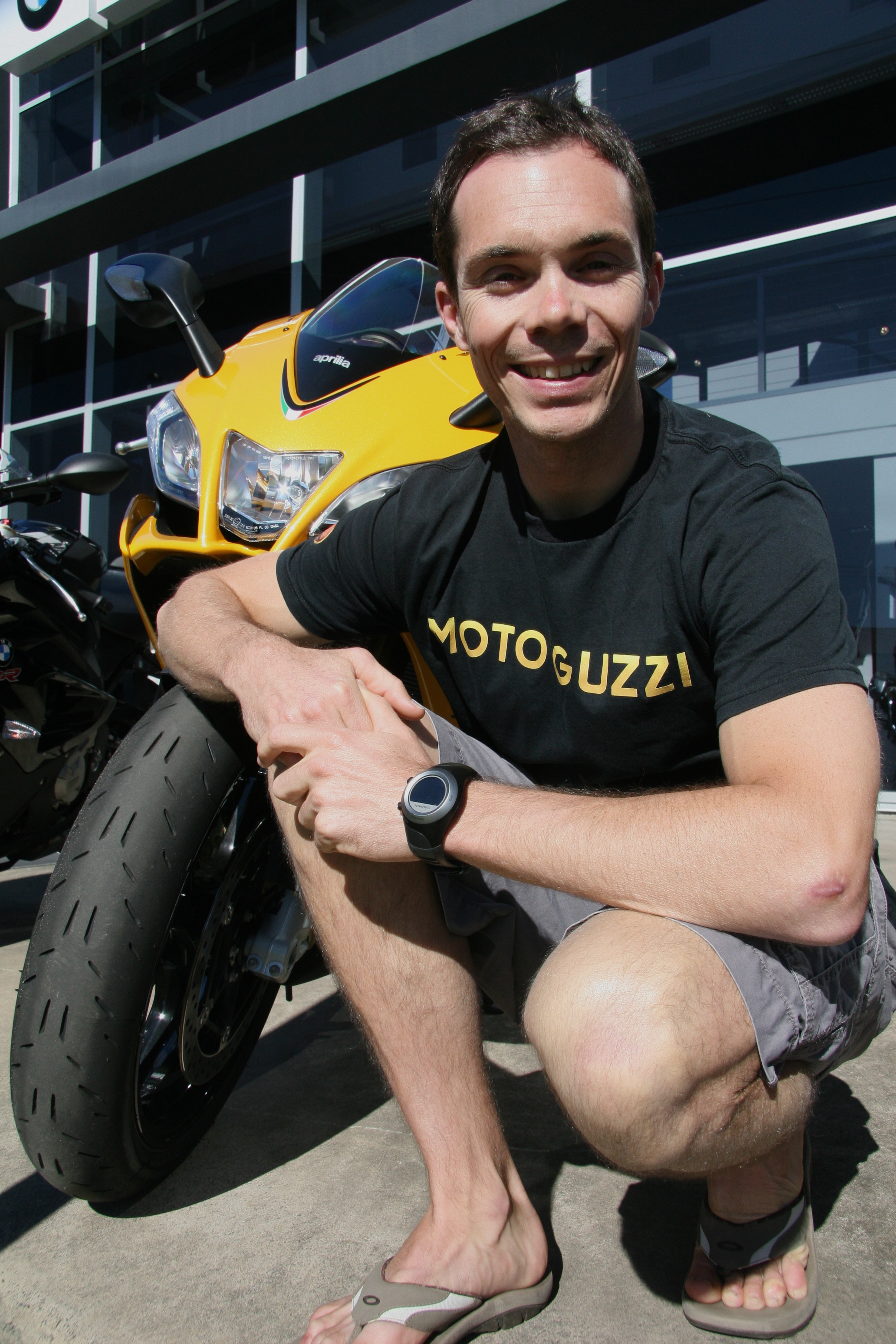 Don't get excited about 2003 World Supersport champion, 10-time World Superbike race winner and MotoGP winner Chris Vermeulen coming out of semi-retirement.
Rumours circulated a while ago that the 31-year-old, semi-retired Sunshine Coast cattle farmer would be riding for the Suter-BMW MotoGP team this year after scoring a fill-in ride for them at Le Mans last year.
When I spoke to him earlier this year he looked to be in the best physical condition of his career, competing in several triathlons.
However, the only riding he does these days is on dirt bikes around his Yandina farm and occasional track coaching days for Sunshine Coast dealership MotoLife where is a not-so-silent partner.
"I haven't spoken to any teams about riding next year," he says. "It's all just rumours. Don't know where they started."
Shame, as it would have been a nice synergy as his MotoLife dealership in Caloundra sells BMWs, as well as Aprilia, Moto Guzzi and Sym scooters. He's also about to open a MotoLife in Townsville which will also sell Ducati, so he has all exotic brand bases covered.
I caught up with Chris again on the Compass Expeditions outback tour with Charley Boorman, a friend of his.
Chris came along for the last two days of the ride and I did the following interview (bear in mind this is before the MotoGP season started).
Q: What's your greatest achievement?
A: Winning a world championship and putting together a whole season is the best.
Q: Do you prefer WSBK or MotoGP?
A: WSBK is fun and the racing is close, but GP is a lot more technical and you are riding the best bikes in the world with the best engineers on the best tracks with the best tyres. It's the most expensive stuff there is and it's faster. They are more fun to ride but not to race.
Q: What is wrong with MotoGP today?
A: Dorna. They own both championships so it will be interesting to see what happens. MotoGP had two bad things happen. They brought in a single tyre rule. Everyone runs the same race tyres which sounds fair but not every bike works on the same tyre. At Suzuki we had to re-develop a whole new chassis and lost about six months in development time. The second problem was the economic situation when money got tight in the motorcycle world. Teams stopped spending money but the racing was just as expensive. Some of the teams still spend silly amounts of money and some don't so that's why there is a big gap.
Q: How do you fix it?
A: Make it cheaper. To be fair they are trying to do that, but some of the manufacturers don't want to. Honda and Yamaha still want to spend a lot of money.
Q: Who will win this year?
A: It will be a Spaniard. (No kidding!)
Q: Will Valentino Rossi ever win a championship again?
A: Rossi will be quite quick on the Yamaha but I don't think he will beat his teammate Lorenzo. Lorenzo is so fast and smooth and Rossi is getting old; he's 34.
Q: Any more motor sport for you?
A: I did the Troy Bayliss Classic which was fun but I didn't win. There were some 8000 spectators that turned up in country NSW for that event. We had a great time and I was happy about about making the final but not happy about getting blown off the track by the local kids. It was great for the sport and we're hoping to do a few more of them. Maybe also Supermotard style races.
Q: What are you up to now?
A: I do a lot, but not a lot. I've retired from racing full time, but I did some testing and development last year for a CRT team in MotoGP and hope to do some more. I own part of a motorcycle dealership in Queensland and we are expanding that. I've got some other small business things and I spend a lot of time riding dirt bikes on my cattle farm.
Q: Who is your sporting idol?
A: I admire a lot of people and not just winners, but those who put in a lot of effort. Fernandez Alonso is a real fighter.
Q: Who has been your inspiration?
A: Aussie riders like Wayne Gardner, Mick Doohan, Kevin McGee, Daryl Beattie. My favourite rider was always Wayne Rainey who won three 500cc world titles and had a crash at Misano and broke has back. But Barry Sheene was a great help to me in my early career. He was a great bloke and he helped a lot of young riders. I did an interview with him when he was at Channel Ten and he asked me who my leather sponsor was. I told him that mum and dad bought them for me and after one quick phone call I had a leather sponsor. He took me to the UK and got me a ride in the British championship and I did quite well. He also got me a spot in the WSS championships. It was great to win that title using his number seven.
Q: Did Casey Stoner quit too soon?
A: It was his decision and he gets to do what he wants. That's fair enough. We're very different people and his love for the sport has gone away and he probably made the right decision. The championship is going in a direction he doesn't want to see it going in. He's been talking about retiring since he won his first championship so I'm not surprised.
Q: Would Casey return if they dropped CRT?
A: No.
Q: How will he go in V8 Supercars?
A: He's very talented on a motorcycle but whether he can drive a car is a completely different story.
Q: Would you ever consider V8s or four wheels?
A: I've got no interest in it. I like watching it but I don't think I've got the interest to put the effort in. It's a full-time job. You have to do it properly and there is no point turning up to run 15th.
Q: How about Dakar or Baja?
A: Maybe I could do something like that. Charley (Boorman) has asked me about the Baja.
Q: What is the greatest bike you have ridden?
A: The Honda 990 RCV211, the MotoGP bike I rode in 2005 when I filled in for Troy Bayliss when he broke his wrist. I couldn't believe how fast it was.
Q: Favourite circuit?
A: Laguna Seca. I won there a few times. It's always the track that you do well at that you like.
Q: What is the greatest car?
A: I've got a few and my fave would be a car that I'm bringing back from the UK that I owned for a while. It's a Morgan AeroMax. They made a hundred of them. I like it the most because I miss it the most. I bought it off Richard Hammond of Top Gear.
Q: What's your training regime?
A: I used to train a lot for MotoGP. When you're at the top level of any sport you have to train hard to be fit. I used to spend a lot of time doing fitness work. We couldn't always ride the bikes because it was too expensive to go justify every week, so we spent a lot of the time riding dirt bikes. I had major knee surgery and had a long time off walking. Now I'm back doing a lot of the things I used to like doing like running, cycling and swimming so now I'm training with a lot of mates who are into triathlons. Now it's addictive. I do three swim sessions a week which is 3km each time, three to four road cycles from an hour to three hours, and three to four runs of about 30-35km a week. I also go mountain bike riding and dirt bike riding and surf paddling and other stuff. It's good to have spare time.
Footnote: Chris is 2003 World Supersport champion, came 2nd in World Superbikes 2005, won the 2006 Le Mans GP, also had seven MotoGP podiums, three MotoGP poles and is Suzuki's most successful rider since 2000.