China's largest security motorcycle locks brand SXP (Security eXperienced Products) is now available in Australia.
Despite much of our motorcycle gear and some components in our Euro/Am/Jap bikes now made in China, there is still consumer suspicion about the quality of Chinese-made products.
So we put a couple to the test with some of the "tools of the trade" used by motorcycle thieves.
First up was the hefty 2.5kg chain lock at $59.95. It's padded so it doesn't scratch your wheels or forks, depending on where you attach it. The locking mechanism is a key, not a flimsy combination lock.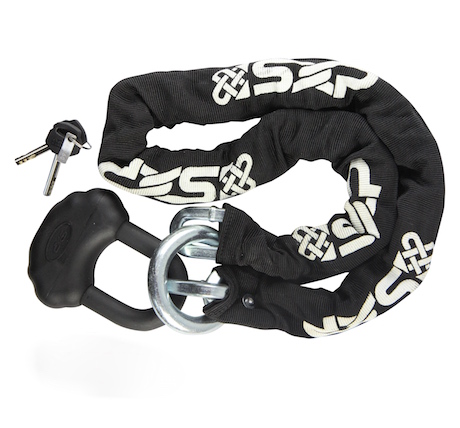 No "self-respecting" thief would be without bolt cutters, but in this case, they would be wasting their time.
The chain is made of cut-resistant hardened high-steel that is resistant to the bolt cutters. It's also a flat shape, not rounded, so it distributes the force of the bolt cutter's jaw over a wider area.
The second unit is the large disc lock at $29.95 which also has a key, not a flimsy combination lock. It comes with a handy soft travel pouch and feels very heavy and solid.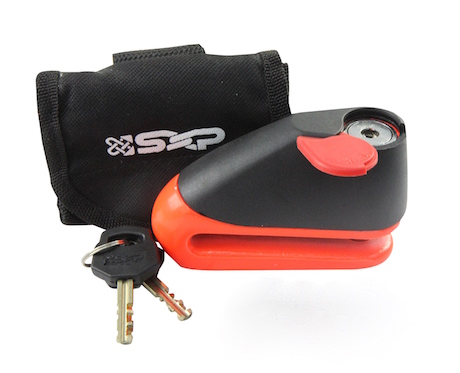 However, the big drawback is that it doesn't have a reminder lead to your ignition, so there is the possibility you will forget it's there, ride off and damage your disc.
We hit it with a hammer and chisel and couldn't damage it except for a few scuff marks. We couldn't get a saw blade in to the thick, 10mm pin locking mechanism, so it's pretty well tamper-proof.
The lock cylinder is supposed to be drill proof, so we used a power drill and couldn't make any headway.
SXP locks are distributed in Australia by Link International who tell us all SXP products are manufactured to the "highest specifications with many of the range achieving European and American certification for quality, strength and lock design".
Link distributes a range of SXP locks, from compact disc locks at $9.95 up to the padded chain lock.
SXP locks have been manufactured by Red Star Locks since 1988. Link tell us the factory has CNC facilities, strict product quality control and thorough pre-delivery inspection parameters.
They also tell us the company has passed the ISO9001 version 2008 quality assurance system audit, meaning their product consistently performs at or above the requirements set by the International Standards Organisation.
Red Star Locks make chain locks, cable locks, disk locks, armoured cable locks, U shackle locks and ground anchors which are all used in motorcycle security.
Red Star locks have various European approvals and American certificates and have supplied OEM locks for European and American brands for more than 10 years.
HOW TO PROTECT YOUR BIKE
Buy a secure chain so you can chain your bike to an immovable object like a lamp post.
Use a secure disc lock with a reminder cord attached to your handlebars so you don't ride off with it still in place.
Also, use the steering lock if your bike has one.
Even when parked in a secure location such as your garage, consider the extra security of using the steering lock, a disc lock or chain as well.
Pull out a spark plug or fuse, or have an immobiliser fitted.
Don't park your bike in railway or shopping centre carparks as these are notorious for theft.
Park in a locked carpark. If you have to park in the open, leave it where you can see your bike or in view of a security camera.
Otherwise, keep your bike out of sight, maybe parking it behind your car. If parking in a garage, block the bike with your car and ensure the garage is locked.
When riding home, make sure you are not being followed.
Stay alert for suspicious vans or trucks driving around late at night. These are used to transport stolen motorcycles.
Put a cover over your bike. It might slow down thieves and prevent theft of accessories. But make sure it isn't a flashy lone with the brand name of the bike on it. That only entices thieves.
When riding in a group, park your bikes together.
Consider marking your bike in a unique way that could aid in recovery and therefore dissuade thieves.
At hotels or public parking spaces, try to park in view of parking lot security cameras.
If you park your motorcycle outside your house, consider installing a motion sensor light near the bike.
Install a motorcycle alarm and/or a hidden kill switch.
Buy a GPS tracking system that can track and deliver your bike's speed, location, and direction.