What would you do if your child asked if they could buy a motorcycle? Would you do cartwheels or would you tell them it's too dangerous?
On the one hand you are probably delighted at the prospect of having your son or daughter follow in your tyre tracks and taking them along with you on your rides.
This could be the greatest bonding experience that keeps your child close at a time when most young people drift away from their parents.
On the other hand, images of your crashes and close calls over the years are probably flooding through your mind and you are frightened beyond belief at the thought of your child being injured … or worse!
There is no getting around the fact that riders are more vulnerable and more likely to be involved in a crash.
Parental advice
So what do you say when they ask to ride?
The most important advice we can give is not to push too hard either way.
Don't say no or they will push back. They will either hate you for stopping them or go out and buy a bike, anyway. In which case it could be the wrong bike for them, they may not get adequate training and they might not buy the right gear.
But don't be over-excited either or they might think you'll cramp their style and insist on an old man's bike instead of a cool hipster machine.
Instead, present your child with all the facts about costs and safety and let them decide if they want to go ahead.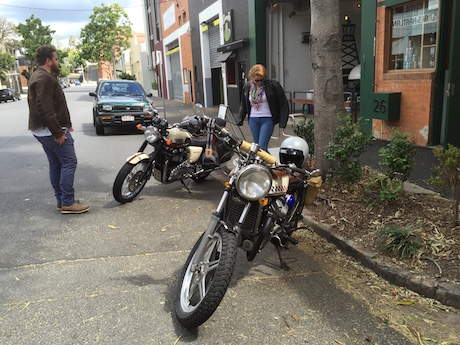 If you've been a good parent, you will have taught them how to ride a bicycle so they should already have a sense of road craft, vulnerability, never assuming they have been seen and preserving a buffer zone around themselves.
If not, then suggest they go cycling first.
In fact, in Queensland, you can't get a motorcycle licence until you've had a car licence for a year.
It's a strange law. In fact, it would be better for motorists to have had some time on a motorcycle before driving a car.
In fact, in Italy you can get a moped licence at the age of 14. The idea is to instil a sense of safety, road craft and understanding of vulnerability before unleashing a youth on a car.
Setting parameters for your child
If your child is still insistent on riding, you need to set some parameters.
First off, you should also insist on being involved in the motorcycle buying process.
Now that the Learner-Approved Motorcycle Scheme applies in each state, there is a wide choice of bike available to suit any size rider, ability and type of riding.
Check out our guide to buying your first motorcycle.
You can come to an agreement on who pays for what, but you need to outline all the costs involved which not only involves the cost of the motorcycle, but also the costs of learning to ride, getting a licence, registration, stamp duty, insurance, maintenance and, of course, appropriate motorcycle riding gear.
If you really do want to scare them off, make them get some insurance quotes. The exorbitant and extortionate insurance premiums for under-25 riders would be enough to scare anyone!
You should also insist your child does at least one advanced training course after they get their licence. You can work out wether they pay for that or you whether you give it to them as a Christmas or birthday present. It would be the best present you could give them!