Australia is heading for a record year in motorcycle safety recalls as manufacturers continue to use cheap and inferior parts in a vain effort to keep a lid on costs and weight.
Some of the low-cost parts we've seen on new motorcycles include inferior electronics, plastic components and alloy used for bolts, side stands and our biggest annoyance – valve stems!
For the price we pay for motorcycles, this is just not good enough. After all, a motorcycle is only as good as the cheapest part when it fails.
An example is the ever-present alloy side stand. It's cheap and saves some weight. However, it should not be used on big and heavy motorcycles as it can bend and eventually allow the bike to tumble, causing hundreds and sometimes thousands of dollars in damage. All for the sake of saving a few dollars on a steel stand.
Record recalls
Many times cheap parts are also the cause of failures that result in product safety recalls that cost motorcycle companies thousands and sometimes millions of dollars in repairs.
Again, it's false economy.
So far this year, we've seen four motorcycle brands recall several models over faulty Brembo front brakes, plus there have been nine other separate model recalls in less than two months, most for cheap components supplied to the manufacturer.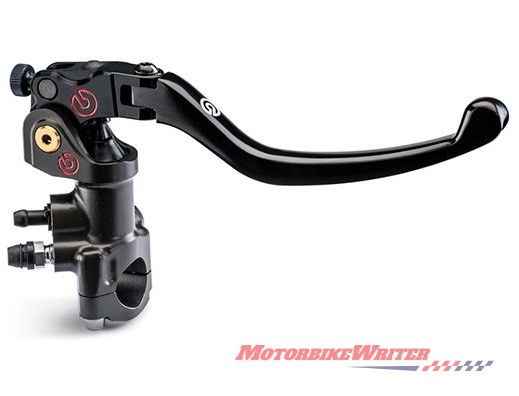 At this pace, 2018 will be a record year for recalls, beating the previous record of 39 in 2016.
Cheap valve stem
A cheap alloy tyre valve stem recently sidelined one of my riding partners.
Like many motorcycles, the manufacturers don't think about how difficult it is to attach an air hose to a valve stem in their spoked or complex mag wheels.
And many service stations now have automatic air hoses that are difficult to thread into motorcycle wheels.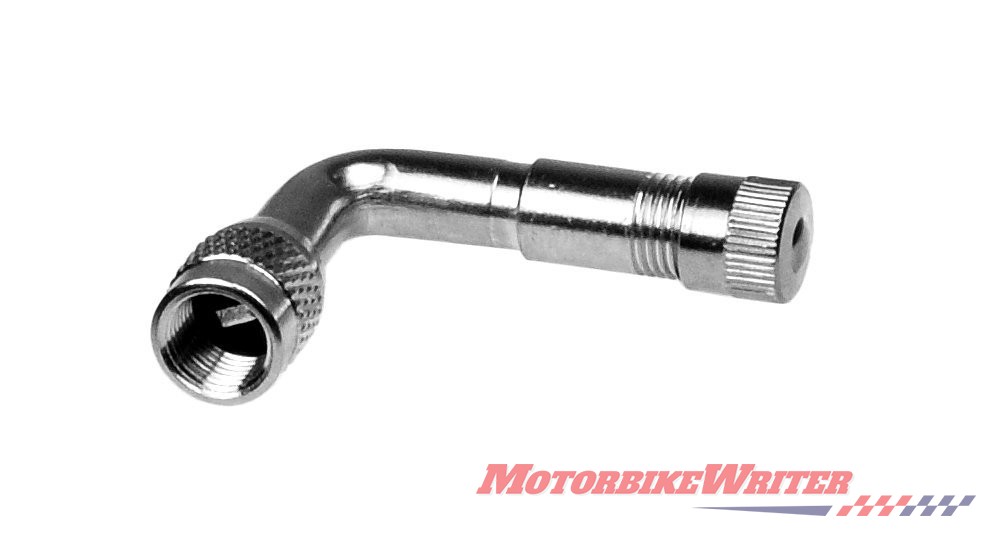 You could try a right-angle adapter or length of hose extension, but that usually requires you to have three hands to operate it.
Or you could replace the valve stems for right-angle stems.
On some bikes, such as retro bikes with wire spoked wheels and cruisers with big valances, it is almost impossible to pump up the tyres. So some riders just give up.
Is it any wonder so many riders have the wrong pressures in their tyres?
CLICK HERE to read about the correct tyre pressures for your bike.
'Catastrophic' event
Back to the cheap alloy valve stem … we eventually grappled with the end of the air hose and got it on to the front valve stem, but in taking it off, we accidentally bent the alloy stem and cracked it.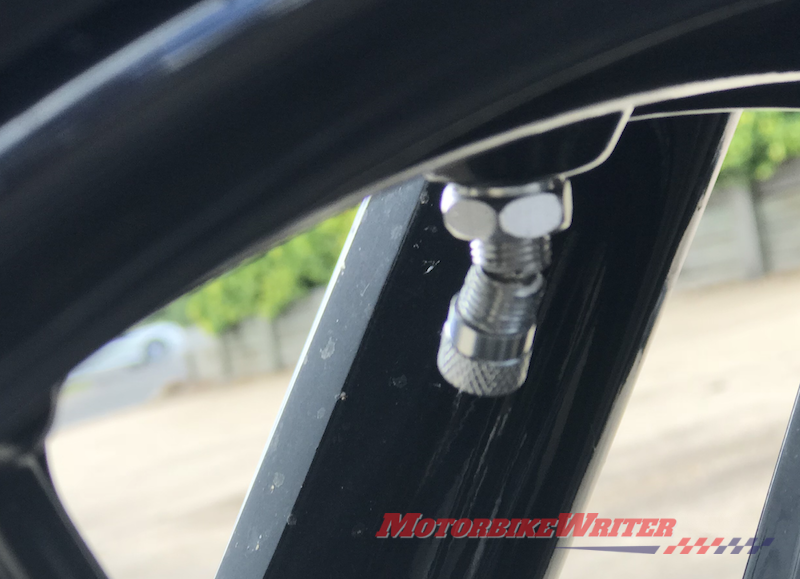 Luckily we were near Two Wheel Tyres at Blacksoil (SEQ) who told us the valve would not have lasted much longer before a "catastrophic loss of pressure".
They also said most modern motorcycles come with alloy valve stems which they often replace.
Two Wheel Tyres swapped this one for a right-angled valve stem for just $39.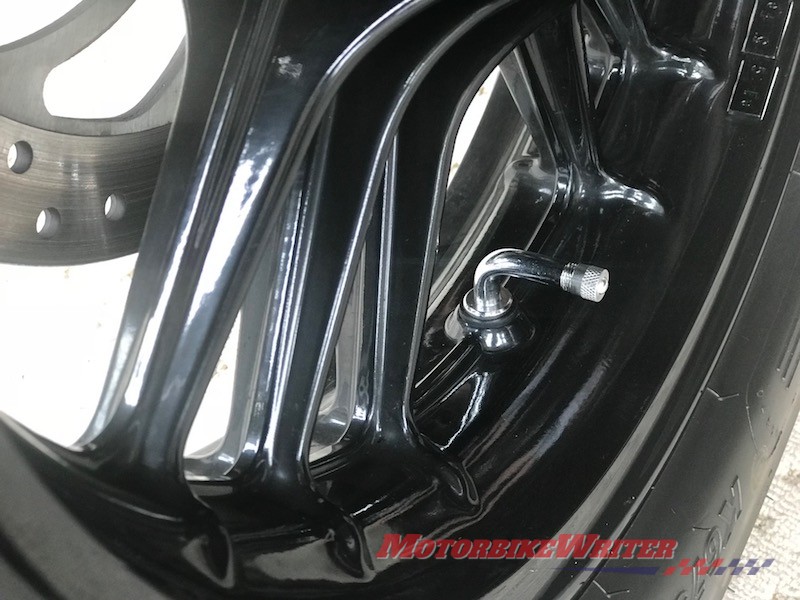 It's a cheap and important update for many bikes with hard-to-access valve stems.
Frankly, that's what many motorcycles should fit in the first place.
You could also fit a Bluetooth tyre pressure monitor like this. They also come in right-angle versions.