Motorcycle icon Charley Boorman loves Australia and can't stay away.
Charley, who was voted 18th all-time UK motorcycle icon in May will return Down Under in March to lead another Compass Expeditions Outback tour.
The third 10-day Outback tour starts in Sydney on March 11 and passes through Broken Hill, Flinders Ranges, Grampians and the Great Ocean Rd, ending in Melbourne on March 20.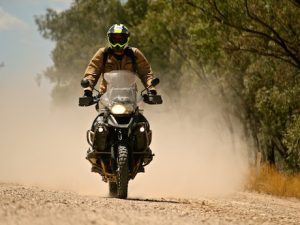 I went on the first tour last year and can confirm it is packed with interesting routes, some challenging roads, stunning scenery, professional back-up and some great times listening to Charley and Billy's banter over dinner and out on the road.
Despite Charley's Long Way fame, his Dakar Rally attempt, his exposure on several TV series and his recent inclusion with mate Ewan McGregor in the top 20 motorcycle icons, he really is a down-to-earth guy.
On the first Outback tour he pitched in to help with riders' flat tyres and other roadside maintenance and rode in the pack, dispensing humorous anecdotes and riding advice. He's a very competent rider, both on and off-road, and you are bound to come away from the tour with, not only some great memories, but improved riding skills.
SEE ALL THE PHOTOS FROM THE TOUR
Riders can bring their own bike, or hire from the Compass Expeditions extensive fleet of trusty of BMW GS models or a Suzuki DR650.
Visit the Compass Expeditions website for prices, itinerary and inclusions or contact 1300 887 327 (within Australia) or +61 3 5368 2113 (outside Australia) or email.