Charity riders have been refused service in the Commercial Hotel in Inglewood because they wore jackets with commemorative ride badges which were confused for outlaw motorcycle club patches.
Ride organiser Allen Ryall says the hotel refused to serve about three riders last Saturday, so he decided that they would all leave.
Australian Motorcycle Council chairman Shaun Lennard says the situation is "ridiculous" yet similar to an incident in Cairns where a rider was barred from a restaurant because of his t-shirt and tattoos.
Allen says there were about 40 riders on a variety of bikes on the Charity Poke Ride for Westpac Lifesaver Rescue Helicopter which rode up from Grafton last Saturday.
Allen and wife Gail have been organising these rides and other charity events for the chopper service after their son, Dale, was seriously injured in a car crash six years ago. They have since raised more than $60,000, including $20,000 in rides.
"It shouldn't have happened and I don't think I'll be coming back to Queensland again," Allen says.
(MotorbikeWriter has made several calls to the Commercial Hotel but has not been able to speak with anyone to confirm the incident. The phone call now goes to a fax machine.)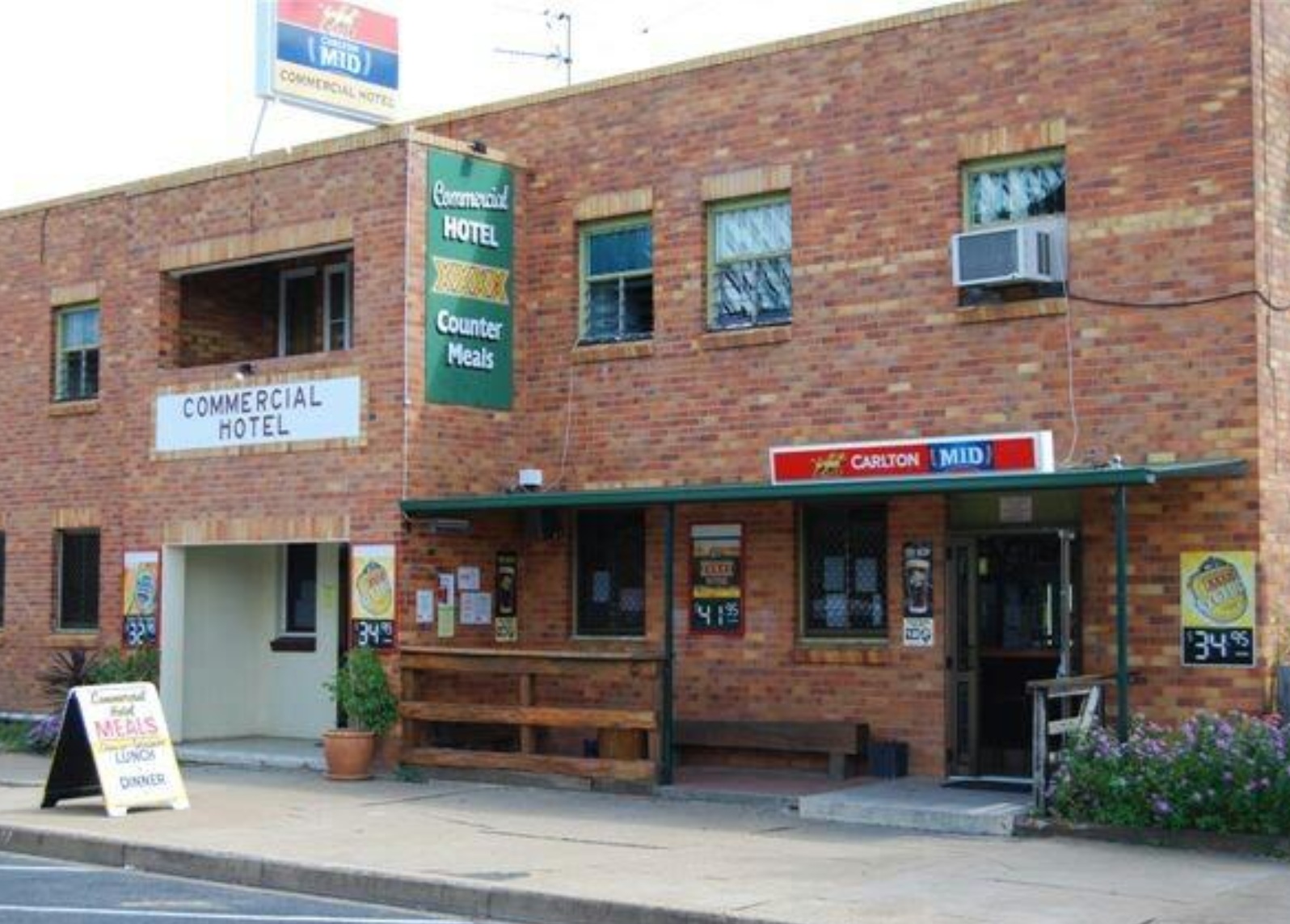 Allen says he had visited the hotel two months earlier to organise their visit with the manager.
"I also rang and touched base before we left and let them know when we'd be there," Allen says.
"When we got there on Saturday we arrived in waves. We didn't all just pull up in one hit.
"The last group in were the Harley Owners Group. These are just ordinary family folk and some had their wives on the back and that sort of stuff. They're not Rebels or anything or wearing any 1%er colours."
Allen says they were not thrown out because of the type of bike they were riding, but because of their jackets.
"We were standing in the door of the bar and this bloke walked out – I presume he was the licensee – and said 'Who's in charge?'
"I thought he was going to welcome us, but he confronted us and said 'You can't come in here' and said 'I'm not serving him' and pointed to a guy wearing a Harley jacket with his name on it and a few different charity ride badges on the front of his jacket.
"I just said 'this isn't our colours or patches'. He said 'I'm the licensee, I know the law and I'm not serving you'. He pointed out another two blokes wearing similar jackets, yet everyone else had already been served."
Allen says the licensee had a "total misunderstanding of the law".
"So I decided we'd all leave," he says. "One for all and all for one. If he doesn't serve one, he's not serving any of us."
Allen says the licensee told them he would ring the police. An Inglewood police officer confirmed he had received a call from the hotel advising him that "patch members" had been told to leave.
"He said he was uncomfortable and asked them to leave," he says.
The officer says he was off duty at the time, but aware that it was a social club ride, not outlaw bikies, and didn't attend. He says he cannot comment further.
Allen says he is not coming to Queensland again, "if that's going to be the norm".
However, he says their next ride is planned to be held in Texas which this year declared itself the first Motorcycle Friendly Town in mainland Australia. (Read my story here.)
"We stayed at the Stockman Hotel (Texas) on Saturday night and had a great time and a great feed and spent a lot of money there for them and raised a lot of money," he says.
"Next year's ride is to Texas at this stage, but it's only 1km into Queensland so we will run the gauntlet."
One of the charity riders, Tony Payne, says he will continue to visit Queensland.
"There are some beautiful roads up there and I have a lot of good friends up there we ride with and I come up there fairly frequently," he says.
"I'm not going to take one incident from some stupid publican and not ride in Queensland."
Goondiwindi Regional Council also plans to make Inglewood and Goondiwindi motorcycle friendly towns after the success they have had with Texas.
NEW LICENSING LAWS:
Under new laws introduced in the war on bikies, publicans face $11,000 fines for allowing members of declared outlaw motorcycle clubs to remain on their premises.
Changes to the Liquor Act prohibit people from entering or remaining on licensed premises if they are wearing "outlaw" colours, a 1%er badge or the name of an outlaw club on an item of clothing, jewellery or accessory.
Staff are obliged to tell the person to immediately leave the premises.
If the person refuses to leave they face up to a $41,250 fine for a first offence, $57,750 or six months in jail for a second offence and $82,500 or 18 months' jail for third or more offences.
Meanwhile, the Australian Motorcycle Council has established a fighting fund to support any High Court challenge to any of the anti-bikie legislations. To read more about the fund and to donate, click here.