CGR Bike Gear Fleece Polo Review
CGR's fleece polo is a really useful layer designed by bikers for bikers, at a great price.
Have you ever spent hours trawling online or offline boutiques for an item of clothing you've decided will make your life complete, but doesn't seem to exist?
For me, it was a fleece polo neck.
I wanted a warm, cosy fleece to wear on my bike that would come up high enough to cover my throat.
But I only ever found crew- or V-necks and usually in horrible colours to boot.
When CGR Bike Gear founder Claire's partner had the same problem back in 2008, she was able to knock the requested garment up for him.
Friends expressed an interest and they began to market their creation, first on eBay and then through their own website.
The result is not just a fleece polo, but one designed specifically for bikers — exactly what I was looking for!
As well as the microfleece polo in men's and women's sizes, CGR makes cotton polo necks, zip-up tops in fleece and cotton, and even cute fleece jackets and hats for babies and kids.
The standard colour for the adult clothes is black, but you can request any colour you fancy and they will do their best to find a suitable fabric.
You can even add a custom logo or badge, with prices varying according to design and quantity.
It's easy to select the item and size you want on the website, add any special instructions, and pay securely online. UK customers can also pay by cheque or postal order.
CGR will accept international orders; typical postage cost to the USA is £11, recorded delivery.
Ordering the CGR Polo Neck Fleece
I dropped the company an email as I wasn't sure which size would be right for me. I received a reply almost immediately asking for my measurements so I could have the perfect fit, plus extra help when I didn't understand how to measure my underarm and got it wrong.
This custom fitting came at no extra cost. CGR are happy to alter sleeve and body lengths, and have even made one-armed tops. I feel £11.99 is an excellent price for this sort of item anyway; to have it custom-made too is an incredible bargain.
Once I'd placed my order my purchase arrived quickly, well-packed in a padded envelope. We've been having some wet and chilly weather lately, so I was delighted to have this addition to my wardrobe.
The fleece was thicker than I expected from the photo on the site, making the garment more of a thin, warm sweatshirt than a base layer.
There's plenty of room for a T-shirt or thermal top underneath, however, or indeed a vest (in the British sense of a sleeveless undergarment).
Mine falls to about about five inches below the waist, meaning it can be either tucked into trousers or worn loose.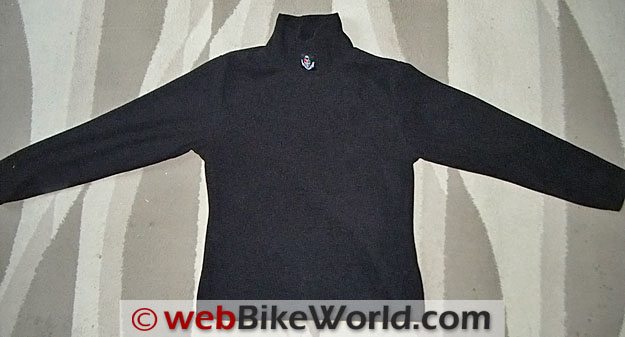 Although described as a polo neck, the fleece actually has my very favourite sort of neckline, the mock turtle. In other words, the high collar is stitched to the body of the top rather than rolling over, a process I can never seem to manage without folding it in the wrong places.
There's a fabric patch in the front of the collar with the CGR name and logo. From the pictures on the site, I wasn't sure if I'd like this, but in fact it adds a distinctive touch and doesn't make the collar stiff or uncomfortable.
I found getting the fleece over my head a rather tight squeeze, even with my glasses off, but it's very comfortable once it's on.
I like to wear a neck tube on the bike to keep my helmet strap from chafing; this tucks nicely into the collar of the fleece, forming a gapless barrier against the chill.
The 100% polyester microfleece has a lovely, soft feel.
Mine has had several spins in the washing-machine and has so far emerged just as soft and fluffy every time — nor does it have the peculiar wet-dog smell some fleece garments seem to acquire after a wash. (It should be washed at 30 degrees, and can be ironed but not tumble-dried.)
Because I provided my underarm measurement, the sleeves are exactly the right length.
In a world where almost every top and jacket is too long in the arm for me, this is a welcome novelty, and to get it at no extra charge was the icing on the cake.
The overall fit is excellent: not too loose, not too tight, perfect for insulation.
The cuffs are slightly gathered to give a good cut at the wrists, and they don't ruck up. Best of all, there's no itchy label in the neck. There is one in the left side stating materials and washing instructions, but it doesn't bother me.
If you're a decent needleperson you could probably make something like this yourself, but as someone whose sewing skills are limited to the occasional patch on a parka I'm glad CGR have done it for me.
The fleece does have a distinctly homemade look to it, but I mean that in the sense of "not mass-produced" rather than "amateur".
The seams are a little thick, but don't chafe or spoil the look of the garment.
The machine-sewing, in matching black thread, is small, neat and barely noticeable; I found a couple of loose stitches on one cuff, but they weren't enough of a problem for me to bother exchanging the fleece.
If you do wish to return an item, by the way, you have fourteen days to do it. You will need to pay the postage, but it may be refunded depending on the circumstances of the return.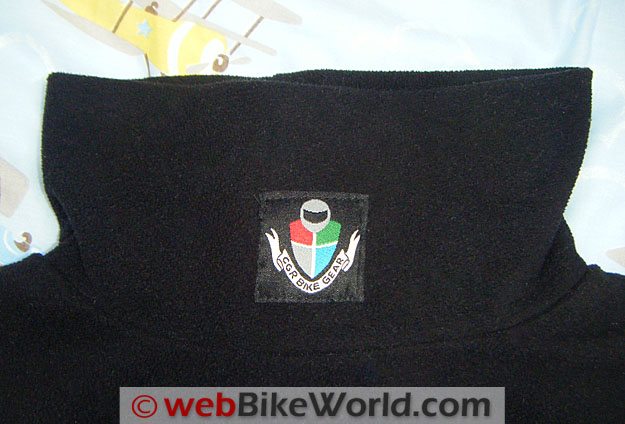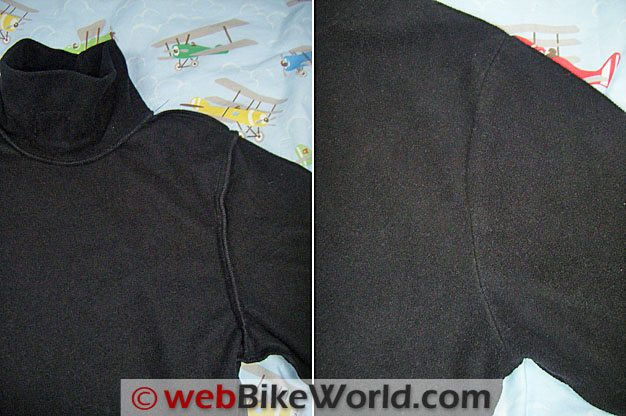 ---
Performance
But never mind the aesthetics, how does the fleece perform when I'm on the bike?
It's very, very warm and comfortable, is the answer. I can just put it on and forget it's there. An excellent cold-weather layer, it's also most welcome under a mesh jacket on cooler summer mornings.
In the depths of winter I reckon it will fit over my heated waistcoat and keep all that lovely warmth in, but that's not something I'm prepared to try out in August.
The high collar fits fine under my bike jacket, and doesn't chafe my neck no matter how much I turn my head. Because it's fleece, I can roll or fold it up to stuff it in my luggage and it will emerge still looking reasonable.
Off the road, the fit is so good and the fleece looks so cosy that bikers and non-bikers alike exclaim over it and ask where they can get one. I know what my mum's getting for Christmas…
Conclusion
I have several fleece tops I wear on the bike, but this is the only one designed with motorcycling in mind.
The CGR fleece is not just the warmest and most comfortable of the lot, but the best-looking too. It has swiftly become my sweater of choice for days spent on the bike.
More wBW Heated Clothing Reviews  |  Motorcycle Glove Reviews
w

BW

 Product Review: CGR Bike Gear Polo Neck Micro-Fleece
Manufacturer: CGR Bike Gear
List Price: £11.99. Postage £3 for orders under £20, free for orders over £20.
Colours: Black; custom colours available at no extra cost.
Made In: UK
Sizes: Women's: Small (UK 8, US 4) to X-Large (UK 14-16, US 10-12). Men's: Small (up to 36″ chest) to X-Large (up to 48″ chest). Custom sizing available at no extra cost
Review Date: August 2010
Note:
 For informational use only. All material and photographs are Copyright © webWorld International, LLC since 2000. All rights reserved. See the webBikeWorld® 
Site Info page
. Product specifications, features and details may change or differ from our descriptions. Always check before purchasing. Read the
Terms and Conditions
!
---
Owner Comments and Feedback
---
From "P.S." (12/10):  "Just wanted to echo the praise for these shirts. I sent my order in for a large and Claire wrote back suggesting I send measurements, which is unheard of here in Dallas — measurements?
So I timidly sent a neck size, and Paul wrote back "come on give us the whole thing".
There is a chart on their site so I gingerly stepped out and got my wife to measure me all over shoulder, chest, belly. I kept thinking all for a $30 dollar shirt?
Wow! Anyway, the shirt came and it fits perfectly and does all the things your reviewer said, it is comfortable and warm, so I have ordered more shirtsand a couple for my friends as Christmas presents.
Thanks webBikeWorld for the review and CGR,my neck is no longer cold."
Other WebBikeWorld Clothing Posts