CFMoto has confirmed their largest bike yet will not only be available as a Chinese police bike, but also in civilian clothes for the global market.
Back in May, Michael Poynton, director of Australian importer Mojo Motorcycles, told us the civvy version of the CF1350J was coming, but not for a while.
"I haven't received technical details yet from CFMoto," he told us.
Well, now he has.
It will be powered by the largest-capacity motorcycle engine not only in CFMoto's 30-year history, but also China's motorcycle manufacturing history.
The CF1250 will be powered by a 1278cc V-twin producing 105kW (140hp) of power and 120Nm of torque.
It is basically a heavily re-engineered version of KTM's LC8 V-twin, manufactured under licence.
CFMoto and KTM have had a long association with the Chinese manufacturer producing small-capacity KTM bikes for the local market for several years.
The CF1250 will not only have their biggest engine, but also the world's biggest colour TFT dash with a 12.3-inch screen.
This bike is part of a model assault into new segments planned by the Chinese company in partnership with KTM, starting with the 700CL-X early next year.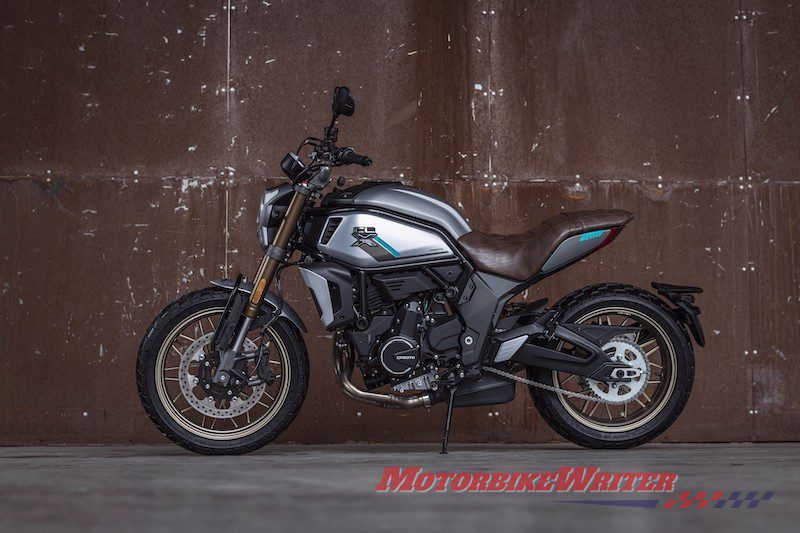 CFMoto have just opened a new office and research and development building in Hangzhou and later this year will commission their new 150,000sqm high-tech factory. It has a potential production capacity of 50,000 larger-capacity (790cc-plus) motorcycles a year.
Company chairman and owner Lai Guogui says they wanted to demonstrate their capability with larger-displacement models.
"While other companies in the domestic Chinese powersports industry were developing 125/150cc bikes, CFMoro was making our 650NK model, on which we are already on to the second generation," he says.
"And while other companies are developing 250/300/400cc bikes, CFMoto is developing a 1000cc-plus bike."
In Australia, the Chinese company has sold more than 25,000 vehicles since it debuted in 2005 through its Australian-owned distributor, Mojo Motorcycles. They now have more than 80 dealers.
They have also increased their two-year warranty to three years for all CFMoto motorcycles bought until the end of the year.