A ceramic coating on your paintwork, pipes, chrome, forks and other hard parts will not only protect them from road grime and UV fading, but also make it easier and quicker to keep your bike clean.
We have heard of products with nanoceramic properties, but applying them is a long, expensive and arduous process.
So we went to the professionals — Preferred Car Care who are exclusive Ceramic Pro installers in Brisbane and the Gold Coast. Ceramic Pro is available to professionals in more than 70 countries.
Director Justin Harris says they have worked on many premium motorcycles and cars including Ferraris and Harley-Davidsons.
Permanent bond
He says the Ceramic Pro product "permanently bonds" with the underlying layer whether it's paint, lacquer, chrome or bare metal.
"It can be applied to anything," he says. 
"A single coat can be expected to last a minimum of five years on motorcycles. Ceramic Pro can be layered so additional coats extend on its longevity."
It will also prevent "bluing" in some exhausts depending on the composition of the metal.
We had them apply two coats of Ceramic Pro to our new Ducati Scrambler 1100 Sport paintwork, forks, panels, exhaust, rims and frame, costing $650.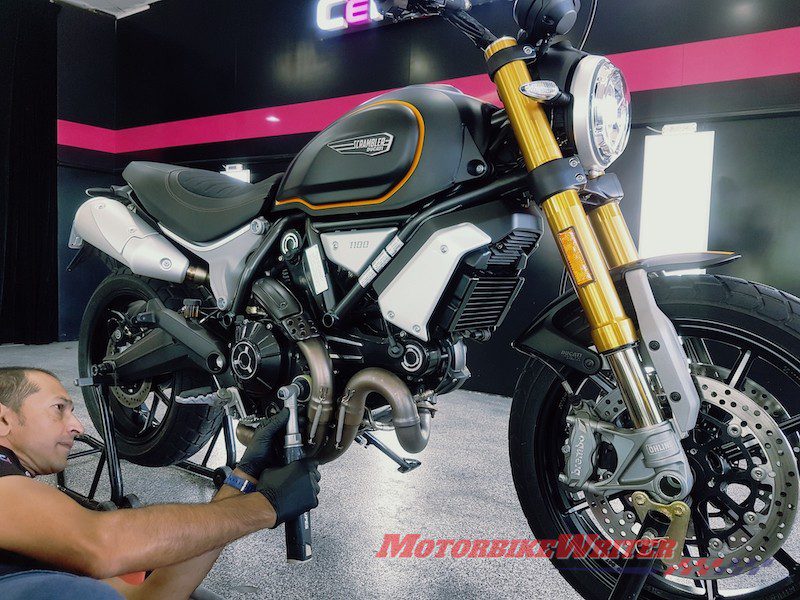 First, they wash and detail the bike, checking for scratches, chips, etc to fix before polishing the surfaces.
The first coat of Ceramic Pro is applied by hand, then allowed to cure before the second coat is applied by spray gun with a 0.8mm tip.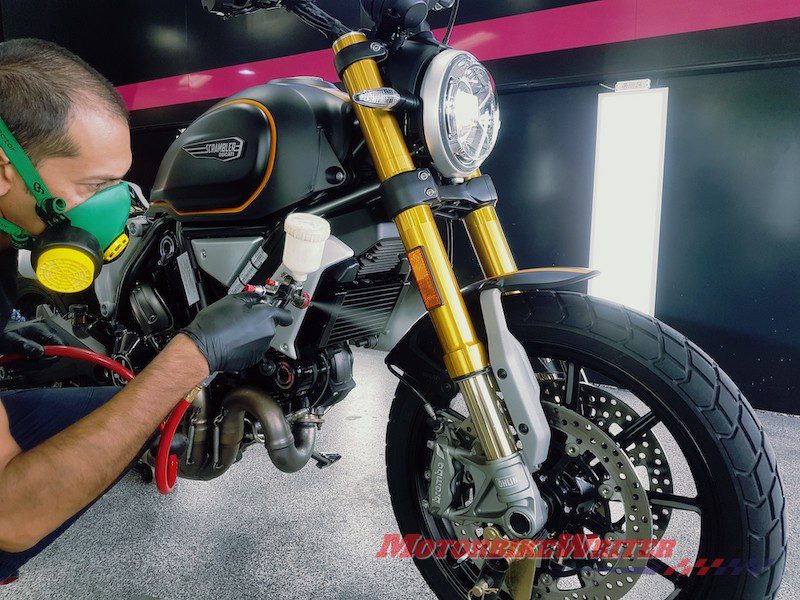 Justin promised the coating would not turn the Duc's satin sheen paintwork glossy and he was right. 
The clear coating is a little difficult to detect due to the seamless application. It simply makes the bike "glow".
Ceramic advantages
The advantages of Ceramic Pro are not only that it will protect the paintwork from UV and environmental deterioration, but it also makes it easier to maintain its new look.
Justin says Ceramic Pro creates a "non-porous hydrophobic, heat-proof finish that stops the onset of oxidation and keeps surfaces looking new". 
By "hydrophobic", he means it repels water, so when it rains or you wash the bike, the water beads off.
That means road grime and dirt particles don't stick, but flow off with the water, so it stays cleaner for longer.
We've all washed and detailed our bikes only to have it rain and totally ruin the result.
But with this coating, most of the grime doesn't stick and what remains can be wiped off with a soft cloth. 
I rode the bike through a short shower and on wet roads that left a small amount of grime on the surface. It just needed a quick wipe to restore the surface lustre.
You can also just give it a waterless wash with a products like this from Motul.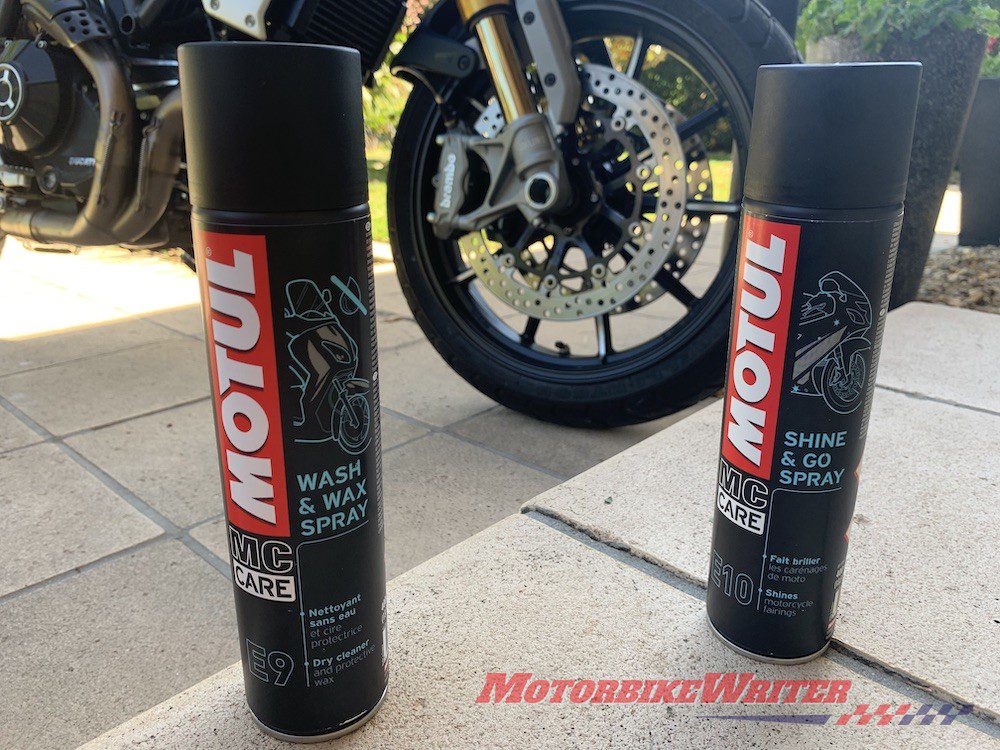 I also found bugs can simply be wiped off  whereas they usually stick to the paintwork and require water or a special spray to soften them before removal.
If you do wash your bike after having it ceramic coated, Justin suggests using a pH-neutral car or bike detergent. 
It will only need a wet wash when it gets really dry and he says you won't need to use any wax.
Justin says it lasts for up to five years per coat and you can get a maintenance service for $330 that includes a full detail and spray application top-up coat.