Should we celebrate Australia Day with motorcycle stunts like these performed by the Indian Border Security Force motorcycle team?
The Indian motorbike team will perform these stunts on Royal Enfields in a parade in front of US President Barack Obama today which is Indian Republic Day. Obama is the first US President to attend the event.
Wouldn't it be great to see Australia celebrate its motorcycling history with a similar two-wheeled display? Unfortunately, the safety super nannies would probably be up in arms over such "hoon" behaviour.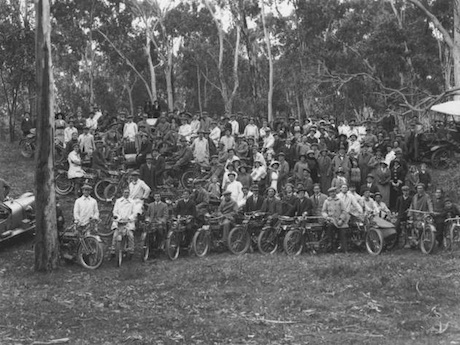 Australia has a rich motorcycling history that deserves to be celebrated on our national day.
With its vast distances and rugged terrain, motorcycles were popular at the start of the last century and we even had a thriving motorcycle manufacturing industry, particularly during World War I when supplies of British motorcycles dried up.
While we have not had a motorcycle manufacturing industry for some time, Australia once built many motorcycles such as Lewis, Pasco, Blue Bird, Bullock, De Luxe, Peerless, Invincible JAP, Whiting, Mostyn, Rudge, FN and Norton.
Robert Saward wrote A-Z of Australian-made Motorcycles which details 396 brands of motorcycles, most of which were assembled here from imported engines and frames.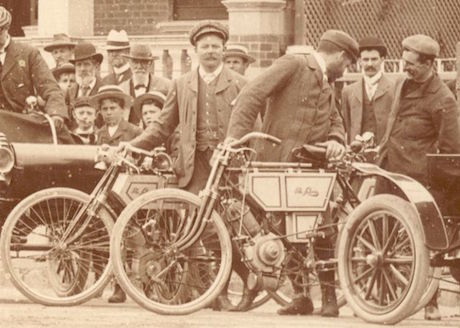 In 1928, the Auto Cycle Council of Australia was formed to represent the interests of motorcycle clubs and state associations at a national level. It is now called Motorcycling Australia which represents motorcycle racing.
Australians were among the first in the world to start racing motorcycles. Many believe the first speedway meetings were held in Australia and our speedway riders travelled to the UK to pioneer the sport.
Over the years, Australia has had many motorcycle champions. MA notes our first world champion as speedway rider Lionel Van Praag in 1936.
Here is MA's list of Aussie champions, something definitely worth celebrating on our national day:
1936, Lionel Van Praag, Speedway

Lionel Van Praag

1938, Bluey Wilkinson, Speedway

1951/52 Jack Young, Speedway

1957, Keith Campbell, Road racing (350cc)

1961, Tom Phillis, Road racing (125cc)

1969, Kel Carruthers, Road racing (250cc)

1979/81, Barry Smith, Road racing (Formula TT)

1983, Steve Baker, Speedway (under 21)

1987, Wayne Gardner, Road racing (500cc)

1992, Leigh Adams, Speedway (under 21)

1994-98, Michael Doohan, Road racing (500cc)

1995/2004/06/09, Jason Crump, Speedway (under 21)

Jason Crump and Troy Bayliss

1996/2005, Troy Corser, Superbikes

1997, Shane Watts, Enduro (125cc)

1997, Peter Goddard, Endurance Road Racing

2000/01/03/04, Stefan Merriman, Enduro

2000/02, Warwick Nowland,

 

Endurance Road Racing

2001/06/08, Troy Bayliss, Superbikes

2001/08, Andrew Pitt, Supersport

2001, Heinz Platacis, Endurance Road Racing

2003/08, Chad Reed, Supercross

2003, Chris Vermeulen, Supersport

Chris Vermeulen

2004, Karl Muggeridge, Supersport

2007/11, Casey Stoner, MotoGP

2009, Jay Wilson, Junior Motocross

2009/10, Darcy Ward, Speedway (under 21)

2009, Steve Martin, Endurance Road Racing

2010, Mick Headland, Jesse Headland, Track Racing Sidecar (1000cc)

2011, Darrin Treloar, Jesse Headland, Track Racing Sidecar (1000cc)

2012, Caleb Grothes, Junior MX (65cc)

2012, Chris Holder, World FIM Speedway GP

2013/14, Matthew Phillips, Enduro (Junior/E3)

2014, Jett Lawrence, Junior MX (65cc)