Back to the Ducati Page  | More Cary: About Me  |  Report: QB Carbon Ducati MotoGP Replica Bodywork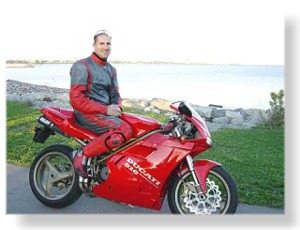 I was beginning to get more than a little annoyed with the now badly warped factory Brembo rotors on my Ducati 916 because the warping was getting worse and worse.  Each squeeze of the front brake resulted in some form of feedback through the brake lever/master cylinder.  The feedback was present whether I was feathering the brake lever lightly or really getting on the binders hard.
The amount of front brake lever/master cylinder feedback was apparently directly proportional to the amount of front brake being applied by the rider – ME!
In plain English, what this meant was that the harder I squeezed, the more violently the lever would modulate, letting me know in no uncertain terms that all was not well in Brembo-Land!
What was a minor annoyance during regular "around town" braking applications could become downright scary — and dangerous —  when I began to stress the brakes by probing their limits.  Executing a high performance "threshold braking" deceleration from say, 130 kph to a full stop, the brake lever would no longer give light feedback, it would pulsate like a heart beating about 250 beats per minute!
Truing or machining the rotors was not an option; by time they were machined flat, they would have been way under the safety tolerance for thickness.  So the only way to cure this annoying and potentially very dangerous problem was to completely replace the brake disks (rotors) and brake pads.
Yes, I could simply replace the old, baffed-out and warped 320mm Brembo semi-floating disks with identical brand-new "replacement" 320mm Brembos; mount some Ferodo sintered brake pads into those 4-piston calipers; bed those bad boys in properly and ta-da, I'd once again have one of the best stopping motorcycles out of the box, period.  With that said, the story should be over.  Of course, there is always room for improvement…..
Enter Jeff Bloor, owner of Cyclemax Services, a high performance race shop located on Steeles Ave. & Torbram Road in Brampton, Ontario, Canada (905-791-9677).  Jeff, a former racer, is widely recognized as one of the best Crew Chiefs and race mechanics in Canada, and he takes that track experience to Cyclemax, where he specializes in performance modifications (he even has his own Dyno on-site) and maintenance for anything that has 2 wheels and an engine.
Specializing in both stock and modified Ducatis, Jeff is the only guy whom I will take my Ducati to when it needs something done.  His honesty and genuine friendliness are refreshing to see in his line of work, and if you ask around, you simply won't hear a bad word about him or the quality of his workmanship.  Simply put, Jeff Bloor is a class act that knows his stuff and I would recommend anyone who is looking for a mechanic to check him out.  If you are looking for someone to do some high performance work to your bike, Jeff's track record and experience speak for itself.  For those of you who either have or are considering acquiring a Ducati (and live near Jeff!), you'd be nuts to take it anywhere else!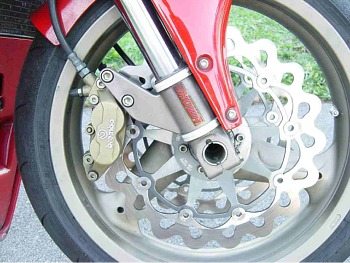 I went to Jeff to talk about my need for new rotors, and he immediately suggested that instead of staying with the twin "heavyweight" 320mm semi-floating Brembo disks on the front and the lone 220mm semi-floating Brembo on the rear, we mount the fully-floating Galfer Wave Rotors up front with the Yoyodyne Full Titanium Nitriding rear disk out back.
Why are these rotors better than the factory Brembos?  Well, besides looking rather exotic, the real essence of this brake disk is that the braking has nothing to do with the disk, yet the disk means everything.
Confused?  Don't be.  Let me explain…
It's not so much the surface area of the disk that creates better stopping power, it's the efficiency with which the pads evenly utilize the surface of the rotor; the elimination of lightening holes (for added strength); and the ability to expand and contract as they heat up without warping the disk.
Simply put, these disks use the entire pad surface for maximum stopping power while remaining perfectly flat.  Galfer claims that their laser-cut Wave rotors have up to 30% more stopping power than the conventional disk design.
They claim that a brake pad's maximum grip is generated at the moment of initial bite, and once that initial bite has occurred, the levels of grip tend to fall off in a predictable manner.  The reason that the Galfer Wave rotors can produce much more grip and sustain it throughout the entire braking process is that the actual "Waves" in the brake disk are engineered and located in such a way as to constantly provide a new area for the brake pads to "bite" into while the disk is rotating!  Heat is and always has been a major enemy of brake rotors, because when the disks heat up, the pads can tend to "glaze" over slightly and lose their grip characteristics.
Also, extreme friction of pad on rotor can heat the disk up to an unacceptable level at which point, if the rotor is not given adequate time to cool, it will not be able to properly dissipate the heat and it will expand beyond its design tolerances, with the result being serious warping.  The Galfer Wave rotors do not have nearly the same level of overheating problems because the rotating Wave design actually facilitates cooling, dissipating heat much quicker than a solid disk.  Also, since the brake pads are constantly getting a fresh bite out of the disk as it rotates they are always at the optimum braking point.
The only downside is that they tend to eat brake pads at an alarming rate, and HH-rated ceramic/copper composite pads are recommended to exploit the fullest potential of the system.  There is no question at all that the Wave rotors can help you slow down better than the factory binders, but what you may not be aware of is the fact that these Wave rotors can actually improve acceleration as well!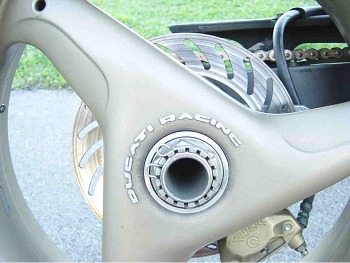 The two full- floating Galfer Wave rotors on the front weigh over 4 pounds less than the stock rotors on my Ducati 916, and the Yoyodyne Titanium Rear weighs one pound less than the stock rear.
This means that although there is no horsepower gain, the engine will spin up noticeably faster, because there is dramatically less rotating mass that otherwise would have to be controlled when getting the bike up to speed.
So not only does the bike accelerate faster (there is less rotating mass to spin up!), the weight savings on the rotors also means that the bike is generating less centrifugal force, resulting in
Write me at [email protected]
noticeably easier turn-in and direction change while at speed.
I thought the factory Brembo brakes on my Ducati 916 were good, and relatively speaking, I guess they were.  The Galfer Wave rotors however, are dramatically better!  The difference is apparent immediately, and I would absolutely recommend them to anyone looking for improved braking performance with no performance penalties at all.  I can't wait to get them on the track so I can exploit them to their fullest potential.  Their weird looks make for an excellent conversation piece and they look pretty damn trick too!  They are definitely money well spent!
Ride safe!
Cary Martynuik