The Cargo Buckle is a "must have" accessory for trailering a motorcycle.
It's a ratcheting tie-down strap that is self-contained in a retracting bolt-on assembly.
The strap is always available on the trailer or pickup, yet it's easily retracted and out of the way when not needed.
The Cargo Buckle makes tying down a motorcycle so easy, it's amazing!
Our basic little flatbed motorcycle trailer is now maxed out with goodies.
It looks pretty tricked out with a Bike-Grab front wheel chock (review), the fantastic Tyre Down rear wheel tie down (reviw) and now we've finished it off with a pair of Cargo Buckles up front.
The only thing left is to have a self-loading motorcycle!
We've been trying to rethink the basic motorcycle loading system since we got the trailer, and the one thing that still bothered me was those nasty old ratcheting tie down straps.
Nylon webbed ratcheting straps are probably the most common method of securing a motorcycle to a trailer.
Anyone who trailers a motorcycle, an ATV, a dirt bike or whatever probably has a couple of pair floating around in the bed of the pickup.
But it seems like every time I fish the things out from their hiding place, they're knotted up like a cheap plate of spaghetti.
Then I have to fuss with getting the loose end through the ratchet roller, which inevitably ends up the wrong way around the spindle.
The Cargo Buckle
The Cargo Buckle has made life so much easier.
They're super-easy to use and once installed, they're always ready to go and you'll never have to worry about forgetting to bring the straps, unraveling the knots or, best of all, having to mess with tying up the loose strap ends.
I found the Cargo Buckle product at this year's Powersports Dealer Expo in Indianapolis. As soon as I got back home, I ordered a pair and installed them on our flatbed trailer.
The trailer has a wood floor, which, by the way, I now realize is the only way to go. It makes mounting accessories like the Bike Grab or the Cargo Buckles a piece of cake, and if I have to move one of them to a different location on the trailer, no problem.
The wood planks can also be replaced if they ever get damaged or rotten, although that's unlikely since they're pressure treated lumber.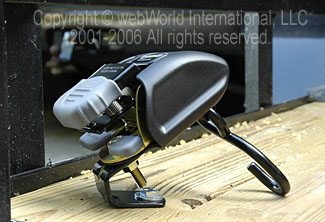 What Is It?
A Cargo Buckle is a self-contained ratcheting motorcycle tie down device. It has a built-in 55″ webbed strap with a powder coated metal hook and a built-in ratcheting and self-retracting mechanism.
The Cargo Buckle unit can be mounted to metal or wood, or on the optional 45 degree risers seen here.
Operating the Cargo Buckle is as simple as it gets, and much easier than the typical ratcheting straps.
All you have to do is pull on the hook to extend the strap, which is coiled inside of the Cargo Buckle unit.
Slip the hook through your hold-down straps on the bike and use the big gray handle on top of the Cargo Buckle to ratchet the strap until it's tight.
To disengage the Cargo Buckle, press one of the smaller levers on the bottom and the ratchet is released. The strap retracts into the assembly just like rewinding a tape measure.
That's all there is to it, and the entire process can be done with one hand if necessary.
The rated capacity of the Cargo Buckle unit is 5,000 pounds, more than enough for any type of motorcycle we'll see in our lifetime.
A pair of Cargo Buckles retails for around $69.99 a pair.
This is actually a very reasonable price, considering their usefulness.
They're also available in stainless steel for about $40.00 more, but the salesman told me that he has been using the regular version for some time on a trailer that's left outdoors near salt water with no problems.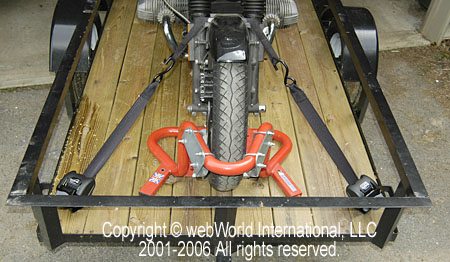 Conclusion
The Cargo Buckles really do make loading a motorcycle on a trailer so much easier. I hope I never have to go back to old-fashioned ratcheting straps!
w

BW

 Review: Cargo Buckle Ratcheting Tie Down Strap
List Price (2006): $69.99 pair.
Made In: U.S.A.
Colors: N/A
Sizes: S-L
Review Date: April 2006