Cardo Scala Rider Packtalk Image Gallery
The Cardo Scala Rider Packtalk is an advanced motorcycle communication system with many new features.
The system is the first to include the Cardo "Dynamic Meshwork Communication" (DMC) feature, a wireless mesh network.
This connects up to 15 Packtalk riders (increased from 10 for 2016) in full-duplex intercom mode (up to 4 can be heard simultaneously to avoid confusion).
DMC is a variant of a mesh network, so it is "self-healing"; i.e., when a rider or riders are out of range, the system maintains integrity and seamlessly re-connects the riders when they're back in range.
This is an improvement over the typical Bluetooth system (which is still included as the default in the Packtalk intercoms).
The Scala Rider Packtalk system is absolutely brimming with options, so this is not a motorcycle communications system we'd recommend for beginners.
You'll really want to have experience with motorcycle Bluetooth communications before you tackle a Packtalk system.
And be prepared to spend a significant amount of time studying the 45-page User Guide and learning how every feature works before you head out on the road.
But once you get it all figured out, you'll have what has to be the most advanced motorcycle communications system currently available.
Editor's Note
The Cardo Packtalk won the webBikeWorld.com 2015 Motorcycle Product of the Year Award!
UPDATE: Cardo Smartpack review. A 4-user version of the Packtalk.
See Also: All webBikeWorld Cardo Intercom Reviews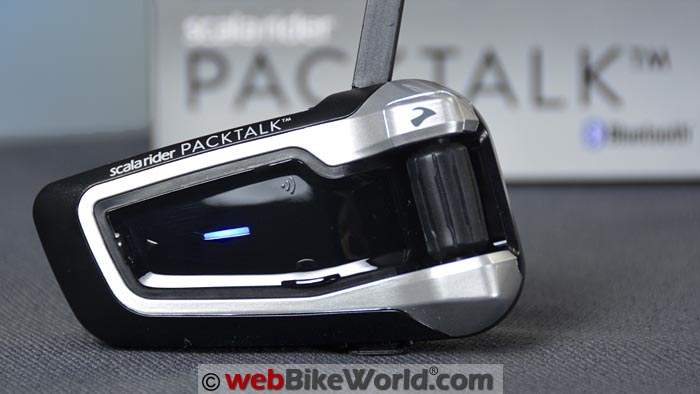 Editor's Note
The Cardo Packtalk system is so advanced and has so many options, it would be impossible to fully describe them all, even in a multi-page review. In fact, it would take us months just to fully evaluate them all.
So let's do something different here: we'll describe the features, then some of our initial experiences.
After that, we'll leave it up to you to ask specific questions, which we hope to answer. Anything we can't answer ourselves, we'll ask our contacts at Cardo.
Since we typically end up getting roped into free owner support for motorcycle intercom systems anyway — usually long after the intercom is released and our review is published — we may as well see if a "Q&A" type of continuing informational process will be a better format to help answer everyone's questions.
And surely there will be many of those for the Packtalk system.
Burn and I have spent days thumbing through the (thankfully) printed Cardo Packtalk User Guide(link to the .pdf format) that thankfully comes with the system (and is printed in 5 languages).
But even after all that, we're still learning how to use all the Packtalk features and it will be some time — if ever — that we actually use all of them on the road.
Also, we hope to hear from Packtalk owners with tips, tricks and experiences.
w

BW

 Video: Cardo scala rider Packtalk
Introduction
The new Cardo Packtalk system is a revolution in motorcycle communications.
But as it happens with many "leading edge" products, there's going to be a pretty steep learning curve before owners will "get it". At least that's our experience.
We don't know how Cardo feels about this, because every manufacturer wants customers to think that using their product is as easy as peeling a banana.
But we think that the Packtalk system is not for beginners to the motorcycle communications (e.g., intercom) game.
Our advice is this: to get the most out of your Packtalk investment, you should have experience with at least a basic Bluetooth intercom.
You should become familiar with pairing intercoms and other devices and with connecting groups of riders.
Also with pairing with other Bluetooth devices (e.g., tablets, cell phones, GPS, MP3 players, etc.); using an app to change features; using different Bluetooth channels to listen to music, talk and hear GPS instructions.
Where to get all this knowledge? How about starting with the excellent Cardo Scala Rider Qz (review) or the Cardo Scala Rider Q3 (review) or, indeed, any other basic Bluetooth motorcycle intercom system.
We just think that first-time users new to Bluetooth helmet communications will be overwhelmed with the array of features available in the Packtalk system.
Somewhat in acknowledgement of that, Cardo has created an online help system, or "Miniguide", for the Packtalk.
Now don't take any of this a criticism; in fact, we think it's a positive.
Cardo would be well-served by marketing the Packtalk as an "advanced" motorcycle communications system.
That would give them a full range of intercoms from very easy to use (the Qz) to advanced (the Packtalk) and satisfy the continuing demand for increased connectivity.
Focusing their Packtalk marketing efforts on the experienced user helps to manage owner expectations and that goes a long way to prevent frustration, which can lead to disappointment and negativity.
We know this for a fact because we receive dozens of emails each month related to intercom usage issues.
Think motorcycles — we all know that a new rider shouldn't be on a KTM 1290 Super Duke. Start with, say, a Suzuki GW250 (Blog) and work your way up after you gain experience. Makes sense there and makes sense here.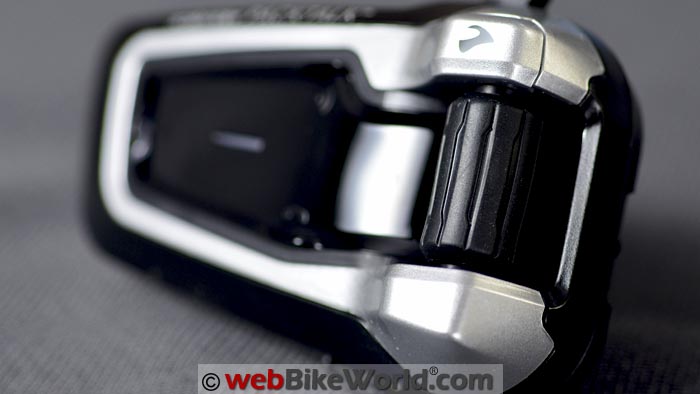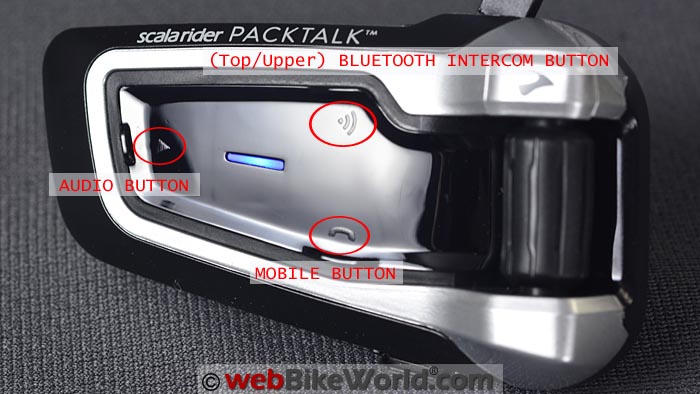 In the Box
The Cardo scala rider (yes, they use lower case) Packtalk is available either in single or dual kit. We have two of the dual kits here, which allows us to play with the DMC feature.
The Packtalk systems are not inexpensive. The single kit lists for $329.95 and the "Duo Pack" has a list price of $579.95.
That's a pile o' Greenbacks for sure.
But it buys you just about every motorcycle intercom feature you could possibly imagine.
That includes voice commands, a very nice FM radio with up to 8 presets, the ability to listen to music and talk on the intercom simultaneously, Bluetooth pairing in two channels and of course, the unique Cardo DMC system.
The kit includes a nice faux leather (it even smells like leather!) box that can be used for storing your Packtalk accessories.
We can't find an online list of what's included in the Packtalk kit, so here's ours:
Cardo scala rider Packtalk module.
Metal "no screws" helmet mount.
Stick-on helmet mount.
Alcohol prep pad for above.
Speakers (connects via standard 3.5 mm jack).
Boom microphone.
Wired microphone.
Extra wind socks for mics.
Hook-and-loop stick-ums for mounting the speakers in the helmet.
USB cable and separate wall outlet charger.
Product brochure, helmet mounting instructions and warranty.
Printed User Guide in 5 languages (EN, DE, FR, ES, NL).
Double all of that for the Duo Pack with the two Packtalk modules and all of this can be stored in the nice Packtalk box that contains the kit.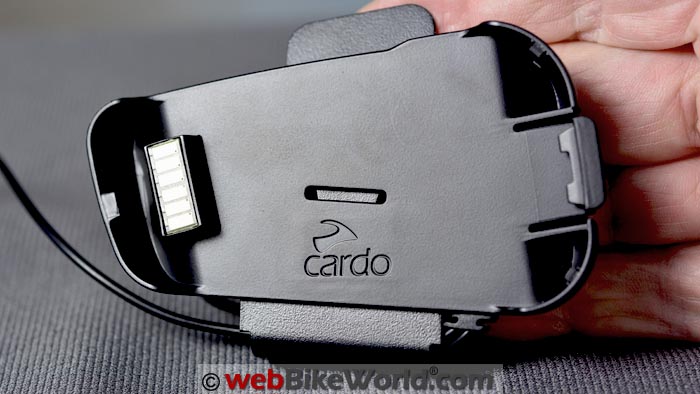 Cardo Packtalk Features
Let's take a walk through the extensive feature set included in the Packtalk system. Many of these features will be familiar to current Cardo Scala Rider intercom owners, starting with the basic feature set of the Qz.
The number of features increases on each Cardo system, from the Qz to the Cardo Q1 and Q3 (review) to the Cardo scala rider Q9 (review), which was the previous top-of-the-line Cardo motorcycle communications system.
All of those systems are still in the Cardo product lineup.
The Cardo Packtalk system features include the following:
Intercom Module
The new redesigned intercom module, now with the clickable "Roller Wheel" for changing volume and accessing the features and settings menus.
The module also has 3 "buttons" that are accessed by pressing either the front, top or bottom of the glossy black insert in the front of the module.
These select the Audio, Mobile or Intercom features. Examples: Press the top Intercom button to connect to the paired Packtalk; press the Mobile button to answer a phone call; press Audio to turn the system on and off.
And more…
The Roller Wheel and the pressure/membrane type buttons are fairly easy to use when wearing gloves.
Although the top/bottom or upper/lower simultaneous press can be difficult, even without gloves. Fortunately, you won't have to use that one much…
Helmet Mounting System
The new helmet mounting system included with the Packtalk has a spring steel friction-based mount.
It has no screws to worry about and the intercom module snaps securely into the mount. The mount includes two short wires with the mic and speaker connectors.
Since many new motorcycle helmets have stylized bottom gaskets and/or built-in intercom buttons, sun visor sliders and more on the left-hand side, the new Packtalk stick-on helmet mount will come in handy.
The one-piece mount pops out of the helmet mount and into the stick-on mount by using a flat-bladed screwdriver to push on the release on the back side of the mount.
The one-piece mount also has three rubber bumpers to improve the friction holding system.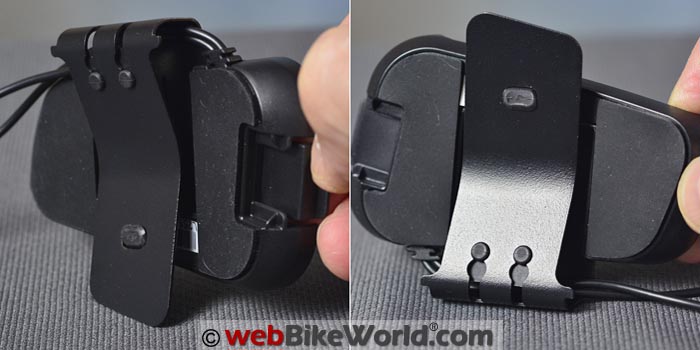 DMC: Dynamic Meshwork Communication
Of course, the premiere feature of the Packtalk — and the feature that makes it a Packtalk — is the DMC "Dynamic Meshwork Communication" system.
This allows up to 15 Packtalk-wearing riders to connecting in a virtual private mesh network to talk in full duplex.
Cardo claims up to 1.6 km (1 mile) bike-to-bike connectivity or up to 5 km with four or more riders.
A "mesh network" is somewhat new in wireless communications. It uses embedded software to automatically choose (via "dynamic routing") the best connection path.
It also "self-heals". For the Packtalk, that means that if one or more DMC members become separated from the riding group, choose to take another road for a while or are out of range, they will automatically re-connect when back in range.
The ability to seamlessly connect multiple riders in a group and talk in full duplex has been a "grail" goal and desired feature by many intercom-wearing motorcyclists.
Up to this point, they have experienced only a taste of this capability with some of the manufacturers' mostly Bluetooth-based schemes.
These include the UClear HBC200 (review) "Supergroup Intercom"; the multiple pairing options of the Interphone F5MC (review) or the Sena 20S (review) group management feature.
Using the DMC is easy and seamless, once it's configured in each intercom.
Configuring DMC Intercom Mode
(Section Added July 10, 2015) This is done by first configuring one Packtalk as the "Pack Creator":
Enter the Features Menu by pressing the Roller Wheel twice (you'll hear a beep each time it's pressed).
Wait for the spoken status announcement to get to the "Switch to DMC Intercom Mode", then press the Roller Wheel once. You are now in DMC mode on one intercom.
Once you're in DMC Intercom Mode, press and hold the (top/upper) Bluetooth button for 5 seconds. This places the intercom in pairing mode. The LED will flash red/green.
Press once more to put the intercom into DMC pairing mode.
Now the other intercoms can pair to the Pack Creator. Put each intercom that you want to add to the Pack into DMC Intercom Mode following the instructions above (1 and 2).
Press and hold the (top/upper) Bluetooth button for 5 seconds. The LED should flash purple.
Wait for the  Pack Creator intercom to stop flashing red/green and start flashing solid green once every 3 seconds.
The Pack Creator and paired Pack intercoms should now all be flashing green, rather than blue, to indicate DMC mode paired, rather than Bluetooth paired.
To leave DMC mode, enter the Features Menu again by pressing the roller wheel twice. Wait for the "Switch to Bluetooth Pairing Mode" announcement. Press the Roller Wheel once. You're now back in Bluetooth mode.
You may also mute and unmute the connection to the Pack by pressing the (top/upper) Bluetooth button twice.
Talk to the Pack in Packtalk Pack Mode
(Section Added July 10, 2015) So far, other than the slightly convoluted method to start and enter the DMC Intercom Mode to get to Pack mode, there's no downside to using Pack mode.
And once the intercoms are paired in Pack mode, they'll remain that way and re-pair back into Pack mode when the intercoms are turned off and back on again. You'll know this because the LED will flash green, rather than blue.
You can then immediately converse with the one or more other Packtalk intercoms paired to the Pack.
So once you've set up the Pack, it's easier to simply leave it in Pack mode, turn the intercoms on and start talking. Simple.
See "More on DMC Intercom Mode and Multiple Pack Connections" in the Owner Comments section below.
The only hitch? There seems to be a very slight delay between talking and receiving when the intercoms are connected using the DMC system.
Our suggestion is to use DMC if you have more than two intercoms connected in a group and you all want to converse, otherwise, use standard Bluetooth.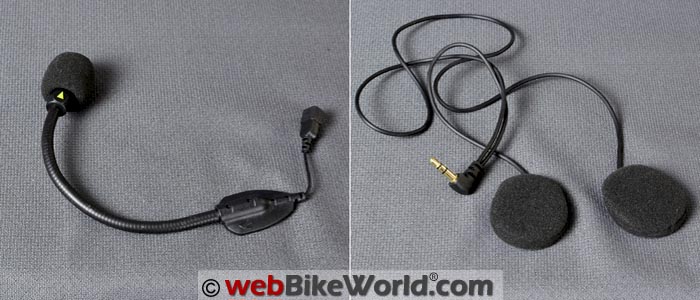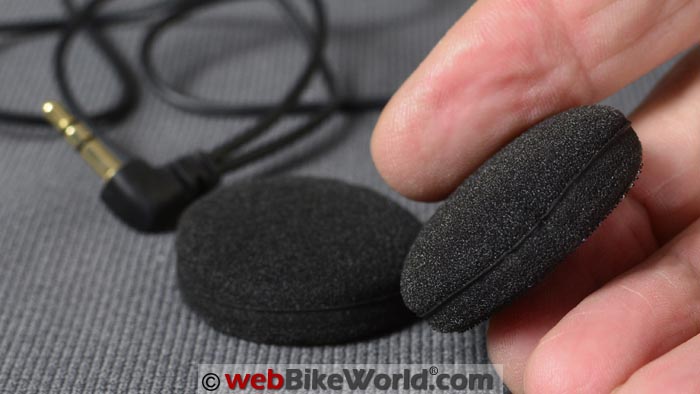 Bluetooth Functions
The Cardo Packtalk system is the first to employ Cardo's DMC version of mesh networking in addition to having the advanced Bluetooth features found on other Cardo intercoms.
For example, if the Packtalk is in (default) Bluetooth mode, the Cardo Bluetooth "1+8" Buddies system (connect and switch between 8 intercoms in the Buddy group) and Bluetooth channels A and B for pairing multiple devices are still available.
The Packtalk intercoms include four-way Bluetooth conferencing with up to two riders and passengers or three other Cardo intercoms in full duplex.
Cardo Gateway
This feature can be enabled to allow other brands of Bluetooth intercom systems to connect to the Packtalk.
You won't get the DMC features and some of the other higher-end Bluetooth features however and the function may be limited by some brands of intercoms.
Standard Cardo Fe2atures
Other features of the high-end Cardo scala rider communications systems are included, with the "Click-to-Link" feature which, when activated, allows you to talk to nearby Cardo owners who also have that feature enabled on their Cardo scala rider intercom.
Also included is the spoken status announcements and voice control system, which allows a certain amount of hands-free operation.
Intercom to Mobile Phone
Another interesting feature we don't recall having seen before is the Cardo "Intercom-to-Mobile" function. This feature, set in the Cardo Community online connection, allows "1+8" Buddy intercom calls to switch automatically to your mobile phone if you move out of range.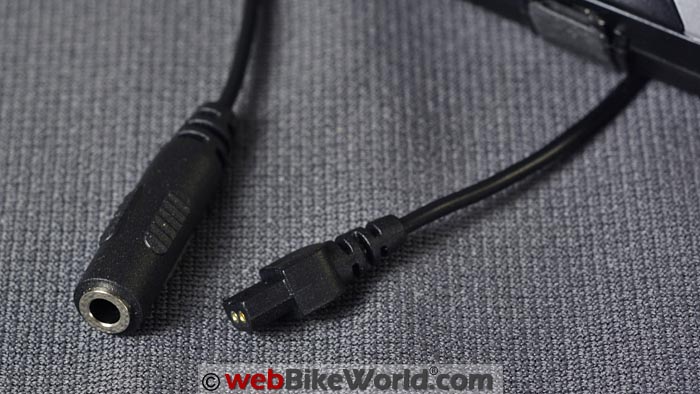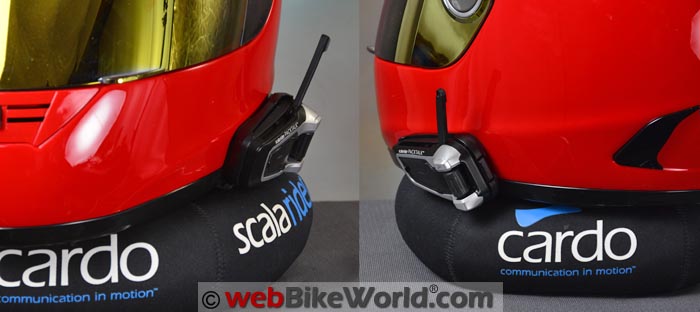 Packtalk Settings
The Cardo "SmartSet" App (Android and iPhone) can be used to configure the Packtalk.
Curiously — and another indication to us that the Packtalk is designed for advanced users — there are no instructions in the Packtalk User Guide on how to do this.
You must first pair your Packtalk with your tablet or smartphone, then start the SmartSet app you have previously downloaded. Or, you can connect your Packtalk via a USB cable and change settings through your Cardo Community account.
The Cardo Community is also where you can download and install new firmware updates.
Music Sharing
(Section Added July 10, 2015) The Packtalk intercoms can also share music with rider and passenger.
Also, when an intercom is streaming music, the music will switch to a phone call, intercom call or GPS instructions and then seamlessly re-connect to the music stream.
There's a way to set music to stream while talking on the intercom and we had this working once but somehow can't figure out how to get it running again.
To Share Music
Music sharing between two Packtalk intercoms has a range of about 10 meters.
Note that music sharing is only available in Bluetooth Intercom Mode, not DMC Intercom Mode, so you can't share your favorite tunes with the entire Pack!
(Chances are not everyone will agree with your taste in music anyway!)
Sharing music is easy: when you're listening to music, press the (top/upper) Bluetooth button for 2 seconds.
That's it — you're sharing music with the paired intercom, which can adjust volume independently.
For the paired intercom, to stop sharing music, press the (top/upper) Bluetooth button for 2 seconds.
Phone Calls
Standard higher-end motorcycle intercom phone features are included, including the ability to set a "hot dial" number; make or receive calls by voice command and conference calls.
Conference calls? C'mon folks, get real — if you have to do a conference call on a motorcycle intercom, absolutely get off the road and park it!). You'll never remember how to set this up anyway, so best forget the feature is even there.
FEATURE COMPARISON: Packtalk vs. Cardo Intercoms (2016)
FM Radio
Cardo was the first motorcycle intercom manufacturer to include a built-in FM radio in their systems back in 2006.
FM radio implementation in motorcycle intercoms have received mixed reviews from owners, but the radios improve with each new release.
The FM radio in the Packtalk is a good one and we've had no problems getting most of the stations — even a couple of the lower-powered college stations. Although we're in a strong FM radio signal area…
The stations can be set either in the Packtalk intercom or using the SmartSet app. The radio is muted during incoming calls.
Speakers
We're a little surprised at the speakers included with the Packtalk system.
They seem fairly basic, considering the Packtalk's list price. They're equivalent to the speakers included in other higher-end Cardo systems.
The speakers connect via a standard 3.5 mm jack, however, so optional speakers like the Tork XPro X2 speakers (review) or the Iasus XSound 3 speakers (review) can be used.
The Packtalk system can be set to automatically adjust the volume based on the motorcycle's speed and ambient noise levels.
Sound Levels and Sound Quality
(Section Added July 10, 2015) The sound levels are adequate, but not earth-shattering by any means. So those Tork speakers with mini-amplifier may be the ticket for you hard-of-hearing types, although based on webBikeWorld reader feedback, some of you will never be satisfied with intercom sound levels.
However, the sound quality is excellent, especially in Bluetooth Intercom Mode or DMC Intercom Mode.
The sound has very little background noise or "hiss" and it is biased slightly towards midrange and bass, which is correct for a good quality voice microphone and speaker system.
In fact, we both think that when compared in the same environment, the Packtalk system may have the best spoken voice sound quality of any intercom system we have reviewed so far.
A Word About Speakers…
As always, be sure to take your time and carefully mount the speakers so they end up as close to your ears as possible.
Use the speaker thickness adjusters included in the kit, or fashion some foam backing to push the speakers out in the helmet ear pocket.
Note that we always wear high ear plugs when riding, even when evaluating motorcycle intercom systems.
Power and Charging
Our Packtalk kits came with about 2/3 charge. Each system takes about 4 hours to charge from empty (don't let it run down all the way though for optimal battery life). The Duo Pack kits come with 2 separate chargers.
Cardo claims up to 13 hours talk-time and a one week standby. We haven't run down the battery yet and this seems accurate. The systems are also claimed waterproof and dustproof.
UPDATE: Packtalk Range
Addendum (November 2015): Packtalk Range Test in Bluetooth and DMC modes.
(September 2015) We just did some distance testing with two pairs of Packtalk intercoms.
We ran the evaluation in to separate locations, both were wide open spaces.
One location was in an open field with zero obstructions, no trees, no hills. The other location was a 1 km long perfectly flat, wide, open road (not easy to find around here!).
In several runs, standing off the bike, we found that we could talk and listen in DMC mode to just about 400 meters range. The range when the Packtalk units were in Bluetooth mode is slightly longer, about 450 meters.
The sound quality is excellent but starts to break up as we approach 300 meters distance and past 400 meters, the connection is lost.
When the Packtalk units are in DMC mode, if one rider in the "Pack" goes beyond the 350-400 or so meter range that intercom will disconnect.
But when the intercom comes back into about a 300 meters (2/10 mile) distance, it automatically reconnects and the reconnection works very well and so far without fail.
While we were out there, we also compared the range under the same conditions with a pair of Interphone F5MC Bluetooth intercoms (review).
The range for the F5MC pair in Bluetooth mode was nearly identical to the Packtalk units, about 350-400 meters before breakup.
Again, this was on a perfectly flat unrestricted area that was a total of 1 km in length, so no obstructions, hills, trees, or other interference, so your experience will vary depending on local conditions.
w

BW

 Opinionator: Cardo Packtalk
Picks…
Excellent build quality.
Absolutely packed with features.
Good sound quality.
Speakers can be switched out.
Voice controls.
DMC feature works well.
Simple but effective helmet mount.
Pans…
Expensive.
Serious study time required.
User Guide isn't the most user-friendly.
Perhaps too many features?
Conclusion
All of this and we haven't even scratched the surface of what can be done with the Cardo Packtalk system. There's simply no way we can cover every feature; indeed, we'll probably never even use some of the features in this system.
We'll continue to use the Packtalk system and report back, so watch this space for more.
In the meantime, here's our bottom line:
If you're looking for seamless connectivity for a group of riders — and those riders are willing to spend the money — then Packtalk is for you.
Or, if you're one of those leading-edge types who simply must have the latest and greatest technology, again, Packtalk is for you.
If you're a seasoned motorcycle intercom user and you want to jump to a higher-end system, then we say "go for it" and skip the lesser (and now somewhat outdated) systems and get the Packtalk.
You'll "future proof" yourself as much as possible (remembering that today's high-tech is tomorrow's yestertech).
If you're new to motorcycle intercoms, we suggest starting with an easier-to-use system, such as the Cardo Qz or Q3.
But if you're willing to spend the time working through all the features and functions, you'll find the Cardo Packtalk to be one of the most rewarding motorcycle communications systems currently available.
It's a "do it all" system and it does it all very well. Get over that learning curve and it's hard to imagine that anyone would need anything more.
But, technology and time marches on — the Cardo Qz, for example, has features we couldn't even imagine back when we reviewed the very first Bluetooth motorcycle intercoms 10 years ago.
In the meantime, download the Cardo Packtalk User Guide, study it carefully and ask away. Hopefully we can answer your questions about this unique system and if not, we'll contact Cardo to get the answers.
Also: Cardo Smartpack Review
w

BW

 Review: Cardo Scala Rider Packtalk
List Price (2015): $329.95 (single) and $579.95 (Dual).
Note:
 For informational use only. All material and photographs are Copyright © webWorld International, LLC since 2000. All rights reserved. See the webBikeWorld® 
Site Info page
. Product specifications, features and details may change or differ from our descriptions. Always check before purchasing. Read the
Terms and Conditions
!
Owner Comments and Feedback
---
From "H.H." (July 2015): "Thank you for your very complete review of the Cardo Packtalk. My son purchased the Cardo Packtalks for his wife, me, and himself.
Although this is a more complicated device than the old Cardo Scala Bluetooth devices that we had previously, we were able to readily pair and communicate when in our garage and just a few feet from each other.
We have not yet had the opportunity to all 3 ride at once and communicate.
However, when my son has ridden with just her or just me, the range can be very short (<100 yards) and varies even though we are within sight of each other.
In both cases, my son was the Pack Creator. Although we continued to talk, sometimes he could hear me, but I could not hear him — rarely vice versa.
He turned his unit off and back on, thinking that we were not completely paired. That seemed to help greatly.
However, even after he did that, we had periods when I could not hear him, or conversation was broken. I would be very interested in comments from the company — or any of your readers — about how this difficulty can be avoided. Thank you."
Editor's Reply: We're working on more range testing and will post that information as soon as possible.
---
From "D.M." (July 2015): "Thanks for the initial review of the Packtalk by Cardo. I have been anxiously awaiting the release and for some reviews to come in. I'm sure we will continue to hear more as the systems are updated.
I may be a little confused about a particular item and was hoping you could clarify.
In reading the documentation it states that Music cannot be shared while in DMC Mode. It also appears that one either runs DMC mode or Bluetooth A2DP.
My  question is, can they be run simultaneously so that I can listen to my music or GPS instructions via BlueTooth A2DP on one channel and have the DMC for PackTalk communications running with my buddies.
The manual and other documentation are unclear on this.
They simply say that music can't be shared over DMC, and the phones, GPS, etc. run on the Bluetooth mode, and that there is a switch to go between modes.
This leads one to believe that they can't be run at the same time.
This would really be unfortunate, as I want to be connected to music or GPS while being able to converse with my riding buddies if need be.
I am certain I must be wrong as it seems that would be a key requirement.
If this is the case then the DMC function is not really helpful and I would be left with the same old Bluetooth methodology with all the problems DMC was designed to solve. I hope you can clarify and give me the good news I hope to hear.
Also, I haven't heard much about the clarity of the Audio and Microphones.
I assume the noise cancellation and audio is at least as good as the G9 but hoping for some real world experience or even a video recording to surface of the audio quality."
Rick's Reply: This was covered in the review, but here's more:
Yes you can stream music, GPS, or anything else that's an A2DP signal while actively engaged/talking in a Pack/DMC mode. You can do this in either mode. You can also do FM as well.
Bluetooth connectivity to devices is the same regardless of what mode you are in. The Bluetooth/DMC mode-switching applies specifically to intercom functionality.
If your GPS sends an A2DP signal, you will hear it while speaking regardless of what mode you're in.
However, if the GPS doesn't send an A2DP signal (like most), and uses a higher-priority profile like HFP, it will interrupt the intercom briefly, just as a phone call would.
As noted in the review, the Music Share feature is only for two people on one bike while in Bluetooth intercom mode.
Regarding sound quality, this was covered in the review, it's excellent, with excellent background noise cancellation, although like any intercom, you must keep the mic away from the air coming in through the helmet.
Also, mic and speakers should be located as close as possible to lips and ears respectively.
---
From "F" (July 2015): "Long time reader, first time submitter. You guys are really great and I think I speak for the entire riding community in saying thanks for what you do.
That being said, I purchased the Packtalk a few months back and finally received it a couple weeks ago when they became available.
I'm happy to report that so far so good (never know when buying the first of a new product….) and I've really been able to have some fun with this piece.
I really enjoyed your write-up on it, and wanted to offer some "tips" I've come across and feedback on DMC:
Mode Switching: To switch modes (Bluetooth/DMC), it can be done from the menu as you mentioned in the review however there is a MUCH faster/easier way.
When in standby, press and hold Intercom button and Mobile button for 2 seconds, and it'll switch to the other mode.
The owners manual said to "tap" the two buttons, but after calling Cardo they told me it's a 2 second hold and they are making a change to the manual (must have got the first print!).
Mobile App: The mobile app is awesome (switching Bluetooth/DMC modes is even easier through the app, just swipe the little bar at the top and it switches over).
I've used it to change settings of course, but I also use a phone mount on the bars and have used the app as a "remote control" for my headset!
I'm pretty impressed that it actually controls the Packtalk unit while using it in this way. Mute/Unmute DMC, change FM stations, switch to music, etc. all through the app remote control.
DMC: The most riders I've used it with is 5, and while it worked like they say it would, I was most impressed when the group got split up (all of us trying to leap-frog past a slow moving bus on single lane, windy mountain rode).
Two riders had moved ahead of the bus and pulled ahead down the road, and the remaining 3 of us where stuck behind for some time while waiting for opportunity to pass.
The two riders that had passed where no longer in our comms, but come to find out they could talk to each other while waiting for us to catch up!
The two of them could talk, the 3 of us could talk, and when we caught up to them all 5 of us where there and it was beautiful. Very excited on how this DMC works.
Phone Calls: When my phone rang I just said "Hello!" real loud to answer it, and it picked up the call (at which point said hello again in normal voice haha).
I did find that tapping the Mobile button brings up Siri though, and thought that was nice.
Gateway: I've yet to try the Gateway feature, and a few others, but I'll comment again if I find any quirks or capabilities or shortcuts.
Lastly, to comment on a couple things I noticed in the review: when creating a "Pack" the "Pack Leader" (I think it's called) holds the intercom button for 5 seconds like you mentioned but it only starts flashing green at that point.
You have to tap it one more time to get the green/red flashing, signaling "Pack Leader" pairing mode.
(Editor's Note: Yes, that is covered in step #4 of our instructions)
Then, the other guys simply hold intercom button 5 seconds, it starts flashing green, then gives them a purple color to tell them its been added to the pack. Then we were done!
Oh, and my manual is only 22 pages (English portion) not 45, did they add to it? Perhaps mine is a first-print? I'll have to check on that…
Anyways, thanks again for what you guys do!"
Here are some Cardo SmartSet App screenshots: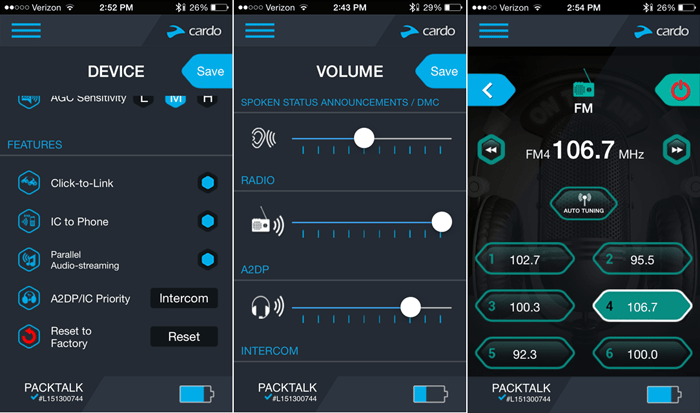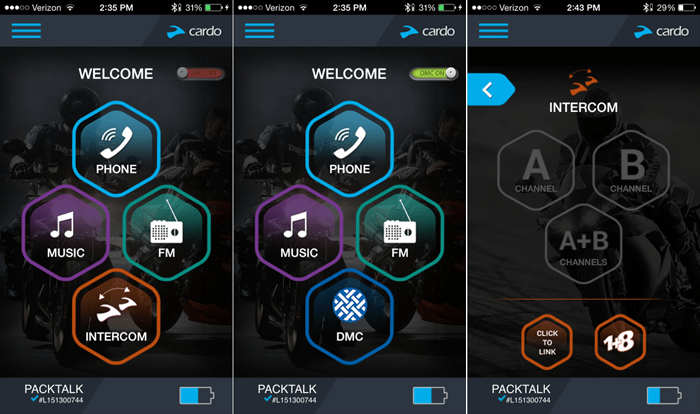 ---
From "D.H." (July 2015): "Thanks for the review on these new Packtalk communicators. So the Dynamic Meshwork Communication (DMC) sounds pretty cool and I would imagine this will be the future of BT communicators or something similar from other manufacturers.
It's interesting reading the review that this is an entirely different mode you enter and that's pretty cool to keep it separate from the normal BT mode.
The pairing sounds a little convoluted in that mode, but in actuality, is probably easier then all the pairing you have to do and remember who is paired to who for the ability to daisy chain headsets together in BT mode on standard headsets today.
For reference, I started with the Cardio Q2 and G4 headsets when they came out.
The backwards compatibility of the G4's to the Q2's left a lot to be desired, so we jumped shipped to the Sena SMH10's which I'm still using today for the past 5 years with many friends.
A few of my friends have been upgrading to the Sena 20's and again, the backwards compatibility to the 10's seems to sometimes bite us on big group conversations as well as the 20's quality control early on, but I think they have moved past that.
I personally have been hesitant to jump to the 20's as I'm pretty invested in the 10's, but I'm always open to newer units.
Overall though as a group, we've actually gotten pretty good at daisy chaining Sena 10 and 20 units together to get 6 or 7 of us all simultaneously connected, even past the theoretical 4 unit limit.
Getting 6-7 units daisy chained together though is definitely a time consuming aspect and if one person breaks the chain, it starts all over again.
So this DMC network is pretty exciting to me.
The only thing I don't quite understand is this part?
The system is the first to include the Cardo 'Dynamic Meshwork Communication' (DMC) feature, a wireless mesh network. This connects up to 10 Packtalk riders in full-duplex intercom mode (up to 4 can be heard simultaneously to avoid confusion).
So what I'm taking for this is up to 10 riders can enter into DMC mode and the system will automatically keep everyone together which is awesome.
So it sounds like everyone is connected with audio in the DMC network and if the ride leader is talking, all 9 other people in the DMC network can hear him at the same time? Would that be a correct assumption?
What I seem to be stumbling on though is the part where it states 'Up to 4 riders can be heard simultaneously'. So does this mean that unlike a conference call on the phone, where theoretically all 10 people could be heard at once, this system automatically limits the audio to 4 people's mics at one time?
It sounds cool, but my only concern with that is what if someone has a decent amount of wind noise from their bike that keeps their mic open all the time?
What if you have 2-3 riders with loud helmets/bikes and their mics are constantly the ones staying open — would that keep their audio open all the time and limit someone else from being heard, because they are on a quieter bike and their mic never opens because they other ones are all hogging the 4 connections that have mic privileges?
It seems like in real world practice, this may not work as good as it sounds depending on the bikes and riders involved? This is all just speculation, but I'm a software tester, so I tend to think like this. If you start limiting how many open mics can be open at one time, there's going to be consequences from that.
I think a better option would be to have a button to push on each unit to 'mute' yourself just like you do on a conference call and if you want to talk, just un-mute yourself to talk into the big conference of 10 people.
This would help keep background noise to a minimum if someone would like to ride with their helmet shield open or are on a naked bike that inherently has more wind noise.
If it's only like 4 riders like you tested, the back ground noise shouldn't be much of an issue, but as you get closer to the 10 riders, that could become an issue for sure.
I see why Cardo did this as 10+ people all trying to talk at once on a conference call gets crazy, but I just have my doubts it's going to work as well as we hope. We'll see though.
Since you guys only tested this with 4 units, I don't think you can really confirm either how well this limitation works in practice in the real world riding? Is that something maybe you can find a way to test?
Overall though, I really am excited about this new setup. At $579 for a dual set though, that's quite the price and getting all my friends to upgrade may be a tough sell!"
More on DMC Intercom Mode and Multiple Pack Connections
(Section Added July 10, 2015)
Rick's Reply: Good question(s)!
Easy answers first:
Mute/Unmute DMC: I added more info today, you can easily "mute/unmute" an intercom by double-tapping the (top/upper) Bluetooth/Intercom button.
VOX and Wind Noise: Also, each intercom has the option of low, medium or high VOX settings, which helps reduce ambient noise levels in the microphone. Always use the lowest VOX settings possible for best results (the default is medium). If one rider's mic keeps opening a connection, have them lower their VOX setting.
How to Change VOX Settings: press the Roller Wheel three times, then press the (top/upper) Bluetooth/Intercom button when the voice gets to the VOX settings menu.
DMC Intercom Mode for More Than 4 Connections: Since we only have 4 units, I don't know what happens when more are connected, so I asked Cardo and here's their response:
Yes, when everyone is connected with audio in the DMC network and if the ride leader is talking, all 9 other people in the DMC network can hear him/her at the same time.
When connected via DMC Intercom Mode, the system allows the first 4 that speak to be heard. When someone stops talking, the other systems recognize this and lets one of the others talk (with no delay).  (Rick's Note: When you think about it, it would be rare to have more than a couple-three people talking at the same time, even on an old analog telephone conference call).
Tip: you can stream music in the background when in DMC Intercom Mode. Only you will hear the music because music sharing is not possible (yet) in DMC Intercom Mode.