Cardo Packtalk Distance Test Results
This is an addendum to the Cardo Scala Rider Packtalk intercom review.
webBikeWorld readers had many questions about the range (distance) of the Packtalk system under varied conditions and with different numbers of intercoms in the "Pack".
Some early adopters reported disappointing range when using the Packtalk intercoms and that was our experience also with the initial batch from early production. Our initial range testing results are detailed in the review.
Cardo has since issued a firmware update which may have helped. The firmware is available for download from the Cardo Community.
For this range test, we used 3 different sets of Packtalk intercoms from both early and later production runs and from 2 to 4 connected Packtalk intercoms in both Bluetooth and DMC (Dynamic Mesh Network, explained in the Packtalk review).
As expected, range increases when additional intercoms are joined in a "Pack". Up to 10 Packtalk intercoms can be connected.
If a Packtalk intercom drops out of range, the network maintains integrity and seamlessly re-connects the missing intercom when it comes back in range. The results of the range testing are shown in the table below.
If you have any questions or comments, feel free to send them to [email protected]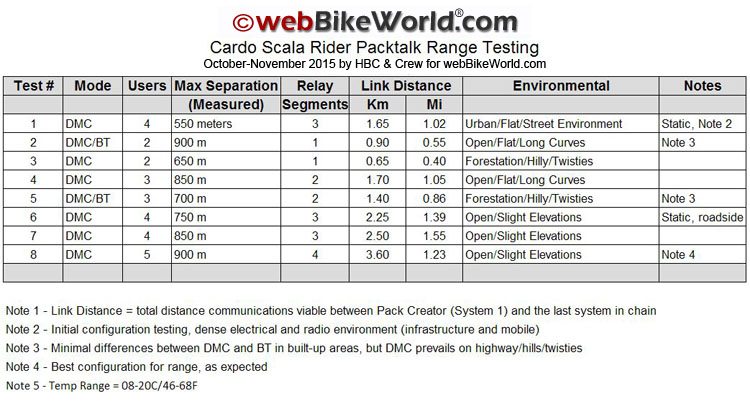 Range Notes
Bluetooth and DMC Comparison
In general both Bluetooth and DMC modes function very well, with Bluetooth exhibiting slightly less delay in VOX activation (when engaged).
But, it does not initiate or facilitate communications as fast as DMC mode. The mesh-net protocols are virtually instantaneous and seamless once set up.
As ranges increase, DMC audio remains superior and of course the "Pack" maintains itself, so no switching delays or input needed.
Multi-User and Range Advantages
This is where DMC has an advantage, with each member of a "Pack" functioning as an autonomous radio point for communications and relay.
This results in crystal-clear audio until a second or two before a range limitation is reached within the pack chain.
Multi-User Threads
We made sure that a four-member "thread" or conversation was possible, as 3 to 4 parties was the norm and no issues were experienced.
Users have to become accustomed  to the full duplex communications capability. Up to 10 users can be in each "Pack" but only 4 people can talk simultaneously, to avoid transmission conflicts.
We created a five user pack and sure enough, four could be speaking at once and when one of them went quiet, muted or opted out, the fifth (who had been listening to the Pack Creator's audio), was able to join in as the (now) fourth person.
Multiple Packs
We managed to have two Packs and have the Pack Creator of the second pack, who is a standard member of the first Pack, move between the two Packs. This is undocumented by Cardo but it seems to be facilitated by the app, in switching between identified/active packs.
And in reality, being able to use the systems as a "Packtalk of Packtalks" (system of systems) may be possible, depending on how large a 'net Cardo has defined (other than the 10 users per Pack).
Ultimate Range
At one point, we did get over 4 km of seamless audio front-to-back within a Pack on one day with five Packtalk intercoms, under less than ideal conditions.
Final Note on Performance
Use of the antenna on the Packtalk intercom module is critical, especially once interval distances reach to 500 meters and beyond or less in urban or dense natural environments.
See Also: All webBikeWorld Cardo Intercom Reviews
Publication Date: November 2015
Note:
 For informational use only. All material and photographs are Copyright © webWorld International, LLC since 2000. All rights reserved. See the webBikeWorld® 
Site Info page
. Product specifications, features and details may change or differ from our descriptions. Always check before purchasing. Read the
Terms and Conditions
!
Owner Comments and Feedback
Other WebBikeWorld Intercom Posts