Cardo Scala Rider G9 Intercom Review
The new Cardo Scala Rider G9 has excellent build quality and it's loaded with features.
The intercom is available in a single kit or as the PowerSet two-pack, which comes paired and ready to go from the factory.
The sound quality and volume is also excellent and the G9 intercom is very easy to use right out of the box. The system has many different features, including a few that are unique to this intercom.
Be sure to study the User Guide though for instructions on the more detailed features, which are controlled by the six large buttons on the G9.
In and industry first, Cardo has introduced a new online "Cardo Community" website for the G9.
This allows G9 owners to customize the functionality of their intercom and modify some of the settings, which are then reflected to the intercom and saved in the owner's profile for future modification or reference.
The new "social" Community also allows G9 owners to communicate with others, design and plan trips, invite other riders and friends for group rides and more.
There's a lot of potential to this new paradigm and we'll be monitoring it for an upcoming article.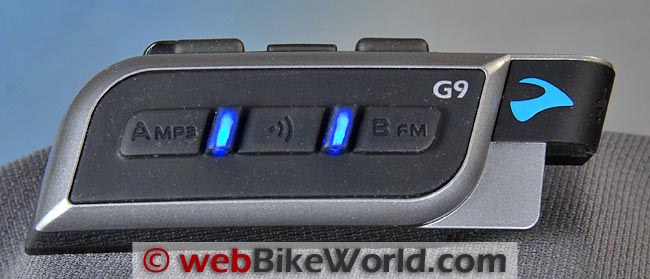 Format for This Review
In what has become the standard webBikeWorld motorcycle intercom review format, we'll cover the basics of the new Cardo G9 intercom in this Part 1.
Then the pair will be turned over to H.B.C., who will perform the usual detailed evaluation and pairing tests with his ever-expanding collection of peripherals. The detailed Part 2 follow-up and final conclusions will be posted when that is completed.
As with all of the latest Bluetooth motorcycle intercom systems, feature and function standardization has made it easier to review this type of device.
Note that as motorcycle intercom technology evolves, each new intercom system brings more and different features, along with an ever-evolving array of third-party peripherals that can be connected to it.
Thus, it's virtually impossible to describe every detail of the intercom and how it may (or may not) work with in every possible combination.
We hope our readers will provide feedback and examples of how they are using their intercom systems and connectivity solutions and issues.
This goes double for the Cardo G9, which is loaded with "high end" features, including a completely new concept, the Cardo Community, and online presence that allows G9 owners to customize their intercom units and interact with other Scala Rider owners.
The online Community isn't quite finished as this is being written, so we'll probably cover that in detail in a follow-up at a future date.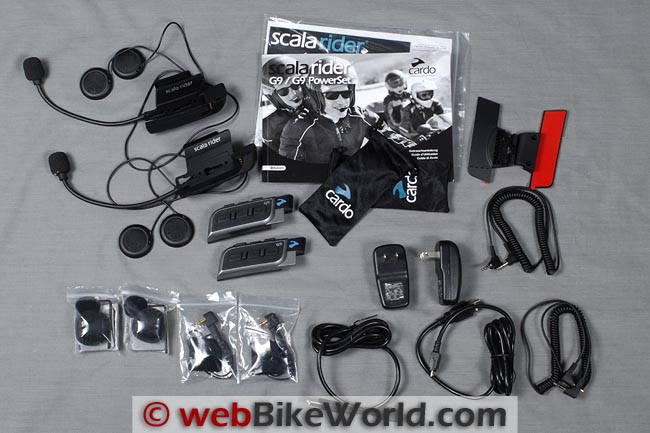 ---
Where to Buy Cardo Scala Rider G9
Check Reviews & Prices on Amazon
Check Reviews & Prices On RevZilla
See More: Motorcycle Intercom, Motorcycle Accessories, Motorcycle Helmets
---
Background
The Cardo Scala Rider G9 is one of the most anticipated new motorcycle products of 2012 and it's now here and ready to go.
We first previewed the G9 in this report from the 2011 EICMA show in Milan, Italy. This was followed up by a tour of the Cardo Wireless R&D facility in Tel Aviv, Israel just after the show.
The G9 delivery date was delayed slightly, but it's now shipping and readily available at a list price of $499.99 for the PowerSet two-pack kit, which is paired and ready to go right out of the box.
One thing we noted right away is that the G9 is, paradoxically, both complex and simple. On the one hand, the G9 has many detailed features and a very thorough reading (or two or three) of the User Guide is definitely recommended.
But on the other hand, even if this is your first foray into Bluetooth motorcycle communications, you can quickly pull your new G9 pair out of the box, fire 'em up (you may have to charge the system first) and you're ready to go.
Cardo G9 Features
The G9 has some expected and some unexpected features, which we hope to cover in both Part 1 and Part 2 of this review. These include:
Cardo Scala Rider G9 intercom new and unique features :
Intercom "One+8" System allows you to switch between 8 additional G9 users using their intercom names.
"Buddy Name" Your Intercom in the Cardo Community via a text-to-speech online function. Each intercom can be given a unique name (ours are "Rick One" and "Burn Two"). Up to 8 names can be stored (the 9th name will bump one from the list).
Click-to-Link: A function can be set (default is disabled) to notify you when a G9 user is nearby and you can then press a button to communicate on a separate channel.
Flash Pairing: Bump two G9 intercom modules together for instant pairing when you meet up with G9 owners or friends.
Mobile Phone Conference Mode: Conference call on a cell phone with the rider, passenger and an outside caller (Absolutely pull over to the side of the road first please!).
Cardo Community: Create an account (very easy to do with your G9 intercom serial number) and you can change G9 settings which are then stored with your profile. You can also meet other G9 owners, schedule trips, get firmware updates and more.
Other G9 intercom features include:
Compatibility with other Cardo Scala Rider and SCHUBERTH SRC (review) Bluetooth intercom systems (claimed but we have not verified).
Full duplex intercom conferencing with up to four systems.
1.6 km (1 mile) range in full duplex.
Connect with a mobile phone, GPS, MP3 player, etc. via Bluetooth or through the accessory port.
A2DP, Built-in FM radio with RDS, 6 station presets and smart auto scan.
Priority Management: No need to manually disconnect from intercom or music to receive incoming phone calls or GPS instructions.
General Features: Talk time up to 13 hours (claimed). Standby time up to 7 days. Charging time approx. 3 hours. Radio on time 8-10 hours. Compatible with entire Scala Rider product line.
Certified Waterproof and Dustproof to IP67.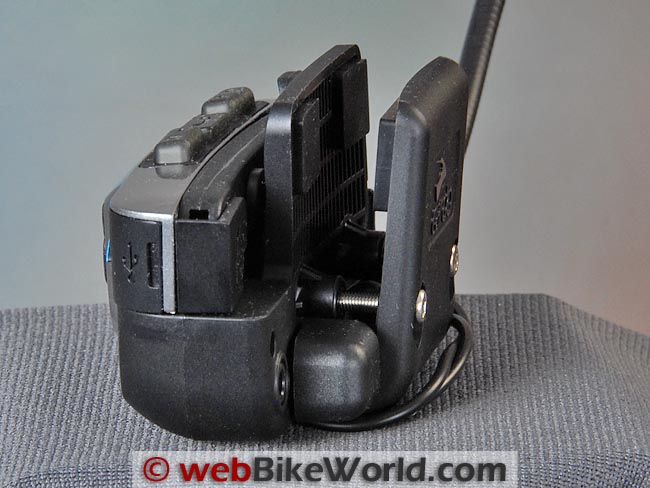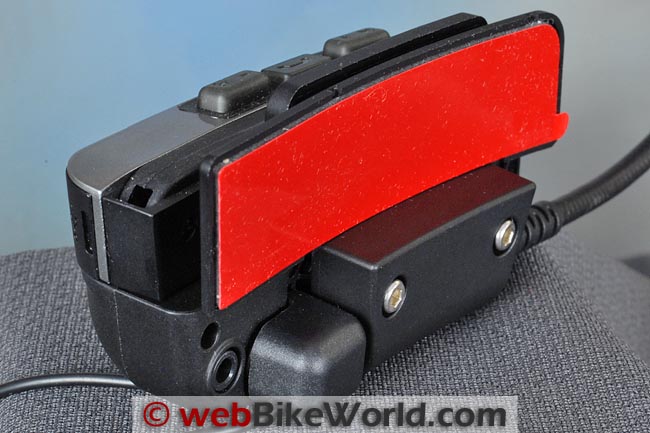 Cardo G9 Helmet Installation Notes
The G9 is similar to the Cardo Scala Rider G4 (review) in size and with its characteristic rectangular shape. When the intercom module is inserted into the helmet mount, the combined assembly measures 100 mm long and extends out from the helmet about 40 mm.
It's roughly 50 mm from the top of the mount to the bottom of the module.
Although the G9 may appear to be much larger than the Interphone F5 (review), the two assemblies are roughly the same size. The F5 is significantly thinner, however, protruding about 27 mm from the helmet shell and it also tapers towards the front.
The G9 helmet mount feels substantial and well made. If you can fit the G9 on your helmet, chances are you will not have any problems once the pair of stainless steel screws are tightened on the G9 mount.
However, the G9 mount (like the G4) may not fit all helmets, such as the SCHUBERTH C3 (review), which has a slider for the internal sun visor located just where the intercom should be mounted.
The stick-on mount back provided with the G9 may help, but it has an "L" shape which means that the Cardo G9 unit will usually only mount in a position that places the module below the bottom of the helmet shell.
This may not always be possible with some helmets, which is something to consider.
In other words, you can't simply position the G9 stick-on helmet mount on the surface of the helmet shell like you can with some other motorcycle intercoms. The mount has to hang off the bottom of the shell to fit correctly.
We don't see any technical reason why a different type of stick-on mount could be designed that would position the G9 intercom flush on the surface of the helmet if required.
Hopefully, the next wave of motorcycle intercom evolution will involve miniaturization, using a much smaller form factor. Intercoms such as the UClear 300 (review) point towards the future. That system even eliminates the boom mic for ever-smaller packaging.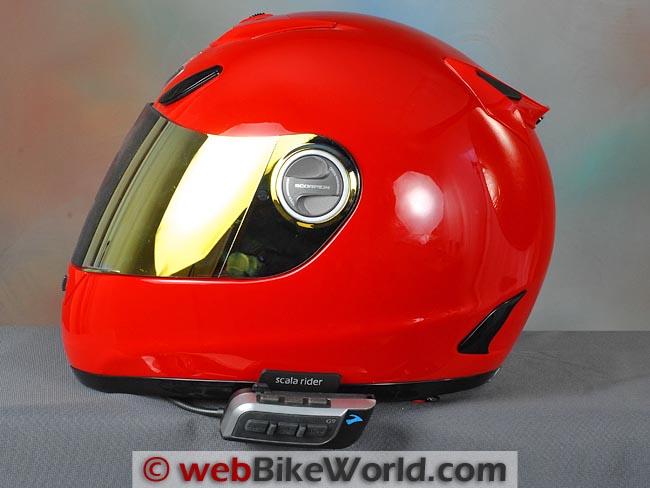 Learning the G9 System
There is one thing that we highly recommend doing while your G9 or G9 PowerSet intercoms are on the charger for the first time after they arrive: memorize the location, function and names of each of the 6 intercom buttons.
This information is on page 4 of the User Guide (English language version), which has been reproduced the illustration immediately below.
Each section of the thick User Guide references the 6 buttons by name, but the only illustration and description of the buttons is that page 4 illustration.
So save yourself some time and effort and learn the button names before stepping through the features of your G9 for the first time. This will also help you later on as you use the system.
The manual is well-written and clear, which is a good thing, as the G9 has many features and new owners will probably need to refer to the manual often until the system is learned.
Before you mount the G9 on a helmet, it's also a good idea to hold the intercom up along the left side of your head to get a feel for the spacing and location of the buttons as you're working through the User Guide, learning the system.
Both of these tips will save a lot of frustration later on and help you to enjoy your G9 system and get the most out of all the features.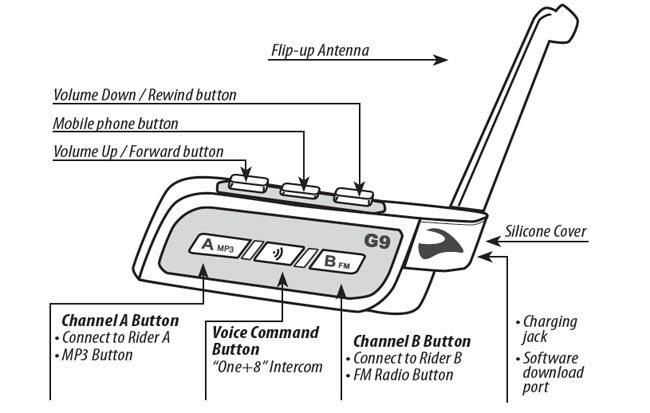 ---
Where to Buy Cardo Scala Rider G9
Check Reviews & Prices on Amazon
Check Reviews & Prices On RevZilla
See More: Motorcycle Intercom, Motorcycle Accessories, Motorcycle Helmets
---
Charging the G9 Intercom
The pair of G9's in our PowerSet fired right up and, since they were paired at the factory, they were ready to go immediately after. Our set had a full charge but Cardo recommends charging a new set before first use.
Each G9 (two in the PowerSet) comes with a wall-mount USB charger and USB cable. The G9 will also accept a charge from a powered computer USB port or powered USB hub (some ports power down when the computer is turned off).
The corresponding USB port on the intercom is under a silicone cover at one end of the module; see the illustration above.
The red LED lights on the intercom module indicate a charge is in progress and when the red lights go out, the charge is complete.
Buttons, Presses and Menu Choices
In using the G9, we noted that although it might be considered a "high end" intercom that is packed with features that might at first seem daunting, it isn't really the case. In fact, the G9 is somewhat of a paradox in that it is complex but fairly easy to use.
It's also a bit of a chameleon, because if you only want to use the intercom function, that can be done with near-zero effort and within, oh, about 20 seconds after opening the box.
We receive a large volume of email with intercom questions and comments, split between owners who want every feature known and then some and owners who only want to talk with their passenger or a fellow rider.
The G9 will do both and we think one of its best features is its ability to do so without a lot of fuss.
Referring to the button name illustration above, the G9 has two rows of three buttons. The buttons are rubberized and raised, with just enough separation to allow the user to feel the buttons when wearing gloves (summer gloves in this case).
The buttons along the front are separated by two large rubberized "bumpers" that definitely help to make button location easier.
The Cardo G9 intercom is started by pressing and holding the "Mobile Phone Button" in the center.
Various button presses and combinations are required to use or set other functions, although some functions can be changed or set by using the Cardo Community, which then stores and lists the settings as part of the owner's profile, displayed when the owner logs back in to the system.
After a few seconds, the spoken status announcement will say "Rider A connected".
You can then either press the A button to connect or press the center Voice Command Button on the side of the intercom module and speak the name of the intercom you'd like to connect to (if the intercoms have been named in the Cardo Community).
After a brief pause, the intercoms will connect and a session begins.
In practice, we found it easy and preferable to use the Cardo Community system to configure the intercom (although this is impractical once you're out on the road).
As an example, VOX can be turned on and off in the Cardo Community, but it's just as easy to press and hold the volume up and volume down buttons simultaneously to turn VOX on or off (illustrated in the video below).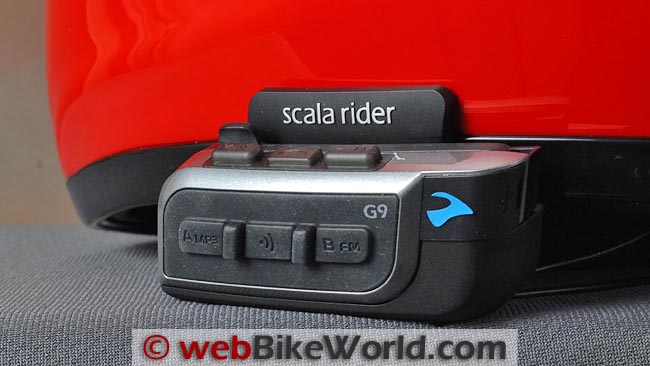 Cardo G9 Audio Sources and Priorities
The issue of which connected device takes priority is important to motorcycle intercom users, based on the questions we've received.
H.B.C. will report back in Part 2 of this review regarding the G9's functionality and performance with GPS, MP3 players and other Bluetooth and connected devices.
The G9 does have an automatic priority function when used with multiple connected devices. Priorities are as follows:
Mobile phone audio or GPS instructions (GPS instructions from a smart phone are prioritized via A2DP).
Intercom, One+8 buddy selection, Click-to-Link.
A2DP audio.
FM radio (built in).
Any device connected via the wired auxiliary port.
Cardo G9 Voice Commands and Spoken Status Announcements
The Cardo G9 intercom has a very limited set of spoken status announcements. It's nothing like the on-board help system in the Interphone F5 (which, by the way, can now be turned on or off after the latest firmware update).
The G9 also has some voice commands; i.e., the intercom can be controlled by the user by speaking a command into the microphone. The system can be set to recognize English (default), German, French, Italian or Spanish.
For example, the built-in FM radio or A2DP music streaming can be turned on or off and a friend in the One+8 intercom system can be called using the system.
Some of the button choices yield only a beep or series of beeps, and it's not clear why Cardo didn't make more use of the spoken status announcements feature, which could be employed to provide more feedback and information to the rider.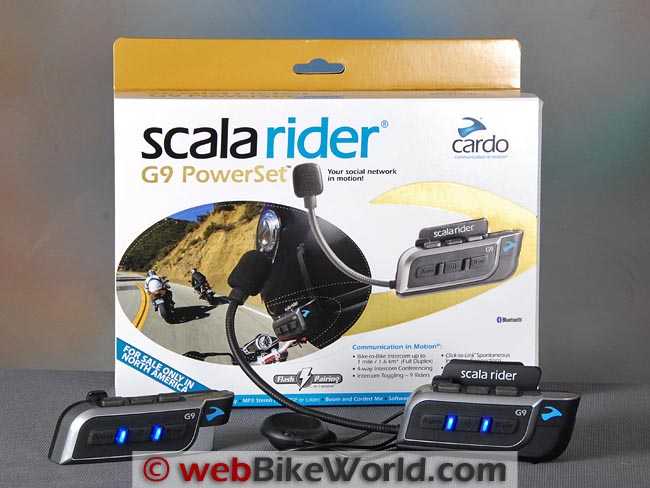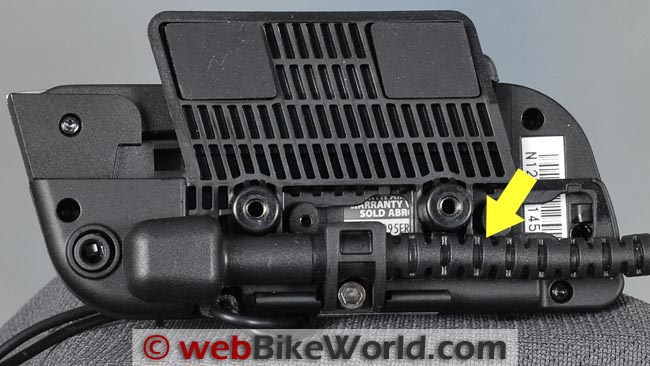 ---
Where to Buy Cardo Scala Rider G9
Check Reviews & Prices on Amazon
Check Reviews & Prices On RevZilla
See More: Motorcycle Intercom, Motorcycle Accessories, Motorcycle Helmets
---
Cardo G9 Sound Quality
The sound quality of the G9 is excellent to outstanding and the volume can be raised very loud. The stereo separation and quality also seems unusually good, especially if you can pull in a strong local FM radio station.
Note that all of the webBikeWorld reviewers wear ear plugs when riding, and that includes when evaluating intercom systems. We had no trouble hearing the intercom when riding at speeds up to around 60 MPH when wearing ear plugs.
As always, this will vary, depending upon your individual hearing ability and the noise levels of your helmet or bike.
The G9 speakers are larger than the speakers found on the Interphone F5. They measure 38 mm across and 7 mm thick. Note that for best performance, the speakers should be mounted so they are as close to the ear as possible.
This may mean that you will have to place some foam or padding in the ear pocket of the helmet liner to bring the speaker closer to the ear. This is true for any motorcycle intercom system.
During our initial "on the road" evaluations, we didn't notice a difference in speaking or voice quality with VOX on or off, which is good news.
We do notice an occasional light background hissing sound in the speakers, but this is overwhelmed with other sounds once the motorcycle starts moving.
Overall, the sound quality and loud volume of the Cardo G9 is excellent.
Cell Phone Connectivity and Sound Quality
The G9 connected with three different cell phones very quickly and without a glitch. The procedure is illustrated in the video below. The system connects with the voice command on the cell phone so calls can be initiated and controlled with ease.
The sound quality through the G9 microphone is excellent and on several calls, the party at the other end did not realize we were on a motorcycle intercom system (with the bike idling but not riding).
Several test calls were made back to the garage both from and to the evaluator on the road, using a G9 and a cell phone and in every instance, the quality of the cell phone call was excellent to outstanding in both directions.
FM Radio
The FM radio in the previous Cardo G4 was an interesting concept that was slightly flawed, because the reception was generally poor. The FM radio in the G9 is better that the G4, but the reception can still vary quite a bit.
Cardo recommends routing the wire for the right-side speaker up over the top of the helmet liner to get the best reception.
We were surprised to find that the spoken status announcement doesn't tell the user the number of the station or provide any other information during FM radio use. However, the stereo separation and sound quality of a strong station is excellent and nearly as good as a high-quality MP3 player.
But the system is touchy and stations can quickly fade and static can intrude much more often than, say, a car radio.
Intercom Communication Distance
Cardo advertises a 1.6 km line-of-sight distance for intercom communications for the G9. Although difficult to measure, in practice this seems to be about right and it seems about the same as most of the other intercoms we've reviewed recently, so nothing revolutionary here.
w

BW

 Video: Cardo Scala Rider G9 Intercom
Conclusion
The Cardo G9 intercom improves on the previous G4 system in some ways and it brings a few unique features of its own to the table.
Whether or not these are dramatic enough to count as "revolutionary" is debatable and, to be honest, it's difficult to say that the G9 offers enough of a difference to convince owners of the Sena SMH10 or Interphone F5 to jump ship and climb aboard the S.S. Cardo.
Motorcycle Bluetooth intercoms have come a long way in just the last few years, with many once unheard-of features now becoming standard.
Also, motorcyclists today have very high expectations as they connect a dizzying array of peripherals and they expect each new intercom to be orders of magnitude better than the previous iteration, not just an incremental improvement.
The Cardo G9 does have a few unique features that may be convincing enough, however, although other G9 features seem limited when compared to other intercoms we've reviewed recently.
For example, the limited use of spoken status announcements in the G9 is puzzling, as is the combination of computer-generated voice and the recorded American-accent voice (when English is selected) that constitute the announcement mix. We'll delve into this further in Part 2 of this review.
Other G9 capabilities are definitely unique, such as the Cardo Community, which is so different that it's hard to judge at this point what type of impact it will make on (and whether it will be accepted by) Cardo owners.
Also, as of the date of publication, only the intercom configuration section of the Cardo Community is up and running.
The intense competition in the intercom market has brought a veritable cornucopia of choices for today's motorcyclist. The downside is that choosing the "best" intercom system is very difficult indeed.
The bottom line is that Cardo owners will probably love the new G9 and it's an excellent choice for anyone moving up from any brand of previous generation intercom. Is there enough extra at this point though to convert everyone?
Time will tell and perhaps as the Cardo Community proves itself, this will play out.
In the meantime, we've only touched the surface of the new Cardo Scala Rider G9 intercom in Part 1 of this review. There's a lot more to discuss, so stay tuned for Part 2 of our Cardo G9 review with more details, ride reports and compatibility tips, issues and concerns.
Part 2: Cardo Scala Rider G9 Review
Also: Cardo SmartSet Android App for the G9
More wBW: Motorcycle Intercom Reviews  |  wBW Reviews Home
NOTE:
 The webBikeWorld evaluators wear properly fitted ear plugs for intercom evaluations. This is reflected in the opinions on sound quality and speaker volume. Your experience may differ. Always protect your hearing when riding a motorcycle (
more
).
Note:
 For informational use only. All material and photographs are Copyright © webWorld International, LLC since 2000. All rights reserved. See the webBikeWorld® 
Site Info page
. Product specifications, features and details may change or differ from our descriptions. Always check before purchasing. Read the
Terms and Conditions
!
---
Where to Buy Cardo Scala Rider G9
Check Reviews & Prices on Amazon
Check Reviews & Prices On RevZilla
See More: Motorcycle Intercom, Motorcycle Accessories, Motorcycle Helmets
---
Owne Comments and Feedback
---
From "K.D." (November 2015): "I just finished reading the other user reviews of the Scala G9, and it made me feel better to know I wasn't alone.
I  have to say that the two Cardo models that I've lived with are on the top of my list for customer dissatisfaction. Not only the products, but the uselessness of their customer service department as well.
I've owned a Set of Scala G4's for about 5 years,  which I try to use about 2-3 times a year on long rides. Never once in 5 years did they operate properly or predictably.
Getting the comm function to work with another rider is more an act of random luck than predicable process. When pairing is successful, the comm function will work for an unpredictable amount of time, then quit.
Getting them to pair again is too complex and dangerous while riding, however they will sometimes just start working again after some random amount of time.
Could be 15 minutes, could be hours. Then they will quit again unexpectedly.
I called Cardo's customer service a few times to see how to correct these issues, but they were of no help at all. I was provided revelations like "charge the battery", or "turn it off and then turn it on again".
When I complained about how unhappy I was, I was advised that the G4 is out of warranty. I have given up on the G4.. Money wasted and lessons learned…
So, last month a buddy and I rode from Chicago to San Diego ( by way of Moab, UT and Yosemite, great trip on KLR's) and he loaned me a new G9 to pair with his. Surely the new model would be a solid improvement over the G4, right?
The results were pretty much  identical to what I experienced with the G4. That is to say the G9 units were unusable.
By day 2 of our trip, we saved ourselves the frustration of screwing around with the units and just left them turned off and went back to pointing at our gas tanks when we needed fuel."
---
From "L.N." (April 2014): "I write this hoping others will benefit. I can't tell you how disappointed we are in this communication device.
Our criteria in buying a communication system was to listen to music and communicate with each other. Scala G9 had some very admirable and appealing features with the primary being voice activation….allowing us to keep our hands free for riding.
Of course cost is always a factor, however, we don't mind paying more for a well functioning product.
After extended research, but with some hesitation due to the heavy price tag, we chose the Scala Rider G9 since it seemed to be best on the market with very appealing features.
Listening to music alone with Bluetooth connection to cellphone or mp3 or radio, the unit works well, as does communication alone. Sound quality was mediocre and the auto- volume adjustment worked very well.
The Voice Activation has never worked properly since the day we bought it, which was the primary safety quality making the G9 lead the pack. The unit disconnects constantly with or without 30 seconds of silence.
Manual button control is the only way we can make the unit work. This negates the safety factor and makes the unit not worth the expense.
Customer support was polite and friendly offering some guidance but was of little benefit.
We have updated the units with the computer connection, kept the battery charged and made sure our connectors were clean and free of debris. We have tolerated the unit for 2 years now due to the heavy price, but our rides have been frustrating and almost unbearable.
I am now looking at purchasing a different device, but the hands-free feature is off the table. I can not and will not recommend this product to anyone. With voice activation off the table, there is nothing making this unit worth the expense."
---
From "B.W." (November 2013): "I purchased a G9 Powerset last spring and used for the entire riding season. Prior to this I was using the G4 Powerset. My friend and I go on long trips 12 days.
We find that the G9 is an improvement over the G4 in sound quality and ability to provide good connection most of the time. We use them for approximately 8 hours a day on a charge.
We tried to get the G9 to work with the G4 without success. We find that the G9 can work well at one function only , example as an intercom they work well with GPS and everything else turned off. As soon as anything else is added in they basically do not work.
Whereas the G4's worked much better. I utilized the phone function on the G4 quite often through my Garmin Zumo 660 and it worked well with most people stating they could not tell I was on a motorcycle.
The phone function on the G9 I find is not useable. People always say it's so noisy they can't hear me. Often it will dial the number and I cannot hear the person on the other end.
The radio function turns itself on frequently and I have to turn it off. It works ok with my GPS as long as I am not using any other functions.
In short, after hours of use I find the G9 to be a good intercom system but no good for anything else. The range is far less than a mile even on clear open highway, probably closer to 1/2 a mile.
The G4 intercom did not work as well but it performed much better in the phone function .
I have the latest firmware, I did report it to them, they told me to unpair my phone and the GPS I did this and re paired everything , still the same. As I said they work pretty well as an intercom for us but not for anything else. This is the main thing we purchased them for so have just accepted that that's all they are good for.
I will not be buying any further products from Scala though. From your reviews I likely will purchase a Sena next time."
---
From "J.T." (August 2013): "I purchased a Scala G9 Powerset about a month ago. While I have decided to keep the set, I find this product works poorly for many of the functions it is supposed to provide, is difficult to use while riding, and Cardo technical support is extremely poor.
I've been using an AutoCom system for bike to bike intercom for the past 9+ years. It uses Kenwood radios for the intercom. My wife has satellite XM radio connected to her AutoCom unit which has worked well for several years.
We ride cruisers so the noise has forced us to use a push to talk setup that is extremely good, with a single drawback being that ours is one way communication – only one person can talk at a time.
The other drawback is we have miles of wires, especially on the wife's bike. This is the only reason we looked at the G9s. We've been otherwise very satisfied with the AutoCom system even though ours is ancient technology. They've functioned flawlessly in rain or shine every time with no problems.
The positive aspects about the Scala G9 is that it is wireless (mostly). The FM radio works very well, although the station preset function is a joke – it simply does not work.
Even though I've set the preset stations on both units units in the Cardo Community setup, the units quickly forget your preset settings. So you have to manually search for the station you want while riding by use of the little buttons on the unit. This is a pain.
If you want to use the G9 only for bike to bike intercom, they work reasonably well, but there are a number of negative aspects that other purchasers should be aware of.
While the FM radio sound quality is very good even up to 80 mph (if you position the headset speakers directly inline with your ears) using full face helmets, the voice quality on the intercom gives the impression of the person speaking having a lisp.
VOX activation is a joke at any highway speed. We've had to manually activate the intercom by pushing a little button on your helmet rather than a conveniently positioned push to talk button on the handle grip, both to initiate intercom and shut it off. Intercom is full duplex, which is a plus.
The biggest drawback to the G9s intercom is the 2 to 10 second delay to initiate intercom from standby or FM use. For emergency warnings, the G9s are useless.
Since the G9s are software driven, there are a number of problems that we've experienced, but to discuss them all would make this review too long.
We have gone online and downloaded the latest software update. Overall functionality of the software is poor and I'm hoping it doesn't get worse. Pairing is somewhat finicky with a cell phone, but the G9s do Bluetooth to my Android phone.
VOX call answering seems to work pretty well, but making a call would be dangerous using VOX – by the time you get it to connect a call you'll hit something due to the distraction.
The G9 is supposed to pair with A2DP compatible music devices.
We've found trying to use the Lynx SiriusXM radio via Bluetooth paring frustrating. While you can pair them and get good reception, the G9s drop the pairing connection and freeze up when you try to switch to intercom, requiring you to turn the G9s off and then back on.
Cardo was not able to help with this, so we're back to using audio wires between the G9 and satellite radio.
Cardo technical support is practically non-existent. They did say the delay in initiating intercom could not be fixed because it was built into the software to close any other use (apparently including standby), and then activating the intercom function. On the whole I would not recommend the Cardo Scala G9."
---
From "T.G." (June 2013): "I have gone through my testing of the UClear HBC200 (review) and found it so difficult to use the buttons and the lag time to change functions I returned it. Luckily (the store) has a good refund policy.
I just returned my Cardo Scala G9 today. The sound and range on the example that I had serious issues with quality and distance. I was ready for a mile range but I did not see more than a few hundred yards in traffic. I charged the units fully.
We both also had the FM radio start up on it's own. The factory paired units were not paired and we had to bump pair them a few times.
Bluetooth linking was very fast with iPhones. Easier button pushing with the 6 buttons over the 3 hard to figure out the press with the UClear.
I have read your write up of the Sena SMH5 (review) and the fact that the intercom VOX on theSena SMH10 (review) and the SMH5 intercom is "always on" which actually may be the preferred mode.
This could be the feature that others lack as the main use of an intercom is to talk to your riding buddy or passenger.
The UClear certainly did this well with a few sound quality issues and the boomless-ness was great but introducing music to the mix was a deal breaker for me along with the tactile button issues.
I'm going to give the SMH-5 a try as the round dial makes a lot of sense. I'm going to avoid the Sena SMH-5 FM (review) as that is one more feature that will make it more complicated. If I can listen to music and then call my buddy with no delay that is a winner in my book.
I agree with you. One should not talk on the phone when driving a motorcycle, car or boat."
---
From "D.H." (April 2013): "I am new to the motorcycle communications systems hence I am certain there is much for me to learn. I purchased the G9 Power Set and found that I needed technical assistance from the get-go.
The first technician was helpful but at a loss. The second technician suggested that I change web browsers to facilitate the registration, software upgrade, etc. The third technician was outright totally disrespectful and I hung up on him.
After trying to figure things out on my own, almost all day, I can now run the radio, place a hot call turn the radio on and off vocally (but I would not consider having to press a button to initiate VOX a hands free system).
My extreme challenge is getting the G9 to place a voice activated phone call. I can reach the prompt to speak a command where sometimes it will accept my spoken words and sometimes it will not.
I find it very frustrating when I direct it to place a call and it then lists three possible choices. After answering no to the first two and yes to the third one the G9 informs me that there is no number in the data base for that name.
Had I been presented with the opportunity of trying this system out prior to purchasing it I would not have bought it!"
Editor's Reply: The G9 is probably the most complex intercom available, to be honest, I probably would have recommended something different for a first-time user…
---
From "D.S." (January 2013): "Haven't had mine long enough to elaborate on advantages/disadvantages over my previous unit (Sena SMH10). One early observation, however, is that the Cardo Community is very good, but desperately needs to be accessible to mobile devices (such as iPhones as iPads)."
---
From "M.M." (January 2013): "I bought the G9 on the strength of the wBW review, and I have to say I've been quite disappointed.
I haven't used the intercom (yet to have any friends own one) so I'm using it for occasional phone calls and music.
First problem was the sound level. I wear earplugs (foams) and the sound is barely audible over my Vespa at 30 mph, and completely inaudible on my Ducati. The speakers are directly over my ears, and the volume on my iPhone is at max.
The second problem is the very low VOX sensitivity to commands. I have given up and use buttons 100% of the time. Occasionally a cough will trigger the VOX, but otherwise it is useless.
The third issue is the baffling lack of voice prompts, as you noted in your review. This coupled with fairly cryptic requirements for holding a button down for some number of seconds, makes the user interface very hard to learn and operate.
Lastly, I have never been able to get the unit to sync up with my computer using the interface on the Cardo website. It just sits at "Reading from Device" and never completes.
I have tried this on a Macbook Pro, with Chrome, Firefox and Safari, and on a PC using Chrome and Firefox, and I have never gotten past this point. So all the "social" features are pretty much no-op for me.
I have contacted Cardo support, and their response has been to suggest obvious remedies that I have already tried. I have to say, if a friend asked me about buying a G9, I would tell him to avoid it and get something else."
Editor's Note: It's possible that the problems may also be with the iPhone.
---
From "R.C." (October 2012): "I connect my Scala Rider G9 with GPS device ( Garmin Zumo 660) and I pair the mobile phone ( iPhone 4S) directly to the GPS device. With this configuration it is not possible paired to an A2DP music player ( iPod 4).
When I press the Mobile Button, the G9 disconnects the GPS device and paired with the iPod. It paired to the GPS or iPod, but not both. You can listen to music only with cable-connected MP3 players in the AUX Line. My firmware is the latest (version)."
---
From "K.W." (January 2013): "I'm not sure how you arrived at the (2012 Product of the Year Award for the Cardo G9). After many years of using my wired Autocom system I decided to take the plunge and "upgrade" to a Bluetooth intercom for a tour of Europe in June 2012, so I bought a G9 Powerset. Big mistake.
What can I say? I was aware of the disadvantages of Bluetooth, having to charge the units every day (so requiring two mains outlets, and as I'm from the UK, two European plug adapters) but thought the rave reviews of Scala products would at least get me a decent product, how wrong I was!
Firstly my wife and I have what are regarded as the quietest helmets available, a pair of the new Shoei Neotecs (review), and we have a quiet fully faired bike, a BMW Tourer, so I can't imagine a better motorcycling environment for the G9.
The voice commands are pretty useless (yes I speak English, I am English) with the function being delivered seemingly a random selection, rather than the chosen function. I have often been distracted for long periods trying to switch "music off" or "radio off" after clearly stating "intercom", very dangerous when riding "on the wrong side of the road" in unfamiliar territory.
The delay on VOX, when it actually worked is appalling. Why should you have to say something loudly just to activate it anyway?
Combined with the problems with the voice commands this meant that we often had the intercom switched on permanently, to detriment of battery life and more importantly, much increased background noise transmitted via the speakers. How this unit could work with an open face helmet is a mystery to me.
The unit did work with my BMW/Garmin Zumo 660 sat-nav unit, so that was one positive, but the FM radio is a gimmick and in the UK and Europe at least, all but useless.
I didn't try the MP3 player in my Garmin, there are too many distractions here in the UK/Europe to be listening to music when riding anyway. Another "feature" designed for the deserted straight roads of the USA.
Too many "functions" are crammed into the units, most are far better set/changed via your PC at home, so useless out on holiday! What's all the … about "buddies", I know my friends and who I'm travelling with, another pointless feature that just complicates G9 operation. (there is no way I'd suggest a friend buy a G9 anyway).
In short a very expensive bit of kit that is more marketing hype than function. Far better they just produced an intercom that worked properly.
Perhaps the Teamset Pro may have been a better buy, but I doubt it, it's the intercom on the G9 that's rubbish, and it would be strange if the Teamset Pro was better.
I will be going back to my old Autocom unit which is far superior in every way except it's wired; no VOX delay whatever, you just speak normally, no shouting a word to activate. No amplified wind noise and the 9V PP3 battery lasts for years."
---
From "N.N." (September 2012): "Fitting the G9 on a Shoei Neotec (review) step by step with photos (posted here on the Kawasaki Versys forum)."
Also From "N.N." (September 2012): "Well I just found a bug (serious one to my requirements) on the G9. I have recently purchased a Scala G9 Powerset and have a major problem on the Aux input. Aux is referred in the user manual solely on paragraphs 7.4/a/b and it's a rather sparse info.
Setup: an MP3 player connected to the aux input (sound level on the G9 at max):
– When playing music on this setup, if the sound level threshold coming from the player goes lower than a certain (quite high unfortunately) level amplification, the G9 simply shuts down the input after about 6 seconds.
If you turn the volume up, as you approach max volume on the MP3 player the aux input wakes up again.
– If there is a gap of over about 6 seconds between songs, the G9 shuts down the aux input. If the sound level goes up again the G9 wakes up the aux input but there is a time lag and you loose the first few seconds of the next song.
– When playing FM radio on the MP3 player, if there is an area where a particular station is not picked up so well and you get over about 6 seconds of hiss noise, the G9 shuts down the aux input and never wakes it up again until you switch stations.
I tried changing the VOX setting and voice announcements to off, VOX and AGC sensitivity but still this happens, so these are not affecting variables.
Seems the aux input on the G9 is not in fact a selectable input but just an automated option of the standby mode (opposite to what you are lead to think from the user manual and all the available info regarding the G9).
There is a sound level threshold on the aux input that is just too high (why is it there in the first place !?), reverting to standby mode (but still waking up again if the sound level is high), and this makes no sense.
Besides telecoms I bought these units to give support to additional MP3 players connected to the aux port, also to expand the FM radio capabilities to pick additional stations and give control to a more sensitive line out FM radio / MP3 player.
Aux input is the lower priority level input, but I think this has nothing to do with that.
If an MP3 cable is connected to the G9 it means that input is going to be used, correct? Otherwise, no cable and that's it!
One way or the other, users should be given minimum control over the aux input, such as a) Option to fade out aux input only when not in use (a yes/no option); or b) When in use (cable connected) to keep aux on at all times.
I consider this a bug because a phone call can be taken and inputs can be changed if you are using the aux input through a cable. This is paramount to me and 50% of the reason I have chosen the Cardo Scala G9 over any other.
On an additional note sometimes a new user defined (using the PC browser G9 registered user home page) position 1 FM station is lost even after properly syncing, reverting back to the previous one, but I'll be investigating further on this one."
---
From "I.M." (July 2012): "I have a Scala Rider G9 and have had a few issues. The following scenario has been explained to Cardo Systems support team who have re-produced the problem confirming that this is an issue.
They are looking into it to see how to resolve the issue but I think this should be highlighted or tested in your current review of the G9.
I have a Nokia E71 phone paired to a Garmin Zumo 550. The Scala G9 is paired to the Garmin Zumo 550. Here is the scenario that I'm having:
I have the phone switched on. I then switch on the G9. I start my bike which switches on the zumo as its powered from bike ignition.
On the zumo screen I get message confirming that the phone has connected via Bluetooth. Shortly afterwards I get message on zumo screen confirming headset Bluetooth connection. I also get GPS connected voice prompt in the G9 headset.
I usually use the voice prompt within G9 to turn on the FM Radio. I can then access menus on the zumo and I hear the beeps from the touch screen in the headset which interrupts the radio station.
I access the phonebook and select a number to dial. After pressing dial there is a short pause and nothing happens then the G9 returns to radio. The phone call has not been dialed!
Now whilst riding if I turn off the zumo and then turn it back on again. I get the same Bluetooth connection messages on the screen but I don't get the voice GPS connected as I'm listening to the radio.
Now if I repeat the process to dial a number it all works correctly. This sequence of events is repeatable every time I first get on the bike the G9 doesn't allow dialing until I do the zumo switch off/on.
Also in this same scenario after first setting off if someone rings me I don't receive the call, but if I have done the zumo switch off/on then I will receive the call. After I have done the zumo switch off/on al continues to work correctly until one of the device is switched off.
Here is the email I received from Cardo systems support confirming the issue:
"Thanks for following-up with feedback. At this point we cannot determine what is the cause of the connection issue. We recommend contacting Garmin to determine if they are aware of the problem with other Bluetooth headsets.
During testing I was able to re-create the issue as described but we do not have a solution at this time. The Research and Development Team will receive a full report on the issue and I will contact you once I receive a response."
Editor's Note: Apparently this is a Garmin issue — no surprise there, to be honest, as we have received many emails about problems connecting Garmin devices with every brand of motorcycle Bluetooth intercom. Cardo Systems sent us this response to I.M.'s comments above:
"Thanks for reporting this issue to us. We have used your input and done testing with not only our scala rider headsets but also quite a few other brands of Bluetooth motorcycle headsets that are currently on the market.
Our test results confirm that the issue remains with the GPS using scala rider headsets as well as a variety of other brand Bluetooth motorcycle headsets.
There is nothing we can do to change the way that your Garmin GPS device is currently functioning and we recommend that you contact the manufacturer of the GPS device for further support."
---
From "C.S." (June 2012): "My husband and I returned from a 4 day frustrated ride with are G9s. Our last communicators were Chatterboxes without any of the Bluetooth technology. However, we were able to just start talking and our music would stop and we would hear each other.
The G9 requires a command each time you want to do — something which wouldn't have bothered us if it wasn't that you have to yell at the mic to wake it up. Then yell your command and if you are lucky it understands you. Both of us ran into times when the sound of the wind woke up the mic and caused thing to get turned on.
Also everyone said that you can hear each other well as long as you are not going 80 and I will tell you compare to our Chatterboxes the was totally not true.
Although the cheapest Chatterbox doesn't have all the features of the G9, the price is the same, you can talk a longer distance, the sound is better, no limit as to how many people you can talk to, you can talk to anyone who uses the CB channel 2.
You can't hook your phone up to it but when you are hanging in a curve do you really want/need to talk to some one.
I thought about turning the VOX off but my understanding is that I will then need to manually switch (press the button) to go from listening to my music to talking to my husband. Is that correct?"
HBC's Response: The Editor's initial response was correct in stating that the overall VOX and triggering issues could be turning VOX off and reverting to manual mode, requiring activation of the appropriate control on the headset in order to switch between modes and activate/deactivate the intercom.
There are three VOX sensitivity settings on the G9, like the G4, although getting to the settings menu is different with the G9, and if you didn't try to do this on your trip, it should be tried during short trips when the opportunity to change the settings and then do a quick ride check is viable.
My experience with the variable VOX feature used by Cardo has been frustrating to say the least, but it is always worth a try (as described below).
Unfortunately Cardo did not publish the actual VOX adjustment procedure in the manual. The basic steps needed to get into the configuration menu are described in an animated tutorial here, but it does not take you through the step-by-step process needed.
In essence however, pressing the A and B buttons for two seconds invokes the Voice Menu and pressing A slowly will or should step you through the main setup categories, one of which is VOX Sensitivity — the three VOX settings can be selected from here.
Note: The sequence and timing of the "presses" is critical and it takes a bit of practice to get things changed and if wait too long, the system will revert back to Standby.
And yes, functional complexity, as demonstrated by the multi-layer or multi-step processes required to activate a mode via Voice Command.
That includes the Intercom, injects a further input/time delay to initiate a specific function and in a less than ideal helmet environment, performance is likely to be less than satisfactory (something that Cardo does acknowledge in a frequent disclaimer).
So if changing the VOX settings (Low, Regular and High) by the Voice Menu or the PC application doesn't provide a solution and if the helmet and/or cockpit environments are not readily changeable, then manual activation becomes the "workaround" option.
It requires that the Channel A or B button be pushed to initiate or end an intercom session (without VOX monitoring, silence will not cause the session to end automatically after 30 seconds).
Note: Some systems do have a timeout when no speech is detected, but its typically in minutes vice seconds. And it is also why other systems haven't utilized VOX, while others only use it as a dedicated service for voice answering of incoming mobile phone calls.
The Midland BT Next (review) in my experience has the best VOX — in use and in setting sensitivity levels — while the Sena SMH5 (review) is a near perfect example of how to live well without VOX, with it only being used for the aforementioned mobile phone answering.
But in personally selecting a favourite Bluetooth system VOX is not high on my priority list, despite its potential convenience.
With the G9s now being brought into full use as part of the Follow-on evaluation, and with access to the Cardo community information, and support, I am hoping your issues can all be addressed, as to a large degree, they are legacy issues carried over from previous versions that have not yet been resolved…
Let us know if you get your situation addressed, and rest assured, we will be pursuing all the issues vigorously."
---
From "M.E." (June 2012): "Scala Rider G9, too many buttons and too expensive. How long before Cardo brings out a simple and cheap headset to compete with the Sena SMH-5…?"
---
From "K.S." (May 2012): "Firstly a great review on the product as one comes to expect from wBW. In fact it was your review that of the SENA SNH10 that led me to purchase that item and to this day I'm still very happy with it.
Forgive me if I'm wrong but the Cardo G9 does not have the option to connect your own headset i.e. ear bud speakers?
There are a lot of us out in the motorcycle community who use our own speakers for whatever reason and until Cardo incorporate that feature into their product they will be loosing potential customers.
The Cardo G9 has some great features which the Sena SMH10 does not but when it comes to being able to use your own ear bud type speakers, well that's a deal maker for me. Sorry I'll keep my Sena SMH10's."
---
From "C.E." (May 2012): "I purchased a Cardo Scala Rider G9 PowerSet to replace the old Cardo Q2 units that my wife and I use to communicate when we ride our bikes.
I've found it to be a worthwhile upgrade, especially since we had an early version of the Q2 that did not have the A2DP Bluetooth profile to stream music.
As mentioned in the article, the G9 is a pain to mount on a SCHUBERTH C3 helmet. Cardo and SCHUBERTH must really, really want you to purchase an SRC collar unit.
I'm all for that as it is a very clean interface and it looks like it left the SCHUBERTH factory that way, but the SRC uses the guts of the older G4.
I wanted to get the latest and greatest…especially since my wife (who doesn't have a SCHUBERTH helmet) is also going to be using one. No sense in limiting her to an older G4 just so I could have the SRC (and I'm not about to by an SRC and a single G9).
For the record, I do have the G9 mounted on my SCHUBERTH but it is by no means an ideal installation.
You have to use the glue plate as opposed to the clamp mount and, as mentioned in the article, the shape of the mounting bracket of the G9 doesn't allow the glue plate to make 100% contact with the helmet. Most of the glue is touching but not all.
My fear is that one day moisture or dirt will work its way in an loosen the glue plate…especially on a hot Texas day when the glue is probably already a bit loose anyway. The upside is that even if the G9 unit totally comes loose it won't fall off due to the speakers in the helmet.
The G9 unit will simply sway in the breeze, holding on for dear life via the speaker wires until you stop and fix the problem.
I'm sure at some point they will release an updated SRC collar for the SCHUBERTH C3 helmet using the guts of the G9 instead of the G4, but for people like me who have already purchased that won't help a lot. So here's hoping they also release an upgraded mounting option.
The bike-to-bike intercom range on the G9 is better than my old Q2 set. Just remember that the mile range is under ideal conditions.
On the open road with unobstructed line of sight I have no doubt that the range will be at least a mile, though I haven't tested this as my wife and I don't tend to ride that far apart. Throw some big objects in the way, though, and that range quickly goes down.
My wife and I returned from a ride a couple of weeks ago and I stopped at the bank of mailboxes for my street to get the mail and my wife continued on to our house, which was maybe a quarter of a mile away.
With several two story houses in between us we quickly lost a connection. Hopefully when you are out on the highway a house won't jump between you and your riding buddies.
The quality of the physical device as well as the audio quality are all fine. The FM radio is much better than the practically useless tuner that was included on the Q2. The headphones provide decent audio quality provided the audio source is good.
For example, streaming high quality MP3 audio from my iPhone to the G9 sounds great. Streaming audio from the sound system of my BMW K1600 sounds pretty lousy.
This is because for some reason the K1600, as great a sport tourer it may be, has an Alpine audio system that seems to be plagued by low quality Bluetooth streaming, as if it uses a bitrate that is way too low.
BMW is apparently addressing this, but it serves as an example that if your source audio sounds bad even a pretty good pair of speakers like the ones the G9 comes with won't help.
Audio quality while talking on the phone is always good, though. Many people have no idea that they are talking to someone who is riding a motorcycle down the road.
One thing I was interested in before I purchased the G9 was how the microphone connected to the device. My hope was that Cardo used some sort of standard connection and not a proprietary one so that I could try and connect a throat mic to it. Once I got my G9 I looked at it and saw the connection was both standard and proprietary.
The actual connector looks to be a standard 3.5 mm headphone-type jack, but the rubber casing around it is a unique shape. I'd be willing to bet a different mic with a 3.5 mm connector could be made to fit, somehow.
Perhaps the folks at webBikeWorld will give it a shot.
I'd really like to see if they can get that Iasus throat mic (review) that HBC reviewed to work with the G9.
I actually asked Cardo about this on Facebook when a Cardo engineer was on there answering questions but was simply told that the G9 was designed to use the microphones it comes with. Sounded to me like they were saying "we haven't tried so don't blame us if it doesn't work", so there is some hope.
Finally, it should be noted that in order to use the "Cardo Community" to adjust the settings of the G9 and upgrade the firmware you need to be using a Windows computer. As a Mac user I had to dust off an old Windows XP laptop that was packed away and nearly forgotten.
Cardo has said they are working on a Mac version but did not have a release date. In all I'm very pleased with the G9. It is a huge step up from the old Q2 and a smaller, but probably still worthwhile upgrade from a G4."
Other WebBikeWorld Intercom Posts