Cardo Scala Rider G9 Image Gallery
Far more feature-rich than the Scala Rider
G4 (review), the latest addition to the "G" family isn't much bigger, but it is definitely better.
For example, the Cardo Scala Rider G9 has the best (i.e., most responsive) audio gain control I have experienced.
Combined with near-silent functionality, the G9 intercom is on par with my current overall standard, the Midland BT Next (review).
Audio quality in the Scala Rider G9 is close to outstanding, but there is a weak point — it is still lacking in overall volume output compared to other brands.
For a premium system with a premium price a bit more was expected, but firmware updates can address most of the related issues here.
Device pairing and switching is seamless and again, very fast. It is no longer necessary to do a new pairing after a week or two.
Outside of the (usual) issues that occur when iPhone and iPod devices take and retain all profiles (Sena has basically cured this by providing Selective Pairing), the G9 works with everything put within range.
Using the G9 system is an extremely positive experience that can be further enhanced by interacting with other G9 users via the social media aspect of the Cardo Community website. This feature probably won't be for everyone but users do have the choice to participate or not, although on a slight downer, it is the only way (right now) to take advantage of software updates.
The Cardo Scala Rider G9 sits pretty high on my Bluetooth helmet system rating pole; not at the top, but far higher than I had the G4 placed. For this Cardo is to be commended and I really hope the G9 will realize its potential; there has been significant investment made by the company and of course, users.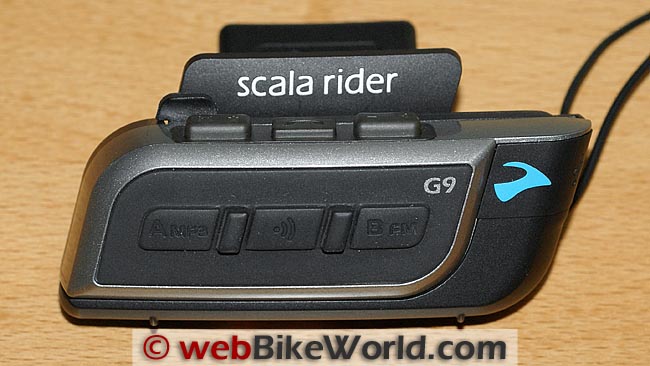 Background
After Part 1 of the Cardo Scala Rider G9 review was published, I had been looking forward to getting my hands on the long-awaited and much-anticipated system to add to my ever-growing Bluetooth system inventory.
Over the years, my experience with Cardo Bluetooth systems has been mixed. Older models were comparatively basic design-wise but had excellent performance; conversely, the G4 was touted as a feature-rich system (which it is), but from my perspective it didn't reach its performance potential even though the release of firmware version 3.0 was a positive step forward.
Admittedly, the G4 Powerset I have here have spent most of their time on loan, together or individually, to perspective Bluetooth system users and conversant riders who want to try the much vaunted and popular Scala Rider
systems. Despite some performance inconsistencies, the G4 can work well for any initial foray into the wireless motorcycle communications environment, albeit with a steeper learning curve than other simpler systems.
Most of my reservations with the G4 were caused by a lack of volume, poor responsiveness from the VOX and AGC features, and unnecessary complexities in fine-tuning or customizing the system…all complicated by the fact that many settings were not originally documented.
So this was the state of my Cardo Scala Rider intercom experience, until receipt of the Cardo Scala Rider G9 intercom units. As someone said, "One must start somewhere in order to get anywhere", so without further delay it is time to delve deeper into the Cardo Scala Rider G9 Powerset.
And while at it, I will address many of the on-going issues and comments posted in the Owner Comments section of Part 1 of this review, including issues related to installation.
Scala Rider G9 Helmet Installations
The Cardo Scala Rider G4 and G9 systems are large-sized, no doubt about that. This is especially true for the "audio kit" or base intercom module. Some of this mass is seemingly justified by the need to support the physical features, but the bottom line is that the Cardo Scala Rider "G" intercom generations can be a challenge to mount on some helmets.
That large mounting base with its dominant bottom edge is hard to work around, whether the G9 clamp or adhesive mount options are used. The use of other adhesive solutions employed on previous Bluetooth helmet system installations can also work far better on certain helmet shells, even though the thin, pliable adhesive mount included in the G9 kit is a good option in some cases. Other solutions are sure to be found.
A local rider solved the problem by removing the inner clamp plate on his G9. He drilled two small holes through the plastic base moulding (not the shell) around the bottom of his Nolan helmet and secured the G9 base to the helmet using the two clamp screws. While not a recommended procedure, it does provide a very clean and very stable mounting that has endured a full season with sustained use and long distances travelled.
One other observation that bears making concerns the placement of the lead for the right speaker on the G9 helmet mount. As identified in the Scala Rider G9 User Guide, this wire should be routed, if possible, across the top of the helmet for maximum extension because it acts as the antenna for the built-in FM radio in the G9 intercom.
Helmet Mounting Examples
Both of my G9 Powerset systems have been successfully mounted and used on the Nolan N-103 (review), the Nolan N-104 (review), the SCHUBERTH C3 (review), both of my Arai XD3 (review)helmets, the aging Arai RX7 lids, a Scorpion EXO-400 (review) and more. Perhaps not a comprehensive listing, but certainly representative of a variety of motorcycle helmets.
Installation efforts for this group ranged from simple to medium complexity using the G9 clamp or an adhesive mounting solution of some sort, with the 3M Dual Lock approach winning out for adhesive mounts. A positive factor in all of the installations is in now having two microphone mounting options with the Scala Rider G9 intercom.
Cardo Microphone Options
Some mitigation of installation issues is possible given increased modularity of the G9 system, because the boom microphone can be removed and the thin-wire (corded) microphone that is supplied with the system can be mounted in its place. This is typically a better solution for full-face helmet installations and it results in a cleaner fitment profile as well.
Removing the inner clamp back plate screws of the G9 helmet mount reveals that the modular boom microphone is held in place by a small hinge clamp pivoted out of the way by removing its screw using the same Allen-head tool. Pulling gently outwards on the boom unseats the microphone audio connector from the 3.5 mm jack and the piece comes free.
The 30 cm (11.8 inch) long thin-wire microphone component integrates its 3.5 mm connector into a hard base that changes to a flexible protective sheath from which the single thin-wire lead with round microphone extends.
Note that there are two 3.5 mm jacks or sockets on the inside edge of the G9 base; the port in front is for the microphone while the port towards the rear is for an external auxiliary (wired) input to the intercom (i.e., MP3 player or other device).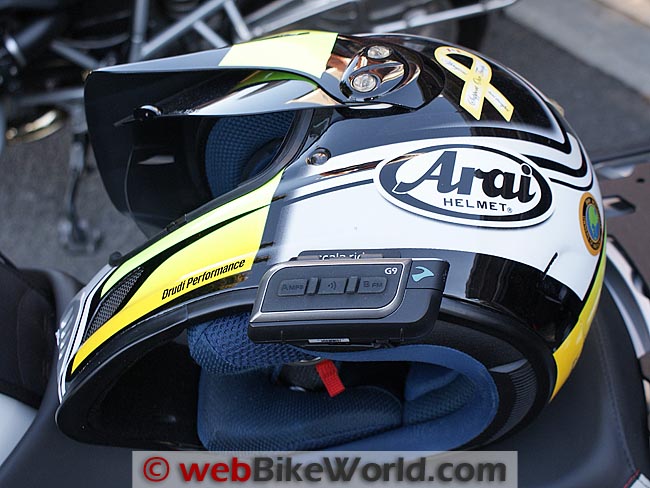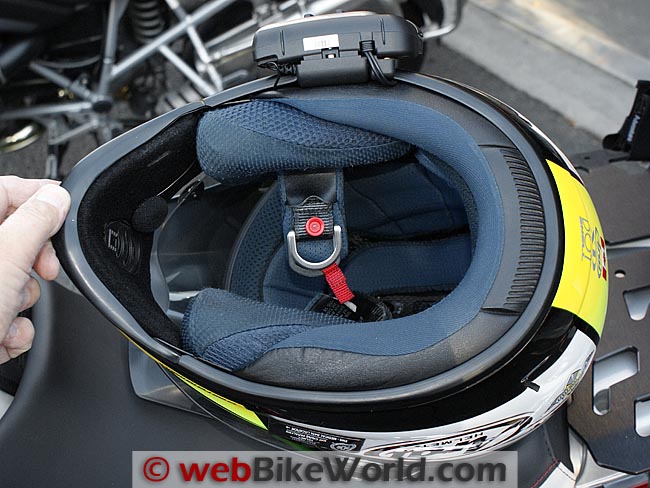 Other Microphone Options
Like some other users have discovered, seeing how the microphone interfaced to the G9 intercom via a standard 3-pole 3.5 mm audio connector led to other ideas for microphone options. For example, I have managed to get other third-party microphones working with the G9; in particular, one of my favoured components, the Iasus GP3X2 Throat Microphone (review).
This option is enabled by connecting the DIN interface of the Iasus GP3X2 throat microphone to its counterpart on one of the Iasus NT3 adapters. A standard male-to-male 3.5 mm 3 or 4-pin stereo cable (preferably with one 90-degree connector for the G9 microphone input) sees the other end plugged into one of the I/O ports on the NT3 adapter.
As noted in the original Iasus review, correct placement of the throat microphone is important for effective voice pickup. You may find that the audio generated by the throat microphone is a bit weaker than the G9 components, but nevertheless the spoken voice remains perfectly understandable.
Good throat microphones are very quiet overall and with the Iasus GP3X2 throat mic tucked inside the collar of a garment or under a neck scarf/warmer, any external noise that helmet mic might transfer when using a boom or thin-wire microphone just doesn't exist.
While the issue of providing incoming audio via the GP3X2 components remains outstanding, connecting a two-way radio to the upper I/O of the NT3 adapter and pushing the integrated PTT activates the two-way radio circuit, clearly demonstrating the output half of the capability.
Rest assured that the input half of this equation will be tackled, unless Cardo decides to do it first…after all, the auxiliary input port is already there.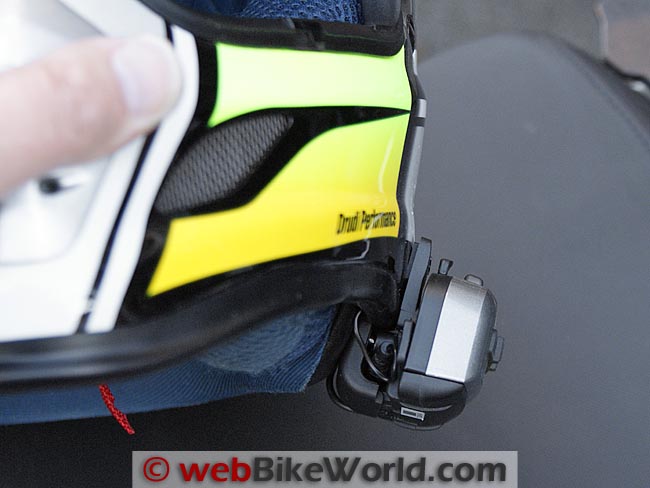 G9 Intercom Pairing Experiences
In my experience so far, the Cardo G9 intercoms have been virtually flawless in pairing with anything, including some very old Bluetooth devices. A previous pairing will be resumed within seconds (unless the system has been reset), with user intervention needed only infrequently.
I can typically walk away from my helmet with one or two of the paired devices carried on my person, and once back in range, a low click will be heard in the helmet, followed by the appropriate voice announcement letting me know that the respective link has been renewed.
Even when the helmet is off my head and placed nearby, if I'm seated close enough I can hear the spoken voice announcement from the G9, which invokes images of a "talking helmet" to anyone else who happens to hear it and isn't familiar with the intercom systems — a great conversation starter!
Using the Scala Rider G9 Intercom With a GPS
I haven't experienced many problems with the G9 when interfacing with the Garmin zumo 660 (review) or 665, but other owners have. One issue involves the loading and accessing of phone books…but then again, I typically pair the phone directly to the headset rather than with the zumo GPS as host.
With the Scala Rider G9 version 1.3 firmware documentation specifically identifying "improved compatibility with Garmin Zumo 660 and A2DP Music streaming", part of my confirmation effort saw both 660 and 665 again configured to host the iPhone 4S and other smart phones.
Use the Bluetooth "Phone" tab on the zumo; this keeps the iPhone with zumo pairing restricted to the hands-free profile and (typically) prevents the iPhone from taking/holding all profiles, a familiar scenario when using the "Audio" tab.
Once configured, the phone menu feature and phone book/listings are available from the menu of the zumo with the G9-to-zumo phone configuration providing full phone services including voice dialing or Siri access for calling — it seems some of the firmware tweaking has paid off.
This hosting setup also facilitates (A2DP) stereo streaming from the zumo's media player to the headset and I can confirm that yes, the stereo audio streaming is much better…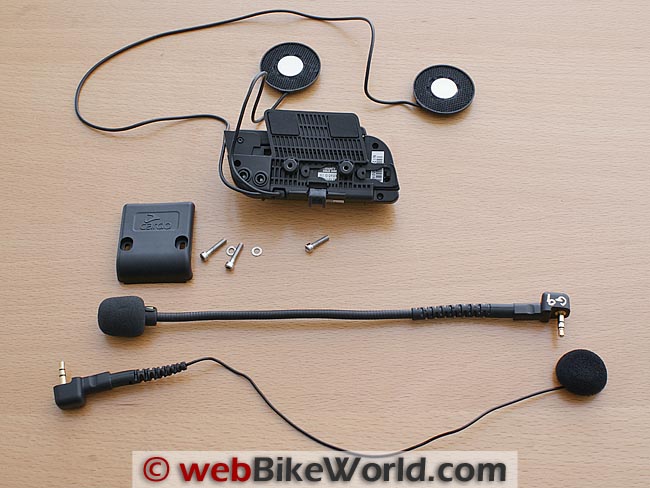 Cardo Scala Rider G9 Intercom Configuration and Functions
Part 1 of the Cardo G9 review covered the ground in getting one or more G9s paired up for multi-party communications (2, 3 or 4 users), but I continue to get a lot of queries and read lots of posting from users, with most of the questions or issues revolving around the pairing options available.
Pairing with another device or multiple pairings for three or four-way conferencing is supported by the Cardo Scala Rider G4 and most other intercom systems on the market today. But the G9 expands these horizons by adding the ability to build, load and access a pairing by using a voice command "Buddy Name" for up to eight other G9 users.
The G9 is compatible with and will pair with all of the Scala Rider intercoms that have been produced since the company started making Bluetooth intercom systems. The G9 will also pair with the SCHUBERTH SRC intercom system (review), although range limitations of each system must be considered.
While the two Powerset G9 intercoms (the two user kit box) are paired at the factory, configuring other G9 devices for intercom use requires that a pairing process be undertaken.
Basic One-to-One Pairing
The tried-and-true manual method still works just fine although alternative methods are now available using Flash Pairing or Pairing Online, both of which are described below.
If needed for any reason, the process is indeed standard; turn the devices on, determine whether Channel A or B will be used, then press the appropriate channel button for five to six seconds until the LEDs flash blue or red on each device.
After five to ten seconds both devices show a solid light for two seconds and then revert to standby and are ready for use.
Flash Pairing for Selective Channel (A and B) Use
To use two G9 devices on either Channel A or B, as typically configured for two, three or four-way use, this new and unique (to motorcycle intercoms) pairing method is fast and foolproof.
With both devices in Standby, tap the Channel A or B button on the first device until the LED flashes Purple; repeat this for the second device. Within five (5) seconds of tapping the Channel buttons, bump the two G9 devices gently together (bottom to bottom) and hold them side by side. If the proximity activity is successful, both LEDs will flash Purple for two (2) seconds. The two devices are now paired via the selected channel.
Flash Pairing With a One+8 Buddy
Adding a new One+8 Buddy, no matter where you might be, is simple when using the Flash Pairing feature, although the process is a bit more generic than for Selective Channel pairings.
Make sure both G9 devices are in Standby Mode (slow Blue flashing LED), align them bottom to bottom, bump them gently together, and then hold them together side by side. If the proximity pairing was good both LEDs will flash Purple for two (2) seconds before reverting back to Standby.
Of the two Powerset units on hand, one was really reluctant to get physical and accept the Flash Pairing procedure, but since the most recent firmware upgrade it has seemingly been cured and accepts this pairing method without issue.
Three and Four-Way Configurations
Not a new feature per se, but with three or four G9 or G4 devices configured, this conference mode works extremely well for multiple users, be they individual riders or rider with passenger, etc. Serial communications is the key here.
In a three-way connection, one rider is the hub, communicating to the other two on Channel A and B respectively. With a four-way connection, two of the systems will be using Channel A and B. A typical configuration consists of two motorcycles, each with a Rider and Passenger, with the passenger devices utilizing both channels.
Click-To-Link
Originally available with the Scala Rider G4 system, this ad-hoc or "social feature" is available with the G9. If enabled (the default is Disabled), a double-tap of the Channel A button activates a Click-To-Link search for ten seconds, unless the channel button is tapped again, ending the call/request.
Earlier this summer, while out with the G9, I got a call request; another G9 user had seen me leaving the local BMW dealer's lot and decided to hit me up while I was in range. As the Click-To-Link had been enabled for testing, we were able to link up and converse for a minute or so before moving out of range.
One+8 Capability
This highly touted feature of the G9 system is a key component of the Cardo Community, accessed via the website. In essence this capability provides the means to add up to eight other G9 users to a group, with the group information then loaded into the G9 device using the Sync control.
The One+8 section of the Cardo Community website provides the means to configure your own "Buddy" name or alias for the One+8 Intercom mode, and other Buddy names of friends or fellow users can be added directly or through a search engine.
An important point to note here is that if your G9 already has eight paired systems loaded (using a One+8 group ), adding a ninth will displace the "Buddy" that hasn't been accessed for the longest period of time.
To actually use the One+8 Capability with G9 systems, pairing is still required, but now there are options: "Flash Pairing" as described earlier; or the "Pairing Online" process, initiated by adding users to the active (loaded) Buddy List.
To see what devices from the loaded Buddy List are available a local search can be initiated by pressing the Voice Command button on the intercom module for five (5) seconds. This activates the Paired Device function; if a device from the list is detected within 20 meters (60 feet), both system LEDs go purple for two seconds indicating a proximity pairing and you're done. It is that easy!
If for some reason the found device isn't recognized as a One+8 Buddies member, a Flash Pairing can be accomplished to quickly add any found device to the current list (keeping in mind the eight device limitation).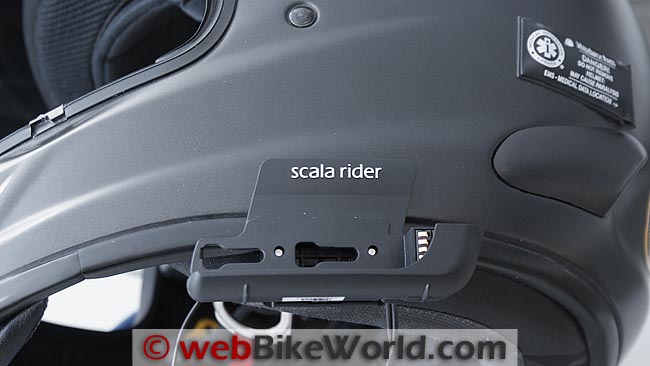 Thoughts on the Cardo G9 Audio Functionality and Performance
The Scala Rider G9 audio hasn't been boosted much from what we observed with the G4, or at least that is my subjective assessment and one confirmed by several other users who have also had successive generations of Scala Rider systems.
Not that the G9 has poor audio by any means, but compared to the Sena SMH10B (review)running the latest firmware or my current champion, the UClear HBC100/120 (review) intercom, audio from the G9 system isn't as good as I had expected.
But to be fair, the right helmet and proper installation makes a big difference; I found mediocre to excellent audio environments, depending upon the helmet type and the G9 installation. One constant that is very noticeable is a silky smooth ultra-responsive AGC (Automatic Gain Control).
Automatic Gain Control (AGC)
Compared to the G4, the G9 AGC is extremely responsive and fast. Obviously, the sampling rate(s) and processing has been boosted, because even when the motorcycle speed and resulting wind and other noise builds rapidly, the audio volume increases just as rapidly.
The up and down volume adjustments are very smooth, in stark contrast to the typically sharp and unexpected jumps experienced most of the time when using the G4 systems on most motorcycles in most helmets, although fine-tuning using the AGC settings did help in some applications.
VOX
My relationship with voice-activated (VOX) circuitry over the years has been an up and down affair, and I'm still not convinced it is the solution for every application. But, Cardo has been doing their homework and I can now at least use the VOX feature of the G9 without becoming frustrated.
With three sensitivity settings available (the default is Medium), many helmet and cockpit environments will be taken care of, especially for semi- or fully-faired motorcycles. On some un-faired bikes or sportbikes, VOX may still not be the answer, in which case turning VOX off and activating the Intercom manually via the Channel buttons or Voice Command using [Call Intercom] is the solution.
Text-to-Speech and Spoken Status Announcements
Compared to other intercoms we have evaluated with this feature, where an embedded voice feature in the system presents the user with and confirms the menu choices, the Cardo implementation is not yet very extensive, although the latest firmware version (discussed below) has added to the voice announcement menu, thankfully.
Even basic spoken notifications like "Power On" or "Power Off" were not provided with the initial G9 release; two very important initial omissions from my perspective. As a constructive suggestion I would recommend that Cardo work towards a menu middle ground that combines some of the multi-layered but informative detail announcements of the Interphone F5 (review)intercom system with the more basic but equally informative announcements used by the Sena and BikeComm systems.
Voice Command Capability
The Scala Rider G9 is the first consumer Bluetooth helmet system to provide voice recognition processing, and if properly configured, the system can truly be (almost) hands-free.
English is the default language, although German, French, Italian and Spanish can be enabled using the Cardo Community interface.
Activating this feature requires pressing the Voice Command button or if VOX is enabled, by speaking a word or two loudly to activate the circuitry. With audio input active, indicated by the Voice Command tone, speaking one of the (current) supported voice statements will result in a confirmatory announcement.
The confirmation announcements are usually heard within a second or two, with actual processing and switching time sometimes measured in additional seconds – an observation noted with other voice enhanced systems.
It pays to remember that processing capabilities are often limited…something that will most likely change. Needless to say there are a lot of variables involved in determining how well voice command audio is interpreted; your voice, helmet and cockpit environments and related environmental noises all impact. Correct and close positioning of the microphone is critical and keeping vents and visors closed also helps greatly, depending on the helmet, of course.
My experience with it so far has been mixed; sometimes it works, sometimes it doesn't, requiring the process to be repeated.
On a more positive note, after the latest version 1.3 firmware update that may or may not have specifically addressed this feature, the Voice Command feature seems to work more accurately and also a bit faster. With practice by the user, the system can be made to react as it should — think of it as a work in progress.
Voice Command is not a gimmick, but a positive feature that succinctly demonstrates the way ahead. It will only get better and see more widespread use; and for that, even its current limited 'library' is appreciated. And again, whether or not is it activated or used is up to the user.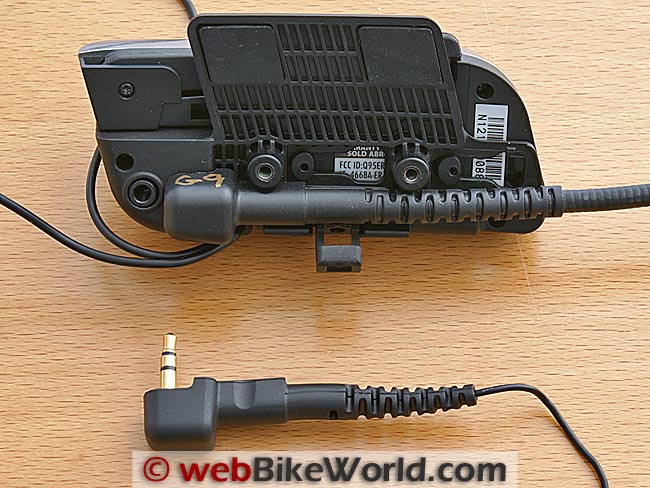 G9 Auxiliary Inputs
Outside of the orientation of the G9 intercom module, which can make inserting a 3.5 mm connector a bit tricky depending on the helmet, I've not had problems with this stereo input, although its base output level seems to be higher than most of the other audio input.
But this can also be addressed by adjusting the level of this source via the headset controls and/or adjusting the connected device's output (unless fixed).
Some webBikeWorld G9 owners have reported that the audio can drop off or seemingly shut down at times during long periods of inactivity or low input levels, but this isn't something I have experienced yet. This feature gets little attention in the G9 User Guide and now that I'm aware of the issue, and with a query to Cardo Support submitted, I'll spend more time observing auxiliary input performance and submit any new findings to the Editor for posting
Cardo G9 System Management
Like many new Bluetooth helmet systems, the G9 is far easier to setup and maintain, thanks in large part to the Voice Menu (Text-to-Speech) feature and the Cardo Community website, both of which are distinct audio and visual options for configuring the system.
Cardo Community
Key components of this site are the system maintenance and configuration options, discussed in detail under the System Updates and Socializing section below.
Voice Menu
Pressing the Channel A and B buttons simultaneously for two seconds invokes the voice menu and following the audible instructions in the selected language will guide you through the features and setting options. It pays to browse through the menu once or twice first to get a sense of how it is organized and to minimize input delays, as the system will revert on short notice.
Battery Life
From a full charge, I typically get two days of use, averaging five to six hours per day with fairly steady music streaming, some intercom sessions and a few phone calls. When music streaming is not utilized, three to four days of monitoring with light use is possible before reaching half charge.
Battery Charge Status
Assessing charge state is done by using the Battery Level Indicator function. From power on, hold the Volume Up button for two seconds until the LEDs flash one of three charge conditions: Blue indicates full charge; Purple is half charge and Red indicates almost empty.
Charging
After just over five hours of use, it takes over an hour to recharge the G9 via the wall charger and almost twice as long if trickle-charged via USB. I must admit that the G9 takes a long time to recharge, taking almost twice as long to recharge from a 50% discharge state compared to other systems.
And another often-raised point is the slight offset found between the channel that is moulded into the upper back of the G9 module chassis for the micro-USB interface and the straight-angle of the USB connector on the charging/data cable.
If initial care is not taken in making sure the small guide grooves are utilized, some frustration is sure to occur. Just don't bang away at it, as that will just cause undue wear and tear on both components. Practice should make perfect here.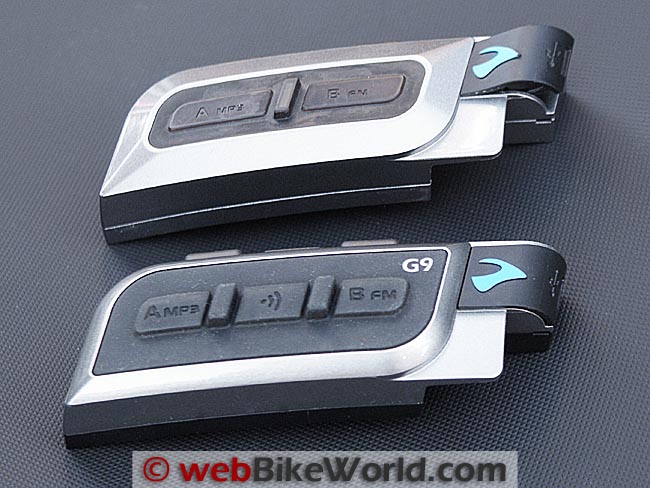 Management and Socializing With the Cardo Community
Once it's charged up and ready to go, it is time to seek out more G9 users with which to communicate or socialize with; exactly what Cardo had in mind with the development of the Cardo Community.
This is a new dimension in motorcycle intercom ownership. It isn't just focused on providing a PC-based means for firmware updates (although it does that), but rather it is based on providing a social-media-based environment for managing, communicating and collaborating with other Scala Rider G9 owners.
Some sections of the Cardo Community Member Home Page are still evolving, but the potential for being able to interact with a large community is obvious. Once logged in (using initial registration log-on and password information) the main page comes up, revealing four main headings or tabs: Home, Settings & Radio, Friends & "One+8" and Tours.
Besides the firmware updates, the Cardo Community provides the ability to change and set the options on your G9, such as changing or setting FM radio presets and more.
Two of the most intriguing sections include "ONE+8" and "Tours", which I'll explain in more detail below:
ONE+8
One of the most unique features of the Cardo Community is the ONE+* section, where G9 owners can manually add or search for other devices to populate the general list, which is then used to build up separate "My ONE+8" Buddy Lists on the right side of the page. Multiple lists can be created or deleted with management of everything quite easy, particularly for those who are conversant with social media concepts and processes.
I started from scratch (literally) and after a couple of hours it becomes pretty comfortable with the system. Just remember, you can interact via this means or not — the choice is yours. Anything that is created can also be deleted (appreciating other social-media issues).
Several local G9 users have been added through direct interaction and during riding encounters, all of which have served to build up and assess my One+8 capability. Other users have found my name and sent me a request to be added to my listing; these requests can be accepted or rejected.
Remember though that only one Buddy List is supported (loaded) at a time and it cannot be changed on the fly from the intercom; the database is accessed via the Cardo Community site when you're logged in. I haven't yet seen or pursued mobile access yet, but I'm sure others have — something else to keep tabs on.
Tours
This section provides a forum where planned, proposed or trips undertaken can be detailed and posted. It can be customized to reflect personal tours or planning as well; clicking the icon on the right side brings up a pro-forma outline for populating, reviewing and when ready, posting.
More can be done using the Cardo Community site and if you really want to exploit this offering, spend the time navigating and playing with all the features. Who knows — you might just end up with a bunch of new contacts to follow-up with on your next trip.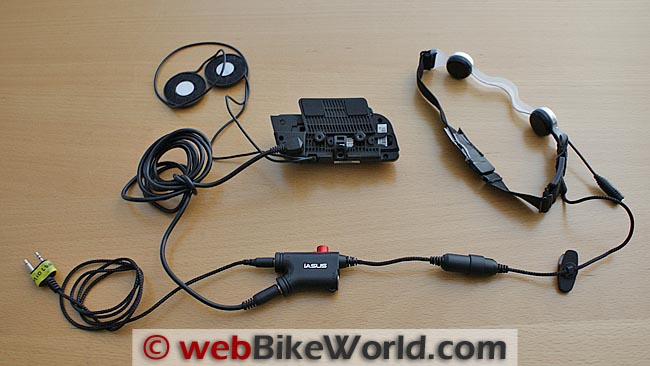 Scala Rider G9 Firmware Updates
It took Cardo some time to get the first firmware release posted, but since then it has been followed by two other releases, with the latest containing significant and very positive updates.
After updating both G9 modules and running through the usual series of static and riding tests, it is very apparent that the latest firmware release moves the feature and performance yardsticks along significantly. Everything works smoother and seemingly, faster, including pairings.
w

BW

 Opinionator: Arai XD4 Helmet
Picks…
An excellent technology platform.
Excellent Bluetooth behaviour.
Best AGC of any intercom so far.
Spoken voice announcements.
Voice Command is extremely useful.
Firmware upgrade reveals more potential.
Pans…
It's big.
Needs better aerodynamics.
Helmet fitment can be problematic.
Audio quality could be improved.
Some features overly complex.
Expensive.
On the Road With the G9
In using the G9 PowerSet for most of the current season and communicating and interacting with many other G4 and G9 users in the local area and on the road while travelling serves to demonstrate how versatile and competent the G9 is.
Communicating
Initiating or receiving an intercom call from another paired G9 is quite seamless and often it is hard to tell when the link opens…but the other user is there. Most sessions are conducted on the paired channel(s), although a caller not on the Buddy List can be accepted by tapping Channel A; and typically, it is just that easy.
When the G9 is already engaged or busy — such as with a phone call or a single or multi-party intercom session via Channels A and B — a One+8 or a Click-To-Link party any other device attempting to call in will get a busy signal.
Group Signal
This is a little noted feature that can be extremely important especially during group rides. If known to all users, the Group Signal, initiated by double tapping the Voice Command button, provides a simple broadcast alert to anyone paired who is within range and as such, can be a timely 'heads-up' warning of some event.
The next logical enhancement for this feature would provide the ability to actually announce a specific voice warning a second or two after the Group Signal tone is broadcast.
Voice Announcements
With four more announcements added to the menu in firmware v1.3, more of the essential and common system functions are covered under the text-to-speech capability and basically are synthesized (computer generated).
Voice Command
My experience with this G9 feature has been mixed — sometimes it works, sometimes it doesn't, requiring the process to be repeated. Although since the v1.3 firmware update the feature is more accurate and a bit faster, although I cannot confirm if specific tweaks to this capability were completed. Be positive; think of it as a work in progress.
Whereas the announcements are pro-forma computer generated audio, the Voice Command "read-backs" are (seemingly) recorded voice clips from a set library, which in reality makes sense at this point in time given its (current) limited functionality and inherent processing limitations. As with other voice recognition systems, perhaps an intelligent system with "learning" may come at some point down the road…
V1.3 Upgrade
Everything works smoother and seemingly faster, including pairings. The additional voice announcements are welcome, although more are needed. The four new voice commands — two A2DP and two FM radio related — are indicative of what can and should be provided in working towards a true hands-free audio-driven environment.
BMW On-Board Audio
With three BMW motorcycles and five systems involved, the assessment was that the G9 system was useable but performance was less than stellar; fingers could be pointed at both BMW and Cardo.
With the G9s running firmware v1.3 and everything reset, going through the discrete pairings again revealed that things are much clearer, literally. And the G9 now capably supports a mobile phone pairing and pairing to the on-board system at the same time, although some related testing on this is still on-going (updates will be submitted to the Editor).
All the G9 v1.3 headset users — myself included — can confirm that the BMW-to-G9 Bluetooth link provides higher quality audio with minimal distortion. A BMW firmware upgrade for the RT and K1600 on-board systems is said to provide even more performance enhancements. Stay tuned for more on this subject…
Hot Dialing
Acknowledging all the cautions, concerns and legalities of placing calls while mobile, this capability (configured under your profile on the Cardo Community and then saved off to the device during a synchronization) allows the user to instantly dial the number by pressing the Channel A and B buttons simultaneously.
For emergency calls or as a means to initiate any emergency contact, it is actually something that I recommend be configured — I've done it, and used it.
Addendum: Cost vs. Performance
As noted in the "Picks…and Pans" list in the webBikeWorld Opinionator table above, the Cardo Scala Rider G9 is feature-rich and loaded with good technology, but it does come with a price. But then, in reality, the Cardo "G" series products have always demanded a cost premium; this cost delta, and performance shortfalls were major factors that kept the G4 out of contention for "best system" when everything is considered.
So, this brings us to the G9 and to be succinct in answering a very fair question sent by a webBikeWorld reader: "Do you consider the G9 to be a top notch and easily recommendable helmet comm system?", the answer would be "Yes".
By itself, the G9 got the review rating it deserved — for what it is, what is has, claims to do and, does. If all the G9 features are "desired" or "needed", or if the buyer wants the current leading technology-based intercom system, then the price premium is really worth it. There really is nothing else like it on the market, and sometimes, exclusivity has a price of sorts.
From my perspective, In a basket of fall apples comparison, is the G9 system the "best performing" or "easiest to use" or "most reliable" when stacked up against the competition? That remains yet to be determined in a head-to-head comparison with other Bluetooth motorcycle intercom systems (which are still being brought to market faster than we can get them into the review pipeline!), hopefully before the last snowfall of December occurs…
Conclusion
So where does Cardo go from here with the G9? Hopefully forward in a big way. Just about every issue, minor or otherwise that I had with the G4 and the initial release of the G9 has been addressed in whole or in part, a situation I can really appreciate.
In getting to know the G9 and with continued use, along with fielding questions from a lot of other users, one observation seems to keep falling out of the discussions: can, or will Cardo interface or merge the One+8 Buddy listing feature with the standard Intercom capability?
So as you can see my final observations are not so much based on what the G9 currently does – it really does perform as advertised (and far better since the v1.3 firmware update), but on what it will be able to do down the road.
Personally, outside of still needing a wee bit more output (perhaps a ninth discrete level or adjustment of the current steps) to address the fact that even in the quietest helmet the highest setting (volume and AGC) is overcome at speeds common on many highways.
Another thing I would like to see: the ability to disconnect the headset speakers and use other speakers or an in-ear headset (this also relates to iAsus GP3X2 adaptation).
The G9 really does perform as advertised (and far better since the version 1.3 firmware update). But never satisfied, I am looking forward to even more improvements and enhancements to the G9 in the future
I have to (finally) give Cardo a big thumbs-up on the G9 and despite some shortfalls, most of which can be resolved by firmware updates, the G9 deserves and now reaches a "Five Star" webBikeWorld rating.
Part 1: Cardo Scala Rider G9 Review
w

BW

 Review: Cardo Scala Rider G9
List Price (2012): $289.95 ea./$499.95 pr.
NOTE:
 The webBikeWorld evaluators wear properly fitted ear plugs for intercom evaluations. This is reflected in the opinions on sound quality and speaker volume. Your experience may differ. Always protect your hearing when riding a motorcycle (
more
).
Note:
 For informational use only. All material and photographs are Copyright © webWorld International, LLC since 2000. All rights reserved. See the webBikeWorld® 
Site Info page
. Product specifications, features and details may change or differ from our descriptions. Always check before purchasing. Read the
Terms and Conditions
!
Owner Comments and Feedback
---
More owner comments and feedback are posted in
Part 1 of the Scala Rider G9 Intercom Review
From "I.V." (October 2012): " After reading the rather glowing review for the G9 system, I finally scrolled down and saw the price tag, and it raised some questions. Even with the price being as high as it is, would you still consider the G9 to be a top notch and easily recommendable helmet comm system?
At $290 per unit, it's more than $100 more expensive than the SMH10, and almost $200 more than the SMH5 units. I understand that the G9 does have more features, but would you say that it's worth the premium? I mean, sure it's better, but is it $100/$200 better? Just a quick thought from a rather broke reader."
Editor's Reply: See the "Cost vs. Performance" section added above.
---
From "M.M." (October 2012): "Great review. I noticed the throat mic, I've used them and people on the other end really noticed the difference. Microphones have improved since my throat mic days, but I still prefer and like having that option.
The other option that used to be pretty standard on helmet intercom systems was the option to use other ear speakers or custom molded monitors. I'm noticing that option seems to have gone away. I've have custom molded monitor earplugs and don't want to give them up, so I keep watching and waiting for the manufacture's to bring this option back. I know why they do it because it makes a nice neat package without a bunch of wires hanging out.
I think wearing a helmet with ear speakers, then ear plugs is just not natural. Anyway I paid a lot for my custom molded monitors. : 0 So for now I'll keep my J&M intercom system, unless you know of a manufacture with this option still?"
Editor's Reply: Since in-ear speakers are illegal in many U.S. states and other countries around the world, it's unlikely that a manufacturer will offer this as an option. However, Sena has an earbud harness available as an option for the Sena SMH10B (review).