Cardo Scala Rider G4 Intercom Image Gallery
Loaded with features, the new Scala Rider G4 intercom is leagues ahead of previous Scala Rider intercoms in performance and sound quality.
Continuing our foray into "3rd Generation" motorcycle intercom systems, we finally acquired a pair of the new Scala Rider G4 intercom, in the "Powerset" guise.
The Powerset version is simply a paired pair; i.e., two G4 intercoms already paired at the factory.
But pairing is a cinch, so even if you buy one now and another later, it will be no problem to turn them into a high-performance motorcycle intercom set.
Pairing and controlling Bluetooth intercoms used to be a hit-or-miss proposition, with much frustration in the "Gen 1" intercoms we reviewed only a couple of years ago.
And just because the early Bluetooth intercoms were paired didn't mean they were going to stay that way — dropped calls, signals and pairing was commonplace.
Well, that was then and this is now. As we mentioned in the Sena SMH10 review, this is a new dawn for motorcycle intercom systems and we couldn't be more pleased.
With systems like the Interphone F4 (review), the Sena SMH10 (review) and now the Scala Rider G4 "Gen 3" systems having all been announced in rapid succession, it's comm heaven for motorcyclists…and their pillions…and their riding buddies!
We're going to follow the same format here as we did with the Sena intercoms — the Scala Rider G4 intercom will be described first and our initial impressions and evaluation, then off they go to HBC, who is currently on an extended motorcycle tour with his wife and two motorcycles and friends, for an extended follow-up evaluation which will be reported back in a Part II.
Cardo Scala Rider G4 Version 3.0 Firmware Update
March 1, 2011 – Cardo announced a major firmware upgrade for the G4 system. Here's the press release (below) and more information available here (Cardo website).
As a unique feature of Cardo's scala rider G4, the latest software upgrade (version 3.0) is now available for download. G4 users can download the latest software for free. Available for Microsoft Windows users only.
The upgrade will give your G4 new features, including Click-to-Link technology bringing social-networking to the road (see below for further details). Software version 3.0 also provides you with improved customization options and further optimizes compatibility with third-party Bluetooth devices, such as new telephone models and GPS systems.
Software version 3.0 of the scala rider G4 is a major milestone, bringing with it innovative new features, improved customization options and more. Important new features include:
Click-to-Link for spontaneous intercom connections to random G4 users nearby (in addition to existing pairing)
New Voice Configuration Menu
VOX and AGC (Automatic Gain Control) Calibration
Volume Per Mode
Stand-alone A2DP channel
FM Radio enhancements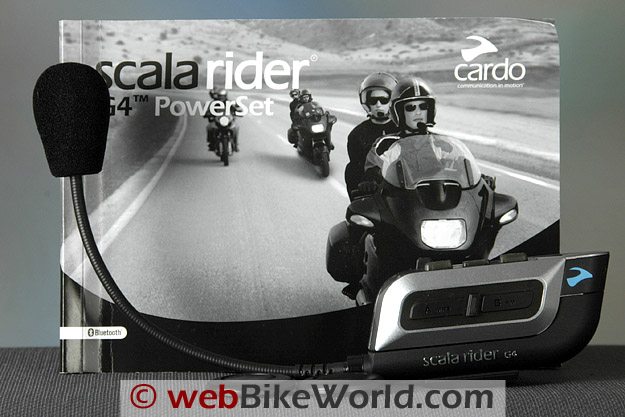 Cardo Systems Scala Rider Intercoms
The G4 is aptly named, as it is the fourth Scala Rider intercom we reviewed on webBikeWorld. I'd like to think that the G4 means "Generation 4" for Cardo Systems, but perhaps not.
Nevertheless, the new G4 is so far evolved from the original Cardo offerings that the only thing they have in common is that they are called intercoms. It's like comparing a 1909 Royal Pioneer to a 2010 BMW S1000RR — they both have two wheels, but are otherwise live in a different universe.
Well, maybe that's overstating it a bit, but the G4 is packed with features and does represent the latest in intercom technology and thinking.
The G4 uses Bluetooth 2.1 Class 1 and the lithium polymer battery has a recharge time of about 3 hours. The claimed talk time is up to 10 hours and standby time is 7 days. Also, the system uses Digital Signal Processing (DSP) for advanced audio capabilities.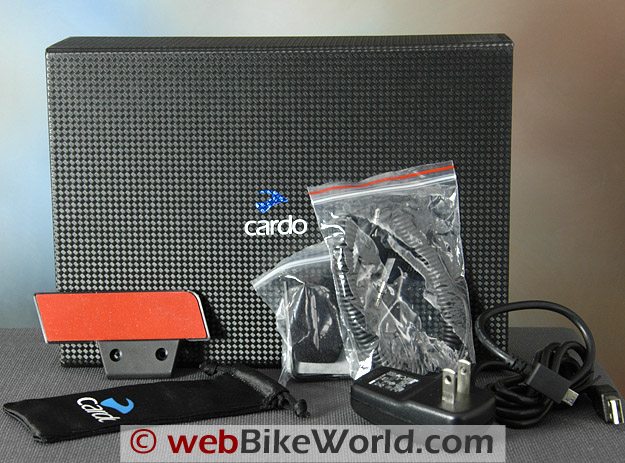 Using the Scala Rider G4
The G4 is surely the most advanced motorcycle intercom system ever developed, no doubt. However, with all these features, it's going to take some roll-up-the-sleeves time with the owner's manual.
Pardon me while I go into rant mode here for a minute, with a suggestion for all motorcycle intercom manufacturers regarding the operating manual for these devices.
The owner's manual or operating manual should, of course, start with a description of the basic parts of the intercom and an explanation on how to give the units their initial charge. But then the very first thing that should be described is the most commonly used feature: the intercom.
For some reason, every intercom owner's manual we've read starts by describing cell phone connectivity, GPS connectivity and every other type of connectivity before getting to the most important topic — how to use the intercom.
The G4 manual is an example; it seems to have been printed almost completely in reverse from the order in which the features will be used by the new owner. It starts by describing the spoken status announcements (that are not turned on by default); then how to mount the device to the helmet; then how to connect to a cell phone; then how to connect to a GPS device; then an MP3 player; then how to use the FM radio; then how to connect the cable for non-Bluetooth devices.
Finally, in Section 9, it describes how to use the intercom. Surely the first thing any new owner does when the intercom box arrives is to turn on the units and start talking to see if/how it works?
Nobody is going to mount an intercom before first turning it on and trying it out. So the helmet mounting section can come last, along with optional or advanced features like how to turn on the spoken announcements.
Start with how to use the intercom, then run exactly backwards from the G4 manual and you'll have a much better manual, in our opinion.
All of the relevant information is in the G4 owner's manual, but it will definitely take some back-and-forth between pages and probably several read-throughs to rearrange the correct order of operations before it all starts to sink in.
The Scala Rider G4 Intercom Module
The G4 intercom module slides and snaps into the headset mount — almost a bit too easily. So far, it has remained in place, but we do have some concern that the module could come loose from the headset if the helmet is banged or even during an unconscious move by the rider's gloves.
The module weighs 49 grams and the headset with the module installed weighs 126 grams. Although the G4 is narrower and sleeker than the Sena SMH10 recently reviewed, both of these are big intercom units compared to intercoms of the past.
The size of these newer systems is probably a correlation to the capabilities of the new systems though, and since the mounting brackets on these newer systems are much sturdier than anything used in the past, the size doesn't seem to make much of a difference and in fact makes them easier to use when wearing gloves.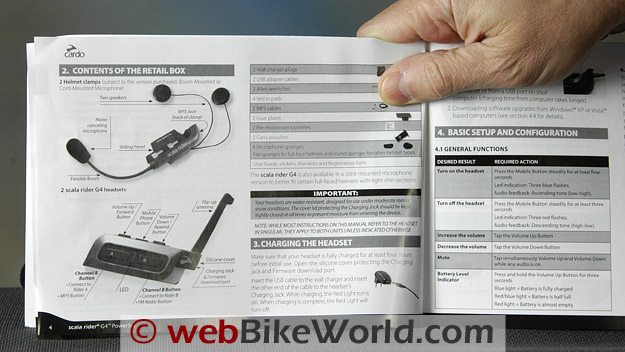 Pushing the Buttons
The good news is that once the manual is deciphered, everything works as described. The unit has 5 buttons, but they're laid out in a logical manner and fairly easy to access while wearing gloves.
The center button on top turns the unit on or off. It's called the "Mobile Phone Button" because it is pressed once to answer an incoming call. This button is flanked by the volume up and down buttons; volume up in front and volume down in the rear. These buttons also control forward and rewind for connected AVRCP devices.
The two buttons on the side of the intercom module bracket the LED status light, which is bright and can't be missed. The button marked "A" in front connects to another Scala Rider intercom and controls a connected MP3 player. The "B" button in the rear connects to a second Scala Rider intercom and controls the built-in FM radio.
The trick is learning the correct series and combination of buttons and pushing to access all the features, but it's actually pretty easy after a few trial runs. The buttons have decent tactile feedback, so the correct button is usually easy to locate and operate when wearing gloves.
Connecting the Intercom
Although the G4 system shown here is the "Powerset" package, consisting of a pair of G4 intercoms that were paired at the factory, we had to pair ours again to get the intercom system to work as expected.
Not a problem though; simply turn on each unit by pressing and holding the center button on top. Once the units are on, press and hold the A button until the LED flashes rapidly, then do the same for the other unit, and they'll pair.
Multiple Intercom Connections
Although we haven't tried connecting multiple G4 intercoms because we only have one pair, the system is said to have the ability to allow four riders (two drivers and two passengers), three riders (three separate bikers) or two riders (rider-to-rider or rider-to-passenger), to conduct intercom conversations at distances of up to one mile, depending on conditions. Cardo says this can be done in full duplex (simultaneous talking/listening), which is also a first, but again, we can't confirm this.
Looking through the owner's manual, setting up more than two systems to communicate this way may take some head-scratching and a little practice, so follow the instructions carefully.
The G4 intercom units apparently default to VOX mode; I say "apparently" because the VOX mode seems to work so well that we couldn't always tell whether we were in full intercom connect mode (available by pressing the A or B channel button once on each of the two paired intercoms to open an always-on channel) or not.
One thing's for sure: the manual suggests that the VOX mode "is designed for use in loud environments", and this is correct. If you try using VOX mode in the living room, chances are it won't work because it's too quiet and you'll think something's wrong with the system. Burn and I were fooled by this for a couple of hours before we found that paragraph, and once we stood outside next to a running bike, it worked fine.
VOX mode also works to make voice-controlled hands-free intercom calls and phone calls with answer, voice dial and call reject functions.

Bluetooth Connectivity
Besides the standard types of Bluetooth connections, like an MP3 player, cell phone and GPS, the G4 has a can connect with non-Bluetooth MP3 players or GPS units via its embedded jack.
Each headset can be paired to one active Bluetooth connection (e.g., GPS, MP3 player, cell phone) and up to two other G4 units simultaneously. Since we don't have four G4 units to experiment with, how this capability works with the claimed four unit full duplex communication capability is unknown.
The jack port is located in back of the headset, rather than in the front or rear, so the right-angle 3.5 mm jack cable sticks out 14.5 mm from the back of the unit, placing it just about even with the back of the helmet mount. This may cause some interference with some helmets.
The G4 connects with GPS units that feature a headset profile and Cardo Systems claims that the G4 is compatible with most major Bluetooth GPS devices. When connected to a GPS, the instructions from the unit will take priority over the FM radio and intercom conversations. Also, the system can be set up to have a conference call between a cell phone call and another G4 unit (pillion). Please — don't try this while riding!  Let the passenger take the calls.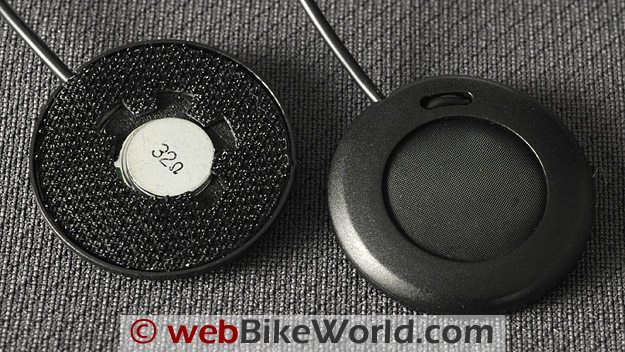 Stereo Sound
The G4 has excellent quality sound and the speaker volume can be made much louder than previous Scala Rider intercoms.
Thinking back, we should have used our decibel meter to compare the sound levels of the Sena and Interphone F4 with the Scala Rider G4 but the other units are presently out on the road. The G4 speakers are smaller and lighter than the speakers on the Sena SMH10 (7 g vs. 10 g and 35 mm in diameter by 2.5 mm thick vs. 40 mm in diameter and 6 mm thick for the Sena), but they provide about the same excellent sound quality and volume.
Built-In FM Radio
Owners of previous Scala Rider intercom versions had mixed opinions on the quality of the built-in FM radio, but we had no problem pulling in the major radio stations here; they come in loud and clear with surprisingly good quality sound
The G4 has a scan and seek feature, and it did take some experimentation to fully understand how it works. The system has a six station channel memory. Note that FM radio reception will vary, depending on the riding environment.
The FM receiver has a frequency range of 87.5 MHz to 108 MHz; RDS functionality (adjusts to best frequencies according to zones); a six station memory; search for next station function and the radio will automatically mute when a call comes in on a connected cell phone. But you never ride with a cell phone connected, right?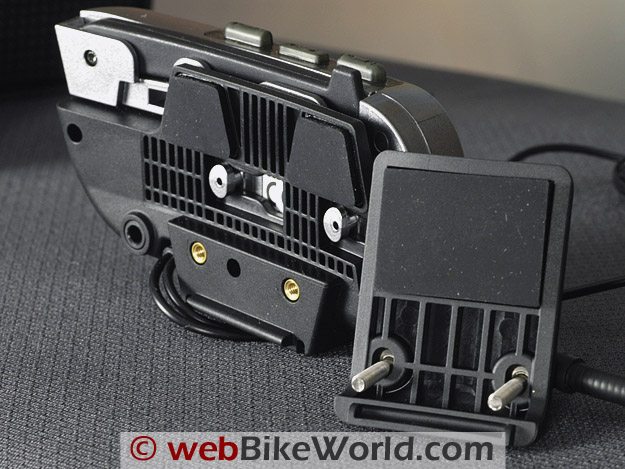 Mounting the Scala Rider G4
The G4 helmet mount is strong and durable, which also means thick. It's 7 mm thick including the rubber pad. This is similar to the robust mounts used on the Interphone F4 and Sena SMH10, and we have received several emails from readers indicating that these mounts are a bit too thick to fit between the liner and shell of some helmets.
The new Shoei RF-1100 (review) was singled out as a particularly difficult helmet to fit an intercom, so owners had to rely on the stick-on helmet mount instead. We usually use gaffer's tape to mount the intercoms during evaluations, because the systems are on and off multiple helmets and, in this case, will be sent to other evaluators for more detailed follow-up.
Note that the stick-on helmet mounts used by most intercom manufacturers are one-time use only, so make sure you get everything lined up perfectly before tearing off the backing on the tape. It's a good idea to temporarily mount the intercom with duct tape or similar, then install the wires for the speakers and make sure the microphone boom is correct. then permanently mount the intercom bracket.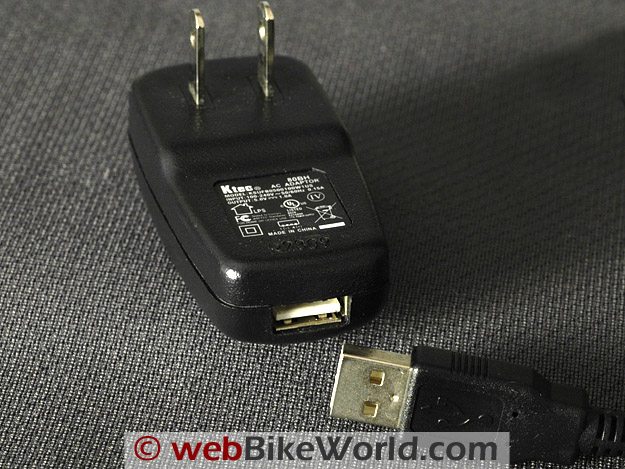 Other Features
Automatic Gain Control Technology:  The G4 automatically adjusts the headset volume based on ambient noise and driving speed. The G4 is also claimed to provide improved audio quality in dense urban surroundings, but since all of our riding is done in a very rural area, we can't confirm this capability.
Firmware Updates:  Cardo Systems has a website for owners to download firmware updates if necessary, although at the date of publication there are no updates available. The system will currently work with Windows XP or Vista (and, we assume, Windows 7) systems only.
UPDATE: May 27, 2010 – First software update has been posted. G4 owners must register and download the firmware here.
UPDATE: March 28, 2011 – Cardo Scala Rider G4 Software Upgrade 3.0 Report
Spoken Status Announcements:  This mode can be enabled by pressing and holding the A and B buttons simultaneously. Different languages can be chosen, and a clear voice will come on that provides some spoken feedback regarding the different modes. It is somewhat helpful and perhaps this feature will be enhanced with future updates. The spoken status announcements are in addition to and do not replace the typical beeps that signal the enabling of the various intercom connectivity features.
Charger: The modules are recharged by a USB cable that connects to a wall outlet. Two cables and two outlets are provided with the Powerset kit, rather than a single outlet with a dual USB cable.
w
BW
Video: Cardo Scala Rider G4 Intercom
Conclusion
The Scala Rider G4 is yet another example that motorcycle intercom systems keep getting better and better, and the rapid improvements in technology and availability now offers many different choices to the motorcyclist.
The G4 is a feature-rich motorcycle communications system, and although it may take more than a casual glance at the owner's manual to understand how everything works, you'll end up with a highly advanced intercom and lots more.
The G4 has excellent sound quality and volume, good connectivity with Bluetooth devices, other G4 intercoms and even previous versions of Scala Rider products,
Our units are now going off on tour with HBC, who will report back in a Part II with his impressions. We'll do the same for the Sena SMH10 and the Interphone F4 intercoms, then possibly wrap it up with a comparison of these three systems.
Next:  Part 2: Follow-Up and Ride Report  |  Part 3:  G4 Software Update Report
UPDATE: Part IV: Cardo Scala Rider G4 Software Upgrade 3.0 Report
UPDATE: Cardo Systems Announces Two-Year Warranty Extension on Intercoms
Also: 2010 Motorcycle Bluetooth Intercom Comparison and Final Report
w

BW

 Review: Cardo Scala Rider G4
List Price (2010): $279.95 ($489.95/pr)
NOTE:
 The webBikeWorld evaluators wear properly fitted ear plugs for intercom evaluations. This is reflected in the opinions on sound quality and speaker volume. Your experience may differ. Always protect your hearing when riding a motorcycle (
more
).
Note:
 For informational use only. All material and photographs are Copyright © webWorld International, LLC since 2000. All rights reserved. See the webBikeWorld® 
Site Info page
. Product specifications, features and details may change or differ from our descriptions. Always check before purchasing. Read the
Terms and Conditions
!
Owner Comments and Feedback
---
From "R" (May 2012): "I live in Italy and I bought a Cardo G9, but I also have this problem with G4. My configuration is Zumo660 + iPhone 4S + G9G4.
First, I have paired the IPhone to the Zumo. Second, I have paired the G9 to the Zumo. I use the Zumo as MP3 player with Bluetooth ( the MP3 files are stored in a 4G microSD card).
The pairing is OK, but when I listen music I see the incoming call on the display but we hear nothing. Sometimes the Zumo (stops) and I must reboot the GPS. All devices are upgraded to the latest firmware. Does anyone have the same problem?"
---
From "K.P." (April 2012): "Bought two sets of two units (a few for mates) to support a recent ride. However only one pair were tested.
Overall the unit works pretty well once you get familiar with the controls. Improvements I would like to see:
1) Better speakers, yeah they work (even with earplugs in), but have very little bass. I would prefer they were detachable so you could use your own custom (moulded) earphones if you prefer;
2) Variable adjustment on the items like AGC, VOX. Similar to KB/Feb I had my mates noisy exhaust setting off the VOX and hence often transmitting. Annoying;
3) More flexible and compact mic. It is difficult to route this through flip face helmets (e.g. C3 Schuberth). I believe the G9 may have addressed this;
4) Would like to see upgrades offered in speakers/mic, etc., offered to prior owners, e.g. when G9 is released.
5) Better nipples/detents on the buttons. In anything but summer gloves it is hard to feel where the controls are. Note- I have also had issues with my HTC mobile phone re intercom interrupting music playing wirelessly and then being unable to restart using the next track buttons on the G9. I guess this is phone specific but annoying nonetheless – sure you can stop, take off your glove and restart the music but as soon as the next intercom is received the same issue occurs.
Same happens when using the Navfree GPS app from the phone. I see Scala seem to be working more with iPhone compatibility but unsure if that will be any better?"
---
From "L.A." (February 2012):  "I have found that the Camos Bluetooth Adapter stereo and mono adapter (review) pairs with the G4. At last I have a Bluetooth connection between the G4 and my Uniden 5 watt two way radio mounted in a RAM waterproof box on the handlebar."
---
From "K.B." (February 2012):  "I came from the wired world to Bluetooth thinking that we have probably reached a reasonable point. One of our national dealers was supplying Sena but has gotten out of them due to a excessively high failure rate (15% reported) and poor backup from the factory, so that left me with the G4.
I thought I was getting a quality system with the latest upgrade. Wrong. The advertising material doesn't tell you that the speakers do not let you hear your own voice when speaking, apparently this is necessary to control feedback. Funny, in the wired world they can manage that. Not sure about other Bluetooth systems but haven't heard of this before.
The VOX is doesn't work real well on a touring Harley — either too sensitive and going off with engine noise or not sensitive enough and despite yelling it won't open. When using a personal mp3 player on a wire the VOX doesn't work at all! Granted there is another option to VOX with clicking the button so points for that If I had known about these "features" I would never have bought it. All in all at best maybe 5 out of 10.
On a noisy motorcycle please can I hear my own voice when I speak so I know the channel is open, lets get the VOX up scratch and then we something (hopefully this can be done is a future software upgrade) or at least advertise the "features" that are vastly different to other products."
Editor's Reply: No Bluetooth intercom system I am familiar with has a system that provides speaker voice feedback as you talk. To be honest, I've never thought about that as an issue. My feeling is that personally I would not want that feature in an intercom system.
With regards to the VOX issue, some intercom systems work better than others, but all of them need some isolation from road and wind noise. If you're not using a full-face helmet or helmet with a chin bar, it's probable that no VOX system will work correctly. Even with a full-face helmet, some experimentation with microphone placement to prevent wind noise through the vents is necessary.
HBC's Comments Regarding the "Active Feedback Loop": This (hearing your voice while speaking in an intercom) is commonly called an active feedback loop, or feedback, echo or other things. Sometimes it is inherent with the design and sometimes its just a by-product, which can be heard. For many, if low and in the background, its not intrusive, but in other systems, it is equal in volume to the incoming audio, so all audio is heard equally.
Many users want this as it is confirmation that the transmission is active (a carryover from older radio systems) and for others it might be useful to record in some way… Tapping into a speaker lead of a system that has this 'feature' provides an expedient means to record all audio for whatever reason, rather than having another microphone installed for those doing a monologue, etc.
The Chatterbox xBi2 and if not mistaken, the xBi both had it – possibly still do. The BikeComm Hola systems (review) have it — big time. It is really annoying (when the systems are working that is) and very pronounced. It varies with distance and AGC levels, so these conditions tend to make me think its not a a pure active feedback loop at play, but harmonics and other close-quarter audio quirks (typically on a poorly shielded or poorly designed board, even with very low power circuits).
Note that some users might get some feedback or echo if the microphone and speakers are very close together or you are in an absolutely quiet environment (sitting in a chair).
Sena, to my knowledge, does not use an active feedback loop or sidetone as some systems do, like the Chatterbox xBi2 (review). With the audio properly adjusted — headset and paired/wired devices, and if the audio gain control or AGC function is working — you should not get "feedback" or "echo" in the user headset.
Some systems do utilize the sidetone feature – if it can be called that, whereas other systems will generate echo or feedback if the volume/input settings are set very high or if the audio gain control is not doing its job effectively.
---
From "S.C." (October 2011):  "I purchased the G4 a few months ago specifically to get rid of the cord connection to play music. I can not get my IPhone 4 to ring inside the helmet. All of the other features seem to work great. The speakers are of better quality than the previous Q2 version I owned.
So now I am trying to figure out what is wrong. My wife's IPhone will not ring either. That is telling me it is the G4 unit itself. I will know more tomorrow after I go back to where I purchased it from to try another G4 unit.
Cardo has great customer service and has been working with me but we have been unsuccessful so far. I can get my Blackberry to ring, just not the iPhone. Weird."
---
From "M.R." (July 2011):  "Regarding articles about the Cardo Scala Rider G4 Intercom, beware of the "snowmobile" Powerset version (sold with corded mics). Contrary to popular belief, the "snowmobile" version is NOT the same as the G4 motorcycle version but with corded mic.
According to Cardo tech support, the snowmobile version actually runs different software, and is NOT compatible with G4 upgrades for the motorcycle version!
I'm finding this out the hard way, as Cardo release the 3.0 upgrade back in March that adds major new features and bug fixes to G4, but I'm sitting here mid-July still not able to upgrade my snowmobile set."
Follow-up from "M.R." (July 2011): Here's a message received from Cardo Wireless: "While scala rider G4 communication systems are being used both with motorcycle and with snowmobile helmets, they are configured differently in order to optimize performance according to the rather different requirements in each environment.
To make these special adaptations possible, the software of the G4 was set differently for motorcycle and for snowmobile helmets. Therefore, top performance of the G4 can only be achieved if used for its intended purpose.
As a special benefit for Cardo customers who wish to use their G4 both for motorcycle and for snowmobile helmets, Cardo will make available a software version that allows end-users to switch between either mode. The company plans to release this dual-mode motorcycle / snowmobile software version in the next few weeks."
---
From "M.D." (06/2011):  "I have purchased the Cardo Scala Rider G4 for my wife (who rides her own bike) and I. We both quite disappointed in the system.
First, we are only wanting to use the radio and the communications system between us. Not the GPS, phone etc., so we are not using the extent of the product and cannot comment about those other features.
We find that even the strongest local channels will not come in clear (static, in and out of reception) and the sound quality is very poor (tinny at best). Anything over 45 MPH simply becomes background noise. I even routed the speaker wire over the top of the helmet vs. around the back in an attempt to improve the radio reception as suggested by Cardo. We both have found the radio to be useless now after many attempts.
The person reviewing the radio performance must simply be standing still and not actually riding a motorcycle. PS. I ride a Concourse 14 and my wife rides a V-Star 650 both with stock exhaust so they are very quite. The VOX was impossible to activate from the radio no matter how loud my wife or I would say "hello".
We had to use the "A" button to connect. Using the "A" button we were able to connect and communications between us was good. We now simply use the "A" button to connect so we can speak to one another, leave it on during the duration of our trip and using nothing else.
We find it so very difficult to understand that in this day of high quality technology and electronics that something as simple as a radio connection can be so poor. If you or anyone knows of a way to improve the reception of the radio or speakers (we have tried relocation over our ears) I would greatly appreciate it. The cost of these sets are just too much to toss and buy another brand."
---
From "A.D." (06/2011):  "My wife and I had many problems with our G4 Powerset. To begin with, we always had a diminishing problem of being able to communicate. By that I mean that when the units are first turned on we could communicate clearly, but over time it would diminish to where she could no longer understand a word I was saying. If I reset the device, she would hear me clearly again for awhile, rinse, repeat.
I contacted customer service to see if I could return the units for testing. They said that it was a known issue and that the 3.0 software would remedy it. I waited, and waited, and waited, about 3 months for Scala to release 3.0 and cure my ailing headset.
The problem is, it not only did not cure it, but it seemed to introduce problems of its own. Now both units would randomly drop connections between each helmet, and our iPhones.
I again contacted customer support regarding the issues. They said they had never heard of any issues of this kind, but had me do a full reset, download and re-flash the units with the new software again, change the foam padding to the thicker one made for open face helmets, to try to resolve the communications problem (despite both of us using full face), and later having me apply electrical tape to the open grid on the back of the mic and to the back of the phone. Nothing worked, I was down to doing McGuiver modifications to my $459 set.
Finally with my warranty running out, I took it up with the dealership where I purchased it. They also got nowhere but were finally told to take it up with their distributor. The good news is that they were able to get me a replacement set. The bad news is that it only worked marginally better. In frustration, we gave up on Scala and are now happy Sena SMH-10 owners. They work brilliantly.
One thing that I should add about the details. My wife has an iPhone 3G, I have an iPhone 4. So the issues we were having with dropped connections to the iPhones, don't seem to be model specific. I never attempted to borrow a Blackberry or Android to see if they had similar issues. I am guessing it would not matter, since the units randomly dropped connections between each other, and had to be paired again.
Something just wasn't right with them. It's is too bad really. They seem to have a good reputation with past products. Perhaps they attempted to include to many features in a small unit. I am not sure what went wrong there."
---
From "E.T." (04/11):  "I wanted to share two problems I've encountered with my G4 running the 3.0 update. The first is the G4 will not acknowledge incoming calls from my Droid X phone. If I am listening to music from the Droid I can tell I have a call because the Droid will pause the music while it's ringing.  I hear no ring in my headset, just silence.
I have addressed this with Cardo and they stated it was caused by the phone. Bear in mind the same phone works with other BT headsets and I've tried several G4 units and they all do the same thing.
The second problem is if I'm listening to music from my Droid X and initiate a call by pressing the call button on the G4, the voice dial will come up and allow me to place the call. Once the call is done the entire G4 shuts down and can't be started again unless you remove and replace the G4 on the helmet cradle. This is very annoying and my local shop gave me a replacement G4 and it does almost the same thing. Instead of the replacement one shutting down it just disconnects from the Bluetooth connection when the call ends."
---
From "C.L." (03/11):  "I have been very disappointed with the Scala G4 Powerset. The quality of both the hardware and software of the G4 is not very good.
I have had two complete system failures where the main power button has failed and will not allow you to turn the unit on. The software upgrades process and the downloader are full of bugs – I get General failure from the application every time it loads v3.0 of the software and says its backing out the change and yet if I reboot everything – next time I look its says the software is version 3.
Then there is the intercom quality. It is useless for rider/passenger use. My wife can not hear and all we get are beeps and static as a passenger. When she's on her bike and away from me it works fine.
I've had to switch her back to the Q2 intercom for use as a passenger. I have had one warranty service already and now waiting to hear back from Cardo on this second failure. Support response is slow."
---
From "R.A." (03/11):  "I was doing some research on this unit and came across your review. I currently have the Scala Q2 and am looking to either upgrade to the G4 or maybe replace the helmet with a Nolan with built in comms.
My experience with the Q2 is generally favorable, but there is an issue with fitment that I wish Scala would acknowledge on their site, maybe in a fitment link, or an FAQ. I could see from the photos in your review that you mounted the G4 on 2 helmets, and it appeared the Nolan was done both with the standard clamp and the glue block, but no mention of such a problem as I am about to detail.
I use 2 helmets, a Shoei RF1000, and a Shark Evoline I. I cannot use the Scala on the Shark due to the way the helmet inner assembly is constructed. There is no gap between the outer shell and the inner padding-partially glued and too stiff to get anything in between.
Although Scala provides a glue block to use instead of the plastic clamp for this sort of situation, the remaining problem is that there is no way to route the ear bud wires in between either.
While it is not reasonable to expect Scala to keep abreast of every helmet on the market, I don't think it unreasonable that they have some advice on their site that prospective customers check to see that their helmet has the ability to get between the outer shell and the internal material to route the wires before making this purchase. If those two areas are inseparable, this is a non-starter.
Unfortunately, in my case, I much prefer the Shark and have had to do without the Scala. That is what got me thinking about changing helmets altogether and getting one with comms built in from the manufacturer. Maybe the Nolan N43 Trilogy (review)? Thanks for your time. I love your site and read it frequently!"
---
From "K.W." (02/11):  "I got the G4 Powerset back around Christmas, and started using it just recently. Everything seemed to work alright, until we tried to get the intercom to work while we were listening to music via the A2DP Bluetooth interface. The intercom would work fine or the music would work fine, but never both.
Now, I'm not talking about the music going quiet while the intercom is on, but that the music would quit, never to restart. After that the intercom would also quit working. After a lengthy reset procedure suggested via email which did nothing to help, I called tech support and found out that the G4's don't like Motorola Droids. You can have intercoms or you can have music; you can't have both. The G4 units will stop working if you try both, kind of locking up where nothing except powering them down will make them function again.
Garth at Cardo tech support advised that they have a problem with Motorola Droids, DroidXs and some HTC phones. They don't know if it's the Android OS, the Bluetooth chip set or what, but there really isn't a work around. Bummer. Although I gotta say, it was rather refreshing to get what seemed like an honest answer from tech support. Thanks, Garth. TLDR: if you want the Scala Rider G4, and have a Motorola Droid, think twice about buying it."
---
From "D.P.R." (01/11):  "Just to add one more item to the G4 discussion. The plug-in communication module on my helmet became unclipped and was lost on the road. I can only assume that when I put my helmet on with a gloved hand I moved it a little and eventually it fell off. It is not something that is going to happen every day but it is something to be wary of.
I contacted Cardo and  they very kindly and quite honestly, unbelievably, sent me a complete new system! I now have a plastic cable tie pulled very tight on the mic stem base. The cable tie clip is big enough to prevent the communications module from moving but can be rotated out of the way when required to allow the module to be removed.
(Here) is what happened. I was out riding with a friend (I live in Thailand by the way) and I put my hand up to put the radio on and there it was………..gone! I had only had it 2 weeks as my friend brought it out for me. I was left with the base unit which includes the mic stem.
I sent Cardo an email suggesting that they might like to review their design by introducing a spring clip to make it failsafe. I can only assume I had moved it when putting on my helmet (Caberg Sintesi) to a point where it was able to fully disengage by itself.
Cardo asked me to send back what I had left which I did. They sent me back in return a complete new system. In return I sent an email back to them saying that as there is no doubt it is the user at fault I was somewhat overwhelmed. Lets face it, we all knock companies so when one does this you have tell them straight – Thanks!
With the cost of such items in this country I  was not going to let that happen again. My cheap and cheerful solution is …. (a cable tie). The cable tie is almost invisible but pulled very tight it is impossible to move that module even using brute force but the clip can still be rotated to allow the module to be removed when required.
If it has happened to me then it is obviously going to happen to someone  lse as I cannot be the most clumsy person on the planet so I hope this helps someone else from having a bad day. The Cardo man who restored my faith in companies is Garth Schafer, one of their Customer Service Representatives."
---
From "F.Z." (12/10):  "I read with interest your review of the G4 and also the user comments. My son and I previously had the Q2 Multiset and enjoyed the intercom feature to talk bike to bike on many trips. I had mine paired with my Sony Ericcson 518a Bluetooth phone and Garmin 2820 GPS via Bluetooth.
To clarify, I had the phone paired with the 2820 and then had the 2820 paired with my Q2. It worked well, the VOX was especially useful both for intercom and for answering incoming phone calls. I also used the FM receiver, which I tuned to the FM output of my Sirius satellite radio. I wished for more volume and possibly stereo for the headset, but all else was wonderful.
When we learned that the G4 had stereo Bluetooth and had more volume output, we were sold, so we bought a G4 Powerset and sold our Q2's. At first, I was impressed with the increased volume as I rode away, noticing that it increased as soon as I rode off.
However, when I was out on the highway, I noticed that I had to turn the volume control all the way up to get decent volume when listening to the FM. The only problem with that is that when I did that, the speakers would distort, as if they were overdriven. I had to back the volume down at least two steps to get rid of the distortion and then the audio level was barely acceptable.
An added problem surfaced when I received a phone call and had trouble hearing the call unless I turned the volume all the way back up again. I should tell you that like you, I always wear quality earplugs when riding and I never had any problems hearing phone conversations with the Q2 and never experienced speaker audio distortion.
The other problem is that like others, the VOX sensitivity at speed is way too low. When we had the Q2's we found that a simple blow or puff into the mic would activate VOX, but with the G4's that doesn't work and even shouting most of the time doesn't do it either.
The primary purpose of our buying Cardo units was bike to bike conversations, which we enjoyed with the Q2's, but the lack of VOX proper operation on the G4 has made this product less than acceptable.
I have emailed Cardo Customer Service about these problems and at first they sent me a replacement speaker set to see if that took care of the distortion, but that made no difference.
In their last email to me concerning low VOX sensitivity and speaker distortion they said: "We are aware of these issues with the units compared to the Scala Rider Q2 units. Our Research and development team is working on a resolution to this manner and hope to have the solution in a future software update."
That was written on October 14, 2010 and there have been no software updates since then."
From "J.Y." (11/10):  "First off excellent work on the comprehensive reviews of all these Bluetooth intercoms – I used the site to research the options for a group of friends and I to use on a pan European trip and ended up getting the Scala Rider G4, mainly because of it's potential for 4 way comms.
The main issue for me was finding something that would allow the 4 of us to talk all at once, it appeared the unit would allow that from the spec (2 riders plus 2 pillions) but the fact 4 riders wasn't specifically listed was some cause for concern.
Anyway, having bought the units and done the trip I can confirm that 4 way communication between 4 riders on separate bikes worked great for us, even when travelling down a section of Autobahn at ~110MPH we were still able to speak normally between all of us.
I'll add a note that this was with the extended range aerial up and we were riding with gaps between the bikes suitable for that sort of speed.
The only issues we experienced were when the unit was in intercom mode and talking to my phone at the same time (either didn't receive phone calls or couldn't connect to the intercom link) and the units need to be paired in a specific order, but this is covered in the manual. Hopefully that information might come in useful for any group considering a purchase with the same situation."
From "M.B.M." (10/10):  "I recently purchased a G4 Powerset. I've read your reviews and I have to agree with the analysis regarding the VOX.   I could barely get it to work once it went into standby mode. I'm very disappointed because I purchased the unit to be used primarily as an intercom.
I don't believe in answering the cell phone while I'm riding and I'm not a big fan of GPS. It's not that I'm a Luddite, but sometimes getting lost is half the fun of a ride. I guess I'll keep the G4 and use it without the VOX and just keep the mike open by disabling the VOX and tapping the A button (I'm concerned that this will shorten the battery life).
This really isn't satisfactory but as is usually the case, the technology has been oversold. Cardo basically acknowledges there is a problem but they currently have no fix. I'm banking on an update in the future to fix the VOX sensitivity issue. Until that time I wouldn't recommend this unit. I was able to purchase mine for $200 off MSRP. If I had paid full price, it would be on its way back to the retailer now for a full refund. Keep up the good work on your review.
---
From "S.T." (8/10):  "I have just read your report on the scala g4, wish I had read it before I bought the g4, I notice that one of the comments from people who bought it was a loud click when the sat nav gave instructions have you any input on this problem ?
I have been in touch with scala and they advice to update to the new software 2.3 which I have done it still clicks very loud and you miss the first part of the word, any ideas?"
Editor's Reply:  I don't recall experiencing this problem in the G4 pair we had here. I would think a software update might fix it?  Otherwise, it could be a hardware issue. I'll check with my contacts at Scala Rider to see if they know of anything.
---
From T.S." (7/10):  "I've been using this for about a week now. I don't have a pillion, so I've only been using the GPS, mobile phone and FM Radio facilities.
The first problem I noticed was on the initial charge. The red charging light was still on after 24 hours!  I unplugged the device. Waited for a minute or so, then plugged it in again. The charging light came back on, but went out after about 15 minutes. fter subsequent use, the charging light stays on until you unplug the unit (after leaving it connected for about 12 hours or so), then plug it back in again.
After several cycles of use and charging, this has not changed. The unit does not show it is full, until you unplug it, then reconnect for a few minutes. An issue here is also that the battery is not – at the moment anyway – user serviceable. When it dies, the G4 is junk!
Fitting the unit to the helmet – an open face cruiser style in my case – was easy. The mounting feels secure.
In GPS mode, the G4 transfers voice commands from my Zumo 500 with no problem. Even though this Zumo is not listed as compatible.
In mobile phone mode, the unit again performs as its supposed to. I connected calls via the Zumo GPS unit, as recommended in G4 the instructions. During each call, the other party reported clear sound and said they would not have guessed I was riding a motorcycle.
In FM mode, here's the rub!  The G4 I have is pretty much useless as a radio. I've tried it over 600 or so miles, in rural and town areas and it struggles to get a signal. Turning on the RDS function makes no difference. When a station is located, it is soon lost and you are once again pressing the up and down buttons, trying to find some music. Eventually, giving up.
As an experiment, I fitted an iTrip radio transmitter to my iPod and tried to gain the signal from this. The G4 picked up the signal in mono. Sound was only heard in stereo when you held the iPod combination about 150 mm from the G4 antenna.
My conclusion is, if you want a radio, the G4 is not for you. I suspect the poor performance is down to the length of the antenna cable. This is only long enough to go round the inside of your helmet. Where earphones are used as antennas on other mini radios, they are more than double this length.
Sound reproduction is not brilliant, but just about acceptable. The only issue here, is a loud 'CLICK' through the earphones when you press any of the function buttons. This also occurs when any peripheral unit connects to the G4. So, when the GPS is going to give a voice instruction, you hear a loud 'CLICK', then the GPS tone to tell you, you are about to receive an instruction. This loud 'CLICK' becomes very annoying after a while. It also makes you jump the first few times it happens.
Use of the buttons is OK once you've memorised their locations and the, sometimes complex, system of control. The buttons are, however, hard to hold down. The instructions say 'tap' the button but firm pressure for several seconds, is often required.
Overall, because of the radio issue, you can get the same functions from a unit costing half the money. If you want to have intercom – especially with other riders, then this might work for you. However, I did not buy the G4 for this, I wanted to hear GPS instructions, receive phone calls, and listen to the radio as I ride. Maybe 2 out of 3 ain't bad – but not at this price."
---
From "H.H.H." (7/10):  "G4 – Everything works great so far except my mic won't stop my iPhone music and start a conversation using the VOX. I have to push a button on the side "A" to stop my and her music and go into talk only mode then, push it again for our music to continue.
I think I may have my VOX turned to off (I suspect, it's always in double blue light mode, not single blue light). Others have experienced the same problem but time usually irons out these quirks (along with street noise)."
---
From "T.W." (6/10):  "I am from Germany and I found your review about the G4 very interesting and helpful. My wife and I bought the G4 Powerset and in general we are satisfied with the intercom function, but we have some issues found (not clear if it is our fault or a problem of the G4):
1. Riding over 90 km/h the G4 starts sending some background noise, which makes you angry over a while. I hope Cardo found a solution by providing it via a software update. I am not sure, if this happens by the driving noise through the helmet, because we are using mostly a always on intercom connection.
2. The VOX function is great, but how to get it working?  (When) riding the bike, we must scream very very loud to start an intercom connection. Even here we would like to (be able to set) the VOX level on our own. (Note: See the final comments of A.S. below; apparently the microphone must be kept very close to the mouth for VOX to work).
3. We are looking (at how to use) a GPS with the G4, but the manual does not say clearly what happens when the GPS is connected by Bluetooth and has the highest priority and also using a intercom connection between 2 riders. As far as I understand the GPS voice will interrupt the intercom connection, but when the GPS voice is ended, will the intercom reconnect automatically or must it be done by pressing the Button A again?  Any hints?  (See also the final comments of A.S. below).
4. The German translation of the manual is awful and has some mistakes, which costs me some hours to become the G4 working and understanding the different buttons working. Always use the English one.
5. The FM-radio is in Germany working very poor. Even strong (stations) have a lot of noise, so I am not using it any more. The RDS option seems not be working or very helpful. A better antenna should work.
In general the system is good and as others say it is very impressive for a Bluetooth connection even when the 1.6 km range will not be reached. We found the G4 working up to about 1 km, that is enough for our purposes.
For our requests it does the job and one main point to bought the G4 and not the Q2, was the feature to update the software.
Greetings from good old Germany."
Editor's Reply:  Here's a tip: it's important to make sure the microphone isn't picking up wind noise or turbulence noise, which can be a cause of background noise or poor VOX actuation. It helps to have a helmet with a good chin curtain or wind block under the chin, to help decrease air and wind noise that comes up from under the helmet.
---
From "A.S." (4/10):  (In response to the comment from M.A. below)  "I recently purchased a G4, and also use the BMW Navigator IV. The G4 is able to handle the input from the Media player. I played with the settings for a while and suddenly it worked.
I currently have a slight issue where the G4 will not react to the GPS when I have a passenger set working. I have contacted Cardo help desk for assistance, of course it could be that I have done something wrong!
Thank you for your review it was useful in assisting me to choose between the G4 and the Q2 versions."
Follow-up from A.S.:  "I now have an answer why I managed to get the MP3 working, and why it does not react when I have a passenger. I had paired the Nav IV as an MP3 player!  If you pair it as an MP3 player then you get music. The downside to this is when you have a passenger you cannot hear the directions!  Unfortunately when paired with another headset, the hierarchy means the intercom takes precedence (so the other comment was completely correct!)
I have another slight issue which I am waiting for a response from Cardo – if I use the media player function from the phone after about 10 minutes the G4 shuts down!
It seems as you want to listen to music with a passenger then you must use a corded system. However I wonder why anyone would have music when they can communicate with the passenger – that is why you bought a dual intercom set isn't it?  I hope this answers the mystery of music with a Nav IV."
And Final Follow-up from A.S.:  "I had a number of issues with the set, and they seem to have been taken care of with the upgrade. The music via the Phone remains an issue, but I think it is more with the phone rather than the intercom.
I would like to make a few comments regarding "TW"'s comments (above):  In point 2 he is commenting about getting the intercom connection to work. I (would) ask how close is the microphone (to his mouth)?
Many years previously I had an Autocom intercom which was fantastic but you needed to have the microphone right on your lips for the noise cancellation to work correctly. We have followed in that manner with (the G4) and it seems to work.
While it is designed to work in a noisy environment it also needs to be able to distinguish between background noise and your voice, I think having the microphone right on the lips helps with that, so you do not have to scream – speak up yes but then the helmet wind noise is significant (my helmet does not have a chin curtain).
In point 3 he is querying about the mix of GPS and rider/pillion communication. I have some personal information regarding this – If you have the GPS correctly connected then when it does speak the pillion is cut-off from the rider.
It takes about 30 seconds before the rider/pillion connection is restored. The rider gets a beep but apparently the pillion does not get a similar message. The only indication they get is if the speak during the black-out time they will receive an engaged tone.
I must confess I find this period a little too long, and I think it should be reduced. I recently had a situation where my wife was cut off from me for about 5 minutes because I was taking a route which needed constant directions (from the GPS)!"
---
From "M.A." (4/10):  "The Scala Rider G4 does not support the media player in the BMW Navigator IV. The Scala Rider G4 is only equipped to handle mono from GPS and not AD2P Stereo. The Nav IV media player will not recognize it.
Though the G4 will handle the voice prompts and link successfully to GPS, when the user tries to use the Nav IV media player, the user is prompted to connect a headset or a AD2P enabled Bluetooth headset.
This is especially frustrating since it is advertised stereo. Though it does handle stereo MP3 player, it does not handle stereo coming from GPS. Scala Rider says they are working on a solution.
Please let your visitors know if this problem also exists with the Sena SMH10 and the Interphone F4 intercoms."
HBC's Reply:  I am working on the G4 Part Two evaluation, which will have more detailed information on peripherals and performance, but hopefully the information below might help.
1. I cannot qualify the abilities or limitations of the BMW Navigator IV as I am still trying to get my hands on one for evaluation. But, using the zumo 660 (software version 3.50) which is the Garmin product used in the Navigator IV (with some changes and the cradle enhancements), my results are:
a. Sena SMH10 – the 660 media player streaming is in full stereo and the navigation audio in mono – they overlay without any issue (ie discrete muting and restoral of audio). The Sena streams full stereo from all other compatible A2DP devices directly or via an A2DP Bluetooth Adapter;
b. Cardo G4 – the 660, when paired using either the Phone button (for mobile phone/stereo (A2DP) capable devices) or the Volume Up button (GPS), only offers up a mono connection – media player or navigation, which validates the issue with the BMW Navigator IV. So far, the G4 has worked with most of the A2DP device offered up, but its not as seamless as the Sena;
c. F4 Interphone – I cannot comment on this yet, until I have the units on hand for their Part Two evaluation.
2. On a (possibly) related note, if I use the GPS pairing (Volume Up button) on the Cardo G4 to pair with my HTC Touch mobile device, the G4 announces that it has paired with a GPS, with the only audio streamed being from the phone application in mono, even though both the Hands-free and Stereo options are ticked and activated on the mobile device. Pairing the HTC Touch via the Phone button restores both hands-free and stereo media player functionality.
3. I have not yet seen any firmware updates from Cardo…so also hope they address the issue(s) and provide an update soon. More details on G4 interoperability are forthcoming in Part Two, which is almost ready to go.
---
From "A.M." (4/10):  "I have the Q2 TeamSet which I connected with my iPhone last summer via the mp3 cable. This setup has three problems I'm hoping the G4 will fix:
Q2 is mono.
The volume wasn't loud enough a lot of the time.
I want to get rid of the mp3 cable and be able to use GPS, phone and music via Bluetooth with my iPhone 3GS all at the same time.
Questions:
1. Is there anyone using the G4 who had a Q2 before and can comment on whether the audio in the G4 is louder?
2. Is there anyone using the G4 with an iPhone for GPS and music audio?  Do they both work at the same time (I have TomTom for iPhone)?  Some people say the voice call for iPhone works and others say not. Which is true?  Does the voice activation for music work on the iPhone 3GS via the bluetooth?
3. From what I've read, except for the distance, the biker to biker com is about the same as the Q2? Namely, using the button is the most reliable way to activate it?
Editor's Reply:  I can answer 1. and 2.: Yes and Yes (See the "Stereo Sound" section above). Regarding the other questions, the number of device combinations is so great that it's impossible to know if any particular combination will work or not, so I'll leave that up to our readers to chime in.
---
From "J.A." (4/10):  "First, as others have said, thank you for your excellent product reviews … this one is no exception!  I've made several purchase choices (both for and against) based on your reviews.
My wife and I purchased the G4 Powerset for an upcoming trip. We actually pre-ordered them in February with our fingers crossed that they'd live up to all the hype. While our outings so far have been few (thank God spring is FINALLY here), we've had opportunity to do a bit of testing.
Unlike your set, ours were paired out of the box, so nothing to do there besides cut em both on. We may have to play around with speaker placement a bit more, but the actual mounting process (using the bracket, not the adhesive) was easy. Nice solid mount. We have identical setups on both our bikes – iPhone paired to Zumo 550, Zumo paired to headset – and these secondary pairings went flawlessly as well.
As for the actual performance and functionality of the devices, we've had a few hiccups that we haven't ironed out yet. For one, even though VOX is enabled (I verified on both headsets), I can't seem to get it to work as described in the manual for initiating intercom conversations.
If one or both of us are listening to music – via built-in FM or an attached MP3 device at 3.5 mm jack – no amount of screaming into the microphone will stop the speaking party's music or interrupt the music of the intended recipient. I'm sure we're doing something wrong, but I'll be curious to see how your tests go. (*Note: I will concede that the latest attempt was done sitting in our room … not exactly the noisy environment called for in the manual.)
The other thing that was only slightly disappointing was the range. With line-of-sight, the claimed range may be accurate, but throw in a few hills, some trees, or few turns and it shrinks quickly. Now don't get me wrong, it's still VERY impressive for a BT connection as far as I'm concerned, but I'd hoped it would be a bit less affected by obstacles.
Honestly, I don't know exactly how far apart we were when the connections were dropped the two times it happened, but I'd guess just shy of a 1/2 mile. Like I said, still impressive and certainly not contrary to their claims … just not quite what I'd hoped. Other than the pure range issues I just noted, we've had zero instances of BT connectivity dropping as others have mentioned.
We'll know more once we put in some serious miles and hours on that trip, but overall we've been very impressed with the G4's to date. The battery life has been good, ease of use is good, and the multitude of features is excellent!
So far the biggest bummer we've encountered wasn't even the fault of the G4 … for some reason I had it in my head that our Zumo's supported A2DP for streaming music. WRONG!  And (wow) does mono music over BT suck!
The other "gotcha" with the Zumo is that the stupid thing beeps anytime you press a soft-key. And since GPS gets the highest priority on the headset, the result is that pressing a button on the GPS immediately halts any other audio stream. ARRRGH! 🙁 But I digress …
Still though, not being tethered to the bike with a wire AND having the ability to communicate clearly and immediately with each other should make all our future trips much more enjoyable!  Anyway, I thought I'd send my thanks and my impressions of the device so far. I look forward to hearing what your testers have to say about them!"
---
From "L.S." (4/10):  "I've used my Scala G4 with two Q2. It will enable true full duplex intercom between all three headsets with only one G4.
You are limited by the range of the Q2. If you keep the G4 rider in the middle of the pack of 3 riders, you will have good distance since the G4 relays communication between the two Q2. This is great since the three way communication between the Q2 is not true 3 rider intercom, only two riders. You must switch riders by pressing a button to change channels on the Q2.
Also, I have paired three G4 together and they work flawlessly with full duplex between all 3 riders without pushing buttons or channels. Perfect for 3 riders. I called Scala about the 4 way duplex only being available to 4 riders on two bikes and 3 riders on 3 bikes but not rated for 4 riders on 4 bikes. They stated it was a power issue. I will put that to a test to see what the range is.
If it is only ¼ mile between the 4 riders instead of 1 mile, that is still acceptable like it was on the Q2. They did not give me a range for 4 riders on 4 bikes. PS. I use them for ATV riding on trails."
---
From "D.B." (3/10):  "I've had my Scala Rider G4 now for a couple of weeks. First, as far as your comment about intercom pairing as the priority, it is third on my list after phone and music. The most important feature is the fact that the speakers can actually be used in my helmet which was untrue for the first third generation system that I had to return.
I was able to try the intercom feature with a friend that has an earlier Cardo model. What I experienced was that the G4 worked over a fairly good distance as an intercom, but when the intercom connection was made, it dropped the connection to the phone. I don't know if that was because of something I did or it was the fault of the G4. Finally, overall I really like the product and can now listen to music on my daily commute."
---
From "D.H." (3/10):  "I've had and used the Scala Rider G4 system for a couple weeks now. I too got the Powerset, and as you indicated, it did not come factory paired.
However, unlike you, I have had a lot of trouble making and maintaining a Bluetooth connection, either with the phone or as an intercom. You could mention in your review that the charger is used as a way to reboot the G4 when it goes into the weeds — this is a feature that I am sadly too familiar with.
You might also mention that their website was "recently rebranded" and the G4 content is not there yet. This includes (apparently) the ability to receive technical support via the website. I don't want to bash the G4 because when it works it is marvelous."
Editor's Reply:  We haven't experienced any dropped Bluetooth connections on this set. I do see in section 4.5 of the owner's manual, "Resetting Your Headset", where it instructs the owner to connect the headset to the charger for 10 seconds to reset the system. We haven't found this procedure necessary at this point.
---
From "L.S." (3/10):  "Hello!  Enjoy your product reviews but would like to request making a note if the helmet speakers can be replaced with speaker ear plugs, simply unplug and re-plug your custom ear plugs and the pin diam.
I have a slight hearing lost and have found that the speaker ear plugs have solved this problem for the past 11 years using an Autocom system on a Ducati ST2. Thanks for your help and keep up the good work."
Editor's Reply:  Two of the most frequently asked questions regarding intercoms are: 1. Can the speakers be replaced with the owner's earphones or speakers? and 2. Are the intercom batteries replaceable and if not, what is the battery replacement policy and procedure?  I'm hoping the manufacturers will respond to these questions.
---
From "S.A." (3/10):  "I've been anxiously awaiting this review, and thanks for the usual superb job. I'm tired of dealing with wires on my current (Starcom) intercom, and I really wanted to buy the Scala G4, but I guess I'll keep waiting. Why?  The battery is non-replaceable. Even the manufacturer won't replace it after its two-year expected lifespan.
That, in effect, makes this a disposable $489.95 intercom. Didn't some engineer, during the design phase, raise his hand and say, "uhhh, hey guys…."?  I've had my Starcom for 4 years, and would be upset if it quit working 4 years from now.
As far as I know, only the J&M Bluetooth headset has a user-replaceable battery – but it won't function as an intercom!  Uhhh, hey guys….isn't that the whole idea?
Being endlessly optimistic, I keep hoping I'll wake up in the land of common sense. Oh well, maybe tomorrow."
---
From "T.B." (3/10):  "Finally, the G4 is out!  Yeah!
I've had my Scala-Rider for over 3yrs old now. It is definitely a Gen 1 unit, but has always worked well and is presently showing short battery life problems especially in the cold and a crackly speaker. This unit has seen sun, heavy rain, and a bit of snow. The mount and transmitter still appear in great condition. Often folks think I'm at the office until I drop a couple gears (I really need to remember to use that to my advantage).
Consequently, I have to disagree with the Owners Manual rant. I ordered my unit primarily for cell phone usage. It was a consequence of riding and having a young family. It is interesting that in a car, holding a phone to my ear or using a headset is a similar distraction, which is not much worse than conversing with a passenger, but a helmet headset has always seemed to be a background function and never a distraction. To correlate this, I am often less than enthused to be driving, but riding is what it is: everything else is secondary.
From this, the first thing I did with my Scala-Rider was mount it while waiting for a good initial charge, esp as I was excited that it didn't use adhesive which the other headset options at the time did. Then, I paired it with my phone, which is all it could do and all that I needed. For me, all other functions would be secondary with the FM capability and GPS used the least, if ever.
I've never rode with music and generally don't use the radio in our cars, but I could see myself someday testing out my MP3 collection. From this I have to ask, why would someone need pairing instructions for an intercom when it can't really be tested without the helmet on?  Especially the mic and speaker positions. It took me a while to find a good speaker location. I believe it took three or four test locations to find the sweet spot for comfort and sound clarity. I'm just sayin'. 😉
Given your reviews of the G4 and SENA units, I am quite excited to replace mine. We've owned other Cardo headsets and have been pleased with their features and longevity. So, my loyalty goes toward them. They're also near my old stomping grounds in Western Pennsylvania. That's another good thing.
One final bit to mention, I always use earplugs unless running 2mi to the grocery store at 30mph speeds. My headset was always more clear at speed with earplugs in. Even with the volume adjusted way done, it was just a noisy, windy muddled din without earplugs."