Cardo Scala Rider G4 Intercom Image Gallery
Yes, the G4 is loaded with features.
It is more advanced than previous Scala Rider systems and is a shining example of where the industry is going.
No, the G4 is not the best performing system in my book.
That decision is on hold, pending an extended evaluation of the Interphone F4 intercom (review).
But — the G4 has the potential to shine. For those who have been long-term Cardo users or are seeking something new, different and, upgradeable, the G4 is a most worthy candidate.
The G4 is a system with lots of old and new features and anyone familiar with Cardo Systems products will probably feel comfortable in considering the G4. It is also likely to end up on the short list of many potential owners, largely due to the marketing claims and technology touted.
I must admit that the G4 is packed with features, some of which are legacy based from previous and current Scala Rider models, while others are new and very interesting. But as so many of us know, feature-rich does not always equate to superior performance.
But enough pontificating, with the G4 units received from the Editor, it is time to get them charged, installed, configured and on the road.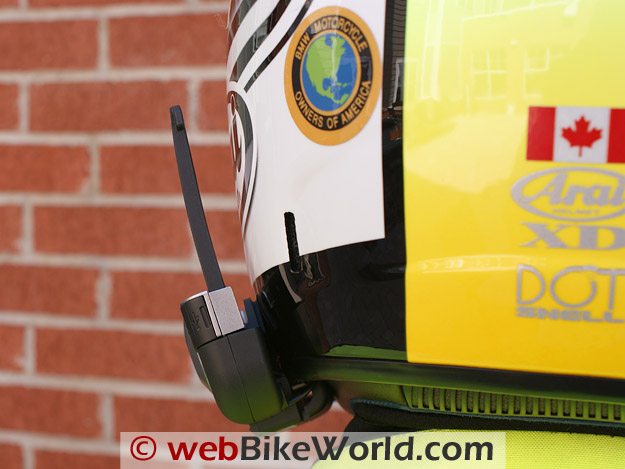 Helmet Installation
As the photos indicate, the G4 headset cradle is a near perfect fit on the Arai helmets, such as theArai XD3 (review). The cradle securely clamps the bottom lip of the helmet with the rubber pad on the outside edge of the sliding panel sitting snugly against the outer helmet shell to prevent the cradle from sliding or marring up the shell.
Like other systems, including the Sena, the adhesive on what Cardo calls the "glue plate" is a bit weak, literally. With the G4, removing the two machine screws and tiny washers allows the "Back Plate" to be removed and the Glue Plate mated to the cradle.
Installing the G4 cradle on the Nolan N-103 (review) reveals that the adhesive on the plate is very strong, but it is a thin layer without any cushioning to help protect and assist the adhesive in conforming to the usual light curve of a shell. Cardo has provided some help in this regard; the end segments are perforated vertically, allowing them to flex. This, in turn, allows the whole adhesive surface area to curve to better match many different types of helmet shells.
The boom microphone assembly is integrated into the cradle base, and measuring 21 cm or 8.3 in in length (microphone and boom), it should fit most helmets no matter the style. This also allows the cradle itself to be adjusted fore or aft as desired for access and clearances.
Integrated with the cradle, the left and right speaker leads are 18 cm and 50 cm long respectively (7.0 and 19.7 in) and provide enough length to fit in any of the helmets tried, notably the Arai XD, Arai Corsair and Nolan N-103 units. But the left speaker lead borders on being too short — another 5 to 10 cm (2 – 4 in) would be a good thing to have.
As the antenna of the FM radio resides inside the longer (right) speaker wire, Cardo recommends that it is located, if possible, over the top of the head underneath any liner, rather than around the neck piece, for best FM reception — a good tip. I tried both routings but didn't detect a lot of difference in overall reception, although the RDS helps in this regard as well.
Two foam windsocks or microphone covers are provided with each system. The slim item is just about perfect for full-face helmet use while the slightly larger and rounder cover works with open-face or flip-style helmets. Both are easily removed for washing or swapping out.
Orientation of the microphone can be hit-and-miss if the small and less-than-sticky yellow pointer falls off the supplied windsocks; only one out of four was still hanging on when the systems were received. A white marker was used to put an orientation mark on the boom just slightly back of the microphone so the windsock doesn't conceal it.
On a final point, Cardo offers a cord-mounted or thin-wire microphone version of the G4 that is typically more suitable for use in full-face helmets or any helmet where the chin section makes for a tight squeeze.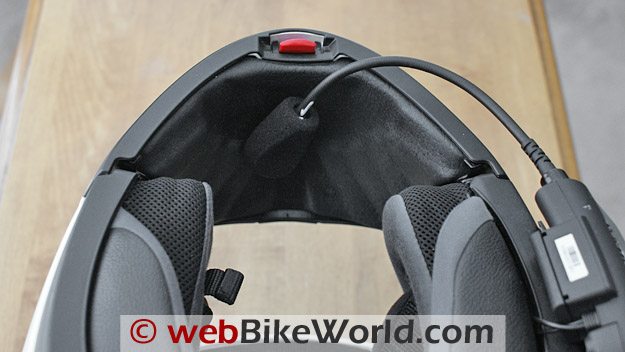 The Cardo Scala Rider G4 Intercom
For the users in this household, communications is our number one requirement, meaning intercom performance for rider to rider purposes is crucial. Unfortunately, I cannot give the G4 full marks here and with the Sena SMH10 units also in use, the differences are most glaring.
Acknowledging all the technology harnessed in the G4, the intercom is not much better than the intercom feature found in other Scala Rider models and still very frustrating to use, in my opinion. But the ability to turn off the Voice Connect Feature or VOX and use the intercom in continuous mode helps turn a bunch of negatives into a small positive.
The automatic gain control or AGC works, but not as smoothly as it does with other systems. With the G4's AGC, intercom audio would be low, then extremely loud, then it would ramp back down to a more comfortable level, but then change again…all this in relatively stable noise environments, at any speed.
One of the biggest factors involved here is that the G4 is meant to be most effective in an extremely noisy environment. Yes, our riding environment can be very noisy, especially depending on which motorcycles are being used, the helmets being worn and environmental conditions, but having to SHOUT ALL THE TIME is not a solution.
On a positive intercom note, Cardo has maintained backwards compatibility through its intercom generations, especially the Scala Rider models. I really like this approach, but one has to remember that when using the intercom in a mixed system environment link ranges will be less when working with older models, i.e., Q2 range is typically up to 500 m.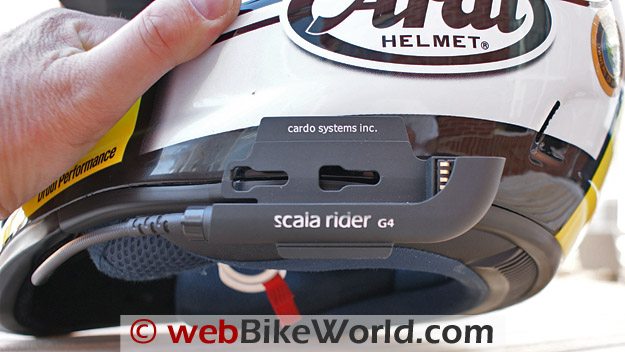 Peripheral Pairings
Cardo utilizes Multiple Device Connectivity (MDC) with compatible Bluetooth devices. In essence, this allows parallel connectivity with up to two other current or earlier Scala Rider headsets and one active pairing with a mobile phone (directly or via a navigation device), a navigation device, an A2DP enabled MP3 player or a Bluetooth Adapter.
A limitation that has to be clearly understood here is that other device connectivity will be limited if multiple headset systems are being used such as a three-way or conference configuration.
The basic test suite I use for most of the Bluetooth motorcycle intercom evaluations includes:
As with most new Bluetooth helmet systems recently evaluated, peripheral pairings with the G4 are, for the most part, simple. But I must state up front that the G4 is not as quick on the draw in finding, pairing or re-pairing as the other new kids on the block are.
Bluetooth Adapters: The AKE BTD-302 Audio Adapter paired up and started pushing out stereo from the iPod immediately, as did the Camos BH-200M Bluetooth Adapter. The Chatterbox iCombi AG-12, usually pretty consistent, would not pair at all. I can't use the diminutive Rocket Fish MBT30 right now as the iPod nano is out for replacement.
Phones: Both the HTC Touch PDA and the Kyocera X-tc devices worked just fine with the G4 using the Headset, Hands-Free, A2DP and AVRCP profiles. The other mobile phones all paired up and basic phone features were supported, as expected.
GPS Navigation Devices: In pairing the G4 with the zumo 660, an unexpected shortfall was discovered: the G4 only receives a mono stream when using the integrated media player in the navigation device. The zumo 660 supports A2DP and as such typically provides a stereo audio stream to compatible devices.
Based on other comments received about a similar issue with the BMW Navigator IV, this seems to be a known shortfall. But on a positive note, the fix seems to be close at hand…
In posing this and other questions to the Editor for furtherance to Cardo, the result was that (we) ended up with a webBikeWorld exclusive — an offer of early access to their pending first software release (version 2.2) for the G4 system.
So after some extremely fruitful discussions with the Cardo representative, I downloaded the Cardo Updater application, installing it on a Microsoft XP-based system. In working through the multi-step but well-detailed process with the representative via phone, both G4 systems were successfully updated.
This version is the first update for the G4 – its objective is to "optimize general performance and to streamline existing features and not — as we (Cardo) plan for future releases — to add new functions and capabilities". In essence, the main focus is to address compatibility issues, particularly with certain GPS devices.
Has version 2.2 done the trick is getting the G4 to receive a full stereo audio stream?  Yes.
So while still seeking out a Navigator IV to try, I remain confident that the 'fix' is in this pending software release. And before I forget, the zumo 550 and Navigator III+ both worked as hoped for with the G4 as well, albeit via mono audio streaming only; a limitation of both devices.
Letting the navigation device host the mobile phones didn't bring any surprises either and the G4 and phone application on the navigation devices, particularly the zumo 660 and 665, work together with only minimal intervention.
General: To forestall some pairing and audio streaming issues, just remember that the G4's "Phone" button is used for pairing mobile phones, including those that have integrated media players and are A2DP capable, while the Volume Up button is used for the more basic headset/hands-free connections, with a mono link.
Like other new headset systems, the G4 can be paired with most notebooks or other portable devices that have a full Bluetooth version 2.0 + or later implementation and supporting a broader range of Bluetooth services. It only took two minutes to get the G4 receiving a high-output stereo stream from the computer.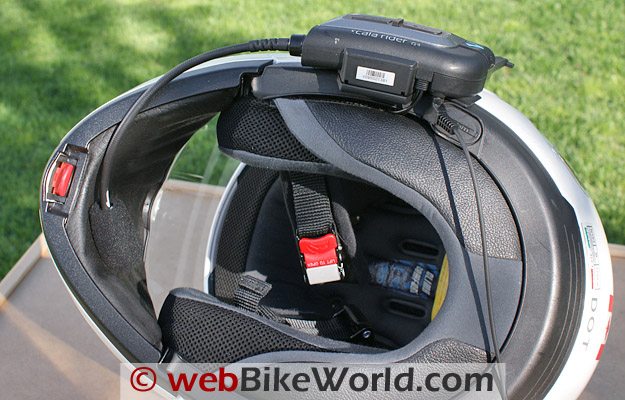 FM Stereo Radio
As with other Cardo intercom systems previously evaluated, the G4 is equipped with a built-in FM tuner, but this model provides stereo audio — finally!  The tuner features Radio Data System or RDS technology that reads encoded data transmitted along with the audio. This information is used by the system to optimize tuning, providing more consistent reception as the rider travels through the broadcast area.
Pushing the Channel B button for three seconds turns the Radio On and Off. Tuning Up or Down is done by holding the Volume Up or Volume Down for three seconds and once a strong station is found, the RDS does its job in precisely tuning and attenuating the signal.
The most noticeable quirk for me is in trying to tune and save off a station into one of the six memory locations. I can tune a station in, but in tapping the Channel B button quickly that should serve to save the station to memory, the tuner often kicks in and moves to another signal.
I only managed to get a couple of stations saved off and they weren't always held in memory after shutting the system down and then turning it back on again (volatile/non-volatile). At this point in time I'm not sure if it's my technique or a system thing…
The RDS feature is off by default, but it can be activated by pressing and holding both the volume up and down buttons together for three seconds, while the radio is on. For those who travel light, having the FM tuner along for the ride is good, even if only used for spot weather checks. Just remember to try and do the initial tuning finger-work before you start off or do it when stopped.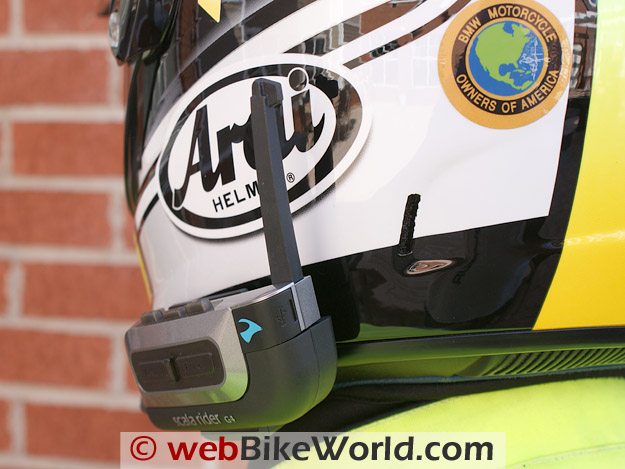 Audio Highs and Lows
For what its worth, the G4 speakers measure 35 mm in diameter, 2.5 mm thick and weigh 6 grams (0.2 oz) each.
The speakers are obviously hi-fi, providing crystal clear audio that is devoid of any noise, but they are not in the same league as one or two other helmet headset speaker systems. For reference purposes, the Nolan N-103 audio chamber is now the chamber of choice for comparison purposes.
With the G4 speakers mounted in the Nolan, some base tone is evident, but only at higher volume levels and it is never the same pulsating bass provided by at least one and possibly two other systems, when using the same input device at much lower volume settings comparatively.
A real irritant is the fact that system status tones are tied to headset volume levels, rather than being a default median or percentile setting. Accordingly, when the volume is turned up or down, the generated system tones are either painful or virtually impossible to detect.
Another audio related concern that I had not experienced tangibly firsthand and had actually forgotten about until raised by another user (my thanks) focuses on a constant loud 'click' heard in the headset when a paired Bluetooth device is turned on or activated while the G4 module is in standby. Wired devices, to a lesser extent also generate this noise, but its far less noticeable.
The noise is very similar to that experienced when a static discharge occurs or with a bad ground connection is present on a home audio system. I can generate the obtrusive noise at will when using devices. Accordingly, the matter has been passed along to the Cardo representative, who confirmed that it will be looked into. Any feedback on this issue will be provided by way of an update.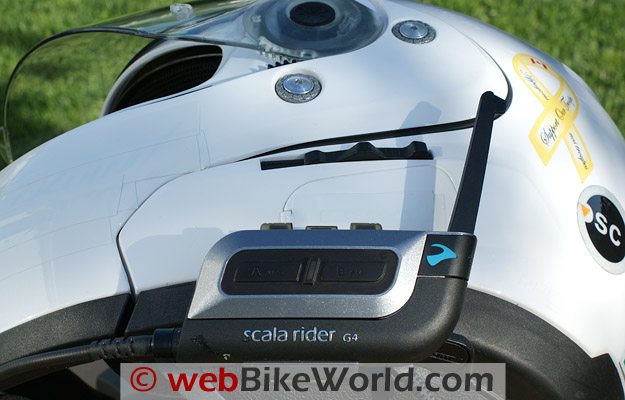 More Real Deal Road Use
The two G4 units have been in rotation between the Arai XD, Corsair and Nolan N-103 helmets and used for city, highway and country riding, along with the usual mix of peripherals. Most of the riding has been up here in the Ottawa Valley of Ontario although initial use of the G4 systems came while still in Virginia.
Using the G4 intercom behind a windscreen of any sort with an effective helmet quickly brings out the previously noted shortfall of the intercom, at least in VOX mode. Disabling the VOX feature is done by pressing and holding the volume up and down buttons together for about three seconds until a single beep is heard.
With this done the system now functions in "Channel Button Connect" mode — tapping Channel A or B as appropriate for the desired connection(s), the intercom link is made and remains open until a user taps the Channel A or B button again. This is pretty much the default mode used and the only thing that keeps me from experiencing real frustration with this G4 feature.
Intercom range with the G4 is good, but not up to the distances experienced from other new systems or what I suspect the F4 Interphone is capable of. The longest G4 intercom working range achieved was around 750 m, under the same general conditions as identified for other systems recently evaluated. This is disappointing and I just have to ask — is the external articulated antenna doing anything?
This range is still good and better than other current Scala Rider models, but it falls far short of the claimed 1.6 km (1 mile) range. As the flip-up antenna is supposed to give the G4 extra range, I was expecting better results. This shortfall does not keep the system from being useful, but if extended distances are a factor in your riding, like it is with me, then this is a limitation.
To its credit the intercom is very quiet and virtually impossible to detect when active. A short squawk is heard when a link is being initiated and noise on the active channel is very rare unless the range limit is being approached or when passing or travelling through dense radio-frequency environments.
With the intercom link active, speaking in normal tones is usually effective, but the AGC still pumps the headset volume up or down without much cause, no matter how quiet or noisy the outside environment is. This is almost the exact opposite of the quiet, stable, well-moderated audio environment provided by the Sena system.
I appreciate having the FM tuner onboard. Tuning is quick and positive especially with RDS activated. In rural settings there isn't much difference between RDS on or off except with fringe stations. In dense urban settings where the FM radio band is more saturated the RDS feature proves itself in discriminating and holding the selected station.
Multi-User Environments
As stated in the manual, multi-system/multi-pair mode operations are simple to achieve. I have not yet worked through all the scenarios – both scala-rider sets are currently out on loan. But a quick effort saw the two G4 units successfully paired with a Q2 unit for a short three-way session using Channel A and B.
I have no doubt that the myriad of configurations detailed in the manual are all viable, but working my way through them all will have to wait for awhile. Most of the feedback comments under Part One regarding multi-system use are positive. Updates to follow…
Some Observations
Spoken Status Instructions: A good feature that can be used along with the default tones used to indicate various function. However, with some expansion of the current dialogue library, and appreciating possible memory limitations, this feature could be a viable (selectable) option, providing more choice for the user. This would be a great software update down the road.
Repeating a pet peeve, system versatility could be enhanced if the bracket and headset components were modular in nature vice a one piece assembly. A one-piece component can be designed and executed to be very strong as external connections are minimized. However, if something breaks, there goes the whole assembly.
A modular approach also facilitates the use of optional components, such as an in-ear adapter and other goodies that can keep an owner even more satisfied and help attract consumers to the product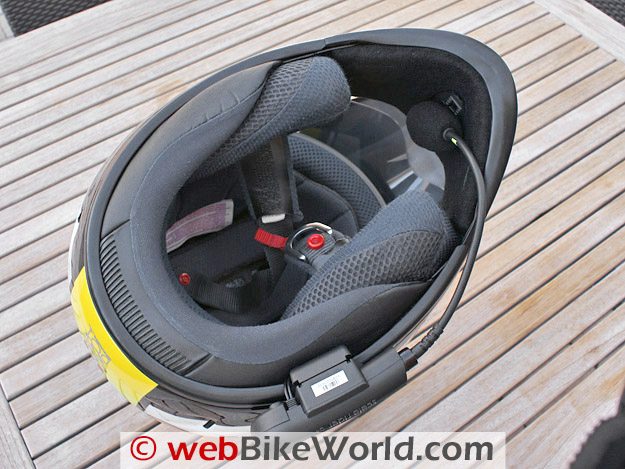 Cardo Scala Rider G4 – The Bottom Line Ratings 

Feature
Rating
Comments
Packaging
Excellent
Simply packaged in a two-layer eggshell, the system modules reside in their simple black inserts and everything else is neatly wrapped or bagged in the bottom section housings.
Design
Excellent
Larger than usual integrated headset component and slim module fits together well and provides an appealing angular combination of shapes and colours.
Execution
Excellent to Outstanding
Form, fit and finish basically blemish free and everything seems heavy duty, even the antenna.
Features and Performance
Outstanding
For a new generation device it has the leading-edge design and features one could expect. But performance is hampered by a less than stellar intercom and inconsistent pairing/switching.
Intercom
Outstanding
The G4 gets this mixed rating based on less than stellar intercom functionality but acknowledging that the system is capable of supporting three or four party communications.
Multi-User Configuration
Outstanding
Having two full-duplex intercom links available is unique to the G4. This feature actually allows three or four-user conference modes to be utilized, albeit with one (or two) of the systems used as hubs (duplex in — duplex out).
Audio Input & Control
Outstanding
Support for Headset, Hands-Free and A2DP along with AVRCP makes this an extremely versatile system. The external 3.5 mm auxiliary stereo input is not the easiest to access, but it works and provides an alternative for device connectivity.
Audio Sharing
Not Available
This feature is not available, but should be.
Audio Priority
Not Rated
G4 audio priority, highest to lowest is: mobile phone audio or GPS instructions (device specific); intercom, A2DP (wireless) audio source; FM Radio; and, Auxiliary line-in port.
Audio Quality
Outstanding
Without some formal tests, this is very subjective, but whereas the Sena headset would rate an Outstanding to Superior, the G4 speakers provide lots of volume but far less tonal quality and for the discerning ear, its no contest with the Sena on hand.
Device Compatibility
Outstanding
With the G4 devices updated to version 2.2, virtually all pairing and streaming shortfalls have disappeared.
Options
Not Rated
The battery is non-removable. There are no options to allow use of alternate headsets or in-ear components.
Fit
Excellent
The speaker wires are long enough and the speakers themselves are of average size and thickness and easy to install. The integrated boom microphone has sufficient length to work in almost any type of helmet.
Setup and Configuration
Outstanding
Appreciating everything else about the system, the G4 remains one of the easiest systems to setup and use.
Ease of Use
Very Good to Excellent
The system is simple to understand and in general, easy to use.
Power
Excellent
This takes a hit due to the non-removable battery. With typical use the battery lasts seven to eight hours, although with the intercom in connection mode, the system would run down after five to six hours.
Reliability
Excellent
This takes a hit largely due to system performance issues, especially the poor reliability of the intercom when in VOX mode — an adjustable VOX would be good. Another negative is its reluctance to play well with others. Originally reluctant to play well with others, the G4 has been transformed into a real team player with the 2.2 software update.
Value
Excellent
In terms of features, the G4 would seem to be a winner, but its performance is hampered by several issues, most of which are likely fixable via firmware updates. But over the longer term, being able to update and enhance the system via software releases will provide greater value.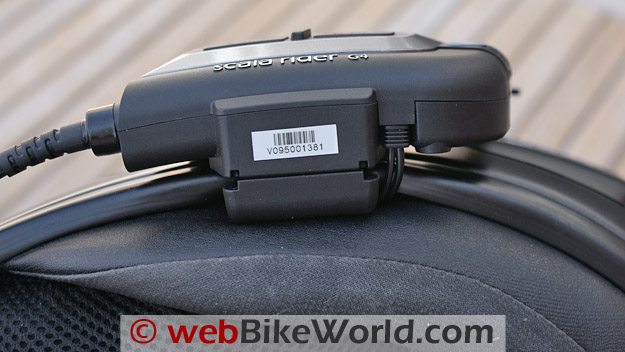 In the Box
2 x helmet clamps (boom mounted variant provided for this evaluation).
2 x Scala Rider G4 headsets.
Wall charger plug with USB interface port.
USB interface cable (for charging and firmware download connectivity).
Allen wrench.
2 x Velcro pads.
2x stereo audio cable, 3.5.mm.
2 x Glue (adhesive) plates.
2 x carry pouches.
4 microphone sponges (flat for full-face and round for other helmet types).
User Guide and Registration Form.
Conclusion
While the Editor and "Burn" were extremely impressed with the G4 system, as was I initially, the longer term evaluation effort now means that I have to be the bad guy to some degree…
For me it comes down to one simple, but critical requirement: the intercom or communications capability. The heart of the G4 communications system is obviously the intercom, but even appreciating its ability to handle three or four users, the G4 falls short, something that might be improved upon through future software releases — time will tell.
Appreciating some limitations, what really gets me excited is the ability of users to take advantage of software releases to upgrade current capabilities and eventually, add new features. I know that Cardo is planning on a major software release for this fall, so stay tuned as it could be a good one.
More: Cardo Scala Rider G4 Review: Part 1  |  Part 3:  G4 Software Update Report
UPDATE: Part IV: Cardo Scala Rider G4 Software Upgrade 3.0 Report
Note:
 For informational use only. All material and photographs are Copyright © webWorld International, LLC since 2000. All rights reserved. See the webBikeWorld® 
Site Info page
. Product specifications, features and details may change or differ from our descriptions. Always check before purchasing. Read the
Terms and Conditions
!
Owner Comments and Feedback