Trikes, roadsters and other three-wheelers are classified as motorcycles, but are they permitted to park in motorcycle parking bays that are often smaller than the footprint of the three-wheeler?
The issue was raised by an Adelaide rider who took the above photograph of a Can-Am Spyder taking up two motorcycle bays.
And the issue is going to become more prevalent as Harley-Davidson has finally been allowed to import its Tri Glide and Freerider trikes.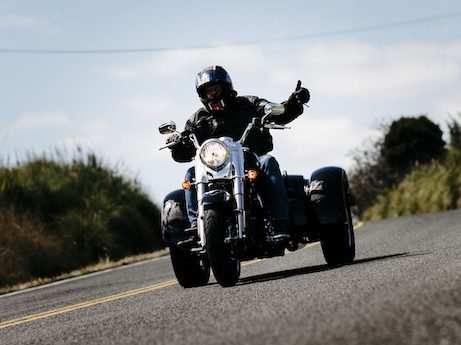 Our Adelaide rider pointed out that the South Australian Local Government Parking Regulations indicate it may be illegal and a fineable offence.
It clearly states that a vehicle in a marked-out parking space "must be parked wholly within a parking space so that no part of the vehicle or anything in, on or attached to the vehicle protrudes outside the parking space".
Similar rules apply in other states.
We are not aware of anyone being fined for this, but it also raises the issue of etiquette of taking up two spaces when CBD motorcycle parking spaces are so scarce.
Can-Am Owners Australia member and BRP ambassador Mike Hatton, of Brisbane, points out that a Spyder is classified in most states as a motorcycle.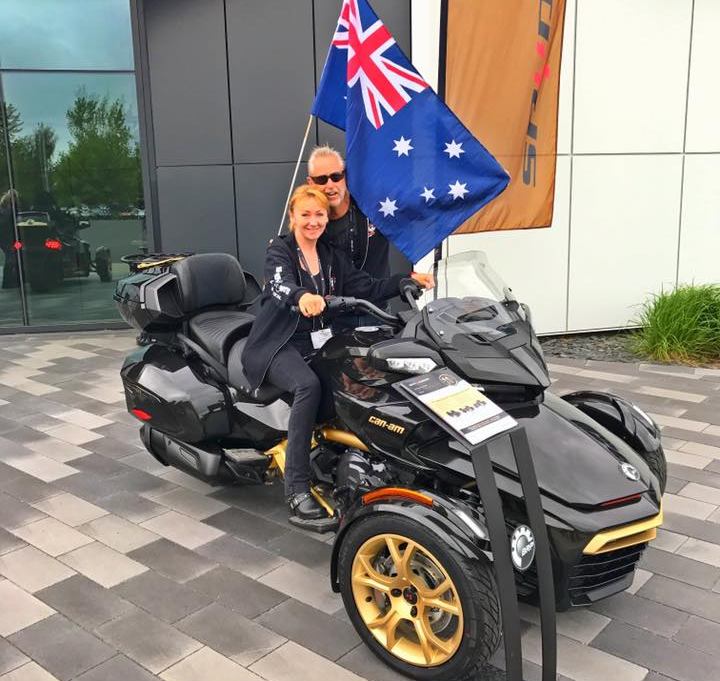 "Consequently, you could be afforded all the same entitlements that of our two-wheel counterparts inclusive of motorcycle parking areas without restriction as long as you are not causing an obstruction," he says.
He says there no specific legal restrictions on parking for Can-Am Spyder.
"Most state legislation, including that of learning and licensing has not kept pace with the modern three-wheel motorcycle. It is in need of review," he says.
Spyder advice
However, his advice to Spyder riders is to exercise courtesy and commonsense.
"Personally, would I take two allocated two-wheel parking bays for my Spyder, no I wouldn't," he says.
"Could you receive a parking ticket, possibly. One motorcycle occupying two bays is most likely an infringement. Very much open to interpretation.
"I suggest, don't force the issue, find another space. Just because you are technically a motorcycle by legal definition, doesn't mean you are in reality.
"I'm technically permitted to lane split … would I do that … I'll leave that one up to you.
"Bottom line; motorcycle parking bays are designed for a narrow two-wheel footprint. That was their intent before the Can-Am Spyder came along. Leave those spaces for that purpose."
Footpath parking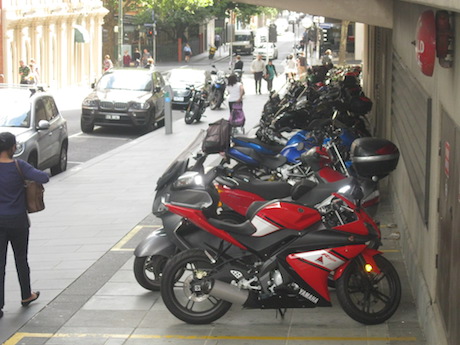 In Melbourne where motorcycles are allowed to park on the footpath and there is no white-line markings for a specific size, Spyders and trikes should be able to park like a motorcycle.
However, they may have some difficulty adhering to some of the requirements.
For example, they have to dismount and walk the vehicle while on the footpath.
They also have to ensure they are not blocking pedestrian access.