Is it a bike, a trike, a roadster, or a car?
As far as the Australian authorities are concerned the three-wheeler Can-Am Spyder from BRP is a motorcycle.
But you don't need the authorities to tell you it's fun.
This year Can-Am has widened the choice of models with the introduction of a mid-pack ST.
National sales manager Rohan Slater says many customers were "blinging up" the entry-level RS model with touring gear such as tall windscreens, backrests and panniers. The new ST now does that for them.
At the entry level, the RS has been given sportier engine tuning, revised front-end geometry and suspension calibration, and a more aggressive riding position.
At the other end, the flagship RT touring model has been made more plush and luxurious with updated heat shields for comfort with optional rubber-mounted footboards for rider and pillion on the RT-S and Ltd models to take out some of the engine vibe.
RTs also get an an AM/FM audio system that has iPod integration, weather band and optional satellite radio plus rear speakers that can be operated independently by the pillion.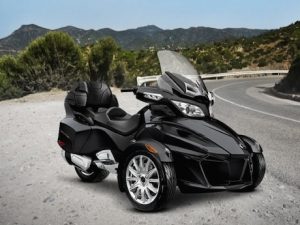 This is on top of the already impressive list of standard RT features such as power steering, cruise control, 155 litres of storage, electronic windshield, heated grips and comfy seats.
The RT's S and Ltd models add creature features such as Garmin Zumo 660 GPS with Bluetooth, LED lighting, adjustable rear air suspension and panniers liners including an airplane trolley bag in the nose compartment.
Somewhere in the middle is the new ST which has a manually adjustable windscreen, removable wind deflectors and a more relaxed riding position with a longer reach to the footpegs but shorter reach to the bars. The Ltd model adds chrome accents, the new audio system, GPS, panniers, heated grips and 12V outlet.
A new discounted price structure also widens consumer choice with the RS now starting at just $19,990 down from $25,990. The ST and ST Ltd are in the middle at $22,990 and $28,990, while the flagship RT Ltd comes in just under $40,000.
The whole Spyder fleet gets updates for 2013 that make it a lot more refined, Rohan says.
First and foremost is the change from 14-inch front wheels to 15 inches with low-profile tyres to match the rear wheel. This gives the vehicle more initial bite when cornering.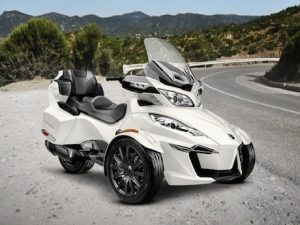 It also allows for 25mm larger Brembo brakes across the range with a new-generation Bosch ABS, all of which shortens braking distance by 10%.
The bigger wheels have been matched by a re-designed front fender which hugs the wheel closer and provides better aero as well as integrating the LED indicators.
The liquid-cooled, fuel-injected 998cc Rotax V-twin engine is largely unchanged although power is up slightly from 71kW to 74.5kW at 7500rpm while maximum torque is up 4Nm to 108Nm at 5000rpm rather than 6250rpm.
It also gets a fly-by-wire throttle which, together with the new map, improves fuel economy slightly with the RS achieving 7L/100km and the RT 7.5L/100km.
It's still not great economy. In fact, it's no better than the small Korean hatchback my wife drives to work. However, the Spyder has a 25-litre tank so you'll get more than 300km under your tyres before the need to refuel.
Speaking of tyres, Can-Am reckons you get 30,000km out of a set, so even though you spend more for that third hoop, it works out to be cheaper on rubber than many big tourers.
The 2013 fleet gets new sporty exhausts and the option of an aftermarket Akropovic pipe which sounds like a cougar on steroids.
There is a manual five-speed transmission with a real-geared reverse in the RS, ST and RT, while all the other models get an electronic semi-automatic clutchless transmission (with reverse) controlled by the left thumb for upshifts and the forefinger for downshifts like a Porsche Tiptronic transmission.
Also car-like is the Bosch vehicle stability system (VSS) which includes a yaw sensor that detects spin. However, this system is even more sophisticated than the electronic stability program in your car because it also monitors wheel lift.
The new steering geometry and low-profile 15-inch tyres make the steering much more direct with no understeer at all.
Not that the previous models felt like they wanted to understeer, but now they are so direct it takes a lot of determined effort to keep them straight and not twitching around.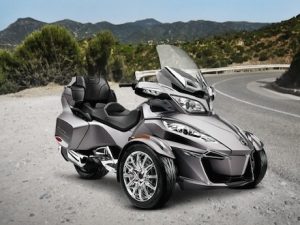 Actually, it doesn't take effort. It takes soft hands and a conscious effort not to fight the steering to keep it straight.
The RS is the most direct while the plush-riding RT feels easier to steer smoothly.
I reckon non-riders are better equipped to tackle these three-legged machines than motorcycle riders who are used to counter-steering or pushing the bar on the side you want to turn.
On the Spyder you pull to turn, so natural bike steering reactions become counterproductive and can lead to a series of bites at a corner rather than one fluid arc.
Spyder owners say that, with time, riders get smoother, faster and much, much happier.
There's certainly plenty to be happy about, too.
The revamped Austrian V-twin engine feels livelier, especially in the lightweight RS, with instant snap response from the new electronic throttle. Not jerky, but very lively, indeed.
However, the 108Nm of torque is not really enough for this size machine, compared with the hefty numbers being pumped out by other heavy tourers.
The engine is ticking along at 4500rpm at 100km/h in fifth so you have to drop it down one or even two gears for overtaking maneuvres.
Any bike rider will agree that the stopping power from the uprated Brembos with the latest Bosch ABS are awesome. More car-like with just 25% less tyre contact patch than a car.
Spyders are hefty units weighing in from 362-433kg, but of course you don't feel the weight because they don't fall over when you stop and you don't have to heave them up- off a sidestand. And you never put your feet down on a three-wheeler either.
Ride quality varies from the sporty feel of the RS through to the ST with more compliance and travel to the RT with its plush ride thanks to 174mm of travel and electronically adjustable rear air shock.
The windscreen on the new ST easily pushes down into a sporty position with minimal buffeting or pulls up for increased protection, but some buffeting. The RT's windscreen is too tall even in the lowest position where I could hardly see over it, even though I'm 187cm tall.
Can-Am says they have improved the heat shielding from the engine, but it still pours a fair bit of heat out on to the right leg which probably means you'll need to wear long boots even in summer.
Spiders may be scary things, but Can-Am Spyders are not. They are not intimidating at all.
With those awesome brakes and stability systems, you feel quite safe, which is why 30% of owners are women.
Yet they still provide many of the visceral thrills bikers enjoy – being out in the open, in touch with nature while the asphalt races away just under your feet.
Can-Am Spyder
Prices: RS $19,990, RS-S $23,990; ST $22,990, ST Ltd $28,990; RT $30,490, RT-S $38,990, RT Ltd $39,990 (plus on-road charges)
Warranty: 2 years, 12 month roadside assist
Service intervals: 1000/7500km
Engine: Liquid-cooled, fuel-injected 998cc Rotax V-twin
Bore x stroke: 97 x 68mm
Displacement: 998cc
Power: 74.5kW @ 7500rpm
Torque: 108Nm @ 5000rpm
Transmission: 5-speed manual with reverse; 5-speed semi-auto with reverse; belt drive
Suspension: double A-arm with anti-roll bar, dual shocks and 151mm travel (front), swingarm and shock (rear)
Tyres: 165/55 R15; 225/50 R15
Dimensions: Seat 737-772mm; length 2667mm; wheelbase 1711mm; clearance 110-115mm
Dry weight: 362-433kg
Fuel tank: 25 litres
Frame: Surrounding Spar Technology
Brakes: 270mm discs with Brembo 4-piston fixed calipers (front), 270mm disc with Brembo single-piston floating caliper; ABS; VSS; traction control; mechanical and electronic parking brake
Colours: magnesium (all), orange and green (RS-S); white pearl (ST Ltd); yellow and blue (RT-S); blackcurrant (RT Ltd)