Trip Helmet Review Summary
Trip Helmet Image Gallery
High-quality helmet with unique styling (for a flip-up).
Comfortable, relatively quiet and one of the lightest weight flip-ups available.
Venting could be better, but overall, a good value.
Let's do something different and start with my conclusion: it didn't take long for the Caberg Trip to become my favorite flip-up motorcycle helmet.
I don't know how they did it for just £99.
Our UK contact found this one for £89, which is a steal in the UK.
But, unfortunately, more expensive when converted to U.S. Greenbacks, at about $200.00 with today's mercenary exchange rate (and don't forget shipping from the UK).
No, it's not available in the U.S., unfortunately — at least not yet anyway.
My guess is that the company is trying to sell off their stock of the old Caberg Justissimo (review), a decent helmet but — unless they've redesigned it recently — with way too tight front-to-back dimensions, which makes it a poor fit for many riders.
The Caberg Trip doesn't really break a lot of new ground; it somehow just puts it all together in a lightweight package that's stylish, comfortable and even quiet.
The "Rhyno" front end gives the helmet a signature look that definitely kicks it up a notch over most flip-ups, which are usually known as "The World's Most Boring Motorcycle Helmets".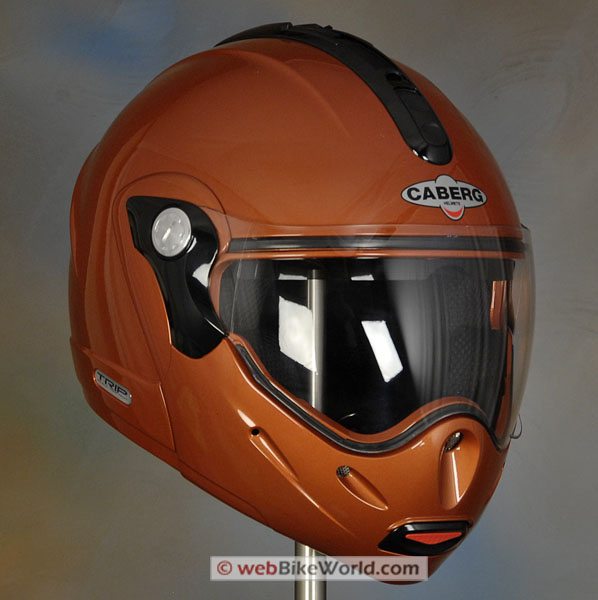 Paint, Graphics and Overall Quality
Our Caberg Trip is a good quality helmet — very good, actually, especially when compared to, say, the much more expensive SCHUBERTH C2 (review).
It can be hard to tell with single-color helmets, but the Trip's paint is nicely applied; the helmet has a thick clear coat and overall quality seems very good and better than expected for the price.
I'm not sure what drove us to order this "Dirty Copper" color — I guess it was different? Yep, it's different alright.
The Caberg website lists the Trip in Silver, Matt Black and Metal Black, and now that I think about it, I don't know where the Dirty Copper color came from — the folks at the Caberg factory must have run out of the standard paint colors that day.
And by the way, don't ask me why flip-up helmets always seem to come up short when it comes to colors and graphics…
But overall, the finish is very good and, I think, certainly better than expected for a helmet costing 99 quid.
Score: I'll give it a Very Good (See ratings description in the summary table below).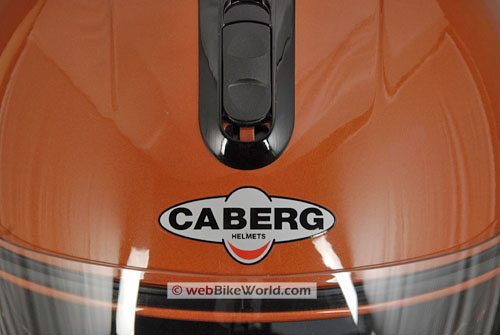 Helmet Weight
The Caberg Trip is a lightweight modular, and this is actually strange, because many helmets feel lighter than they actually are; this one feels heavier. I was expecting it to be on the heavy side when put on the scale, because it doesn't really feel very light when handled.
But the size XL shown here is, believe it or not, lighter than the Shark S 650 we recently reviewed, which is not a modular helmet and theoretically should be lighter. Modular helmet have extra hardware that usually weighs them down.
Or maybe the S 650 is heavy at 1615 grams? But even the Shoei RF-1000 in size XL is only a few grams lighter; the Caberg Trip weighs in at 1614 grams (3 lbs., 8-7/8 oz.), while the Shoei is 1610 grams.
So other than the very unusually shaped original ROOF Boxer, the Caberg Trip is the lightest flip-up helmet we've reviewed. This is even more amazing when you consider that the Trip has an internally rotating sun shade, which typically adds mass to a modular helmet.
Take a look at the wBW Motorcycle Helmet Weights page for a chart comparing the Trip with every other helmet in the webBikeWorld.com database and be sure to scroll down to the bottom of that page, where we have a chart comparing all of the modular helmets we've reviewed.
You'll see that the Trip is about 300 grams (~10.5 ounces) lighter than the heaviest flip-up helmet we've reviewed, the HJC FS-Max at 1911 grams, or 4 lbs. 3-3/8 oz. Kudos to Caberg for that!
One thing to note though regarding weight; the helmet does feel slightly top-heavy, which may be due to the sun shade and venting mechanism up top.
Score: I'll give the Zephyr an Excellent rating for relatively light weight in a size XL modular helmet.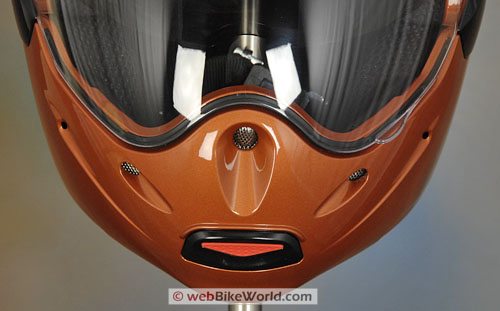 The Trip has a nearly round internal shape, bordering on what I'd call "neutral", with just a touch of long oval, and this should allow it to fit a wide variety of head shapes, other than the extremes of round or long oval.
Our example fits true to size; that is, the XL fits just like I'd expect from a round/neutral shaped helmet in size XL.
The cheek pads and liner are removable and the liner is comfortable and relatively plush, with a soft feel and enough padding on the sides and top so that I don't feel any hard points poking through.
The sides of the helmet are very slightly narrower than I'd expect for a modular helmet, but I think the helmet will loosen up over time as it gets broken in, so this shouldn't be a problem.
See the wBW Motorcycle Helmet FAQ page for more information on fitting a motorcycle helmet and a discussion on head shapes.
Score: I'll give the Trip a Very Good for fit and size.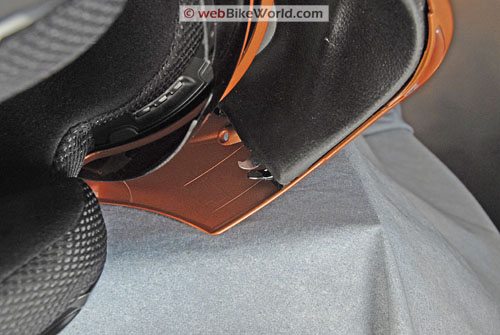 Metal Hooks to Latch Flip-up Visor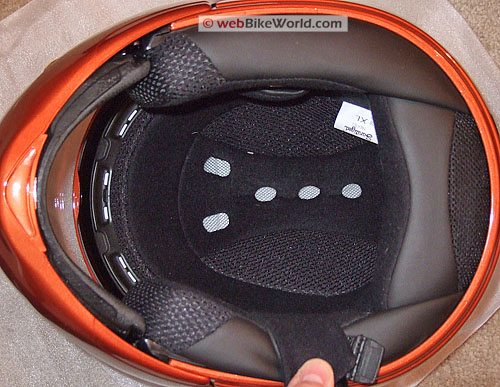 Face Shield
The clear visor on the Trip is stylishly shaped more or less with the "fighter pilot" helmet look. It has only 4 detents to hold it as it's raised, and the first notch opens the face shield more than I'd like to just defog the inside, but it's not a big deal.
The helmet has a single lifting tab is on the left-hand side.
The clear face shield is not a "quick release" type; it's attached to the rotating flip-up visor with wide and flat aluminum screws on either side, and it will take a screwdriver or coin to remove it.
Since I pretty much change face shields only if one of them gets scratched or destroyed, this isn't a problem for me.
The clear face shield is also held on to the sides of the helmet with an interesting-looking piece of plastic, which gives the helmet a bit more style.
The rotating flip-up visor works very nicely with a large, centrally located release in the front of the chin bar.
The flip-up visor rotates smoothly and has a very firm notch at the top to hold it securely open if necessary, although we don't recommend riding with a flip-up visor in the open position.
The flip-up visor has small metal hooks that hold it to what look like plastic or polycarbonate slots in the helmet. It's difficult to tell, but it does look like the receivers behind the polycarbonate in the helmet shell are made from metal also.
The clear face shield is 2 mm thick and it is very clear and free from distortion. The Caberg Trip also includes an internal rotating sun shade, and this one works better than any of the other internal sun shades we've tried on any helmet, modular or otherwise.
A lever up in back on top of the helmet moves the sun shade up or down, and it seems to give an even amount of push and pull on the sun shade for smooth operation.
That is unlike the single-sided lever on the SCHUBERTH S2 (review), the SCHUBERTH C2 (review), also the SCHUBERTH J1 (review) and the SCHUBERTH R1 (review) that sometimes give us trouble.
Also, the Trip's sun shade travels down farther than probably all of the others we've tried; the bottom part of the sun shade actually touches Rick's cheeks.
This means that this is the first sun shade that can actually be used without the bottom edge interfering with the rider's view. Note, however, that the orientation of the lowered shade will vary, depending upon the helmet size, the rider's head shape and also the shape of the rider's face.
The eye port on the helmet does seem slightly smaller than normal, because of the shape of the sides and, of course, the raised center portion of the chin bar which gives the Trip it's "Rhyno" styling.
The top-to-bottom visibility is slightly less than average, as is the side-to-side visibility, but this is a relatively minor issue and not a deal-breaker by any means.
Score: I rate the face shield, face shield clarity, operation of the flip-up visor and the sun shade as Very Good.
Noise Levels
Yet another surprise for a modular helmet in this price range, the Caberg Trip is actually a fairly quiet helmet. It does have what seems like a steady volume of mid-frequency wind rushing noise, but it's not too bad, especially with ear plugs.
The noise volume just doesn't seem to change much, whether riding behind a fairing or not.
It also doesn't seem to make a difference whether the top vent is open or closed, although the top vent doesn't do much (read on). There's no "whistling" noise coming from either the vent or the ridge that runs along the top of the helmet, which also holds the sun shade rotating lever.
Caberg didn't skimp on the liner padding down towards the bottom of the helmet, which helps keep out any low frequency "booming" noises that can result from windscreen turbulence hitting the helmet from the mid-point downwards.
I'm actually surprised at how well the Trip controls turbulence noise, at least for me. Note that the noise from this area can vary greatly, depending upon the wearer's head shape and how tightly the helmet fits towards the bottom of the helmet.
Note that we always wear correctly fitted, high quality earplugs and an extra helmet liner when riding, and we strongly recommend that you always wear hearing protection also. See the wBWEarplugs and Hearing Protection page for more information on choosing and wearing earplugs.
Note also that your experience with this helmet's noise levels may be different, depending upon many factors, including your head shape and the way the helmet fits; motorcycle configuration; prevailing winds and more.
Score: I'll give the Caberg Trip a Very Good rating for noise control, especially worthy considering it's a modular helmet, which are usually on the noisy side because of the extra gaps from the rotating flip-open visor.
w

BW

 Video: Caberg Trip Helmet
Ventilation and Air Flow
Here's where the Trip lets me down a bit. All those vents in front of my chin may look cool, but don't act that way. I guess the air is coming in, but where's it going?
The chin bar doesn't have any air vent holes to duct the air flow on to the rider's face, and some of the air is directed up on back of the clear visor for defogging. And there's no on/off switch for the front vent holes, although I guess it doesn't need one.
The chin bar's raised center also seems to block some of the air that might land on the rider's face, and I did feel my mouth and chin getting slightly warm at stop lights.
The top vent is pretty small and consists of two small holes at the front of the long black ridge that goes across the top of the helmet from front to back. The ridge forms a little air dam right in front of the vent holes, and it doesn't feel like very much air gets in there.
Too bad they didn't mold the ridge to form an air scoop at the front, although that would probably add some whistling noise to the helmet.
The top of the liner inside has some mesh to allow whatever air gets in to flow over the top of the rider's head.
Score: I can only rate the Trip's venting as poor, with the caveat that the weather has been very warm and humid here lately so the venting may seem better in cooler weather.
Miscellaneous
The Caberg Trip meets ECE 22.05 standards. It is not DOT FMVSS 218 and at the time of this writing, it is not available in the U.S.A., but can be ordered from England.
UPDATE: The Caberg Trip was also the first flip-up helmet to score 5 Stars in the SHARP safety rating scheme (more).
The helmet has a "quick release" buckle on the chin strap, which takes some time to adjust the first time the helmet is worn. The Trip also comes with a breath guard, which touches my nose, so I removed it. There's a chin curtain included in the box, but I didn't install it.
Conclusion
The Caberg Trip is now my favorite flip-up motorcycle helmet. Hopefully this will change soon — that's progress! The Trip is definitely roomier than the Justissimo and it also feels more robust.
I'm impressed with the quality, the comfort, the light weight and the operation and functionality of the sun shade.
w

BW

 Review: Caberg Trip (Rhyno) Helmet
Manufacturer: Caberg Helmets
List Price: £99
Colors: Silver, Metal Black, Matt Black.
Made In: 

Italy

Sizes: XS-XL
Review Date: September 2007

Rating Scale is subjective: Unacceptable, Poor, Neutral, Very Good, Excellent, Outstanding.
Note:
 For informational use only. All material and photographs are Copyright © webWorld International, LLC since 2000. All rights reserved. See the webBikeWorld® 
Site Info page
. Product specifications, features and details may change or differ from our descriptions. Always check before purchasing. Read the
Terms and Conditions
!
Owner Comments and Feedback
---
From "S.A." (September 2012): "I would like to add a few comments to the Caberg Rhyno/Trip review.
I bought a Caberg Rhyno (Trip, in the USA) two years ago, and it was my first helmet ever. I searched for a flip-up helmet for several weeks, since I couldn't find one that would fit my head.
When I read the webBikeWorld review I was quite curious to see if this would fit, also because it was the first flip-up to score 5 stars on the SHARP test.
I was quite happy when I figured it actually fits my head, and I found a bargain on the graphic version, since the Konda was out and the Rhyno was going out of production. I even bought the anti-fog clear visor which was extremely easy to install, just used a coin on the screws.
The helmet is very comfortable and soft, but the ventilation is very poor. I live in Portugal and the summer can get quite hot, so my head keeps sweating inside the helmet.
However, the main issue for me is the noise. It was quite noisy at first, but after 5000km it's unbearable. I recently found that I have a narrow head, which means that I have a lot of space on the sides of my head with this helmet on.
It came to the point where I don't want to ride my motorbike anymore with this helmet, even at low speeds and with earplugs. I actually think I damaged my hearing…
Don't get me wrong, this is a great helmet that will serve you well (except for ventilation). I believe that my issue with noise is because of my narrow head, I just think it's weird that the helmet fits me so well.
So, if you have a narrow head and the Rhyno/Trip fits you (or his younger brother Konda or even the new Duke), understand that the noise levels can get extremely high after a few thousand kms.
Thanks for the review webBikeWorld, keep up the good work."
---
From "B.L." (November 2011):  "I've owned a Caberg Trip for a bit over 3 years. I imported it myself from a UK online seller and slapped a DOT sticker on the back just in case.
I chose the Trip because.:
1. It's a great looking helmet.
2. The internal sun visor was functional, it came down low enough so that the inner shield didn't cut through my line of sight. I met a guy at a rally that had the Trip in my size, so I was able to try it for fit before I bought one.
3. It was the only flip-up with a 5-star SHARP rating. 4. Great price for all the features I wanted.
I've been very happy with the quality and value of the Trip. I'll never buy another touring helmet that does not have an internal sun visor and a flip-up is now strongly preferred.
A bit better ventilation, slightly darker inner sun visor and better availability of replacement shields are my only quibbles with the Trip.
I'm starting to look for a replacement helmet and since I'm considering adding Bluetooth, I'm very interested in both the Konda and the Sintesi. It would be great to see Caberg make these helmets available in the US, along with better parts availability.
My only worry with a DOT-approved Caberg would be the loss of safety/integrity from any modifications required to meet the DOT standard.
Having the DOT-approved version re-tested under SHARP would be a big plus for me. I'm also worried about the cost of entering the US market being reflected in higher prices for US models.
My Trip was a great all-around value, the Konda appears to be the same and the Sintesi looks like a premium upgrade at a mid-market price.
It would be a shame to have a $200 price bump for a DOT version of what look like great helmets. Oh, and how about a high-viz color scheme?"
---
From "M.M." (9/09):  "I own a Caberg Rhyno, it is about 2 years old and unfortunately I can't recommend it. It is very very loud (it has no filling near ears so probably its the reason) and shell is broken near left side of the chin.
Unfortunately three of my friends who own them has same problem – broken shell so it is not coincidence. So I would not recommend Cabergs, ever."
---
From "S.":  "Your site does a good job on reviewing a large number of helmets in the market. However, it would be useful to include rain/water testing of helmets reviewed.
I bought a Caberg modular helmet based yours and other website reviews. It works well in dry weather, but suffers from water leaks pass the top edge of the visor.
The top gasket is only lightly pressed against the closed visor and isn't strong enough to prevent water intrusion. Water streaks down the interior of the visor and distort outward vision when it rains. It isn't possible to wipe away the water streaks while riding.
Now my Caberg is reduced to dry weather riding only. This is a major flaw of the helmet. If I had known this beforehand, I would have reconsidered my purchase.
I know it isn't possible to test every helmet in rainy conditions, but perhaps you can simulate the wet condition to some degree and report the result in your review.
Keep up the good work."
---
From "D.A.":  "Hello, I would like to add this comment to the Caberg Trip Helmet.
LOOKS: The helmet has an appealing progressive look and paint is nice.
VENTS: The 3 chin vents with the screens are strictly for de-fogging of the outer visor. There are 2 outboard holes for air to blow on the face. As the reviewer said, this helmet will probably run a bit warm in hot and humid environments.
VISOR: I loved the idea of the internal visor but it wasn't dark enough and didn't come low enough, so I'd never use it. As others had commented, there is a huge light gap that comes up from below.
CHIN STRAP: After mucking about with it for a little while, I liked it.
INTERNAL SHAPE: I have an oval head and find the helmet is probably more suited for a round head as my head doesn't seem to contact the sides much, if at all. The top of the head and the cheek pads have nice contact.
FLIP-UP LATCH: I took apart the helmet (engineer, can't help it) to see if the latch connector was metal or plastic. The hook may be metal but it latches to plastic! This realization made me wonder if this helmet was for me.
PURCHASE: I purchased my helmet online. The price in U.S. $184 plus $54 in shipping. They shipped the helmet in its original manufacturer's box and didn't pack it in a bigger box to protect it. So of course the box was totally crushed in at all the corners leaving me to wonder about the helmet's current integrity…
CONCLUSION: I think modulars are a neat idea, but I ended up spending money locally and I am very pleased with my new Shoei X-Eleven (review). This experience just reminded me that it's better to by locally and 'you get what you pay for'."
Editor's Note:  We received a response from the online retailer who apologized for the packing mistake. They said however that the helmet in question was well packed in bubble wrap. They also told us that all helmets are now double-boxed and packed prior to shipment.
---
From "K.":  "I got the Caberg Trip based on your review and my similar good experience with their Justissimo I already have. I'm extremely happy with everything about the Justissimo helmet except the inner shape thus the fit is not good for me.
With that in mind I went ahead and got my Trip from UK. The helmet was at first a disappointment. First of all, the build quality is nowhere near the Justissimo.
The sun visor control is in the worst place possible, and it doesn't slide very smoothly at all. My sun visor when closed doesn't completely stay hidden in the helmet. You can always see the edge of the sun visor when it's up.
My major issue with Caberg Trip is they make the cheap price so apparent in their design and built quality. The latches for the flip up is made of metal, but the main part of the helmet which holds the latches when closed is made of very cheap, thin plastic.
My Justissimo has that part made out of Magnesium. I really like the shape of the visor and the chin guard. But while it's stylish, it gives up much field of view on the sides compare to Justissimo and ALL the other helmets I have.
In your review, you said the front vents vents look good but don't function quite well. I found it working very well after some riding in 35 degree weather. You can tell exactly where the cold air is coming (even with the top vent closed).
I was wondering why there is no close switch for the front vents. Turns out, they ship a small insert you can use to block those vents in the front. Not a very good design at all.
After 2 weeks of riding with the Caberg Trip, I start to like it a bit more. The soft shell makes it a much lighter helmet than the Justissimo. The inner shape gives me a good fit. The flip up modules goes up much more smoothly than the Justissimo.
To my surprise, even though the Trip has no pad around the ears, it's still much quieter than my very loud Justissimo. And that design allows me to plug in some headphones for the long trip. The quick release chin strap is much improved.
They added more padding to the strap so it doesn't scratch your neck like the Justissimo.
This is a great helmet for the price. It might give people more pleasant surprises with the dual visor and some other unique Caberg design. But being a Caberg Justissimo owner, I know how much Caberg can improve on the Trip.
I'm still a very happy owner even with those minor issues. I would buy it again in a heart beat, if only they at least make the flip up mechanism all metal.
BTW, I got my helmet from Harpers in the UK. The metallic finish on the helmet is fantastic!"
---
From "A.L.":  "Great review. I just bought a Caberg Trip from Harpers in the UK. Cost was 89 pounds. I am very pleased with fit, finish, sound levels and venting is great where I'm at (Cool, dry southwest US).
The sun visor works great. The visor is great. I had the Roof Boxer (review) for years and was pleased with it during the summer.
The Trip is now my helmet of choice. The great thing is they make one for kids too. Now my daughter and I will have matching helmets (Important in her 8 year old eyes).
Because of your great web site I am now an owner of many products reviewed on your pages. (Roof Boxer, tires from one of your sources, Caberg Trip and one week ago a "Steamer" Triumph Tiger)  Thanks for your great work to inform the public."
---
From "M.M.":  "I have bought Caberg Rhyno for about 140 Euro (190 USD, 95 GBP) on BMT (German motorcycle show) in Berlin. My previous helmet was AGV GP-1 which is quite simple full face helmet.
There were two main reasons for that change – I am wearing glasses and I also wanted to chat when stopping at lights. You can wear your glasses and then put Caberg on without doing any damage to them (but you need slightly to spread helmet shell).
Also blend is designed in a way that it won't touch your glasses. On the other side slider which lowers blend is quite hard to find while riding (at least for me).
Flip up visor works fine but it is quite hard to close it while riding (I know that modular helmets should be closed when riding, but still), because you need to push hard before it "clicks".
It is nosier than my previous full face helmet but it may be because of too much air flowing under my chin (and because of that I need to wear at least a scarf). And also buying black matt (flat) version was a mistake, because it attracts dirt and it is hard to remove bugs from it :).
Conclusion: it is very very good helmet for that price. It is comfortable, well made and it was given ECE 22.05 as a full face helmet (at least it is what Caberg says) which means that it should be quite safe on impact."