Spanish motorcycle manufacturer Bultaco announced in May that it would return, but not with two-stroke dirt bikes – instead they would return with a range of electric road bikes.
They have now announced the first will be the Brinco Moto-Bike which is an electric/pedal moped-style bike designed as a versatile commuter, urban bike and mountain bike.
It will be followed by the Electrical Urbanmotard based on the Rapitán prototypes.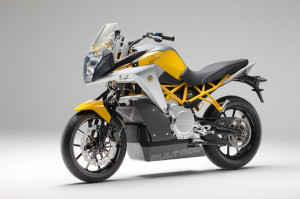 The return of Bultaco follows recent "revivals" such as Norton, Brough, Matchless and Hesketh.
Bultaco's electric bikes have lithium-ion batteries and ultra-condensers developed in collaboration with high-speed rail company, Viesca Engineering.
Branco has an electric motor on the back wheel that has output of 3kW and 60Nm, a maximum speed of more than 60Km/h and a weight of just 33kg despite a 7kg portable battery.
Since it's a moped, you can supplement the 30km electric range with pedal power. In eco mode, it has 100Km range. Unlike most electric bikes, it actually has a transmission – with nine speeds!
It features disc brakes with four-piston callipers and the long-travel (200/220mm) suspension will make it a handy mountain bike.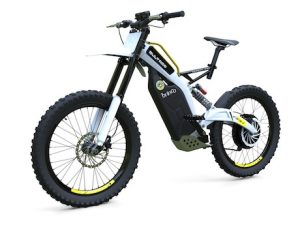 Brinco also supplements its basic instruments with an app that connects with a smart phone to tell the rider the amount of charge left as well as navigational information.
Riders start the bike through direct contact with a discreet and elegant wristband, which negates the need for keys.
The bikes are produced in Barcelona and a limited edition of 175 bikes will be available from April 1 – and, no, this isn't an early April Fool's Day joke.
Bultaco began in 1958 when Montessa director Franco Bulto created the company to continue road racing. Their first product was a 125cc Bultaco Tralla 101 road bike, but the company became famous for their two-stroke off-road machines. The company folded in 1983 and in 1998 became involved with Sherco for about three years. It is now owned by American HDW Enterprises, parent company of a parts and repair specialist for old Bultacos.
Brinco "Bultaco is Back Limited Edition"
Price: €4800 ($A7200, $US5900)

Motor: Hub

Power: 3Kw

Torque: 60Nm

Battery: removable 1kWh Lithium-Ion

Range: 30Km (electric), 100Km (electric + pedal)

Charging time: 2 hours

Charger: Off board

Frame: Aluminium mono-beam

Brakes: 203mm floating discs with a 4-piston calliper

Suspension: USD forks, 200mm travel; Piggyback Monoshock, 200mm travel

Transmission: 9 speeds

Tyres: 24 x 3,0"

Weight: 33kg (including 7kg battery)