The hoodie is becoming a big fashion trend among urban riders so now award-winning UK protective clothing company, Covec Limited has introduced a Tactical Hoodie to their Bull-It range.
It's a comfortable and versatile jacket with some interesting features and suitable protection for the urban environment.
Bull-It Tactical Hoodie comes in black in sizes S to 4XL for £199.99 (about $A360 when they arrive in September at MCA in Australia ).
Hoodie style
I've been wearing this soft-canvas-feel jacket for a few weeks now and find it very comfortable both on and off the bike.
Apart from being a trendy style, the hoodie is also practical for extra warmth when you are off the bike.
I've worn a few hoodie motorcycle jackets and have found some annoying because the hoodie section flaps around and can slightly impede head movement.
Despite the fact that the hoodie can't be removed or clipped down, it doesn't affect head movement nor flap around. The pull cords do flap in the breeze, but they are soft and don't annoy or distract.
It features a zip-out full-size quilted liner, but it's not really a winter jacket. It's more suited to temperatures between 12C and 30C.
A clever feature of the liner is the extra high corduroy-lined collar which snap-locks together and provides some protection from the cold so you don't need to wear a neck sock.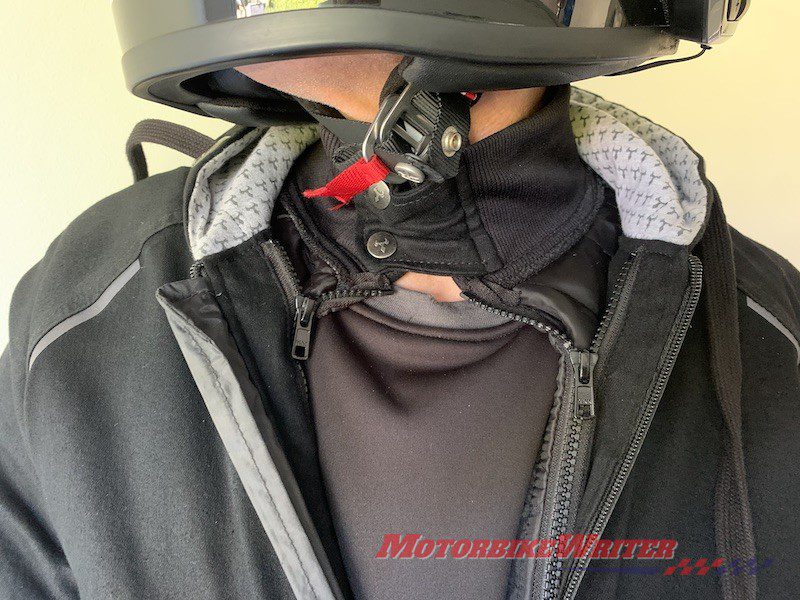 The waist band and cuffs are elasticised for a firm fit and the cuffs also feature loops that go around your thumbs to prevent the wind pulling your sleeves up.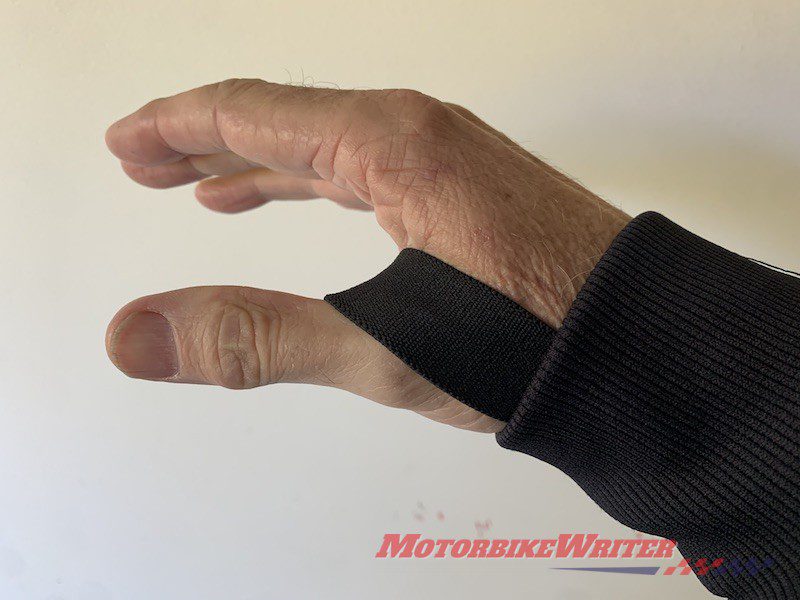 The two outside pockets have waterproof YKK zips and the taped seams are waterproof, but the pockets and the jacket outer shell are not waterproof, only shower resistant.
Inside are two pockets in the liner and two in the jacket itself which are difficult to access when you have the liner in.
The inside jacket pockets have Velcro's fasteners but there are no fastenings on the liner pockets, so be careful when throwing your jacket over a cafe chair as your wallet could fall out as I found!
Safety
This isn't a jacket you would wear to a race track.
It's more suited to the urban environment or for touring where comfort and flexibility play an important primary safety feature.
As MotoCAP chief scientist Chris Hurren explains in this video, there are different levels of abrasion, impact and seam-bursting protection required for different types of riding.
This jacket has not yet been tested by MotoCAP.
However, it features Covec yarn in the outer shell to boost abrasion resistance reinforced with Covec's "Webtech" race-developed abrasion protection.
It has been tested to the new CE standard (17092) standard for AA protection.
They say it also has lower thermal conductivity which reduces chances of friction burns in a slide down the road.
It comes standard with CE 1621 Level 2-approved armour in the shoulders, elbows/forearm and back.
There are some reflective strips on the jacket for night visibility but they are fairly small.
It also features two elasticised loops in the bottom of the jacket that attach the jacket to the belt loops on your pants so they don't become detached and expose your body in a crash.
The jacket would go well Bull-It's Tactical cargo pants.
About Covec Ltd
Covec Limited is the parent company of Bull-it Jeans.
In April 2020, they received the Queen's Award for Enterprise recognising their export success to 14 different countries in Europe, Australia, North America and New Zealand.
Covec developed their protective textile material by re-engineering inflexible liquid crystal polymer to achieve abrasion resistance, weather-proofing, low thermal conductivity and improved strength.
Covec's material is used in sportswear, military clothing and their motorcycle clothing brand, Bull-it, which makes jeans, leggings and jackets.
It is also licensed to a variety of global brands including Triumph Motorcycles, Rokker of Switzerland, KLIM USA, RevZilla, IXS and The Bike Shed Motorcycle Club.