Budget Adventure Touring With the Suzuki DR650SE
Welcome to the newest webBikeWorld.com project bike!
The Ducati GT1000 Blog and Multistrada 620 Blog have been very popular destinations for webBikeWorld visitors.
But the GT1000 was sold last summer, while the Multistrada 620 is still here; it's both the "test mule" and winter hack bike but it's also a "modern classic", due to its brief production run of two years.
The 620 version of the Multistrada is easy to ride, a heck of a lot of fun and the upright riding position is more comfortable for me than the GT1000.
The Multistrada 620 is proof once again of that old saying: "It's more fun to ride a slow bike fast than a fast bike slow".
Don't get me wrong — the bike has plenty of power.
But it proves that you don't necessarily need 100 HP and 24 degrees of rake to have fun.
In fact, too much power can be a burden.
The Multistrada demonstrates that the average motorcycle rider can have much more fun on a much smaller bike.
Not that I'm saying anything new here; it's just that very few will admit it!
Let's face it — the print magazines scoff at any motorcycle that can't come within 1% of Jorge Lorenzo's lap times. And any motorcycle with less than razor-sharp handling is considered a dog.
It took me many years and a lot of experience to realize they were wrong and to discover this truth about motorcycles.
The key is to disregard the horsepower status insanity that only serves the ego and to think about fun.
Once I learned the lesson, I now have more fun with fewer worries than I ever did as a horsepower-crazed youth. Good thing I lived long enough to become enlightened!
Which brings me to the next part of the story. It was time for a new project bike to farkleize and write about, and I would use these lessons to guide the choice.
Motorcycling 2011
So what would it be? I always wanted a Moto Guzzi, so how about a nice Stelvio?
Or maybe a BMW R1200GS or even a big RT? Or how about the new Multistrada 1200? No, maybe I should wait for the revised Speed Triple or the Triumph's rumored shaft drive tourer?
Every motorcycle owner knows how this goes. The game was on!
Then fate intervened. By the summer of 2010, the effects of the continuing worldwide economic slump finally started to affect the motorcycle industry, motorcycle owners and any potential new motorcycle buyers.
Email from webBikeWorld visitors indicated a new-found concern about value — questions about pricing, best bang for the buck, lowest cost…
Motorcyclists were clearly not willing to spend as much as they used to on gear.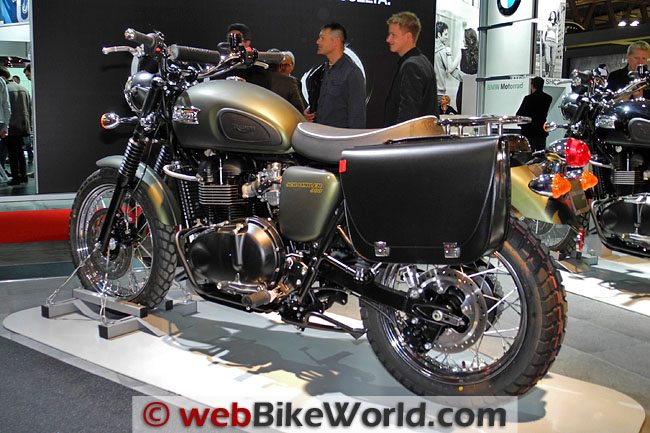 Which Bike?
The concerns of webBikeWorld visitors got me thinking that the next project bike should reflect their concerns. Maybe simpler was better.
The project bike would be a reaction not only to the flat economy but it would also take a stand against the complexity and expense of modern motorcycles.
So what does simplicity mean when it comes to motorcycles?
Air cooled is better than water cooled. A real cable working the throttle, clutch and brakes. Shifting with the foot. Looking under a gas tank and actually seeing an engine. Removing said tank in 60 seconds or less.
And — heaven forbid — a real carburetor! Remember those?
This was about the time when I happened upon the Triumph Bonneville Scrambler at the 2010 EICMA show.
What a cool-looking bike! It was decked out in matte military green with a leather dispatch bag on the left and a chrome luggage rack behind the solo saddle.
This was simplicity! It was 1963 again. A simple time. Steve McQueen. The Great Escape. Spokes. Tubed tires. AM radio. 40-pound Longboards.
The Bonnie seemed perfect for the times. So I searched around and found one for sale at a local dealer at a good — but not great — price.
But the economy was getting even worse and the more I thought about it, the cheaper I was getting.
Which brought on another round of thinking — $9,000.00 for a new Bonneville is still a lot of money. And on top of that, it would take another $3,000.00 or so for farkling.
But that Scrambler was cool. And it has a sort-of off-road persona. It might even make an Adventure Tourer of sorts.
Wait — Adventure Touring!
The hottest thing to hit motorcycling since the sport bike! A Scrambler would sorta/kinda fit the bill, but what about something even more Adventure Touring like, and — a bonus — even simpler?
Which brought to mind those Kawasaki KLR650 and Suzuki DR650 riders. They seem to have an awful lot of fun on not a lot of money — and the retailers' shelves positively drip with accessories for the bikes.
That's when it hit me — it would be the "Poor Man's Adventure Touring" series!
The Suzuki DR650SE Project Bike
So I took a ride over to the local dealer, JT Motorsports in Frederick, Maryland, who happens to sells both brands (and KTM motorcycles).
He had a new KLR650 sitting right next to a nearly-new 2009 DR650SE on the showroom floor.
I had actually never seen a DR650 of any type up close, but my first impressions were that I liked the rugged, no-nonsense look.
But could I really see myself owning one? The last on/off-roader I had was a Honda XL185, a long time ago.
It could barely get out of its own way and the electrical system didn't have enough pluck to keep the battery charged.
Were these on/off road bikes still like that? Could this thing actually make a decent Adventure Tourer?
I also considered the KLR650 sitting in the showroom. But somehow, next to the big air-cooled 650 cc "Thumper" engine of the DR650, the KLR seemed too complex.
After all, it has a water-cooled engine and a fairing! In the end, it was the DR650SE that became the focus of my attention.
So here it is: the 2009 Suzuki DR650SE.
Our next project bike and the basis for the Budget Adventure Tourer!
Be sure to read the Suzuki DR650SE Blog and follow along as we build this bike.
It's a nose-thumb to modern complexity, high cost, high insurance rates and barge-like weight.
It's the answer to every emailer who complains about the all-too-expensive 21st Century motorcycle and who yearns for the-way-it-was simplicity.
The Budget Adventure Touring Project Bike Blog
If you're new to Adventure Touring, you may not realize that there's a huge DR650 fan base out there.
The DR650 has been around since Moses had milk teeth, so there will probably be very little that I can say about it that hasn't already been said.
In fact, I'll be depending quite a bit on DR650 owners to help out with this project.
The bike will be featured in the Suzuki DR650SE Blog, which will feature the product reviews as we build the bike, just like I did with the GT1000 and Multistrada 620.
Since this is a webBikeWorld project, the focus will be on accessories — lights, bags, saddles and all sorts of trinkets to make a good bike even better.
The premise for the project is that you don't have to spend a lot of money to have fun.
The budget is $7,500.00 — including the bike! I think that's pretty reasonable, considering that the budget for the fully tricked-out DR650SE is half the cost of even a base Ducati Multistrada 1200.
Even a brand-new 2011 DR650SE has a list price of only $5,899.00; still a bargain in my book, considering how much motorcycles cost today.
DR650's are also readily available in the classifieds at very reasonable prices — you can pick one up for $3,000.00 or less.
The project bike is a 2009 model; the original owner bought it, put exactly 400 miles on it and traded it in on a KTM. So for all practical purposes, the bike is brand new.
During his brief ownership, he installed an FMF slip-on muffler ($299.95 list), a Dynojet jet kit ($64.89) and a K&N air filter with pre-filter ($60.00).
That all came with the bike, including the original stock muffler.
The dealer was asking $4,599.00 and I paid $4,400.00, which was a pretty good price considering the included parts.
Since I know and trust the dealership and I have a warranty, I thought this was a reasonable deal — especially when compared to that $15k Multistrada!
This leaves plenty of dosh for farkling. I'm not planning on going wild with this bike, so $3k should be more than enough. Here's the rough budget:
Budget Adventure Tourer Budget Details

Item
Budget
Motorcycle
$5,500.00
Luggage
$750.00
Lighting & Electrical
$450.00
Accessories
$800.00
Total
$7,500.00
I'll be adding to the Suzuki DR650SE Blog as we make progress, so be sure to check back often.
I'll have a few reports coming soon, including the installation of a set of hand guards (and what a production that was!); a new saddle; mirror extenders and more.
Also on the agenda is a good set of not-too-big luggage, a center stand and evaluations of a couple of different sets of LED driving lights and lots of other cool items along the way.
The number of accessories for the DR650 is truly mind-boggling, which should also make this both interesting and fun. So stay tuned for more!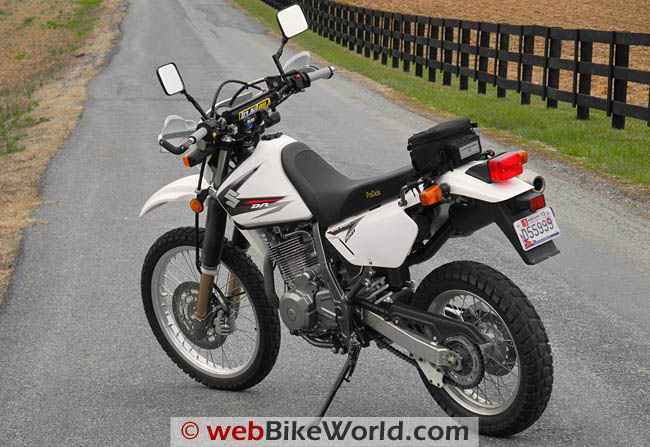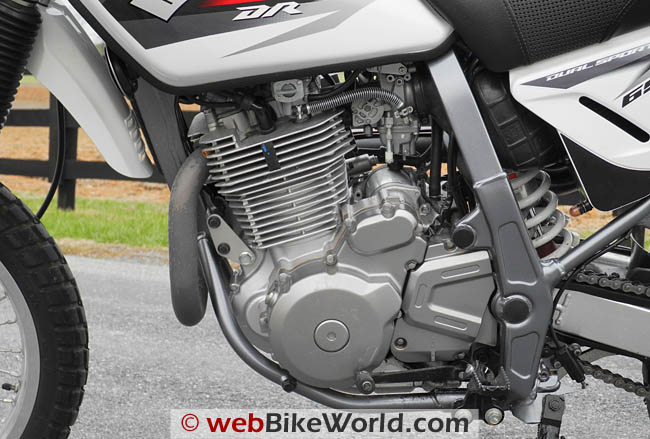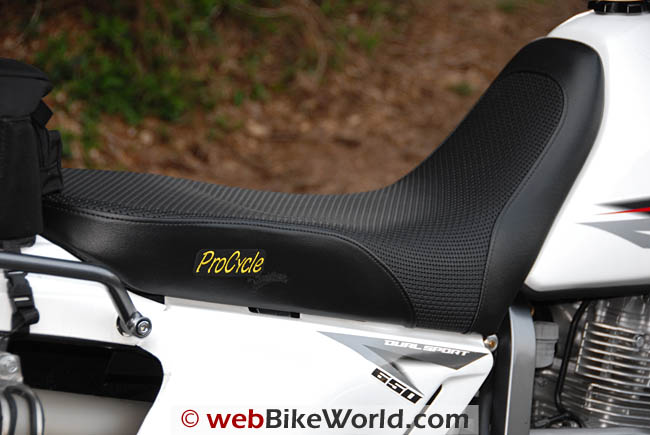 Publication Date: April 2011
Note:
 For informational use only. All material and photographs are Copyright © webWorld International, LLC since 2000. All rights reserved. See the webBikeWorld® 
Site Info page
. Product specifications, features and details may change or differ from our descriptions. Always check before purchasing. Read the
Terms and Conditions
!
Owner Comments and Feedback
---
From "T.O." (June 2016): "I came across your article about the DR650 budget adventure bike build during a Google search on adventure bikes. Let me give my background.
I raced motor cross in the early 1970's. Yep; I am in my mid 60's.
I was just out of the service and back in college, tutoring students in chemistry. The young lady I was helping took me home to meet her folks. Her father was a orthopedic surgeon and her mom a ER nurse.
They saw the helmets in my car and told me, "you are never getting our little girl on one of those".
I respected that but after 35 years of marriage she is my little girl. For my 60th birthday she bought me a Harley. Both of our sons ride and it is a fun family activity.
After 3 years I out grew the Harley and now have a Triumph Rocket III Touring. Now even my little girl has her own Triumph Bonneville.
We are retiring in a few years to Arizona to be close to our grandchildren. After seeing the show "long way down" I thought that would that would be fun.
Arizona and the Rocky Mountain states have hundreds of thousands of miles of highway AND dirt roads. Your article got my sons and I searching Craigslist and used bikes at local dealers for a project.
Out of the blue my older son's friend said, his friend was moving and needed to sell his DR. Three phone calls later I have purchased a 2008 DR650 with 2600 miles. That's a whopping 325 miles a year and only $3000.00.
This first bike is going to be a family project. The older son has already ordered a replacement handlebar with riser and lowered pegs (all 3 of us are 6′ plus) from ProCycle. It will spend the summer in Pennsylvania then come here to Michigan in the fall.
Plans at this time, after the handlebars, (the bike was dropped in the garage) better seat, larger fuel tank, heavier springs, lights, 15 tooth sprocket and panniers. Who knows where it will end up.
The complete project should stay under $4500.00.
My Triumph is a great bike and I am not getting rid of it. Last summer I did 5500 miles in 9 days. As long as you have a hard surface under it, it's great.
Once you drive onto loose dirt, 900 pounds of bike and 200 pounds of rider, that gives you a pucker that needs a week to relax!
The lighter bike capable of highway miles and hit the dirt roads with camping gear. What a good combination? It's like the Jeep Wrangler of the motorcycle world.
I am looking forward to spending time with my sons and grandson wrenching on this bike and selecting the next improvement that it needs.
I just wanted to let you know that something you did, has moved someone. Just think, you might be responsible for a 70 year old doing all of the BDR's! Thanks and safe miles."
---
From "S.C." (October 2012): "I found this article by chance and it resonated with me.
I came back to motorcycling after a 20 year absence (kids) in 2001 with a new Bonneville.
Since then I gradually traded up to more powerful bigger cc. bikes until I reversed the trend with a BMW F800R in late 2010.
Now while that is a great bike — agile, economical, sharp handling and plenty fast enough — with my 60s fast approaching I wanted to ride some of our Aussie deserts and wilderness areas.
Even if my little Beemer managed to do most of it I figured it would be abuse.
An off-road rider friend put me into researching the DR650 and, like you, I managed to pick up a beauty — 2 years old with less than 500 miles on the clock and loads of accessories such as sump guard and frame guards.
To this I added a heavier rear spring, rear and side pannier racks, power socket, heated grips, Bark Busters and centre stand and, with the addition of a new Acerbis 21 litre tank, it was ready to ride the roads I longed to explore.
I knocked up a bigger tool tube out of 90 mm plastic pipe to fit all the tools I may need, a puncture kit for both tube and tubeless tyres and tyre levers. The original will be moved and used to house 2 spare tubes.
I recently found a set of road wheels/tyres on EBay that just swap straight over from the originals for commuting and tar use.
The are from a CBR250 I think. I like the idea of tubeless tyres on the road even though spoked wheels may look better to some.
I went up my old favourite twisty haunt, Sydney's old Pacific Highway near Hawkesbury River, 50 kms north of the city, to find the bike to be as fast as any sporty bikes I've had on the same road.
I didn't think 35 hp at the rear wheel could be that much fun.
The result is that the BMW is for sale as, realistically, I only need one bike. Its sale means I won't feel guilty in spending a few more dollars on the Doctor.
The BMW's fuel consumption is better but the DR still manages over 18 kpl fully loaded up (50 imperial mpg / 42 U.S.) and up to 23 kpl (65 imp. mpg / 54 U.S ) just commuting and cruising at 100 kph, so not too bad.
Mods to come will be few since it works well now, but a full Staintune exhaust system and a serious look at the front suspension are penciled in.
With this much front suspension travel it probably needs a firmer and more progressive action with grippy road tyres working fairly hard on the tar.
A drastic change of line or a need to brake mid corner may well upset things as it is now.
The other great thing not often mentioned in DR discussion is that you somehow feel free to imprint your own personality on them without "feeling irreverent".
Imagine drilling holes in and scratching up a BMW, Ducati etc., etc. Somehow upholding "resale value" doesn't come into the equation any more. I'll follow each new installment with interest. Many thanks.
I find the AirHawk (seat) gives me good enough results to not bother with a new seat.
The other worthwhile addition was an instrument case (like a Pelican) bolted onto the rear rack (size about 450 x 350 and 240mm) it is ideal to hold all my food and valuables when I go camping.
That means the tent, sleeping bag, sleeping matt and collapsible 3 seat stool all neatly in a clear canoe bag strapped over the top of the case."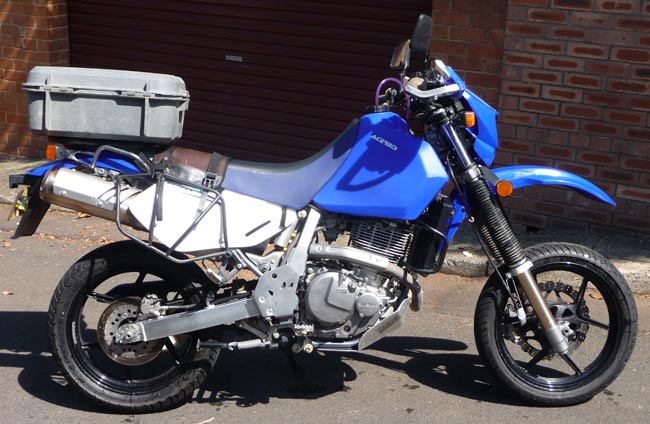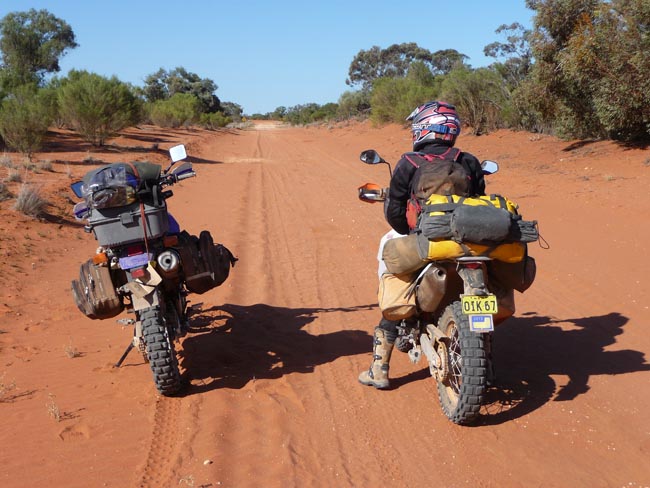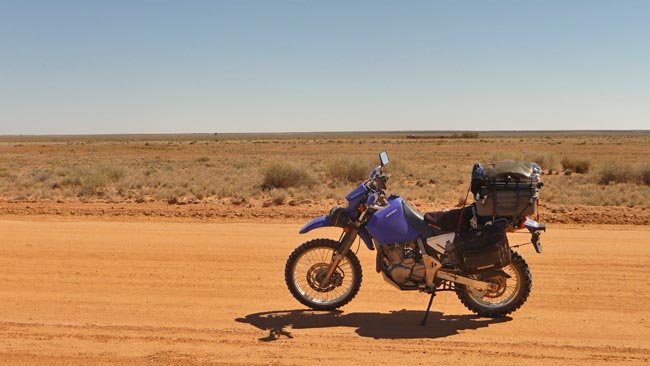 ---
From "G.M." (April 2012):  "Great article on Budget Adventure Touring! Here's some more info for you.
I recently bought a 2005 KLR 250. It was in great shape, with only 1,200 miles. I paid $1,600 for it.
I added a front rack & windshield and rear rack from TCI Products which make them specifically for it. Cost about $500 total.
Also added a $75 top case from JC Whitney and (2) plastic (but dry) ammo cases from Colemans Military supply for $19.95 each.
Add to that a Pelican box for the front and a WalMart ATV seat (not shown in pic) for $20 as well as a Stebel Horn for $30. All in, total cost was $2,300 +/-.
This bike will soon be taken to Haiti to do some field work in clinics in remote mountain regions. I have ridden big bikes all my life, but what most people don't know is that in 85% of the world, a 250cc bike is actually a big bike.
It will do 65 MPH all day on the interstate even with my 220 fat ass and fully loaded with tent, sleeping bag, all cases loaded, etc.
It loves the backroads and twisties. It will go over almost any terrain and not bottom out.
With 2.9 gallons on board, and another gallon container that I carry, its range is nearly 250 miles.
It's FAST off the line to 60 MPH then loses oomph, but what do you want for 20HP and 60+ MPG?
At 250# dry, if you tip it over, its easy to pick up. If you can control your ego, and be comfortable in your manhood, and not think you need a monster bike, this bike will take you around the world and then some.
I would put this up against a BMW Adventure tourer any day.
The 250cc class of bikes is severely underutilized and ignored by the adventure touring community.
See this article Dr. Frazier Preps KLX250 Adventure Tourer on Motorcycle USA. Thanks for a GREAT site!"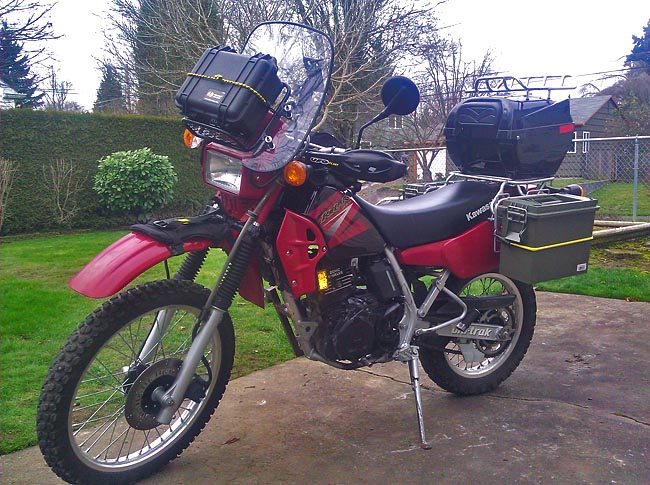 G.M.'s Kawasaki KLR 250 Budget Adventure Tourer.
---
From "I.V." (March 2012):  "Just thought I'd throw some feedback y'all's way.
Your budget adventure bike build project was one of the main reasons I decided to purchase a DR650.
It was a really, really awesome build to read, and your photographer did a great job taking good shots along the way.
Thanks for the well written blog. This is the kind of stuff all of us wanna-be adventure riders dig."
---
From "F.C." (February 2012):  "I was just reading the article(s) about budget adventure touring, very cool. Two years ago after riding a friend's BMW 1200 GS, I decided that I needed to own a dual sport bike.
After months of research, I narrowed my choices down to three bikes: the KLR650, DR650, and the F650GS.
Being fairly poor I knew I would be looking for a cheaper bike already equipped with as many of the aftermarket parts that I would want the bike to have.
It took three weeks and I found a 2005 KLR650 with 90% of the aftermarket accessories already installed, and it was close to my price range.
A few quick emails later and I had decided to make the 500 mile drive from Maryland to Massena, New York.
The bike was exactly as described and the seller threw in many of the original parts that he removed in favor of the aftermarket parts. $2,800 later I was riding home with a fully farkled KLR in the bed of my truck.
Some of the accessories that it had installed:
Happy trails Panniers
Happy Trails Rack
Sump Guard
Off-road folding foot pegs
Crash Cage
Center stand
Seat
Fork Brace
Since I bought the bike I have added lever guards; a Top Case (Seahorse); a 17 tooth front sprocket (more highway friendly) and a folding shifter.
The accessories that I added were not expensive, and only added another $200 to the cost of the bike.
After adding my Zumo 550, I had a competent adventure bike that had all the accessories I wanted, and was ready to go for a ride.
(Here are) some photos:
For under $3,000.00 I had a budget adventure tourer with all the farkles that I wanted."
---
From "Dick and Jan" (05/11):  "Hi Rick, We own a couple of these great bikes. Jan loves her DR. Made her a very good rider.
Usual stuff on both. Bark Busters, skid plate. I added Clarke tanks to both.
One, a little better range. Two: I dislike metal tanks for the most part. They dent. It feels more like a dirt bike with a plastic tank and if you tip over, nothing bad happens to it.
IMS is a good tank too of course. Larger but so far, we stop for gas around the 160-180 mile mark and are never on reserve so the Clarke works fine.
We use the Suzuki gel seats and they do ok. 200 miles seems to be be magic mile number before our butts are sore. S
he has a Rick Meyer seat also and it is better but wider and it makes it harder for her to put her feet down so she uses the gel most of the time.
(I need to go over to Rick's for a seat adjustment one of these days. Great guy to work with.)
We also use a Suzuki rear rack and TourMaster soft bags. They work great. Are light weight and hold plenty for day or weekend rides.
I added heated grips to both. She loves that the most. Good, soft grips help.
We both use the Wolfman Enduro tank bag. Small enough not to be in the way but will hold the wallet, cell phone, Advil, etc., just fine.
I believe in stock stuff most of the time. We run the stock exhaust and lightly re-jetted stock carb. We also get 60 mpg. "DR………..Don't Race". It ain't a race bike.
One thing that a friend did, and we will do also. Bob Terwilliger, who has been with Maier Manufacturing for 25 years, did the Pro Cycle shock and fork mods the other month on his DR. Stock bike otherwise. (Same tank, etc. as we did).
Stock carb and exhaust on his too. I doubt many riders could keep up with Bob in the trails. He has been an "A" enduro rider for 25-30 years. And did I mention, he rides an almost stock DR 650. Great bikes.
As a very famous MX father of a very famous MX son once said. (Oh, Gary probably has said it many times), "Go slower and I'll teach you go faster". …Gary Bailey.
Jan doesn't worry about dropping her DR as she does with her Triumph T100. It is her first choice most of the time.
I did lower it and use lower profile tyres for her. She is not a racer or ex-racer but I do want it to be as good as I can make it for her, regardless of what it costs to do so. She has over 15,000 miles on hers and I have 14,000 on mine.
We got them just two years ago.
We also have been using the SENA headsets for a year now. First set had some noise issues and SENA sent us a new set and we have extremely happy with them. We use them every weekend we ride.
We use them in Duplex mode so we can chat normally, (and I get to hear her Taylor Swift singing too).
How good are they you ask?? The other day, she left her helmet on when she went into a store to use the restroom. Thru walls and a few doors…Glad we were just the two of us linked together. Enough said…
Last year, we did both Moab, (White Rim trail, among others), and Death Valley on them. (Including Titus Canyon and Lippincott Canyon).
The first year, we rode down to Mammoth Lakes and back over the weekend. 600 plus miles in three days. (Her second year on a bike I might add).
We live in Northern California/Gold Country, Placerville area. Many of the roads we ride on have no center line.
We call them single track pavement roads. We would be happy to show you around if you get out here. We'll even supply the bike."
---
From "S.F." (04/11):  "For luggage you might want to check out a "Turbo City Sequoia or Denali Rack" with a set of Cortech soft luggage."
---
From "B.C." (04/11):  "You have picked the right bike. I bought my '02 in 04 with 4k miles and have since piled up over 54,000 miles on the rock-solid thumper.
I welded up my own racks and added Pelican-look-alike boxes that are water proof and crash proof. Had to add the Corbin seat, slip on exhaust, K&N, and the jet kit, along with a stronger rear spring.
Also fabbed up a front crash bar with rear DR 650 foot pegs to help stretch my legs on long rides. Added a GPS and tank bag and away I go.
Been to Nova Scotia, Lexington Ohio, and New Hampshire a couple of times to visit friends. I live in Lexington, North Carolina and ride year round just about every day its not raining or snowing.
Mine has the infamous slow oil leak at the base of the cylinder, but it makes the bike look even more rugged with all the dirt and grime on it.
Good luck with the project. Also added a little bug shield on the front to keep the air from beating me to much."
From "J.R." (04/11): "Hey, I love your budget adventure idea and saw that you were still looking for luggage options.
Let me recommend Moto Sport Panniers. I got a set of the narrower hard bags for my Bonneville. (Photos below) but suffice it to say, I enjoy them a lot.
To save some scratch for the budget though, the soft luggage might be as good a fit as anything.
Looking forward to reading the blog! Oh, and are you kicking yourself for not going with the Scrambler yet? I kinda do every time I see one!"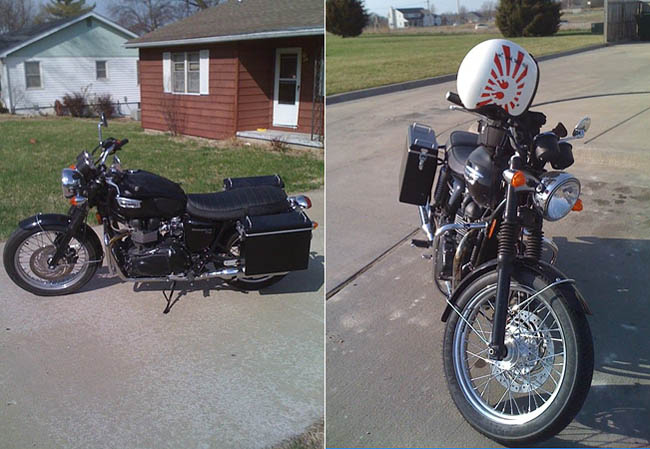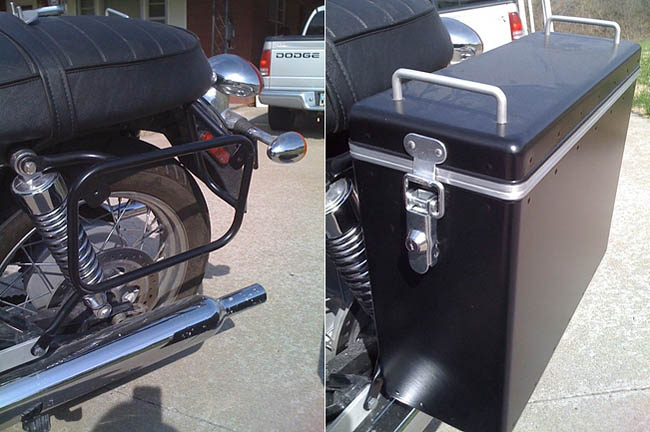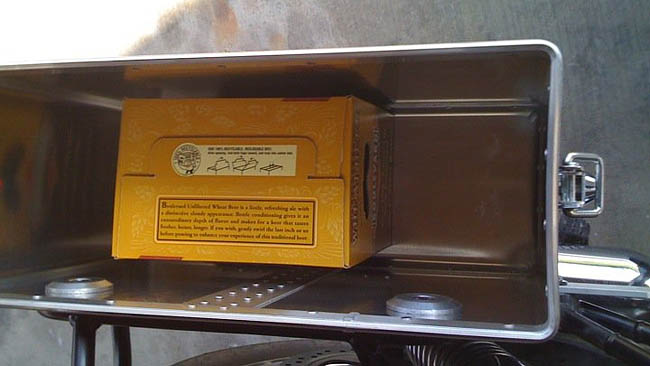 Other WebBikeWorld Motorcycle Tours Posts
wBW Motorcycle Tours
Info