Suzuki DR650SE Blog
This motorcycle is the subject of our Budget Adventure Touring series for 2011. The links to the reviews are entered in the table below as we customize the bike. The DR650 has a huge fan base and the bike was first introduced in 1990, which means that 2011 marks the 21st year of production.
A dual-sport motorcycle with a single cylinder engine and a carburetor may seem a curious choice compared to all of the high-tech bikes available in 2011.
But the point is to demonstrate that sometimes you can think outside the box and have a lot of fun without having to spend a fortune.
If you have any tips on parts or accessories for the DR650, please feel free to drop me a line ateditor@webbikeworld.com
Pivot Pegz Review
Bikemaster HID Headlight Conversion Kit
1156 LED Bulb Replacement for DR650 Turn Signals
 Pro Cycle DR650 Fork Brace
Wolfman Enduro Fender Bag
LED Brake Light Replacement Choices
Suzuki DR650 Dual-Sport Tires
Suzuki DR650 Center Stand and Lowered Foot Pegs
 Suzuki DR650 S
hift Lever Comparison and Review
Suzuki DR650 Engine and Rear Master Cylinder Guards
 Suzuki DR650 Hand Guards
 Magnetic Drain Plug and Oil Filter Magnet
Pro Cycle High-Output 250 Watt Alternator Stator Upgrade
Clearwater Voltage Sentry
Clearwater "Krista" LED Lights
Happy Trails "Imnaha" Panniers
Blue BikeVis Bullets
Hella Disk Horn Comparison
Pro Cycle "Saddlemen" Seat
Stompgrip Traction Pads
DR650 Rear Swingarm Stand
DR650SE First Ride – Ride Report
Budget Adventure Touring With the Suzuki DR650SE
Shorai vs. Ballistic Lithium-Iron (LFP) Battery
Owner Comments and Feedback
From "R.R." (July 2014): "I wanted to thank you for your reviews and especially for the DR650SE Blog.
I have pretty much been a Suzuki road bike man since 1983 and now that my interest has turned to the dual sport genre discovering your DR650SE Blog has been very helpful and informative. Outstanding work gentlemen! Cheers."
---
From "I.V." (August 2012): "I wasn't sure if you guys had already done all the building and farkling to your DR650 that you had planned, but there were a few things I'd be interested in seeing if they were in the budget.
There's always the more expensive mods, TM40 carb, big bore kit, etc., that are ever popular, but there's a few cheap mods that I'd be interested in seeing you guys test out.
From what I've read, you guys haven't really done anything to the suspension yet. I'm a larger guy, so I put the stock fork and shock in a pretty rough place, especially off-road.
Places like Pro Cycle sell fork spring kits for under $125, and I'd be interested to see those done and see what difference that makes.
For a purely cosmetic mod, Trail Tech sells a really nice looking X2 Dual Sport headlight that's supposedly street legal.
It makes the bike look light years more modern and smooth looking, and you guys have done the best lighting tests I've seen on the net, so it would be a great pairing. Just some thoughts.
Thanks for the awesome build log."
---
From "S.P." (December 2011):  "I'm sure you have read about them already, but the best upgrade I did to my stock at the time 650 was buying a Mikuni TM40 flatslide pumper carb kit from Procycle.
It really brings the engine to life over stock, and drastically helps with acceleration, it even power wheelies from putting it on their in 1, and 2 gear from low speed, something a stock carb would never let it do, and still maintains 50mpg.
It also allows you to shift down less in corners as it will pull stock gearing down from much lower speeds than the CV carb.
It will accelerate in 5th gear as low as 35 mph without a buck or hiccup, where the stock CV doesn't like to go much less than 55 mph without complaining, and downshifting.
It did this with the stock exhaust, and simply removing the snorkel, and was jetted for that setup at the time.
An aftermarket seat is a must over the stock 2×4 seat,lol, I'm sure you've found that out by now. I installed a Sargeant seat, also from Procycle, and it fits very well, and the ride is much nicer, and it is still narrow in the front for off road riding.
The stock front springs are the biggest issue in suspension, and the under $100.00 fix is simply installing progressive springs from Procycle, and it works so much better than stock under hard braking without dive.
The lowered/wider pegs are a much needed upgrade, and Procycle had a complete kit for that as well, that made it much more comfortable to stand, as well as some better handlebars.
I used Protaper CR high bend bars, and Cycra brush guards for a good combination in case of a fall off road. I see you changed your pegs already though.
A small windscreen is a good add on also to keep the wind blast down on your chest for extended highway riding, and less fatigue, as well as not interfering with off road riding.
I finally went with a MRA ST shield, it is their shortest shield, and barely any helmet buffeting, and much easier to maintain highway speeds for long distance. I installed a 12v socket in the bar area also for my phone charging and a GPS.
I have an FMF Q4 slip on, as well as an opened airbox now with the carb change, and jetted for my mods, and it only required minor adjusting on the idle mixture screw, and accelerator pump rod to make it work the way it should.
It's nice to have the pump for cold weather starting also, just a small pump of fuel to help get it fired. An aftermarket fuel valve is a must, as the stock vacuum fuel valve will fail over time.
I bought a Pingel fuel valve, that is gravity fed, and you block off the vacuum on the carb to use this, as well as use an inline fuel filter, and get rid of the inline fuel filter sock that comes stock where it connects to the carb.
You have to shut off the fuel when not riding though. I also removed the upper chain roller as they are known to break off, and cause holes in the frame, and I replaced the lower chain roller with a ball bearing roller.
A supermoto front fender will drastically help your high speed handling on the highway, and help keep it from wandering at higher speeds, also from Procycle.
The stock tires aren't as bad as people say, but when replacement time comes, if you do allot of dirt road, and trail something like a Pirelli MT21 is a great upgrade, and still handle good on the pavement, but will wear the rear within 1200 miles.
I like the Pirelli Scorpion MT90's for more of a street tire, but still handle dirt roads as well, and they last a long time on the rear with great grip, and high speed handling on the street.
A good sprocket combination is to go up to a 43 on the rear, and leave it there at all times, and buy a 14t countershaft with an adapter for it from Procycle to slip on their if your doing allot of off-road riding, and switch to the 15t for mostly road, and easy trail riding.
The biggest thing you need to do to your DR is look up on ADV rider about how to fix your neutral sending unit from falling off inside your engine and grenading your engine, not to mention the danger of a screw going into the gearbox at road speeds.
It's basically held on by two screws, and the unit is plastic, and over time from heat cycles it loosens up, and a screw can back out and fall off. It is behind your clutch, and is a simple 2hr or less fix.
I simply removed it, and cleaned the screws and threads well, and put lock washers on the screws, and used red Loctite on them, and let it set for 24 hrs. before adding oil again. People wire tie these with Allen screws as well. It should have been a Suzuki recall for this issue.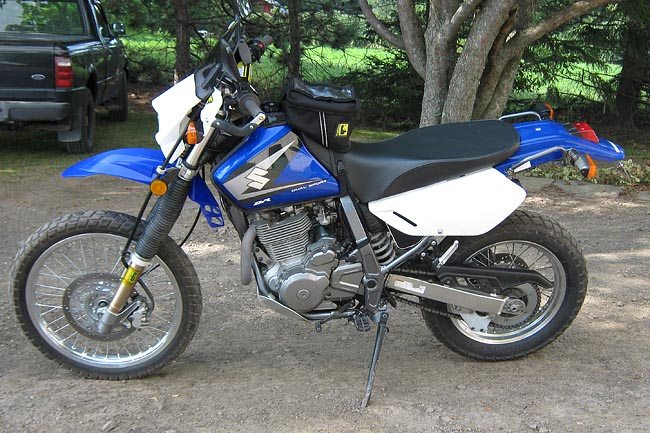 (Photos of what could happen and here's the fix).
I've done other little things as well, like removing the ugly stock taillight, and plastic extension, and a DRZ taillight fits perfectly, and a LED stuck to the home-made plate holder.
The front fork springs need to be replaced with Progressive springs to help with the front end dive on braking.
And my next move is emulators on the forks and Racetech re-valved fully adjustable rear shock so it rides right, and doesn't get bucking on the small stutter bumps anymore.
Might even be able to get some decent air on it finally lol!
I also wanted to add that I use a magnet behind the oil filter for better filtration, and use Amsoil 10w40 synthetic bike oil, the bike now has almost 20,000 trouble-free miles with just basic maintenance, and valve clearance checks
Have fun on your bike, as you got IMO the best bang for the buck in a DS bike. Very simple, and reliable, and fun to ride.
With the carb and other mods, you will be surprised how it will run. It surprisingly out accelerates my buddies big v-twins in the red light drag races, lol, boy does that get them twisted! Have fun."
---
From "D.L." (04/11):  "An FCR39-MX carb with mxrob modifications or a TM-40 carb from Procycle.us will cure the fueling issue and put more power to the ground combined with the airbox mod.
Also, the TrailWings are very good on the road. However, they are frustrating in mud and wet, off-road conditions. I ride 95% road and use Kenda K761 tires.
Very similar to the TrailWing but wear much better and do a little better off road.
Your review on the DR650 was very good and straghtforward. It is a FUN, do-it-all bike. A jack of all trades but master of none. It just lets you enjoy riding. You can make it better if you want or enjoy it stock.
Stop by www.DRRiders.com for a whole lot more ideas.
---
From "K.M." (04/11):  "You asked for suggestions for luggage. I made my own using Plano dry boxes. Model 1812-50.
They are almost identical, size wise, to Happy Trails aluminum panniers. Some sort of ABS-type plastic and almost indestructible.
They are O-ring sealed and for the last 10,000 or so miles have been completely waterproof.
(Here) is a link to stromtrooper.com and my post (and photos) on these. I post as "10-95″. Cost is listed in the post."