Old School BSA Choppers
BSA CHOPPERS WERE HIP
Back in the very-late-1970s and very-early-1970s, crazy guys (usually without a whole lot of money to work with) were chopping everything with two wheels. I had a couple of buddies who chopped their 350 Hondas, and Honda 750 choppers weren't uncommon. For the guys who couldn't afford to step up to a Harley, they would often chop old Brit bikes like Triumphs, BSA, and the like. BSA Choppers were never as common as Triumph choppers, but they were out there. We love looking at custom bikes of all kinds, all brands and types. Choppers, Bobbers, Rat Bikes, and Cafe Racers all exhibit tastes, ideas, innovations, and creative solutions, all quite unique, and very much to the taste of the owner and/or builder. In the case of 60s- and 70s-era Old School stuff like you'll see here, many of these custom bikes are time capsules, indicators of the times, the mindset during those times, and hardware and tech that was available to them back then, and often the budgetary constraints they surely must have been under. Here are a few BSA Choppers for you to enjoy: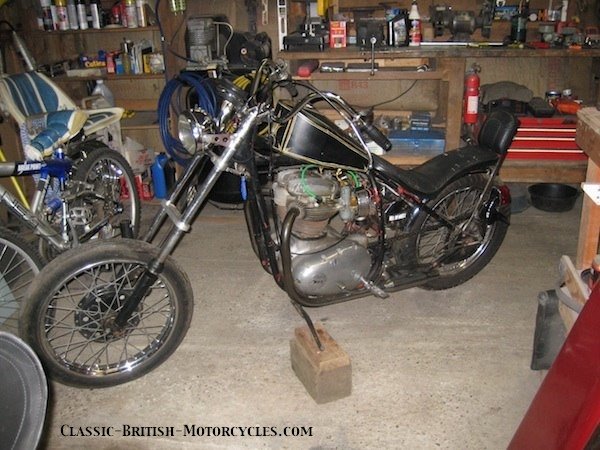 'Old School' is right. This 1966 BSA 500 got the classic early-1970s treatment. Rigid tail section welded to a stock frame (doesn't appear to be raked), period-correct aftermarket oil tank, extended stock forks, "Coffin" tank, "Banana" seat and sissy bar. And check out that classic pinstripe job. I think I rode this bike in high school.
This bike just changed hands and the new owner, Dale Martin of Spanaway WA writes: "I just purchased it 3 weeks ago. It's a project. 1966 BSA 500 twin chopper. Haven't had it running yet. Changed the handlebars & a few other things already, having a lot of fun working on it. I'm 70 years young & always wanted a BSA since the 50's when I was a kid." Congratulations, Dale, it looks like you got your wish.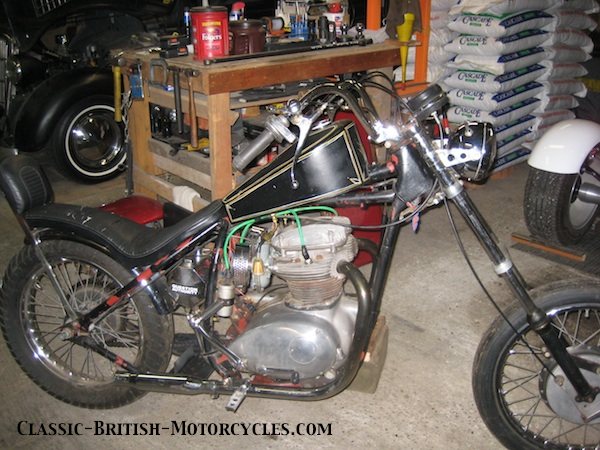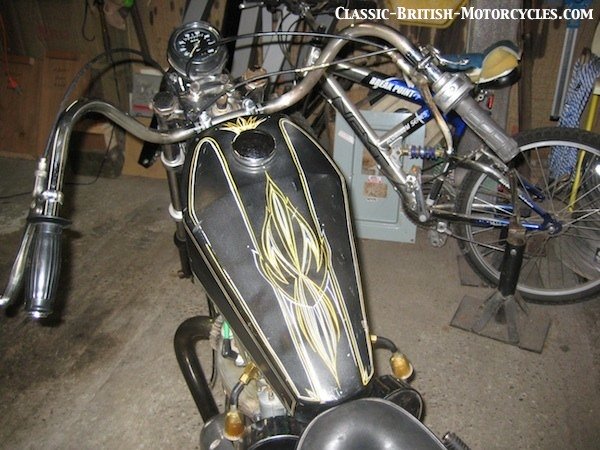 ---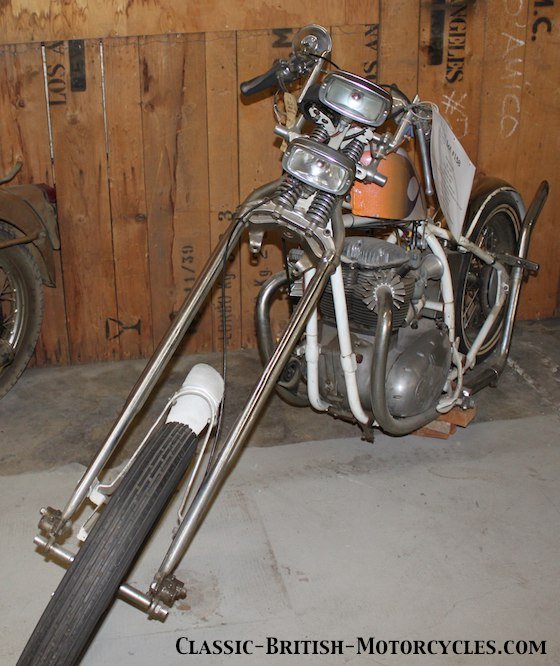 1970, HERE I COME!
Talk about Old-School, this BSA A65-based Chopper must have once been a star! I found it at the Brook's Cycles Auction in 2011. Looks like a stock BSA frame front-section with a welded-on hardtail. Check out those crazy pipes. Of course, that stretched-out Springer is the start of the show along with two stacked rectangular headlights. Polish this one up and go for a ride. Lots of polish.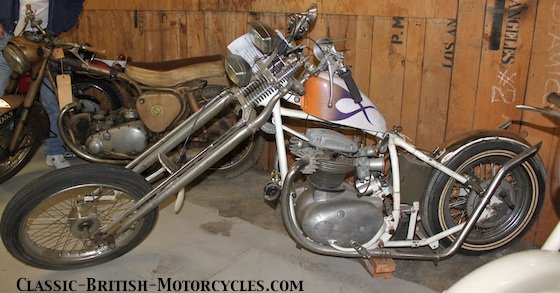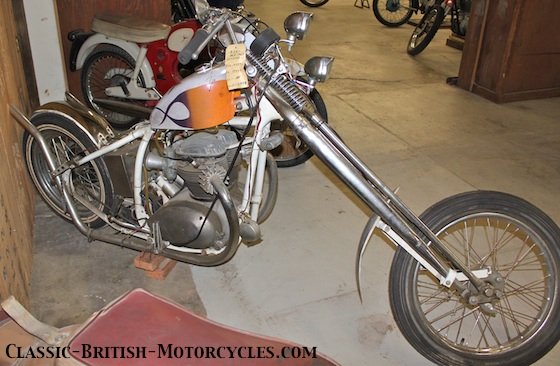 ---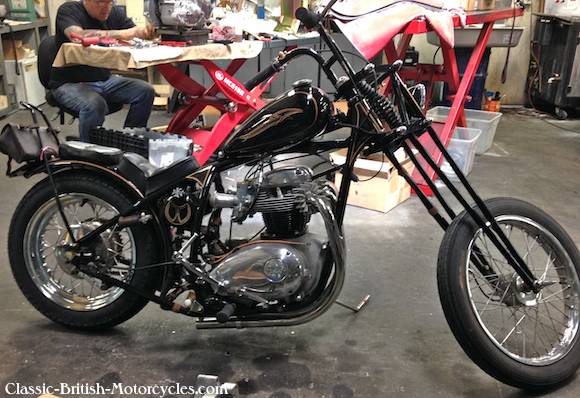 NEW-SCHOOL OLD-SCHOOLE
I caught this lovely BSA Chopper in the service department at Raber's in San Jose CA (my favorite motorcycle shop on Earth) in July 2014. While a definite Old-School vibe, this looks like a very well-built machine, put together from modern parts. Many old Brit choppers running around today are 'period-pieces', relics from the 60s or 70s, built out of parts that were available back then, and likely built on a shoestring budget, by amateurs. Get the picture? Take a look at some of the other Old School bikes on this page then look at this one again. The frame looks like an aftermarket rigid rather than something cobbled-together. Then check out that robust Girder front end. It looks like it actually works quite well. I love that tiny front brake drum, which was a very common mod back in the 70s when certain states required a front brake, but chopper builders didn't want big ugly drums out front. (Disc brakes were still a fantasy back then). Everything seems to fit just right on this bike, and the proportions and the stance are just perfect. This looks like a professional build, my guess done in modern times but made to appear as an Old-School BSA Chopper. The 650 A65 twin engine is clean (that's one thing you can say about unit-contruction BSA engines, they're clean of line), and the primary cover has been cutaway to show and ventilate the (dry) belt drive and clutch. Nice bike.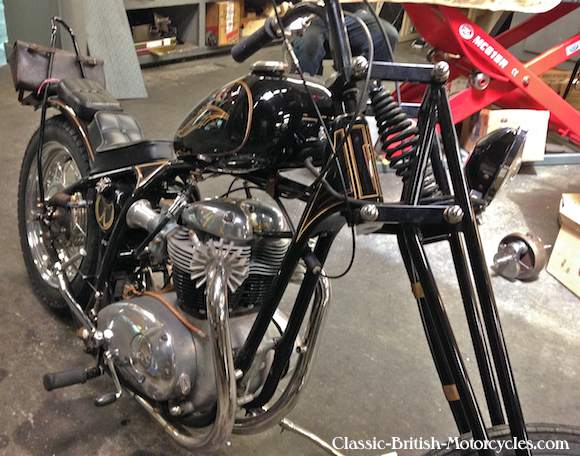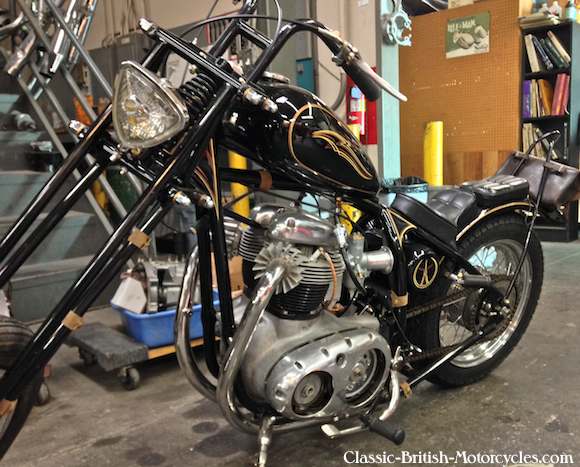 Modern BSA Choppers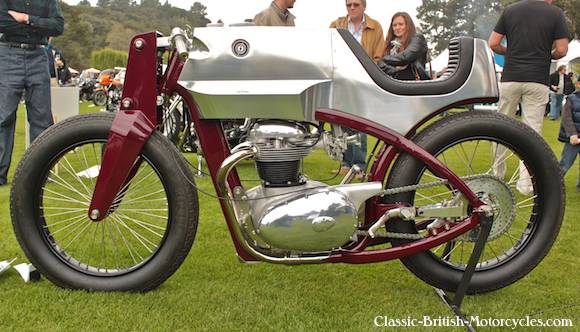 BEEZERKER BY FALCON ENGINEERING
I spied this awesome machine at the 2011 Quail Motorcycle Gathering in Carmel CA. Built by Falcon Engineering out of SoCal, these guys have a whole line of unbelievable customs based around classic British motorcycle engines. This is just a sample of their imagination and craftsmanship. But it it a BSA Chopper? Probably not. It's sort of a cross between a Bobber and a Cafe Racer, but it was too cool to pass up.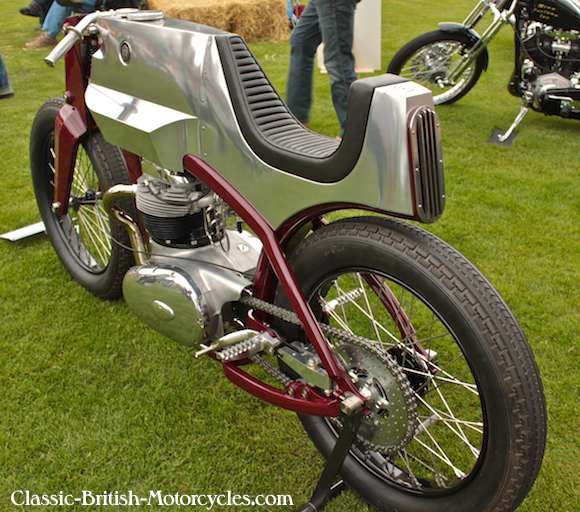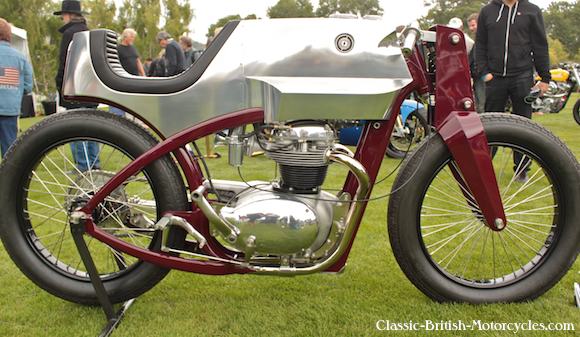 ---