UPDATED DECEMBER 1:
A Brough Superior like the one ridden by Lawrence of Arabia has become the most expensive Brough and the third-most expensive motorcycle sold at public auction.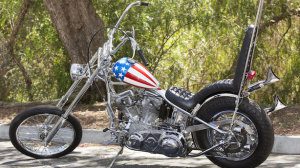 The 1929 Brough Superior 986cc SS100 Alpine Grand Sports fetched £315,100 ($A583,000/$US492,000) at the Bonhams Bond Street Sale on November 30.
That makes it the third most expensive motorcycle, beating a 1910 Winchester 6HP which sold for $US580,000 in 2013 to a gun collector. It is also a record for a Brough as the highest price paid previously was $463,847 in April for a 1922 SS80 owned by company founder George Brough.
The most expensive bike sold at public auction is the Captain America Harley chopper from Easy Rider. It sold for $1.5m recently at auction, although there remains a question mark over its authenticity.
The second most expensive motorcycle is a 1948 Vincent Black Lightning famously ridden by Rollie Free wearing a bathing suit at the Bonneville Salt Flats. It sold for a neat $US1 million in 2011.
The Alpine Grand Sports is named after a famous gruelling reliability run which started in 1910in the cold and dangerous peaks of Austria, Croatia, Slovenia and the infamous Stelvio Pass. George Brough competed in the Trial in 1925 on an SS100 and won six awards, including a cup for 'Best Performance'.
The design of the Brough Superior Alpine Grand Sports took inspiration from its founder's achievement, and was introduced to the market in 1925 for the 1926 season with a lower compression ratio (making it suitable for touring), a small fly-screen and a pair of tool boxes as standard – perfect for thundering through the Alps.