ALL BROUGH SUPERIOR MOTORCYCLES ARE UNIQUE
Brough Superior was established by George Brough in Nottingham, England in 1924. He bucked convention and rather than mass-producing huge volumes of identical machines, he designed every bike to meet the exact specifications of the customers. The bikes were literally 'fit' to the riders' size, weight, needs and preferences. It is said that every set of handlebars on every Brough Superior is unique. 1925 was the first year of 'production', if you could call it that. They build just 69 machines at an average price of around £170 (the equivalent of around $8,900 in 2016 dollars), a huge sum of money at the time.
"THE ROLLS ROYCE OF MOTORCYCLES"
Brough promoted the motorcycles he built at "The Rolls Royce of Motorcycles", and even got Rolls Royce to give their permission to use the reference, but it took a member of R-R's engineering staff touring the Brough Superior factory before permission was granted. Everything about Brought Superior Motorcycles was top-notch, of the finest quality, and assembled with meticulous attention to detail. Just like Rolls Royce cars. This level of precision allowed Brough to guarantee that all his motorcycles would be capable of at least 100 mph, heady stuff in the 1920s and 30s.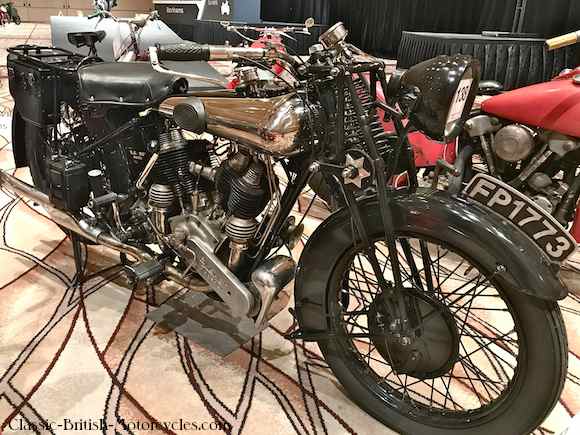 ABOVE: This 1926 SS80 shows the look of the earlier JAP engined-bikes.
THE JAP V-TWIN ENGINE
The SS100 (SS stood for "Super Sports") was built from the very best components available at the time from a wide range of suppliers. The engines that Brough selected for his 1924 through 1936 SS100s was the twin-cam KTOP V-twin built by JAP (named for the initials of its founder, J.A. Prestwich). It was one of, if not the most advanced and powerful motorcycles engines at the time. Gearboxes were the 4-stud, 3-speed Sturmey-Archer gearbox.
NEW ENGINE & FORKS
Starting in 1936, Brough Superior Motorcycles switched over to Matchless V-twin engines starting in 1936. Brough admired some of the features of the American Harley-Davidson, and copied their front forks, forming a new company to do so called the Castle Fork & Accessory Company. The new forks were lighter and stronger, and became a halmark feature of Brough Superior Motorcycles, and helped the SS100 gain a reputation for excellent handling (by the standards of the day).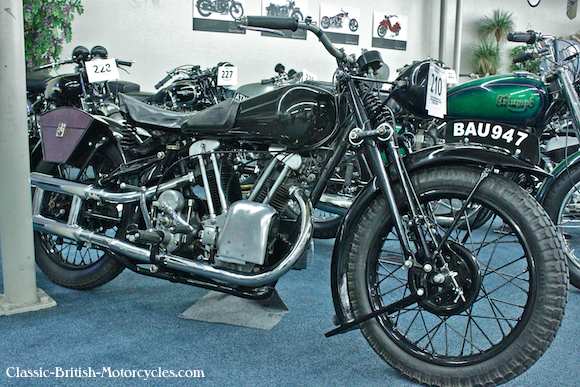 ABOVE: 1935 Black Alpine.
THE SS100 ALPINE GRAND SPORT
Brough fitted the SS100 with full touring spec and named it the "Alpine Grand Sport" starting in 1925. That same year, Brough Superior Motorcycles introduced the Pendine Racing Model (named after the Pendine Sands where Malcolm Camplbel set several speed records on Brough Superior Motorcycles) which was good for 100 mph out of the box.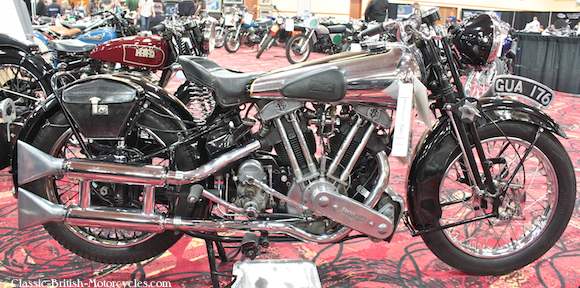 ABOVE: 1938 Brough Superior SS100.
CONSTANT EVOLUTION & IMPROVEMENT
Every owner was encouraged to offer suggestions on how to improve Brough Superior Motorcycles, which led to continuing improvement, development and evolution. One result was the upgrading of the Sturmey-ARcher gearbox in 1929 to a 3-speed "super-heavyweight" unit to cope with the 50+ horsepower that the big JAP engine produced. In 1928 rear suspension was added, and in 1934, the Alpine Grand Sport received JAP's new 75-horse overhead valve (OHV) V-twin famous at the time for "having two of everything: two magnetos and two oil pumps". Foot-operating shifting was added in 1935, and they upgraded to a 4-speed Norton gearbox in 1936.
BROUGH SUPERIOR MOTORCYCLES IN THE RECORD BOOKS
Brough's top-of-the-line SS100 competed in and set several world records throughout the 1920s, with one of their engineers who worked on the development of the bikes, Bert le Vack, himself holding 7 world records at one time. In 1927 George Brough himself and Freddie Dixon both achieved 130 mph (209.2 km/h) in the flying kilometer, then Brough returned in 1928 to break his own record at 130.6 mph (210.2 km/h). In 1932 Ronald Storey broke the record for the highest terminal speed in a standing half-mile at 81.08 mph, and Noel Pope broke the all-time track record at Brooklands in 1939 with an average one-lap speed of 124.51 mph (200.38 km/h), all on the SS100.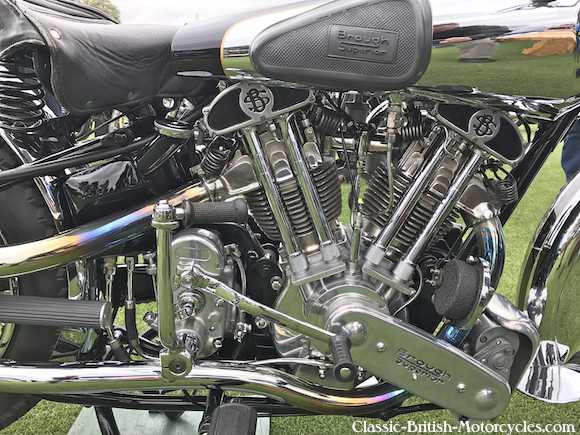 ABOVE: This 1939 SS100 has the Matchless V-twin engine.
END OF THE LINE
Despite all the brilliant racing success and the long string of world speed records, Brough Superior never made very many motorcycles. And no matter how good, or how much they charged for each one, it made them vulnerable. When the British Ministry of War shut down all civilian production in 1940 at the dawn of World War 2, and Brough Superior Motorcycles, like every other manufacturer of any kind throughout the British Empire, were pressed into service making war materiel. When peace finally came 5 years later, Brough never resumed motorcycle production. The entire lifespan of Brough Superior Motorcycles ran from 1924 through 1940, a mere 17 years.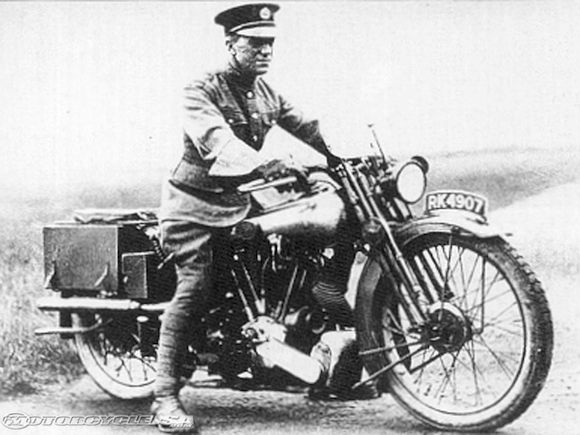 ABOVE: T.E. Lawrence (aka: "Lawrence of Arabia") on one of his many Brough Superior Motorcycles.
LAWRENCE OF ARABIA HAD A BROUGH SUPERIOR
The legendary T.E. Lawrence, also known as "Lawrence of Arabia", and made famous by the movie of 1962 of the same name starring Peter O'Toole. While embellished by Hollywood I'm sure, it was based on a true story about an actual person. He bought a Brough Superior SS100 in 1925, having already owned three SS80s already. T.E. Lawrence owned many Brough Superior Motorcycles throughout his life, including the SS100 he was riding when he died in a crash in 1936 near his cottage home in Wareham, England. Lawrence's last SS100 (Serial #GW 2275) is a 1932 model, is now in private hands and is on loan to the National Motor Museum in Beaulieu, Hampshire, and the Imperial War Museum in London.
---
Brough Superior Motorcycles YEAR-BY-YEAR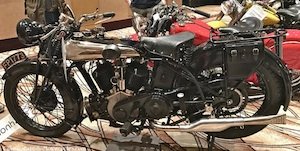 ---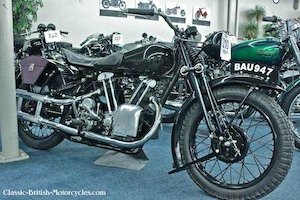 ---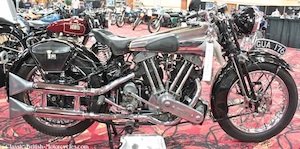 ---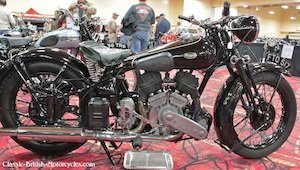 ---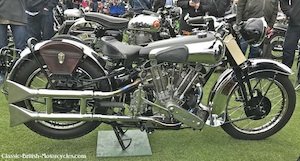 ---
Check out these BROUGH SUPERIOR BOOKS

Brough Superior: The Complete Story
---

Brough Superior: The Rolls-Royce of Motorcycles
---
PLEASE BUY MY NEW E-BOOK HERE
12 Chapters & over 100 original photos. My best work yet.
ONLY $4.99!
Thank you,
Andy Tallone, your humble author

Click here to buy now:
The Random History of Classic British Motorcycles, Volume 1
---