A 1939 Brough Superior 1150 SV former police bike and sidecar has possibly set an Australia record price at auction.
It was estimated to sell for $65,000 at Shannons Melbourne Summer Auction on December 8, but almost doubled that with $111,000 after a relentless duel between two floor bidders.
Shannons national auction manager Christophe Boribon believes it could be an Australian record and says it certainly outsold the last two Broughs which fetched in the $50,000-$60,000 bracket.
Even so, the latest Brough sale is cheap by world standards.
The highest price paid for a Brough was £315,100 ($A583,000/$US492,000) at the Bonhams Bond Street Sale on November 30 for a 1929 Brough Superior 986cc SS100 Alpine Grand Sports.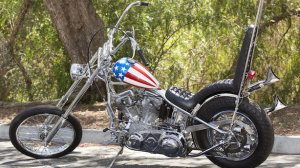 It is also the third highest rice paid for any motorcycle at public auction. The most expensive is the Captain America Harley chopper from Easy Rider that sold for $1.5m, despite concerns about its authenticity.
The second most expensive motorcycle is a 1948 Vincent Black Lightning that sold for a neat $US1 million in 2011.
The Brough Superior, famously ridden by Lawrence of Arabia, continues to be one of the most sought-after models. The brand represented a quarter of a recent list of the top 100 most expensive motorcycles.
Only 308 were built from 1933 until 1940, making surviving examples exceptionally collectable, says Chris.
"We've seen a massive increase in the following of early bikes in Australia as well as around the world in recent years," he says.
"We've sold 150 bikes in the last 18 months in Sydney and Melbourne so there is definitely renewed interest in bikes. I think it's got something to do with the interest in '60s and '70s cafe racers and bobbers."
The sale of the Brough was only one of the highlights of the auction. Other motorcycles to sell well included a restored, circa 1948 Harley-Davidson WL 'Civilian' motorcycle ($25,000), a Triumph Tiger 'GP Replica' 500cc ($14,500), a restored 1968 Norton Atlas 750cc in older, restored condition ($10,000) and a rare circa-1961 BSA A10 Super Rocket 650cc ($9000), while a circa 1949 BSA M20 500cc 'Military' motorcycle in need of restoration sold with 'no reserve' for $8000.