British Motorcycle Gear Thermosport Gloves Image Gallery
Among the warmest of our winter 2008 batch. Comfortable padding on the inside.
Double stitching with race-like armor offers potentially better protection than most winter gloves. Aggressive pricing makes these a super bargain.
I guess I'll have to blame it on British Motorcycle Gear (BMG). After all, they sent this pair of Thermosport winter gloves back in August, when winter was the farthest thing from our minds.
That event somehow triggered an avalanche of winter gloves, which gave us plenty of excuses to go riding as the temperatures dropped — but now we have to review them all.
We've been big fans of BMG products over the years; while they may not have the huge selection of other retailers, the products they offer are designed and selected based on real-world performance, and it shows.
In fact, one of my all-time favorite pair of winter gloves was
We reviewed the BMG Rapido race gloves not too long ago, and they quickly became a favorite; the Thermosport gloves can be considered as their winter cousin.
It's not often that you see race-inspired protective features in a pair of winter motorcycle gloves, which are normally all puffy and soft.
These are soft on the inside though, where it counts.
The fingers and the sizing are as accurate as any in this group, and that's saying something for winter motorcycle gloves, which can tend towards sloppy when it comes to fit.
Snug is important, both from a safety perspective (to keep the gloves on the rider's hand and the protective features in place) and to maximize warmth.
Too loose and the cold will seep in; but too tight and circulation can be hampered. Blood brings warmth, don'tcha know.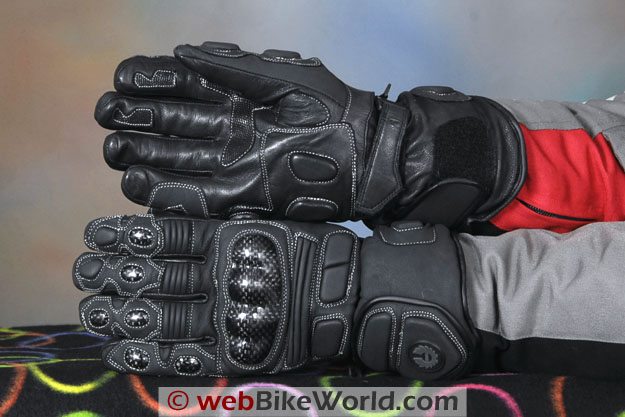 The fingers on the Thermosport gloves are pre-curved, just like race gloves.
This helps counteract the internal padding, to a certain extent.
While all the winter gloves in this comparison — and all the winter gloves we've ever tried — make it more difficult to stretch for the controls and levers, curved fingers help.
I ride with my first and second finger covering the Pazzo levers, and the padding in some of the winter gloves I've worn makes it difficult for me to stretch as far as I'd like to keep a comfortable grip, but the Thermosport gloves seem better in that respect.
The upside of the thickness is the internal 3M Thinsulate that constitutes the padding.
It is evenly attached with a smooth feel and little to no rough edges. The Thinsulate is covered by a soft material that feels like micro-fleece, which forms the lining of the entire glove from fingertips to gauntlet.
The Thermosport gloves secure to the hand with an unprotected hook-and-loop strap under the wrist and on the gauntlet.
I'll get into the gauntlet in a minute, but it's nice to report that I can not pull the Thermosport gloves from my hands when they are secured with these two straps, which is as it should be.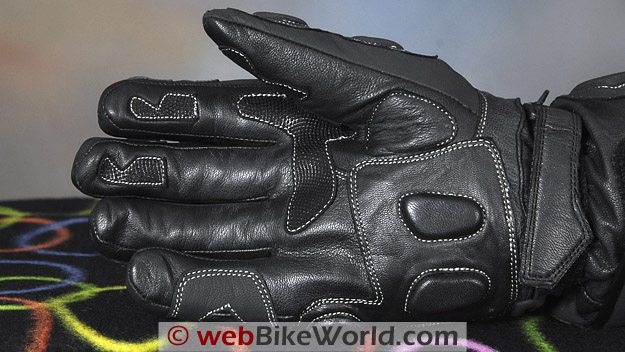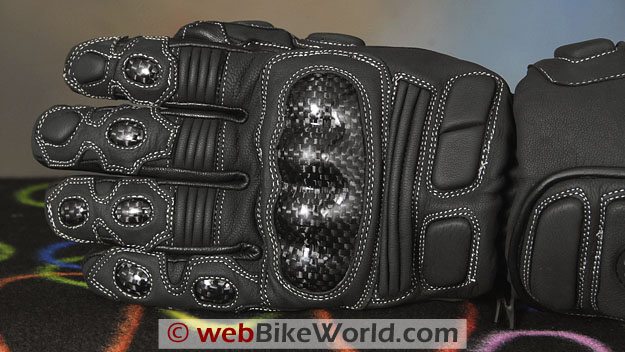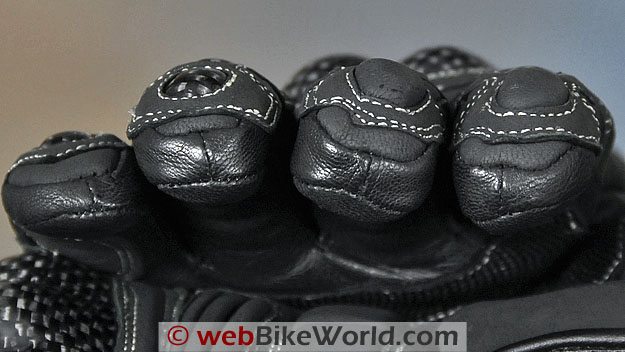 The gloves are double-stitched over most of the surface, with extra leather and padding in all the places you'd expect for a race glove. The leather on the back of the gloves has a matte finish as you can see in the photos.
A Schoeller Keprotec label is attached on the inside of the cuff, but I'm not sure which part of the glove is so protected.
Perhaps the strip of material over the palm and fingertips that acts as a wear point? It feels like it's made from some type of synthetic.
BMT Thermosport Gloves – Fit
The fingertips are what we call a "box" construction (for lack of a better term; perhaps there's a glove industry standard for the different types of finger construction?).
This is a sort of fetish of mine, because it seems to make a big difference in how motorcycle gloves feel and perform.
The leather on either side of the fingers is internally stitched. It meets at the center of the fingertip and the top and bottom section of the finger leather are sewn on to the "walls" like a ceiling and floor.
The construction and the sewing on the Thermosport gloves is as good as it gets; very high quality and it looks like someone took a lot of time to get it right.
The thumb uses the standard "flat" construction found on almost all motorcycle gloves with what I believe is called a "wing" thumb style.
This means there are two sections of leather that form the upper and lower part of the thumb and they're simply sewn together, internally in this case.
Normally, you probably don't feel the difference in this type of thumb construction.
But winter gloves, with their thick insulation, usually involves making the thumb longer than normal to fit because the absence of the "box" construct means that the two sections narrow down towards the end like the blade of a knife.
Motorcycle gloves require more room in the fingertips than street gloves, to account for the hand being tightened over the grips.
The Thermosport gloves fit perfectly to size for me in the fingers, but the thumb could probably stand to be a bit shorter; it has about 20 mm too much room.
This pair of Thermosport gloves in size large fits as expected in the hand and fingers, while the thumb is slightly longer than I'd like.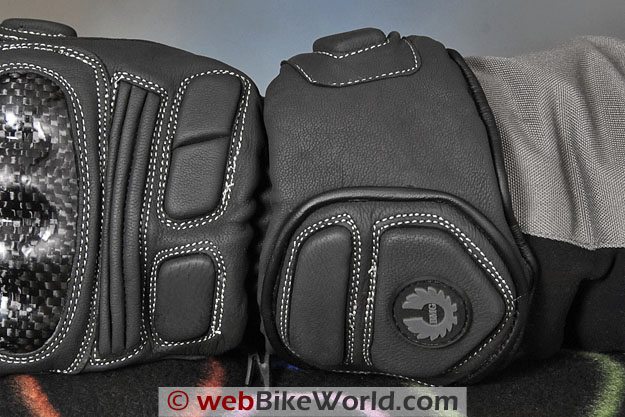 The Gauntlet
Now about that gauntlet… We've covered this topic (excuse the pun) in the "Case of the Missing Gauntlet" article back in April of 2006.
Since then, motorcycle glove gauntlets seem to go through phases, from "right sized" to small and back. Unfortunately, we seem to be in a "small" phase.
So let me put it as simply as possible to any of the manufacturers reading this:  you can't make a gauntlet too big or too long. Remember that the next time you design a glove and please make it with the largest gauntlet possible.
Then add about 50% more. I'd gladly pay the extra buck or two you'll add to the price.
Each of the 9 pairs of gloves in this review have gauntlets that are too small, in my opinion, either in their diameter or length (but usually both) to fit over a sturdy winter jacket cuff.
The BMG Thermosport gloves are about mid-pack in this selection, so they're relatively better than most.
Granted, we used a worse-case scenario: the (original) Rev'it Cayenne jacket. This jacket has a bulky cuff that includes a zipper and a separate vinyl strap for the hook-and-loop attachment.
The Cayenne's sleeve cuff also ends somewhat abruptly because the jacket liners continue all the way down to the end of the cuff and are not tapered.
So this makes for a bulky — but not unusual — cuff that needs to be fully covered by the glove gauntlet.
The combination of heavy insulation in the gloves and a narrow and/or short gauntlet, along with the wrist strap on the BMG Thermosport and other gloves, make it difficult to fit the gauntlet over the sleeve.
It's even more difficult to pull the gauntlet over the opposite cuff on the other arm with one gloved hand.
Again, this is a problem with all of the gloves in this 2008-2009 comparison; the BMG's have the unfortunate distinction of being first up for review, thus they're taking the brunt of the criticism. Sorry, BMG!
But as I mentioned, the Thermosport gloves are about mid-pack in this group; and as you'll see, we even have one pair of gloves with gauntlets so tight, it's pretty near impossible to fit them over any jacket sleeve at of any type.
The Thermosport gloves also have a relatively strong piece of elastic sewn inside over the back of the wrist. This is normally a plus, because it helps keep the gloves where they belong, on the rider's hand.
But in this case, it adds to the constraint by making it difficult to pull the relatively short gauntlet up over the jacket sleeve.
I think the entire problem could have been mitigated had the gauntlet been made at least 25 mm longer, and it would have been even nicer if the gauntlet was about 25 mm wider.
You can see in the photos that the gauntlet is tight and the gauntlet hook-and-loop is stretched pretty far to fit over the cuff.
We also included the gauntlet measurements of all the gloves in this comparison in the chart on the 2008 Winter Motorcycle Gloves home page.
We occasionally receive an email reminding us that the gauntlets can be worn underneath the sleeve.
This is true, but apparently very few riders wear their gloves in this manner.
Doing so also makes it very difficult to either put on the jacket or get the sleeve cuffs secured over the top of the gauntlet when wearing the gloves.
Wearing the gauntlet as an "innie" apparently helps prevent water from dripping down into the gauntlet, but I don't see how this can happen at speed, and then you have the issue of air blowing up into the sleeve anyway.
One last reminder: this entire gauntlet issue may or may not be important or even noticeable for all riders, hand shapes and jacket cuffs. Indeed, the Rev'it Cayenne is, as I mentioned, the worst-case scenario.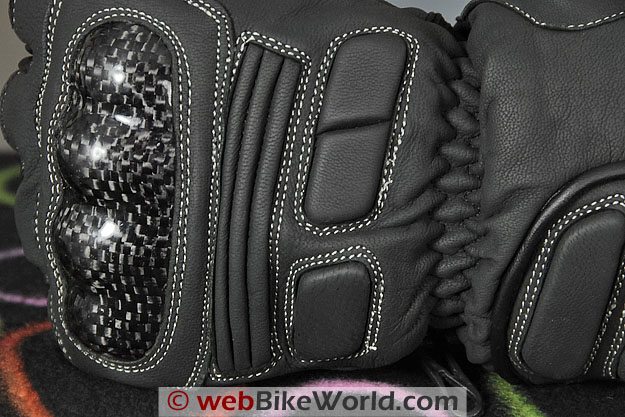 Warmth and Water Resistance
It's nearly impossible to develop an objective evaluation of how much warmth the gloves provide, so you'll have to go by our combined subjective opinions, which were developed in temperatures of "only" 4-7 C (40-45 F).
The BMG Thermosport gloves were in the upper end of the range for warmth, blocking the wind very nicely with just a little bit of cold air starting to seep in at the fingertips after about 45 minutes of riding in 4 C temperatures.
The gloves seem to do a very good job of blocking the wind on the back of the hand.
The fingers and fingertips are hard to keep warm in a non-heated glove because of the constriction caused by gripping the handlebars on a motorcycle.
We put any glove that claims it's waterproof through the webBikeWorld "Bucket Test".
This is an extreme evaluation to be sure, but some waterproof gloves pass it with flying colors, while others fail miserably.
We're not sure how well this replicates a real-world situation, but if it passes the bucket test, you can be pretty sure it won't leak on the road.
The gloves are immersed in a bucket of tap water up to the heel of the palm. The hand is held in a curved position. The hand remains in the water until the glove leaks or 5 minutes, whichever comes first.
The BMG Thermosport gloves are claimed 100% waterproof, so into the bucket they go.
At about 2 minutes 30 seconds, some water started to seep in at the straight seam along the bottom of the thumb that forms the top and bottom of the leather.
These were the only gloves out of the nine in this comparison to fail the bucket test…although 2.5 minutes submerged in a full bucket of water is admittedly a much tougher test than any rainstorm would provide.
But otherwise, the fingers and the rest of the glove remained dry. It is possible that this seam would not be affected by riding in a rainstorm.
The Thermosport gloves carry a nice-looking label that says that they have a Porelle waterproof and breathable liner.
And there's also a warning to make sure you remove the gloves by pulling one finger at a time, because the liner could potentially turn inside-out.
This is a good practice on any glove. It's interesting to note that the only other gloves in this comparison with the Porelle liner, the FirstGear Carbon Heated Gloves, passed the bucket test.
UPDATE: Note from BMG: "I am not sure why that pair failed your waterproof test.
There are plenty of write ups on the Thermosport gloves on web sites like Advrider.com where customers rave about there waterproof qualities under extreme conditions and we warranty them to be waterproof.
I do the same test on them, although I leave them in the bucket for several hours…
I have only had 2 back that leaked in the last 4 years and we just send out a new pair…"
Conclusion
The British Motorcycle Gear Thermosport gloves are very well made with quality materials and stitching throughout.
They keep my hands relatively warm for a pair of non-heated winter motorcycle gloves and they have a good selection of safety features which are not normally found on winter motorcycle gloves.
And here's the best part: like the BMG Rapido gloves, the Thermosport winter gloves are a great bargain at only $79.00.
Considering the price, I don't think you'll find a better pair of winter gloves this season. The few nits I picked can be easily overlooked at this price!
More: 2008 Winter Motorcycle Gloves Home and Comparison Rating Chart
w

BW

 Review: BMG Thermosport Winter Motorcycle Gloves
List Price (2008): $79.00
Made In: Unknown
Colors: Black
Sizes: XS – XXL
Review Date: December 2008
Note:
 For informational use only. All material and photographs are Copyright © webWorld International, LLC since 2000. All rights reserved. See the webBikeWorld® 
Site Info page
. Product specifications, features and details may change or differ from our descriptions. Always check before purchasing. Read the
Terms and Conditions
!
Owner Comments and Feedback
---
From "B.K." (December 2011):  "I prefer small gauntlets that fit under the cuff; and I'd like to explain why. I have zips on my jacket sleeves, so no "major disrobing" is required to put on the gloves.
But the reason why the gloves are better inside the cuff than on the outside is because most of the rainy riding I do is not at high speed; it's in an urban environment, where 30% or more of my time is spent waiting for traffic lights to change colour.
In that scenario, rivers of rain run down my jacket, and pools form around my crotch. If the gauntlet isn't inside my cuff, it will also pool in my gloves.
There is no problem with wind (and rain) running up my sleeves, because my sleeves are adjustable, and when zipped they seal tightly.
I'd have to be doing extended stretches in excess of 80 mph in order for moisture to get in this way. But when I have to ride in a real torrent, not even my jacket is enough.
I then wear a hi-viz rain jacket on top of my (mostly waterproof) winter jacket, with my gloves sandwiched between.
This time the gauntlet is on the outside of the inner jacket, but on the inside of the outer rain jacket, which is tightly sealed at the wrists with Velcro.
Note: I commute in all weathers on motorbike and scooter, and otherwise I'm doing long-distance touring with a sporty focus. I'm not a weekend rider. If the weather is bad, it doesn't mean I don't go out; it means I put on more gear."
---
From "L.Y." (December 2011):  "After reading your article on the BMG Thermosport gloves, I bought a pair. This is my first winter season riding with them, and this is what I can tell you:
They are comfortable, but if my hands have even the smallest amount of moisture on them, they are very difficult to put on. Come to think of it, putting them on even with my dry hands is still a challenge.
I have to tug and yank on the soft lining to keep my sausage-like fingers from wadding up the fill in the fingers of the glove or else I cannot get each digit properly seated. It's even worse when my fingers are wet.
Other than that, they feel great. I get a little weepage around my pinky, but it's still way better than anything else out there."
---
From "B.W." (2/09):  "I live in Indianapolis, and I ride to work year-round, rain, shine, and cold (other than ice on the roads).
I read your report and many others, and finally ordered a pair of the Thermosport gloves.
They are warm, dry, and have quite good control feel for a winter glove.
With heated grips, I'm perfectly comfortable down to well below freezing on my naked bikes. I can leave the grip heat off down to just above freezing.
I might warn that the XL and XXL sizes do run small. I wear an XL glove in every other brand on the planet, but I had to exchange my first pair of Thermosports because they were far too small.
I emailed BMG, received a prompt and courteous reply, and I had a pair of XXL gloves a couple of days later, which fit nicely.
AA couple of weeks of ice and snow passed, before I finally had a chance to ride with the Thermosports. They were nice and warm on freezing days, and I was very happy. But one day, the temps were above freezing, the rain was downright violent, and the index finger on my left hand, which began leaking immediately.
Another email (nine out of ten fingers ain't bad, but…), and Paul immediately sent out another pair, no questions asked.
I just got them today, filled the sink with water, and they pass the soak test. I think I have my keeper pair!
The Good:
Fantastically warm – I counted at least 10 pairs of winter gloves in my collection last month, and these are the warmest by far.
Great control feel – best I've experienced in a winter or cool weather glove.
Excellent protection (why do most winter gloves leave out the armor?).
Waterproof.
Double-plus incredible customer service!
Reasonably priced.
The gauntlet works for me — any bigger and it would funnel more water down into the gloves. Any smaller and I couldn't get it over the cuff.
The Bad:
Wonky sizing, at least in XL and XXL — order a size larger.
Quality control issues?  I'm not the first to experience a leak, but they were quickly and cheerfully exchanged.
TThe wrist strap on one of my gloves won't go very tight because the Velcro is not placed correctly and it's a little too long. The other glove is fine. Not worth sending them back, but odd. There are some minor stitching oddities, but nothing is loose or weak. Again, QC could be better.
Shipping the too-small and leaky pairs back to BMG was on my dime.
Not a big deal — cheaper than driving to the closest motorcycle gear shop locally.
But the fact remains that the gloves ended up costing me close to $100, and costing BMG for two extra rounds of shipping as well. Hope they can get a better handle on sizing and quality."
---
From "R.T." (12/08):  "Reading your report on the BMG Thermosport gloves struck a familiar chord with me.
It seems that every pair of winter gloves I have ever owned had an inadequately sized gauntlet to go over the jacket sleeve without all kinds of tugging and pulling and then having the adjuster out to almost the limit of its adjustment.
Manufacturers take notice!  We want big gauntlets.
We want them long enough to reach well past the jacket cuff and we want them large enough in diameter so that we can tighten them up on the jacket sleeve instead of barely being able to fasten them.
And Editor, you can take heart, that your gauntlet anxieties are shared by others of us out here in the riding community.
As an added note – Who the heck wears the gauntlet inside the cuff?
That is just completely backwards and I can't see how it would work to keep out wind or water. I want my gloves on the OUTSIDE of the jacket so I can get them on and off without a major disrobing.
Thanks for the write-up. I think I will give the Thermosports a try and then write the manufacturer requesting that they upsize the gauntlets like they should be."
---
From "E" (12/08):  "Before my comment I'd like to say I ride year round, rain, shine, snow or sleet. No I'm not a mailman.
I'm also fairly experienced in the concept of spending money when necessary IE not being cheap, I own probably a dozen pairs of gloves, so I do not mind shelling out $200 for some quality gloves, some of the ones I have cost 3-4 times what these cost.
My first pair of Belstaff Thermosport gloves were great.
They were waterproof (in MY test), warm, and the material was supple enough to allow me to ride with some resemblance of dexterity. Fast forward to my new pair.
They are also waterproof in the boiling water for 10 minute test followed by the pressure washer for 10 minutes.
However, these new gloves are not like the old ones.
None of the stitching is done correctly, I can feel the seems on my fingertips and no two fingers are "boxed" the same.
And the wrist cuff is useless, as it is 99% loop of the hook-and-loop and only the last half inch of it is hooks. I have an averaged sized hand (8.5-9 or L) and I cannot use the wrist closure.
Back to the stitching.
If you notice there are two rows of stitches around many parts of the glove. They should be aligned with one another but they are not.
It seems that my gloves, and the 3 other pairs I ordered at the same time were all made on a Friday afternoon or just before lunch.
About your statement to manufacturers, no, they can make gauntlets too big, you say you "can't see" how rain can get into gloves whose cuffs are mounted to the outside of a jacket whilst at speed.
To me "can't see" means you haven't tried it and are guessing, try it, trust me. You also mentioned that wind would come up the sleeve, it doesn't, not even on an unfaired Hawk GT doing 80.
Sizing, like I mentioned above I ordered a few pairs of gloves and another friend ordered a pair on his own.
In all 4 pairs of size L Thermosport gloves were ordered based on the many rave reviews and my fond recollection of my old pair.
Out of the 4 no two fit the same, the ones I ended up keeping fit as well as can be, the others were either insanely tight or insanely loose, all were labeled as a size Large.
Time frame for the gloves. My first pair were labeled Belstaff with the Belstaff logo, these were the best pair.
The next batch is from the newest collection with the blue BMG logo. The pair you have seem to be the revision 2.0 gloves between my first and last pairs.
With all my bashing of these gloves the fact remains, these are fairly cheap at $80 and they are warm and waterproof. Would I prefer them to actually be stitched symmetrically?
Yes, but we live in a world where 99% of our products come from China, which isn't actually the problem.
The problem is that these laborers are required to pump out a certain number in a certain time frame, and those time constraints do not a quality product make. Hell, even my high end REV'IT! gloves are not symmetrical.
For $80 I would recommend these gloves to anyone who wants a pair of gloves that does what it says, but might not do it with style and detail.
Think BMW R1200GS, it's big and ugly but it will do what you ask of it and not complain."
---
From "J.K." (12/08):  "Having used the BMG Thermosport Winter Motorcycle Gloves for the last year I can honestly say they have been one of the best Winter motorcycle gloves I've ever owned.
And I have several different pairs! (Alpinestars Jet Road Gore-Tex being my second favourite).
They've lasted me well in my occupation as a Motorcycle Instructor and during the Scottish winter its gets very very cold yet the Themosport still keep my hands toasty warm.
As for Waterproofing, they are probably as good as leather gloves are going to be; I have a tendency to make sure they're tucked under my jacket if its raining heavy.
The gauntlet fits over my Hi-Viz Jacket no bother and is comfortable to wear all day long (6 hours on a bike in minus 1 or 2 C isn't much fun!) yet I'm still able to operate all the controls, unlike most other winter gloves which I find are often very stiff and hard to move around in."