British Motorcycle Gear BMG Mercury Jack Review Summary
Review Summary
This is probably one of the best all-around jackets available. The quality of the construction and the details are first-rate, and I especially like the many tab adjusters on the lower and upper arms and on the sides of the jacket body.
Pros
Quality of the construction
lots of great little details
lots of tab adjusters
Gear BMG Mercury Jacket Image Gallery
Much has been written on this and many other sites about "The Quest for the Holy….." err, sorry…. the "Perfect Jacket" — the one that does everything well, all the time. While we'd hate to pre-empt anything that Monty Python may come up with on this subject, we may have an answer to a topic that is dear to all our hearts? I live in Vancouver, British Columbia, Canada. 
This is a location that is famous for its scenic beauty, outdoor lifestyle and twisty roads through stunning mountains and sea-scapes. Also militant unions, heart-attack-inducing property prices, the western world's worst drivers….and its "temperate" climate.
But I grew up and spent a lot of time riding in Central Africa. There, the term "temperate climate" meant about 340 sunny days per year with fresh highveld* air struggling to vary as much as 50 F in temperature between midsummer and midwinter. It also meant a total absence of snow, and warm rain that was only allowed to fall for 1-2 hours per day during a specific three months a year. Much like Camelot, really, but without the constant irritation of clanging armor and all those indecipherable Welsh accents. The "temperate climate" outlined above does not describe Vancouver. Nor does it describe any other part of "Beautiful, SuperNatural British Columbia".
Seasons here are simple. There are Two.
For 5-7 months (6-9 in a lousy year) it pisses with rain, is grey, miserable, depressing, and blessed with that damp, bone-chilling cold that can only be appreciated by living right on the beach of a Northern ocean.
Add the occasional decent dump of snow and a north wind that can freeze the lips off a carbon-fibre duck decoy in under three nanoseconds, and you have Season One: Winter.
Season Two, Summer, is a relative blessing. Especially if it doesn't turn back into Season One — like this year. Temps soar from -10 Celsius (that's about 14F at the current US exchange rate) to the mid-40s C (about 110F or so) inland and away from the water. As a year-round BC motorcyclist, then, good versatile gear is important to me. As a confirmed pauper with a proud Scottish heritage, so is not having to buy any more of it than absolutely necessary.
And, after 43 years of riding in Africa, Europe, Britain, the Far East, the US and the Great White North, this Belstaff Mercury textile unit is as close as I've come to finding that Holy Grail of Motorcycle Jackets.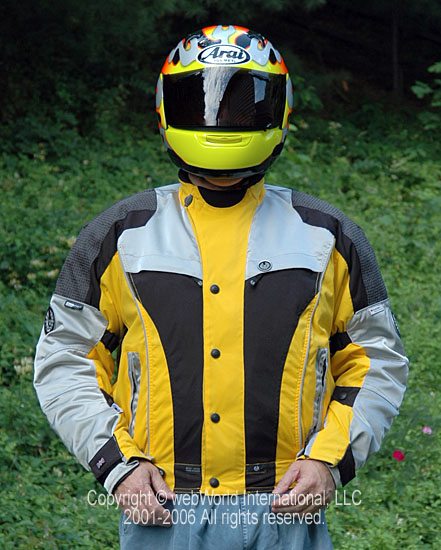 British Motorcycle Gear Mercury Jacket
The Belstaff Mercury was designed by bikers, for bikers.
The numerous unusual details in this jacket are abnormally well thought out, abnormally well executed, and flat out work. Let's take a look then…
The bomber jacket style shell is mainly Cordura, but with a tighter weave than most. Belstaff describes it as "waterproof, breathable and windproof high tenacity (sic!) Teflon coated nylon."
Whatever it's called, it's light enough to be comfortable and substantial enough to provide solid abrasion protection.
It's long enough at the back to stop drafts and elegantly styled by Italians.
It's also beautifully finished and works better and looks far more expensive and classy than a lot of gear I've seen at four times the price.
The lower sleeves and upper chest, irrespective of jacket color (it comes in Blue, Red and Gunmetal in addition to the 'Gold' shown here), use a matte silver, reflective material and the shoulders are covered in "illumiNITE" reflective fabric.
The latter is a gunmetal grey matrix of material that looks ever so stylish during the day.
But, when viewed from behind a car's headlights at night, gives the impression that the driver is warping the Starship Enterprise into a meteor shower.
Along with the 3M Scotchlite piping and reflective Belstaff logos on the front, back and upper sleeves, it also kills any excuse a cage driver might have for not seeing you after dark.
This is without doubt one of the safest and most visible jackets you can wear without signing on as a police officer.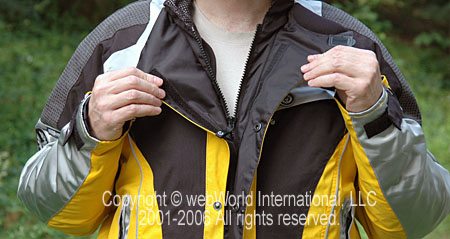 BMG Mercury Jacket Details
The main closure is by a beefy, high-quality YKK zipper, with a tough, well-stitched textile pull tag attached that makes opening and closing easy for even winter-gloved hands.
In fact, all zippers are YKK, and all have sturdy textile pulls with reflective Belstaff logos – something often overlooked on far more expensive kit.
A double storm flap that folds back on itself provides a triple-layer gutter system that completely covers the zipper, and a full-length Velcro strip secures this most waterproof of arrangements.
Once you have the thing Velcro'd closed, four rubber-coated press studs (can't have any marks on the bike now, can we?) secure the whole shebang.
Belstaff's been using this system since Noah used their first waxed cotton jacket on the Ark and, believe me, it works.
I rode a naked bike through a two-hour downpour in a Washington State rainforest last year and not one drop of rain found its way through this jacket (my pants and gloves were a different story).
Consequently, I've since purchased Belstaff over-trousers, too, but more of that another day.
Two reflective-surrounded hand-warmer pockets provide the only external storage.
Their zippers are protected by a double-cover system where the outer layer's leading edge folds back on itself and keeps out water as effectively as the main closure.
These pockets can also be left open in summer to provide additional cooling – hence the lack of Velcro.
As experienced riders know, it's all in the details – and a lot of thought went into these details. Belstaff knows motorcycling.
Two mesh-backed, zippered upper chest vents provide primary front cooling.
On cold days, the vents are not only covered by the waterproof jacket material but also hidden under outer storm flaps and secured by yup, fabric pull zippers.
Twin rear kidney vents let the grungy air out, this time with just one covering on the zips.
Cooling is good as long as you open up the jacket's front a bit, too, but it could be improved dramatically by the addition of forearm vents – one of only two complaints I have about this garment.
Your arms get sweaty in a real scorcher, and that heats the rest of you.
Sleeves have three adjusters: at the cuff, forearm and bicep. The cuff is a typical British storm cuff, features natty Union Jacks on the tabs, and can be secured either under or over gloves.
Forearm adjustment is by rubber-coated press stud, and loose upper arm material is gathered with a Velcro strap.
Torso adjustment, found under the armpits, is also provided by tabs with rubber-coated press studs.
Together these adjusters make sure the Mercury stays streamlined at speed and you don't end up impersonating a Michelin-man-shaped airbrake.
A stretch panel inside the lower back supports a 9″ zipper attachment for trousers.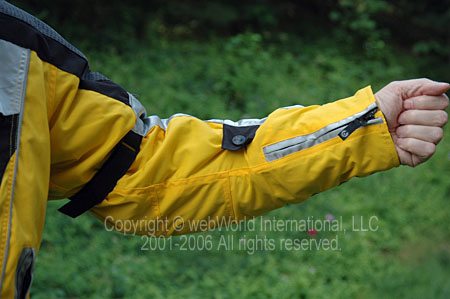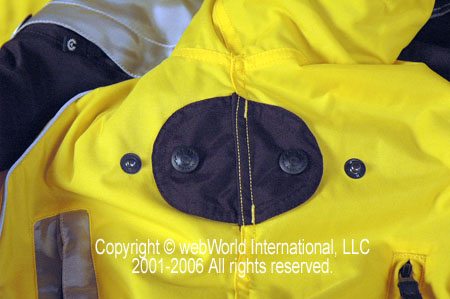 Neck and Liner
The neck closure is lined with soft, flexible neoprene at the rear, and has a similar insert under your chin where most of the nodding/chafing takes pace when the jacket is fully closed.
Neck size is adjustable through a rear strap.
My second, and last, complaint about this jacket concerns the utterly useless hook-and-loop closure for the neck band.
The hook system is rubber, and is one of Nature's great irritants as it will not stay attached in a gentle breeze and needs constant fiddling to stay closed while on the move – never a good idea!
Just turning your head will unstick this thing.
The good news is that the cure is simple: replace that rubber abomination with a similar-sized piece of Velcro. Why Belstaff didn't do this in the first place escapes me – they thought of everything else?
Crash protection is by extra material in impact zones, covering European race-quality Knox CE armor at the elbows, shoulders and forearms. A pocket is sewn into the liner for a back protector. All armor is easily removable for washing.
The inside lining is as lush as 007's dinner jacket and interior storage holds far more than a silver cigarette case and a Walther PPK.
A large, vertical zippered left chest pocket is about a foot deep by 6″ wide and holds everything but the kitchen sink. Mine holds bike docs, an auto-answer cell phone/inline headset, glasses and a baseball cap.
There's a smaller passport pocket on top of this, also zippered, but with a see-through mesh panel and an adjustment strap to keep everything in place.
There's a pen/penlight/tire gauge pocket, too. The right side offers a single 6″ square net pocket with an open elastic top.
Another interesting detail is that the nylon lining does not cover the full depth of the jacket, but incorporates a 3″ deep panel of strong mesh around the bottom.
This enables air to circulate freely between the lining and the outer shell, allowing the jacket to "breathe" where others would "sweat".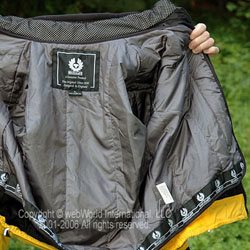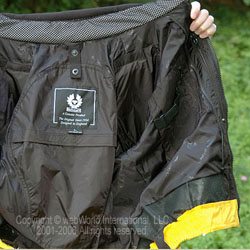 Warmth – and this thing is toasty down to about 20F – is provided by a zip-in, padded Thermolite liner that doubles as a personal sauna in anything above about 60F.
I have yet to buy or need an electric vest despite all the cold, foul-weather riding we suffer through up here. My hands, feet and legs may freeze on occasion, but my carefully cultivated fat has never been wet or cold in this jacket. I've now had my Mercury three years and, when clean and apart from the inevitable odd scuff mark, it shows no significant signs of wear. I've ridden about 50,000 kms in that time.
So, is this the only jacket I have? No.
I use a FirstGear mesh jacket for hot summer day rides but if I'm on the bike for a weekend or a week, sunshine notwithstanding, it's the Mercury that travels – not the mesh. That Belstaff can produce a jacket of this quality and functionality with all this careful thought built in for a measly US$249 amazes me. It's two small details away from perfect. Buy two now and put one away before they discontinue it. I have.
*Highveld: High-altitude grassland, generally between 1,200 meters and 1,800 meters above sea level.
Rick's Notes on the BMG Mercury Jacket
I recently acquired a Belstaff Mercury and I have to agree with Richard that this is probably one of the best all-around jackets available. The quality of the construction and the details are first-rate, and I especially like the many tab adjusters on the lower and upper arms and on the sides of the jacket body.
These are important to keep the jacket from billowing when riding and also to help keep the armor located in case of a crash.
The Mercury goes great with a pair of motorcycle jeans (like the Sliders or Joe Rocket Steel Jeans) as a nice minimalist solution for riding gear.
I'm actually fond of the neck closure, because it seems like one of the few jackets that actually fits comfortably around my bulldog neck. I haven't experienced any problems with the Velcro.
The double front flap closure is actually very clever.
It's hard to describe, but the single flap folds back on itself and secures with Velcro and then the jacket's outer flap buttons over the top.
This provides a double seal to keep out wind and water without having to use extra layers of material. I think this actually makes the jacket slimmer in the front than it might be otherwise, and that's a good thing.
My feeling is that the size large Mercury fits about one size big.
The retailer lists the size large Mercury as a 41-43, but based on my example, it fits more like a 44-45. Other than that, this is a very nice jacket and an absolute steal at $249.00.
The Mercury is treated with "Stormshield" hydrophilic membrane between the liner and the outer fabric. This is designed to transfer moisture (i.e., sweat) away from the rider.
Richard mentioned the "illumiNITE" reflective coating and the Mercury also uses 3M's Scotchlite piping. And finally, Belstaff uses Knox armor in the shoulders and elbows of the Mercury jacket.
w

BW

 Review: Belstaff Mercury Jacket
Available From: British Motorcycle Gear
List Price (2006): $249.00
Colors: Gold, Blue, Red, Gunmetal
Made In: Unknown
Sizes: S-3XL
Review Date: June 2006
Note: Item provided by a retailer, distributor or manufacturer with these Terms and Conditions.
Note:
 For informational use only. All material and photographs are Copyright © webWorld International, LLC since 2000. All rights reserved. See the webBikeWorld® 
Site Info page
. Product specifications, features and details may change or differ from our descriptions. Always check before purchasing. Read the
Terms and Conditions
!
Owner Comments and Feedback
---
From "D.U." (3/09):  "I have owned this jacket due to the reviews it received here on wBW.
Overall, I agree that it is well-made, fits comfortably, has excellent armour and functions well in 2.5 to 3 seasons here in north-central California.
I have two complaints:
1) The neck flap comes loose from the Velcro too easily (apparently that is being address by the manufacturer) and I would opt for an additional snap to hold the flap open on days when the temps climb after a chilly morning;
2) I would prefer more pockets internally or at least external zipper pockets for ease of access to phone, keys, etc. I appreciate the fair-minded reviews presented here and look forward to each update. Thanks to all!"
---
From "T.R.":  "On a trip last year the flap drove me crazy. Came up with the idea of using one of the extra snaps that came with the jacket to put where the Velcro is (right on its center) and it worked great.
Thought I would contact Paul over at BMG yesterday and tell him about the fix, and guess what?  They are doing the snap on the flap now and have been for about 6 months. A great jacket is now greater!"
---
From "G.M.":  "Let's just start off with "dittos". I purchased a Belstaff Mercury Jacket, "golden color", identical to the one in the article. It is one of many purchases based on great reviews on WebBikeWorld, the best source I know for MC product information and reviews.
This is indeed a very well designed and executed jacket, with minor exceptions. I have a yellow bike, and the golden color matches perfectly.
I also embrace visibility, having survived a left turn 15 feet in front of me years ago, along with the obligatory "I didn't see you excuse".
By the way, they DO see us, they just don't perceive us to be a danger (to them). But I digress.
The visibility is amazing, assuming that headlights can light up the materials as well as a camera's flash does. Visibility is a strong suit for this jacket, especially in this color.
I have experienced the same problem with the neck closure, as at least 50% of the times I wear it, it comes loose, and I have to reattach it.
Normally this does not repeat during a ride, so possibly it is an issue of how I attach the closure when I first put it on. It could be easier to attach.
I am sure I could figure a way to make it work better, but have not yet bothered to do so. I often leave it loose, due to the other problem, described below.
I have not ridden in the rain (and it doesn't rain any more in Atlanta, anyway), but the design of the closure system convinces me that it will be a good dry jacket, not allowing moisture IN.
My only real complaint is the venting, and letting moisture OUT.
In Atlanta, we need venting, almost all year 'round. Every time I take off the jacket, I am wet underneath. Arms, torso, every part of me what was underneath the jacket is wet from any ride in excess of 15 to 20 minutes.
I opened the vents when I got the jacket, and have never closed them, even on a ride in the mid-twenties last winter.
I do have a smallish Memphis Shades windshield on my bike, but it mostly keeps the blast off of me, and there is air flow around and behind it.
Frankly, the only jacket I have in my stable that does actually breathe (three jackets now, fourth on the way; one for every mood and clime) is a mesh Teknic jacket I got at a bargain price of $50.
I use the Teknic back armor in the Belstaff, which did not include back armor.
Other than the venting problem, this is a great jacket. Don't let the neck attachment bother you.
Visibility is great, including the reflectivity of the black patches on the shoulders, which light up like the sun in flash photography.
The fit is great, the materials and workmanship are great as well. I am looking forward to cooler weather, and finding some way to get the jacket to breathe, but even if I don't I'll keep wearing it in cooler weather."
---
From "D.B.":  Note: D.B. purchased the Mercury jacket and the Roadgear Adaptive-Tech Outlast liner (review) in one of the webBikeWorld Garage Sales.
He writes: "These 2 jackets arrived today and I LOVE them both. The Roadgear jacket is so comfy. I think we're going to be best friends. The Belstaff is simply amazing!
This jacket is above and beyond what I even expected it to be."
"After having had this jacket for a couple of months now, I have a couple of additional comments:  I'd like to say that this jacket is comfy, incredibly comfy. I especially like the plush neck collar.
And unlike Richard, I have not had any issues with it coming undone unintentionally so this may not apply in all with all users.
I have worn this jacket in incredible "Wet Coast" downpours without ever feeling a drop of water on the inside. At the same time, it breathes very well so I have not experienced any "warm clammy" feelings either.
Additionally, I have found the venting system to be brilliant! Belstaff chose to include chest vents instead of pit zips. These vents are approx. where where chest pockets would normally go.
There are exit vents on the rear of the jacket. I have found that you can actually feel the air cool down your chest and then flow under your armpits and around your back to the exit vents. Exceptional!"