More pages about Choppers and Bobbers
TRIUMPH CHOPPERS
---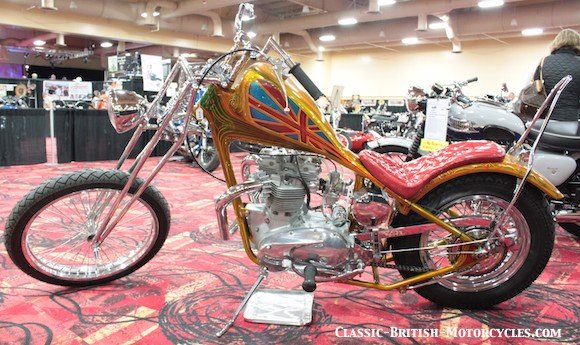 The line between Choppers and Bobbers is blurred. But, generally speaking, if it has an extended front end, it's a Chopper. This unit-BSA has an extended custom springer front end.
---
CHOPPERS AND BOBBERS, TOUGH TO DEFINE
Unlike stock, original motorcycles like those populating the rest of this site, custom motorcycles, be they Choppers & Bobbers, Rat Bikes, Cafe Racers or Street Trackers are not easily defined or judged. By nature, each is unique, customized to the tastes of their individual owners. No two are alike, or, if done right, even close. But generally speaking, Choppers and Bobbers got their start after WWII when returning GIs began 'chopping' or 'bobbing'-off fenders & the like to create lighter, racier motorcycles, which kicked off a whole new look. The Chopper & Bobber look continued to evolve through the 1950's & 60's, getting a major kick in 1969 with the release of the movie "Easy Rider". By this time, Choppers were more popular than Bobbers & their paths were spreading apart. Choppers generally looked more expensive, usually had extended front forks & custom paint. Bobbers generally had standard forks & an overall minimalist, low-bucks look.
BRITISH CHOPPERS AND BOBBERS
In the very early 1970's the market for choppers was so hot & had spread so far so fast that it poured over from the customary Harley & touched virtually every corner of the motorcycle world. Suddenly there were Honda Customs & Triumph Choppers, everything under the sun was being modified. I saw chopped BMW boxer twins in magazines. Two guys in my high school (about 1971) had Honda 350 choppers! That's right, Honda 350's! Both had 12-inch extended forks without any added rake, so they were hiked way up off the ground. Their stock Honda tanks were painted wildly. Looking back, they must have looked ridiculous, but at the time, it was all good.
CHOPPERS AND BOBBERS – MY TRIUMPH BOBBER
At the time, I called it a Triumph Chopper, but looking back using today's standards, it was probably a Bobber. I regret not having any pictures of it. It was a 1964 Triumph TR6 with the stock forks, oil tank, side cover & fenders chromed, a tiny "peanut tank" & "banana seat". I thought I was the coolest guy on Earth. It often barely ran & had numerous problems that never got fixed because I just didn't have the money, or the know-how (yet). But it sure looked great to a high school sophomore growing up in the Central Valley.
SO, LET'S LOOK AT SOME CHOPPERS AND BOBBERS
Difficult to define & almost impossible to compare, we will just focus on the look of these bikes. But that's what Choppers and Bobbers are all about, right? Enjoy.
---
CHOPPERS AND BOBBERS – COOL ARIEL SQUARE 4 CHOPPER
How often do you see an Ariel Square 4 chopper? It's been owned by Dave Cummings since 1961. He got it running in 1965, pretty much the way you see it here, and has been riding it ever since. It's totally reliable, easy to start & pretty darned fast! Despite the aggressive stance, the rake is stock & those forks are stock-length. The Anstey-link (plunger-style rear suspension, which came stock on Square 4's at the time) frame sits almost like a rigid, but offers some much-needed travel. No, the whole chopper look is achieved with the peanut tank, banana seat (sounds like the start of a good sundae), and the drags bars.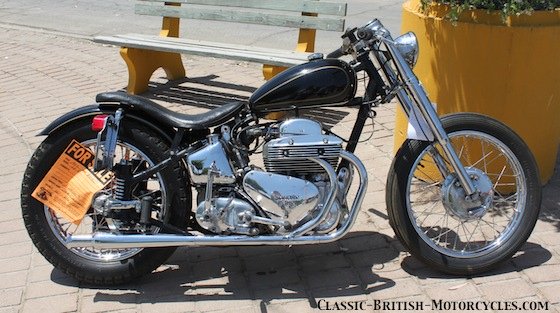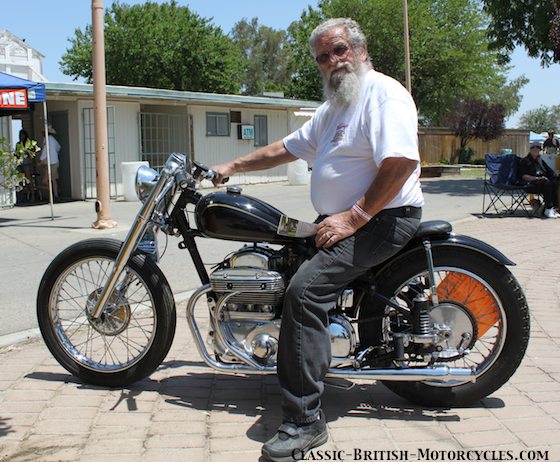 …AND IT'S FOR SALE!!
I can hardly believe Dave would consider selling this bike, especially in view of his history with it. Yet there it sat, at the Hanford Vintage Motorcycle Rally with a For Sale sign on it. The price is $28,500, and you can contact Dave at (661) 256-1204 if you have any questions.
CHOPPERS AND BOBBERS – 1970 TRIUMPH CHOPPER DONE RIGHT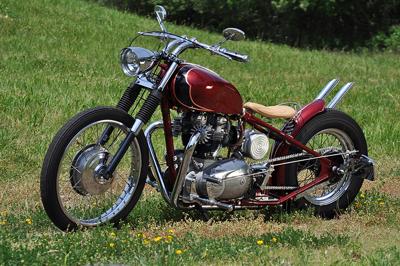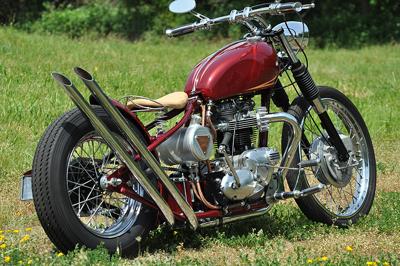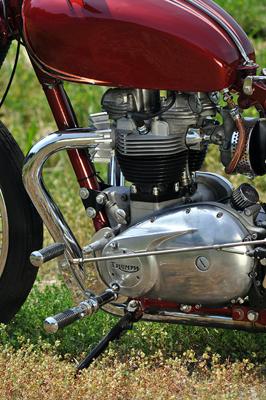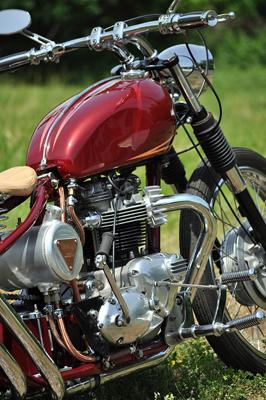 Owner Brad Prejean of Orange TX writes:
"This is my 1970 Triumph TR6 (650cc) built by TT Cycles in New Jersey. I was fortunate enough to find it for sale on Ebay where I purchased it and had it shipped to Texas. It was a complete ground up build including the engine which starts on the first kick.
The bike sports a stock front loop and rake. The rear is a "TT" six inch stretch. The engine is mainly stock with Hepolite pistons and a single Mikuni VM30 carb. Front suspension is stock sliders with a 21″ wheel laced on the original vented hub with an Avon Speedmaster Mark II 300 tire. The rear 16″ wheel on factory hub spins a Shinko 510 tire. TR6 brake drums are slowed by Ferodo shoes. The original fuel tank along with frame and 5″ ribbed rear fender is sprayed crimson red with hand painted pinstriping and twisted copper leaf accents. Chrome Barnett hand controls and oval billet mirrors are mounted on 28″ chrome drag bars. The rider is seated on an Aidan Originals solo leather seat with a "one-off" stainless steel back rest and pivot. TT Cycles forward foot controls complete the stance. The bobber trumpets exhaustive thunder from the custom upswept pipes.
The bike is a blast to ride once I got accustomed to the reversed foot controls (from my HD). It's a hit at the local bars and Wal Mart….although don't plan toting many purchases home on it!
Gorgeous bike! Thanks, Brad.
---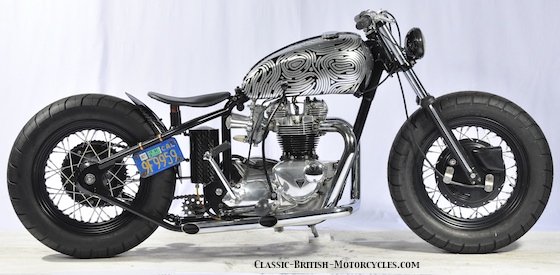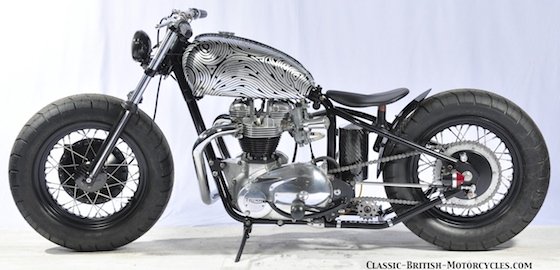 CHOPPERS AND BOBBERS – 1970 TRIUMPH 650 CHOPPER
This 1970 Triumph 650 chopper wore 5.00 X 16″ wheels & tires on blacked-out '71-72 conical hubs. Gives it that fat bob look. Very tough. Nice carbon fiber bits throughout also. More & moer Choppers and Bobbers are showing up to Classic British Motorcycle Shows.
---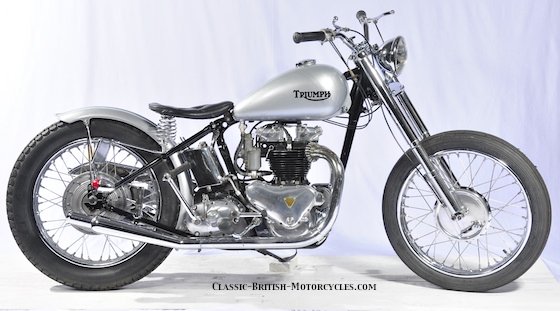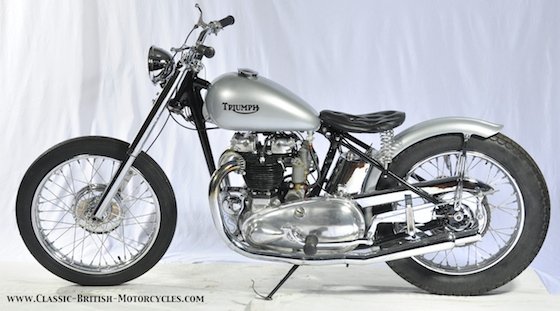 CHOPPERS AND BOBBERS – 1950 TRIUMPH 650
This gorgeous pre-unit Triumph 650 started out life as a 1950 Triumph 6T Thunderbird 650. Old school all the way, it was purchased in 1955, ridden on the streets & raced on the streets & drag strips, back in the day. It was lovingly restored in 2006.
---
TASTY '59 TRIUMPH CHOPPER
This delicious '59 Triumph Chopper was at the recent Central Coast Classic Motorcycle Show in San Luis Obispo. It drew a crowd of admirers all day long. Beautiful to look at & very well put together. The paint was stunning, the polished alloy parts just gleamed.
PEOPLES CHOICE IN HANFORD
This same bike was at the 2012 Hanford Show on May 19 & won the coveted "Peoples' Choice Award".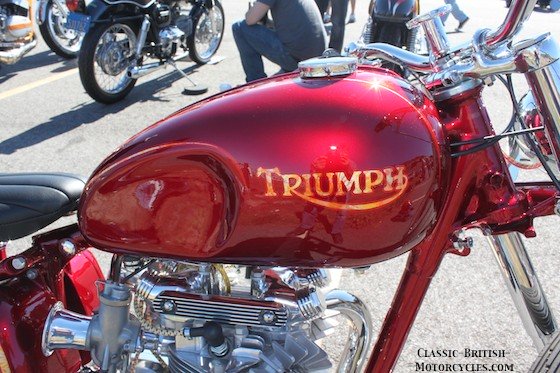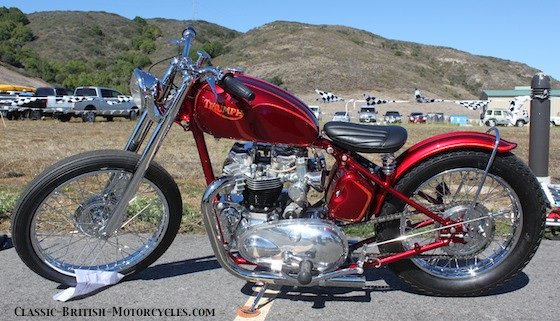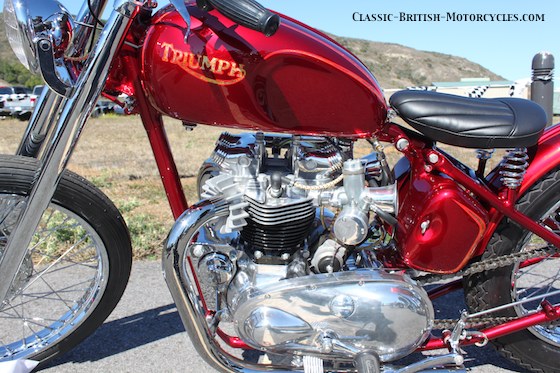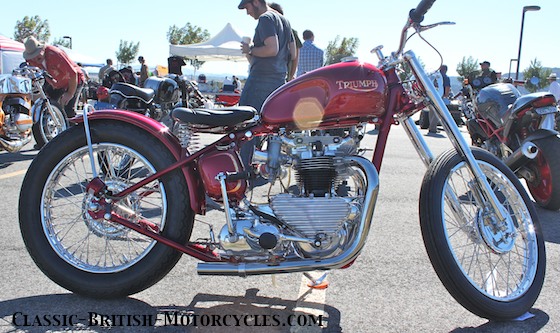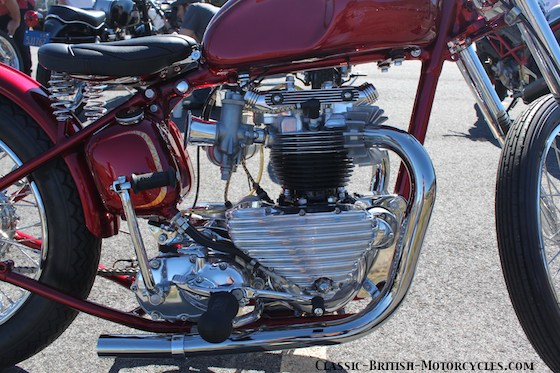 ---
FALCON'S INCREDIBLE CUSTOM MOTORCYCLES:
FALCON – USHERING IN A NEW AGE OF CLASSIC BRITISH MOTORCYCLES
Falcon Motorcycles has very quickly earned a reputation for building stunning showpieces that are of a level of quality & craftsmanship that rarely exist today. These bikes are mind-boggling in their attention to detail. And the best part of every Falcon Motorcycle is that it's built around a Classic British Motorcycle engine.
THE FALCON BULLET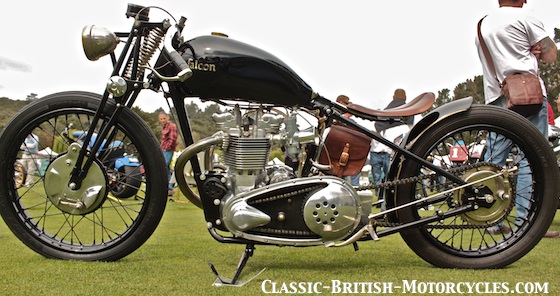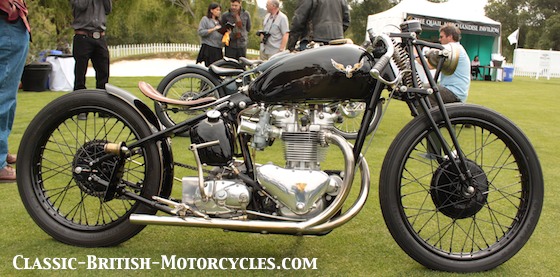 THE FALCON KESTREL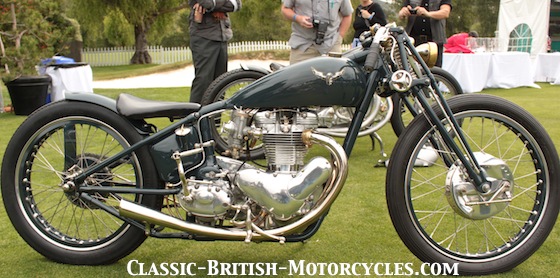 FALCON-VINCENT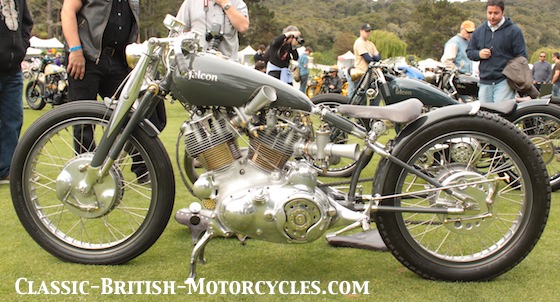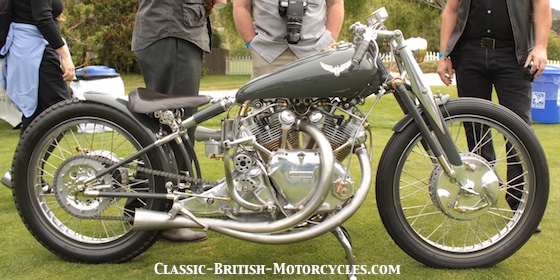 TASTY UNIT-CONSTRUCTION TRIUMPH CHOPPER
It is a Chopper or a Bobber? This tasty unit-construction Triumph 650 again blurs the line between Choppers and Bobbers. A stock mid-60's front end fully chromed, a stock frame front section with a custom rigid rear section. The look, the way it sits, this bike just looks fantastic from every angle! This was at the Clubmans All-British Weekend motorcycle show in San Jose CA.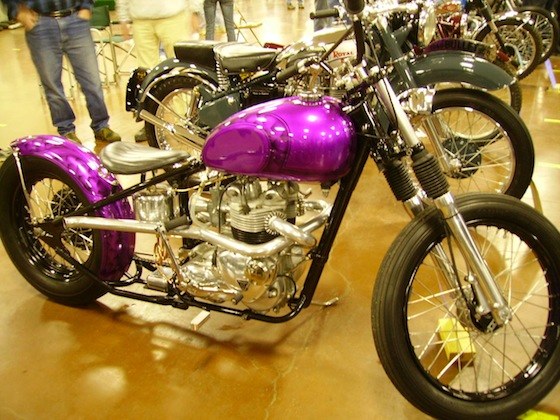 ---
TRIUMPH 500
This Triumph 500 is more of a true Bobber, with short rear fender, no front fender, tiny solo seat & blacked-out rims. Notice the exhaust headers, they cross in front of the engine, switching sides.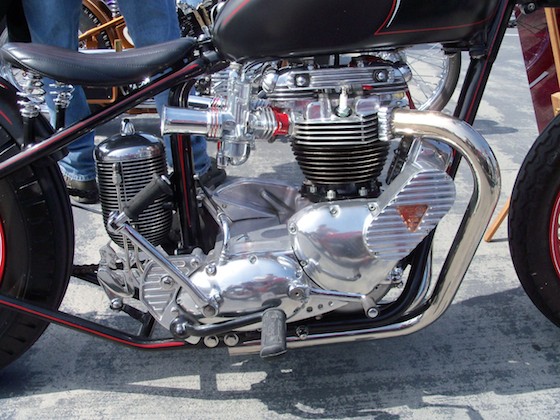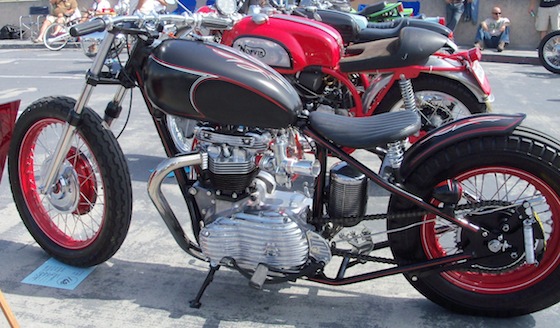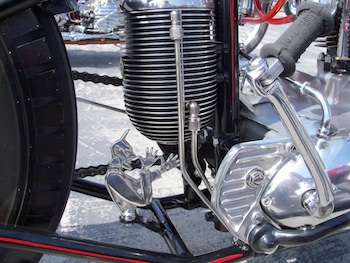 CHOPPER OR BOBBER?
Again, who's to say? Either way, this thing is way cool, with lots of wonderful custom & one-off parts. Check out the custom finned mag cover & matching engine mounts. I especially like the finned billet oil tank with those rigid steel oil lines. Much cleaner-looking that rubber hose & clamps, don't you think? And beneath it all, on its very own frame bracket, is the Devil, thumbing his nose at…what…who? I love the uniqueness of Choppers and Bobbers.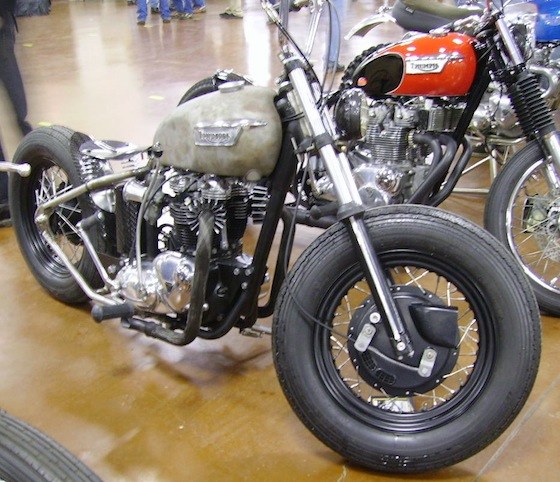 CHOPPERS AND BOBBERS …AND RAT BIKES
Here's another blurry line: Bobber or Rat Bike? This is one very cool-looking machine close up. Those blacked-out 5.00 X 16″ rims front & rear, the '71-72 8-inch conical hub in front & that stock tank painted in primer set the tone for the whole look. And it works! Another cool bike from the Clubmans All-British Weekend Show in 2011.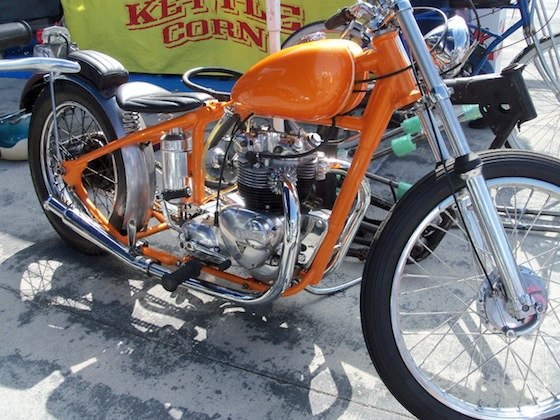 TRIUMPH 500 UNIT TWIN
This Triumph 500 unit twin is the kind of old-school chopper that was running around in the very early 70's. The tiny front brake was too small to do any good, but necessary to make it street legal in some states.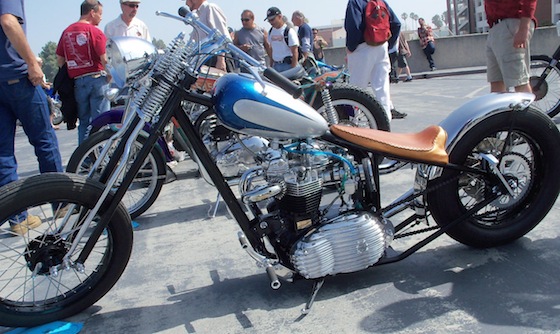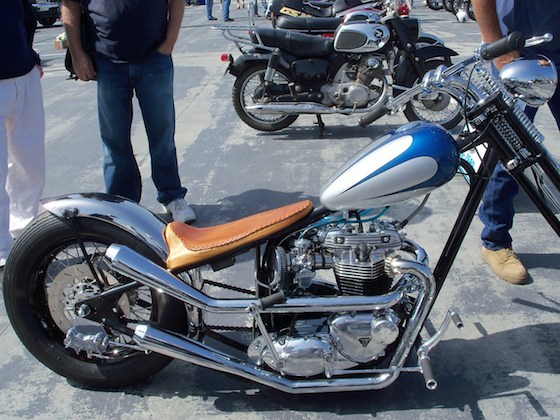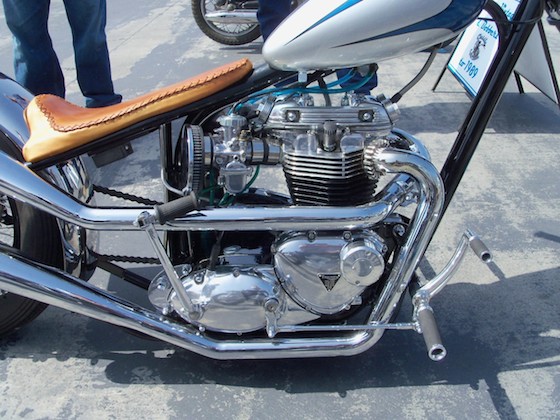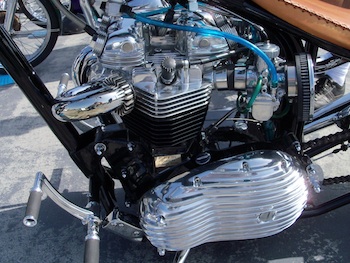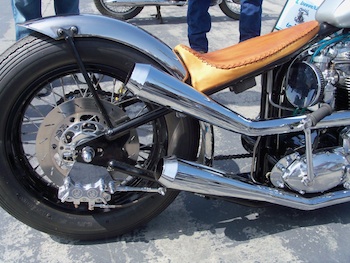 UNIT CONSTRUCTION TRIUMPH 650
This unit-construction 650 Triumph chopper features a stretched rigid frame, old school springer, billet forward controls, vintage 'peanut tank', custom exhaust & hand-stitched leather seat. No oil tank? The oil is in the backbone. No battery either, it's been wired as an ET (energy transfer) system, meaning it runs off of alternator current alone. Better have a good alternator, huh? Lights tend to dim at low engine speeds. Overall a very neat, clean, uncluttered bike. Old school. Nicely done.
But, it isn't all old school. But the new school touches like the Sudco Mikuni carbs & the big rear disk brake are more functional, making it a much better running & riding machine.
This Triumph chopper participated in the Classic Cycle Events Show at Torrance CA in September 2010. There were lots of cool Choppers and Bobbers at the show.
CHOPPERS AND BOBBERS – TRIUMPH TRIDENT TRIPLE!!!
Here's something you don't see everyday: A Triumph Trident Chopper / Bobber. Kind of reminds me of the old days in the early 70's when you might see anything chopped & Honda 750/4 choppers were common. But, this looks a whole lot better. I love those carburetor stacks!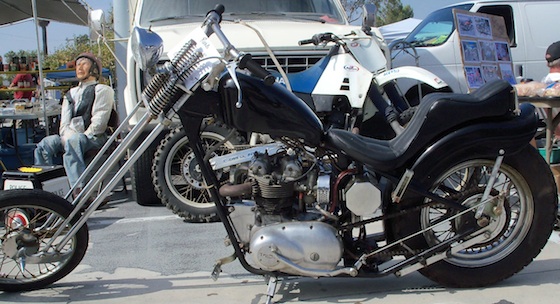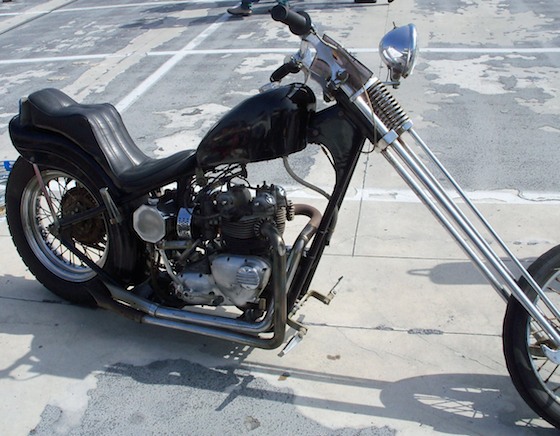 OLD SCHOOL
This Old School unit 500 Triumph Chopper has it all, just the way it was in 1970. Aftermarket rigid, springer, stepped seat & octagonal oil tank were typical of the golden age of choppers.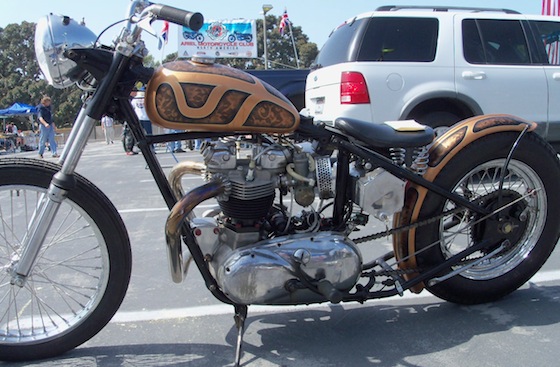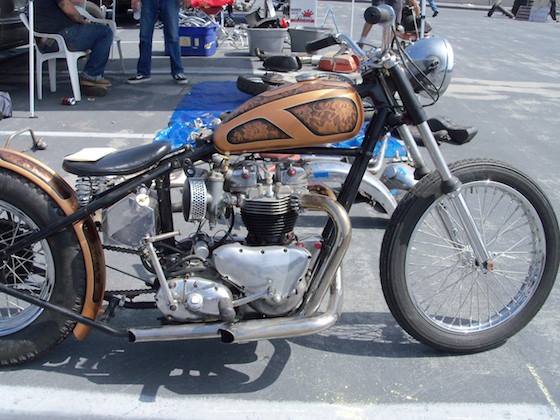 PRE-UNIT BONNEVILLE
This sweet Triumph Bobber couples a pre-unit Triumph Bonneville engine with a pre-1954 Triumph rigid frame to create a classic bobber. The 21-inch front rim is laced to a front hub with no front brake.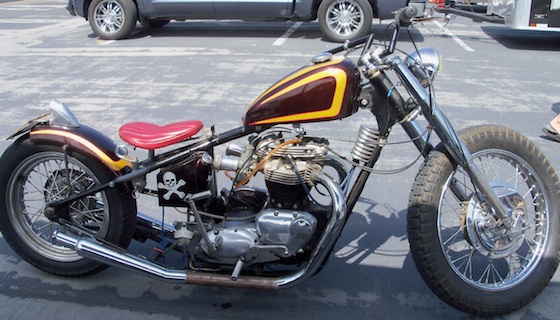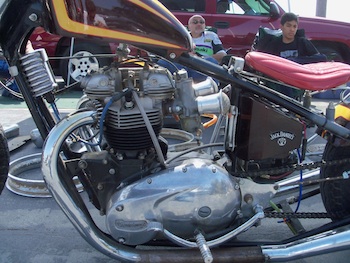 RIGID TRIUMPH
This unit-construction Triumph 650/750 twin has a long & low stance. The rigid frame was stretched out back & raked in front, but the forks weren't lengthened, giving it an aggressive, 'hunkered-down' profile. Up front is a 68-70 TLS front brake (good practical decision & it looks tough) and yes, that's a Sportster tank, make this bike unique. Well conceived & nicely put together. Another participant in the Torrance show, Sept 2010.
---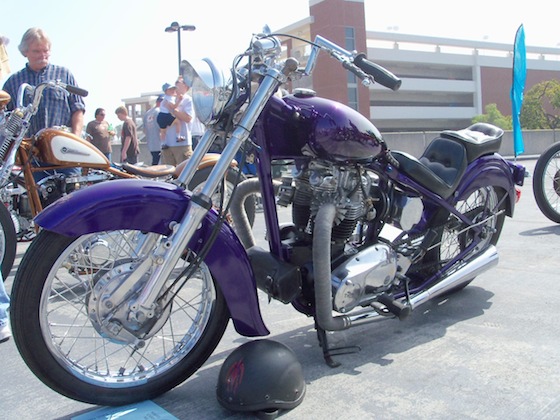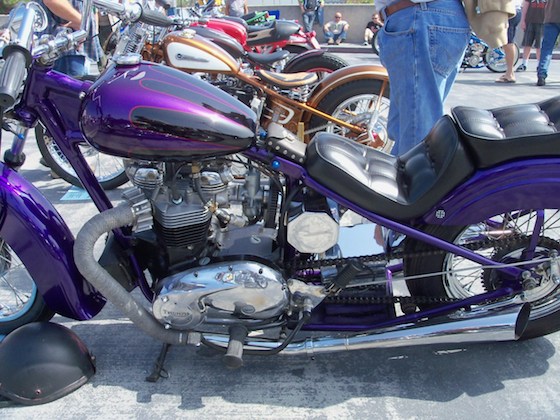 CHOPPERS AND BOBBERS – HEAVY CRUISER
The big full-valanced fenders give this Triumph Bobber a heavy cruiser look. Note the Honda TLS front brake. Great looking bike, nice stance. Looks solid.
CHOPPERS AND BOBBERS – SWEET!
This drop-dead gorgeous Triumph Chopper just nails its own look. Full-sized stock teardrop tank, low bars & a solo seat give it a tough stance. Most notable is the plunger rear suspension, giving the lines of a rigid, but giving some rear suspension movement, however slight. Overall, a stunning bike, even nicer in person.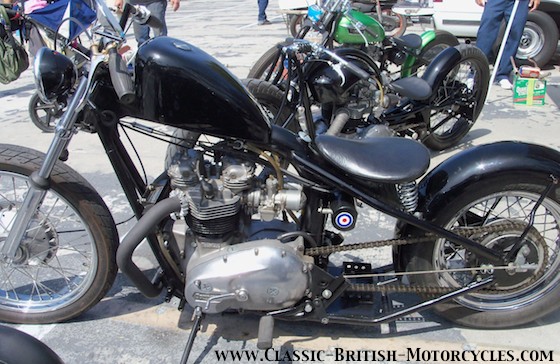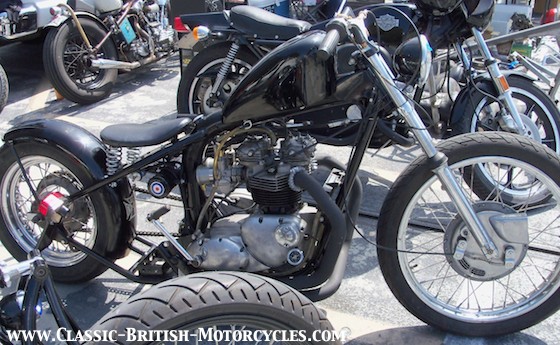 Great looking Triumph Chopper. Oil-in-frame, conical front hub, drag bars & Sportster tank, this unit 650 twin is finished in black primer.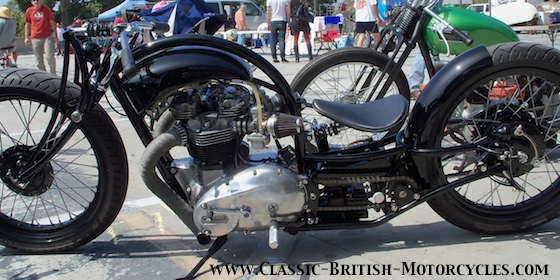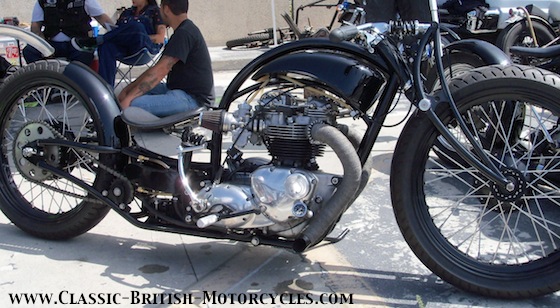 CHOPPERS AND BOBBERS – CHOPPER LAB
This mind-boggling Triumph Chopper is so unique, with so much going on, that you can't take it all in, in just a quick glance. Besides the stunning arced tube frame with radically-low riding position, and custom girder front end, it runs 2 chains & a jack shaft to deliver power to the rear wheel. A masterpiece of design & fabrication. I briefly met the creator. You can check him out on Facebook by searching "Chopper Lab". He builds lots of cool Choppers and Bobbers.
---
CHOPPERS AND BOBBERS – OLD SCHOOL BSA CHOPPER
This relic of the 1970s has been stored in a veritable time capsule, having been locked away in the closed-down Brooks Motorcycle Shop in San Jose CA. Everything was sold in Auction & this baby went for $1200, non-running, parts missing & covered with rust & dust. Classic early-70s styling: Sportster tank, rigid frame, big springer, dual square headlights. A real retro-classic old school chopper. It started out life as a 1967 BSA A65, by the way.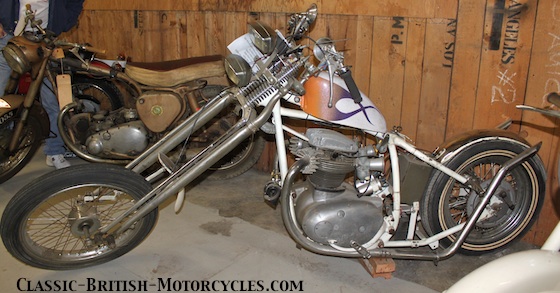 ---
Wanna' see more CHOPPERS?
---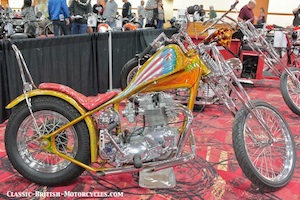 Lots & lots of eye-popping pictures of lots & lots of gorgeous Classic British Choppers. Old School is the new rage.
---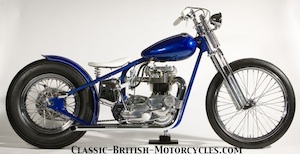 Next to Harleys, the most prolific choppers have to be Triumphs. Eye-popping photos & specs on both Old School Triumph Choppers & Modern Triumph Choppers.
---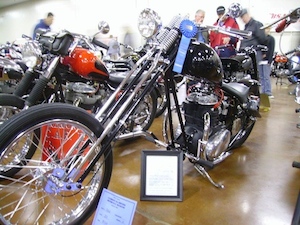 BSA CHOPPERS
Back in the day, there were lots of cool old school BSA choppers roaming the streets.
---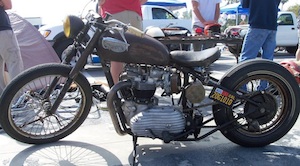 They originated from budget-minded builders who didn't have enough to buy new parts. They evolved into a whole new genre of motorcycles, and they're hot! Classic British Rat Bikes lead the way.
---