Ready for Action
A new addition to Bridgestone's adventure touring tire lineup, the BATTLAX ADVENTURECROSS AX41 is some seriously advanced rubber. According to the company's press release, the new adventure touring tire provides better off-road performance and durability than other products available.
The new tires will come in four different sizes for the front tire and five sizes for the rear. Bridgestone designed the tire primarily for off-road use, though they do offer on-road capabilities as well. The tires should be good in mud thanks to large tread blocks and a high tire composite rigidity.
You can use certain sizes of the tires with a tube-type rim. However, don't assume all BATTLAX ADVENTURECROSS AX41s can be used with a tube-type rim.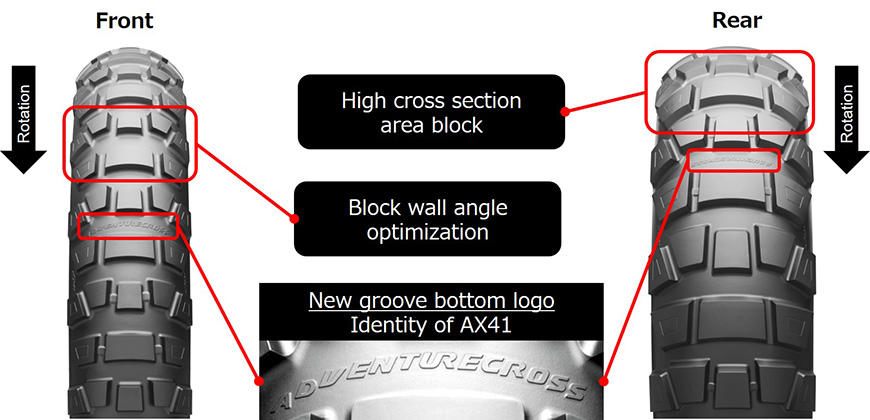 The new tread block for the tire is roughly 30 percent larger than the last generation tire from Bridgestone. This should mean the new tire achieves significantly more traction. The tire compound itself is roughly 30 percent stiffer than the previous generation tire. This also contributes to additional traction.
The front tires feature what Bridgestone calls block wall angle optimization technology. This helps prevent uneven wear in the tire and increase durability, which should be a boon for adventure touring riders who put lots of miles on their bikes each year.
Overall, the BATTLAX ADVENTURECROSS AX41 tires look to be a significant improvement over the outgoing version. Hopefully, at some point down the road, we'll be able to test these tires and tell you what we think of them. The tires should be out in February 2019.