If you are a convert to linked brakes or hand-operated rear brakes, the Aussie-designed BrakeBuTT invention could be what you are looking for.
Inventor Jay Thompson, 54, of Perth, says he came up with the idea of an affordable retrofit linked-brake system after an embarrassing crash.
"Showing off while riding with the young boys about 4-5 years ago, wheel standing of course in Lancelin my KTM 530EXC bit in and not covering the rear foot brake I embarrassingly flipped it, dislocating my shoulder and then spent three months off the bike," he says.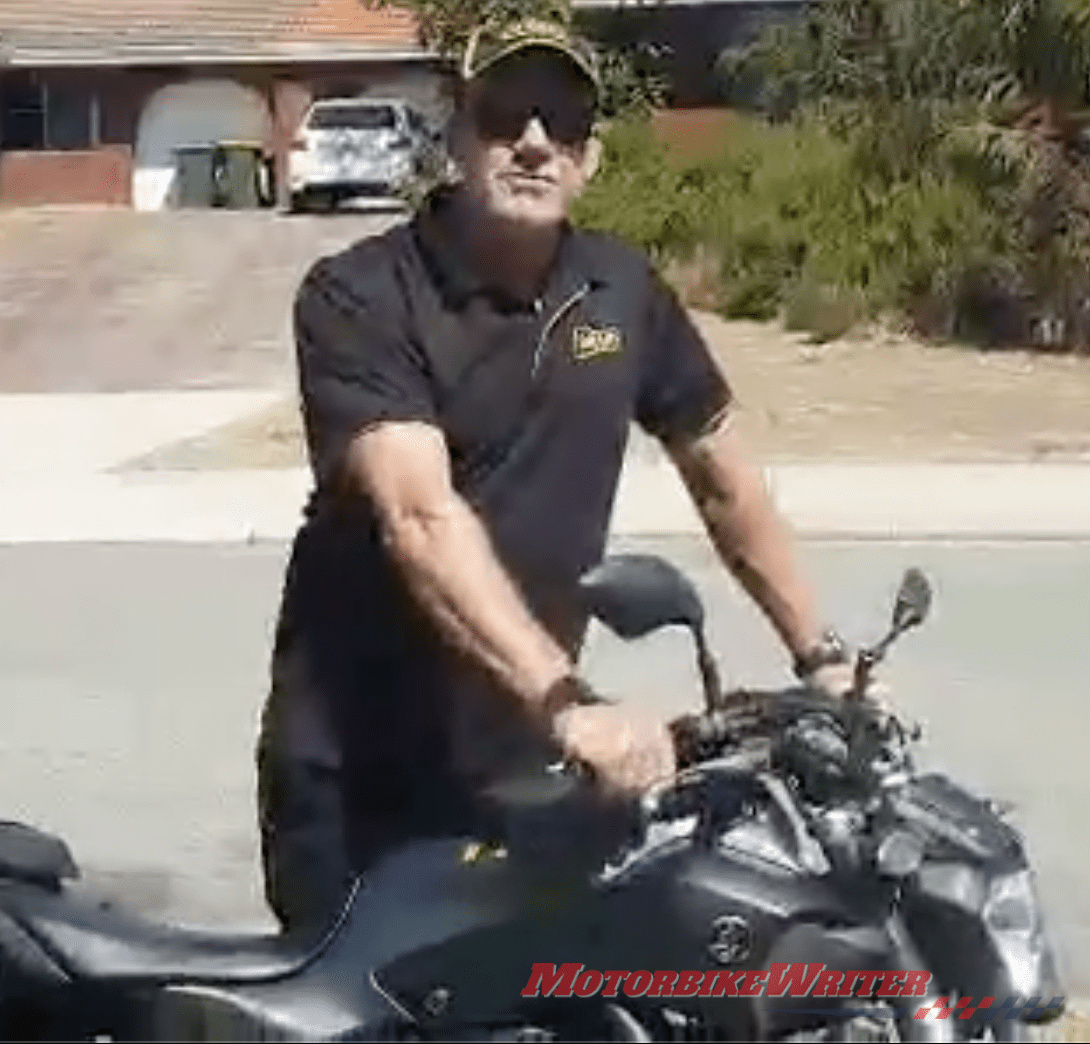 More than a quarter of a century ago, five-time GP champ Mick Doohan used a thumb-operated rear brake after shattering his right leg in a crash.
Today many racers use the device so they can dangle their right leg coming into corners.
BrakeBuTT links brakes
However, Jay's invention isn't an extra hand-operated rear brake, but a linked system that works off the existing front brake lever.
Jay says it is the world's first dual brake assist accessory for motorcycles and costs less than $A600.
His Electronic Braking Intelligence software applies the rear brake bias at a rate controlled by a dial on the unit on the handlebar.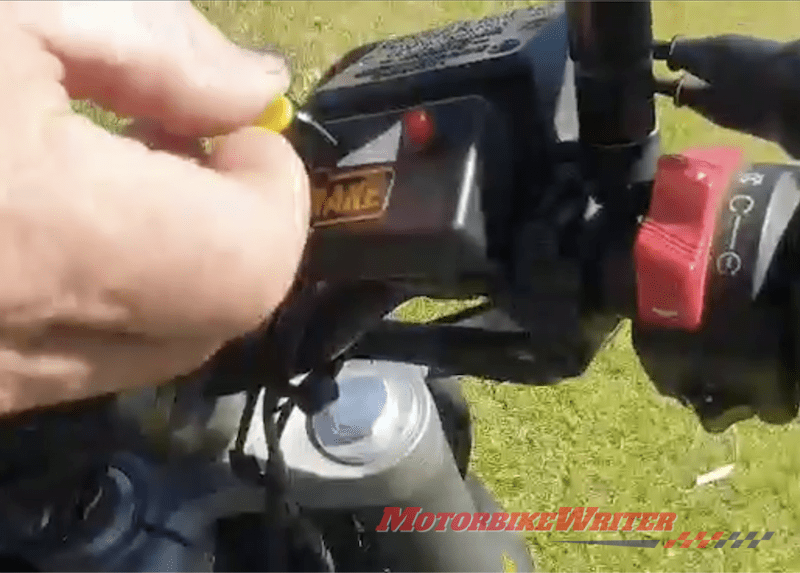 He says the brake is progressive and proportionate to the pressure applied to the front brake lever.
The pad on the lever is a force sensitive resistor and can be in varying sizes depending on whether you use one, two or all four fingers for braking. You can also choose to avoid the pad and brake with only the front.
Jay says it suits all road, off-road and track riding conditions.
"This System is cutting-edge new tech innovation," he says.
"Zero to full rear brake in less than half a second — faster than the average foot response time, even without muddy wet soggy boots.
"Without this system is probably why most riders fall off.
"Coordinating both front and rear automatically prevents rider error and miscalculation."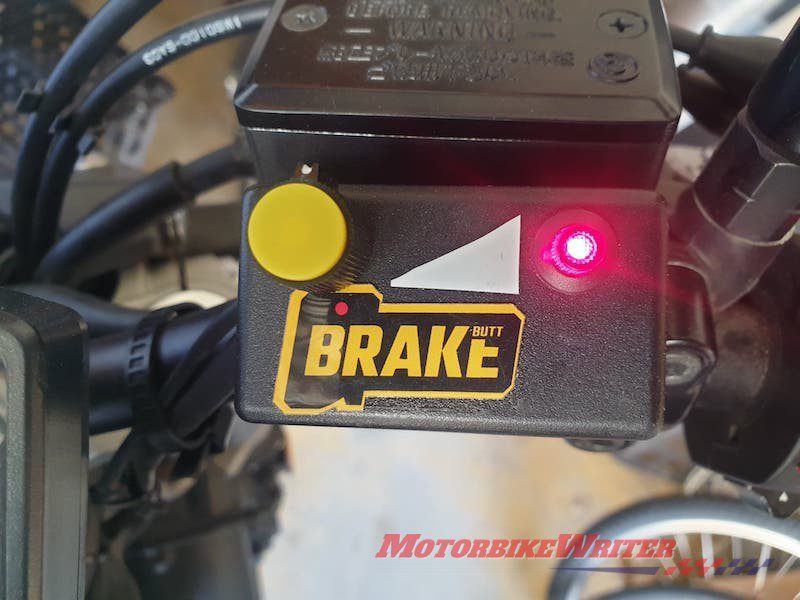 Testing
Jay's BrakeBuTT is being tested on 10 different bikes including four-time Australian champions in three different disciplines.
BrakeBuTT will be available to the public in February/March 2020.
Jay provided a home video for our viewing only and not for the public.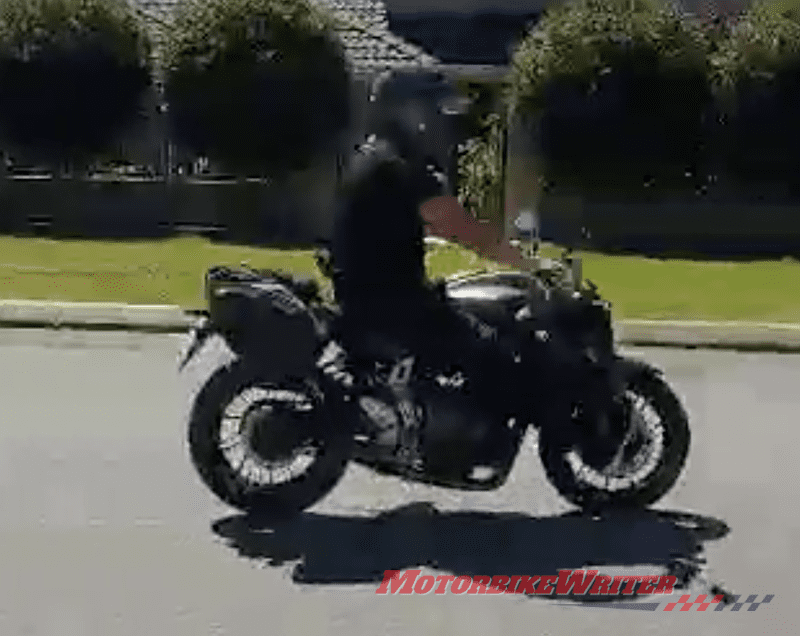 It shows a sport bike stopping using the BrakeBuTT only in just 10m from 64km/h with the bike level and not diving in the front.
Brake pressure is controlled by a unit smaller than a cigarette packet and weighing less than 150g.
It provides more than 1000psi of hydraulic pressure and can be mounted anywhere on the bike.