BrakeAway Motorcycle Cruise Control Image Gallery
Our bikes have sensors to let us know when the temperature is too high, the oil pressure is too low or the battery has just died.
My aging carcass is equipped with a Dead Butt Warning and a Sore Back Alarm.
And, on long flat highway runs, the Right Wrist Cramp Alert goes on after about 100 miles.
Long rides can be painful even if the throttle return spring isn't very strong – it is the motorcycle version of carpal tunnel syndrome.
Older riders, the fastest growing segment of the sport, often have various levels of arthritis and other joint or tendon ailments making hours of throttle management problematic.
Until now there have not been many options.
Some motorcycles have a throttle lock, but it can be unsafe in turns or emergencies. Most owners of throttle-lock equipped Harleys can describe one or more scary 'events' because they forgot the lock was engaged.
Electronic speed controllers are expensive and complex to install; see the webBikeWorld review of the Motorcycle Cruise Control.
The Throttlemeister (review) is well suited for many sport bikes but requires surgery on the right hand grip.
But here are two excellent and easy-to-install devices that provide the wrist relief most of us crave: the BrakeAway "cruise control" and the so-called "throttle paddle".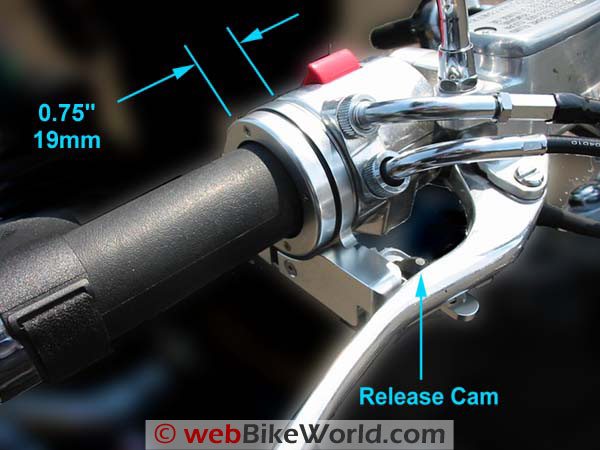 With a list price of $195.00 to $219.00, the BrakeAway is a nicely crafted, friction type "cruise-control" for many late model American-made and metric cycles.
Its finished edges, silky anodized surface and narrow width make it a very nice, unobtrusive device.
The BrakeAway cruise control, or throttle control is available in two different mounting styles: the more popular style that slips over the hand grip and a type that attaches to scooter-style handlebar tubes.
The BrakeAway is not a true automobile-type cruise control, since it doesn't maintain static speed regardless of grade; it is a brake-released throttle-lock.
The throttle is set by pushing a thumb button. To adjust the speed up or down, the lock doesn't have to be released; simply change settings with a twist.
Disengage the unit by pressing its release lever or applying the front brake. Pulling the brake lever presses a cam which in turn releases the lock — seamless and very cool.
This narrow bracelet type device (Model 5CP02 pictured on a 2006 Honda Shadow 1100 above) only occupies ¾" (19 mm) of grip.
Popular Kürakyn Iso-grips require a little dishwashing detergent to allow the device to slip over their rubber bumps (see BrakeAway's web site FAQs and installation links for more on Iso-grip installation).
The manufacturer cautions that their devices are not suitable for heated grips. BrakeAway make/model compatibility is shown on their website( NOTE:  For 1995 or older models, see "Issues" below).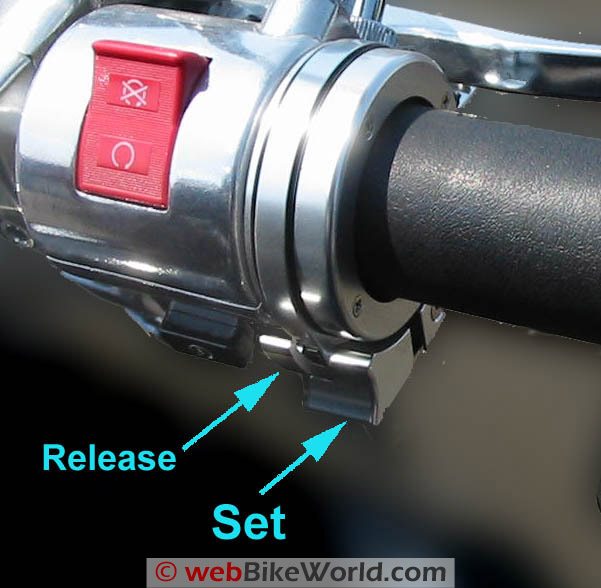 Supported Motorcycles
As of July, 2008 the list of supported bikes for the BrakeAway cruise control includes:
Metric Cruisers: Honda: Shadow, Valkyrie and Magna. Kawasaki: Vulcan and Meanstreak. Suzuki: Intruder, Boulevard, Marauder and Savage. Yamaha: V-Max, V-Star, Road Star, Warrior, Royal Star, Roadliner and Stratoliner
American-made Motorcycles: Victory: All models thru '07. Harley-Davidson: Pre-2004 Sportsters, Dyna, Softtails and touring models use #6CP01. There is no unit listed for the FLHRS Road King or 2004 and newer Sportsters.
Indian: #6CP01 fits some models of the motorcycle-that-wouldn't-die with a special adapter available by phone only.
Sport & Scooters: Yamaha: The FJR1300 uses model #6CB02 but there is no unit listed for the -AE model. Honda: Silver Wing, ST1100 and ST1300. Suzuki: Bergman, V-Strom DL 650 and SV 650s. Triumph: Speed Triple and Four, Thruxton 900 and Sprint.
Installation of the BrakeAway is straightforward. Close attention to installation instructions are a must to ensure the BrakeAway's close tolerance components work as advertised.
If you are mechanically inclined and plan to install your own BrakeAway, a visit to their web site to review the appropriate installation instructions is recommended.
If you are all thumbs or find their instructions intimidating, any decent cycle shop should be able to do the job.
Issues
We have two 600 VLX motorcycles in our garage, a first-model-year 1988 and a 2004. Many grips, brackets and levers on these and other brands are identical across model lines for years if not decades.
The company was delighted to sell me a BrakeAway for my 2004 but refused to provide one for the 1988 because "We haven't tested that model."  Huh?  Given our lawsuit-happy society I get where they are coming from but, come on!
Here is where it gets doubly weird — I can easily buy a BrakeAway for the 1988 or most any other unlisted cruiser from a motorcycle dealer.
In contrast to the manufacturer's cautious approach, most retailers need only check a few measurements before saying, "Oh yeah, it will (or won't) fit your bike".
BrakeAway's warranty doesn't mention "off-label" installations so there isn't a downside to using it on unlisted cycles.
Why the company has not made an effort to test fit them on more makes and models is a mystery. Their whole "approved" motorcycle thing is a real head-scratcher unless liability avoidance is the driver.
In any event, this is not a huge deal. If your bike is a '96 or newer and appears on the BrakeAway approved list… terrific. Pre-96 and unlisted make/model DIY owners should be clear on retailer return policies before purchasing.
When in doubt, have a bike shop do the installation so fit and functionality is their responsibility.
BrakeAway Conclusion
I have found the BrakeAway to be an interesting, elegant and well-designed approach to a "cruise control".
It is highly recommended if you do a lot of highway riding, especially if you are prone to cramps, have circulatory issues, stamina problems or arthritis.
Supplementing this unit with a "throttle paddle" (photo below) makes virtually all throttle-induced aches and pains a thing of the past.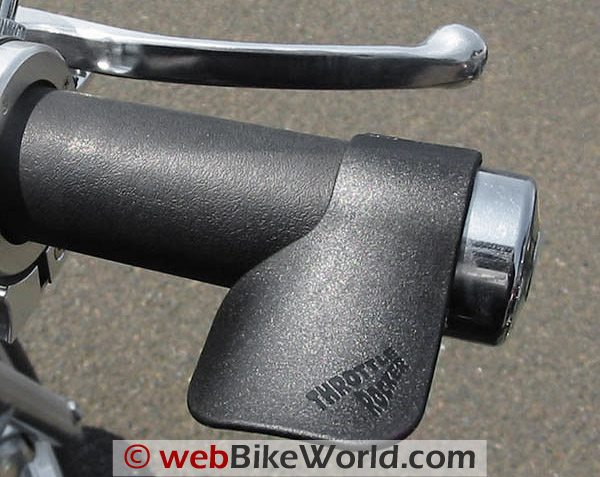 Throttle Rocker and Cramp Buster Throttle Controls
Most experienced riders already know about these little goodies but I am constantly amazed by the number of people who ask "What's that thing?", so here goes.
There are several "Throttle Rocker type" paddles out there and they are very handy devices. I was familiar with the magazine ads for the product but was dubious about spending twelve bucks for a tiny piece of bent plastic.
Then I met an old geezer from Colorado on his way down the Oregon Coast. A survivor of several coast-to-coast trips on a succession of dual-sport Beemers, he raved about the virtues of a throttle paddle.
Like most great ideas, this one is very simple.
The Throttle Rocker costs $11.00 (plus $1 shipping per unit). The CrampBuster is a similar product; it costs $10.95 (U.S. shipping included, +$2 for international).
The CrampBuster is similar to the Throttle Rocker except it appears to sport a flatter paddle, plus the company offers two widths in two diameters for normal (1-1/8 to1-3/8") and chubby (1-7/16 to 1-3/4") grips.
The CrampBuster use shape tension instead of a band to hold the device in place. This approach allows it to be rotate on-the-fly in one direction around the hand grip.
It's interesting to note that the original Throttle Rocker used a very similar one-piece design to fit over the hand grip, but it was redesigned for some reason.
The current "Throttle Rocker 2" has a strap that must be wrapped around the hand grip; the strap secures with a hook-and-loop system.
The Throttle Rocker is the only one I have seen in use by veteran riders and I prefer their one-size-fits-all approach that can be arranged in a fixed position.
Both companies urge you to get one for each side but I saw little sense in a left-hand version and purchased right-side Throttle Rockers only for our little fleet.
Installation takes about 30 seconds. A grabby rubber band goes around the throttle then the Throttle Rocker is quickly secured with a hermaphrodite (has both boy and girl parts) hook-and-loop strap.
Molded grippers keep it from migrating around the hand grip.
The Throttle Rocker should be positioned so that it barely touches the palm when the motor is at idle. It may be necessary to re-tighten it later since the band stretches a tad when it is first installed.
Here is a cautionary note:  Be sure to position the paddle inboard so it sits dead center of the palm. Installing at the outer region of the grip may place uncomfortable twisting pressure on the wrist.
Addendum
I did start to wonder if folks getting a paddle in combo with a BrakeAway shouldn't stick with the Throttle Rocker.
After you set the throttle, then rest the right hand on your lap, there is a chance you'd strike the paddle when re-grabbing the throttle, knocking the CrampBuster out of position.
Not huge but a potential irritation since it would mean rotating 'Buster all the way around and trying to get it back in the same X & Y position it was in before.
As a creature of habit, I know if the paddle wasn't EXACTLY where it had been previously, it would bug the hell out of me. Futzing around with a paddle at 55 mph is … (not a good idea!).
Throttle Rocker and Cramp Buster Conclusion
Ease of installation and elimination of wrist pain makes the Throttle Rocker or CrampBuster paddles a must item in my book.
I particularly like being able to "guard" the front brake by resting my fingers on the lever, even when zipping down the road at full tilt.
These devices also provide the option of using different hand positions or just two or three fingers to hold the throttle open.
If you have a "cruise control" for those long, flat highway runs, a paddle is still great for variable speeds on roads where a lock isn't suitable.
Finally, watch your speed with a paddle, at least until you get used to it. I occasionally find my speed creeping up from relaxing my hand too much — an embarrassment of riches. After a few rides you'll wonder, as I did, how you survived without one.
UPDATES (November 2011)
Throttle Rocker versus Cramp Buster:
I have to revise my comparisons of these two throttle aids and reverse my stated preference.
Over time, Throttle Rocker is prone to migrating down from palm pressure no matter how tight you install it – irritating even though I still prefer its shape.
A larger deficiency surfaces when traveling at freeway speeds when the Rocker is too far down for comfort.
An on-the-fly moveable Cramp Buster comes in several shapes/sizes, is preferable for high speed freeways and lower speed riding because you can reposition it without stopping.
BrakeAway:
On a recent trip from the milder Oregon North Coast to toasty high desert country, my bride and I discovered a problem with our BrakeAways.
When temperatures approached 100 F (38 C), units on both bikes stubbornly refused to function.
I dissected and attempted to fix them that first afternoon but still couldn't get them to lock. I finally gave up and re-installed them.
To our amazement, both units again worked perfectly the next morning. This happened to us twice.
Turns out that the design and manufacturing tolerances are so tight, parts expansion impairs functionality.
Those who live in or travel to hot areas might want to consider a low tech throttle lock instead. We still adore our BrakeAways and feel it is the safest lock available but want readers to be aware of this potential downside.
More wBW: Motorcycle Cruise Control Reviews
Note:
 For informational use only. All material and photographs are Copyright © webWorld International, LLC since 2000. All rights reserved. See the webBikeWorld® 
Site Info page
. Product specifications, features and details may change or differ from our descriptions. Always check before purchasing. Read the
Terms and Conditions
!
Owner Comments and Feedback
---
From "M.D." (May 2013): "Like many other older riders, I have suffered with tendonitis in my right forearm for quite a while.
On a trip last fall it was so bad I wrapped my belt around my forearm to relieve the pain from holding the throttle. That's when I seriously started looking at different cruise control option.
Finally decided the BrakeAway made the most sense for safety reasons, and had to wait until Spring to install it, which I did this week.
It was a bit confusing at first as I started the install, but looking it over carefully started figuring it out. The instructions are a good guide at best, but seriously, IMO, makes little sense.
Got it installed, took about 1.5 hours, but that was just me trying to figure it out how all the sliding pieces unlocked for proper placement with the supplied Allen wrenches, and even where they all were.
Anyway, took the bike out for a test, set it at 20 mph, cruised around the neighborhood and it worked great. There was a bit of speed creep upward which I found odd, but realized it was probably variations in terrain.
Easily controlled, both up and down as the throttle still rotates, albeit a bit stiffer.
Then I merely tapped the brake and the cruise disengaged in an instant, allowing me to roll on the throttle effortlessly. The great thing is that I had my right hand just resting on the bar, no pain, no effort. Really good product."
---
From "G.G." (7/09):"I bought an '05 FJR 1300 with a Brake Away already installed, and after some of the close encounters I had encountered in the past with other friction style cruise controls, I almost made the mistake of immediately removing it.
I I can honestly say that I will never look at any other kind of throttle locking system ever again.
Construction solid, fit and finish is excellent, and after 50,000 km (roughly 30,000 mi. for my neighbours to the south) since May of 2008, not once has it failed, slipped, or caused me any kind of concern whatsoever.
I know many people will have one look at that price tag and say, "What kind of moron would spend that kind of money on a throttle lock?!"  I know, because when the seller told me what he paid for it that is EXACTLY what I thought.
When it comes time to replace this bike (probably with another FJR, the girlfriend will get this one) I don't care how much it costs or how hard I have to hunt for it, I will absolutely be picking up another Brake Away. I just had to throw in my two cents worth."
---
From "G.S." (8/08):  "I've read somewhere that CrampBuster licensed Throttle Rocker to use their patent. License expired and Throttle Rocker switched to Velcro attachment.
I put a Throttle Rocker (CrampBuster) on my FJR and wouldn't ride without it…until I get true cruise control installed!  I also tried the left side Throttle Rocker and took it off after a few rides. No real benefit from my perspective."
---
From "Bikerrandy" (8/08):  "I have the Throttle rocker, Cramp buster, and NEP throttle controls. I like them all even tho they all operate a little differently. They're all relatively cheap, light, and easy to install.
On the NEP you just flip the lever to have no throttle control. On the Cramp, Throttle items, when you need them out of the way like when you approach curvy roads, you just push them forward, down out of the way of your hand.
But when you do that don't do it too strongly or you can push the item right off your throttle!  Don't ask me how I know.
The CrampBuster and Throttle Rocker can be switched from 1 bike to another in seconds, or put in your pocket."
---
From "T.A.":  "I've tried the Throttle Rocker and found that while it helps ease fatigue in my wrist, it transfers the pressure up to my elbow, resulting in pain after a couple hours.
No amount of adjustment on my part helps alleviate this.
My case may be special in that I have some tendonitis in my right elbow, but I thought I'd pass along the information.
Having had the Throttlemeister (review) on a previous bike and appreciated it's unobtrusiveness, I will be purchasing one for my new bike soon."
---
From "B.L." (8/08):  "I have an older 'throttle lock' on my 'older' 1979 Honda CB750K. One afternoon, I was cruising down Interstate with the wife on the back, when semi-trailer decided to shift into my lane.
I forgot I had the throttle locked, and I immediately, without thinking, twisted my throttle closed to decelerate, as we took to the shoulder.
My point is this: if a person cannot close their 'locked' throttle, in an emergency, as I did, then they have their 'lock' set too tight.
The lock's tension should be strong enough to hold the throttle in position, but not so strong that they cannot easily close the throttle.
Once my crisis was over, I went to accelerate by opening the throttle, and I could barely move it!  That is when I remembered I had the lock engaged. I unlocked my throttle, and we returned to our cruise.
I can't tell you what brand it is, as it was installed when I bought my bike, two years ago.
I agree with your other article subject, regarding the throttle rockers. I plan to get one of these installed later this season.
Even with my throttle lock, my wrist still gets sore, and the ability to use my heel palm to control the throttle, should work very well, and ease the aches and fatigue. Thank you for publishing this article. Cheers!"
---
From "M.C." (8/08):  "I'm a patent attorney and if I recall correctly, the design of the ThrottleRocker had to be changed as a result of patent litigation between the two manufacturers.
Too bad, cause I love the design of my original ThrottleRocker which I've used for about 4 years. Somehow the CrampBuster's narrower, flatter design didn't work for me as well.
Keep up the great work!"
---
From "M.S." (8/08):  "Myself, I prefer the CrampBuster as it doesn't seem to be as intrusive as the larger Throttle Rocker.
What is nice about these devices, the CrampBuster in particular, is that during in-city riding, the device can be rotated down and away from your hand to allow normal operation of the throttle and brake without any worry about interference.
Once back on the highway, it can be rotated back up to position."