Car stability control experts Bosch have won Australian road safety awards for the motorcycle versions of their anti-lock braking system (ABS) and motorcycle stability control (MSC) systems.
The first bikes to feature Bosch's Motorcycle Stability System (MSC) are KTM's 1190 Adventure and Adventure R. Bosch claims the systems prevent side slipping when leaned over in corners, prevent the bike standing up abruptly if you hit the brakes during cornering, prevent rolling over in emergency stops, minimise wheelies and spin-outs under heavy acceleration and stop wheels from locking.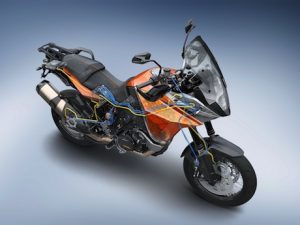 The Bosch Motorcycle ABS and MSC systems took out top honours in the Safe Vehicle category of the Towards Zero Road Safety Awards in Melbourne on Sunday (May 4).
They were developed as a response to Australian institute of Health and Welfare research that suggests that motorcycle riders are more than 37 times more likely than car drivers to be seriously injured. Motorcycles account for 4.5% of Australian vehicle registrations and 1.1 per cent of vehicle kilometres travelled but, according to the Transport Accident Commission, riders and pillions account for about 15% of road crash deaths and an even higher proportion of serious injuries.
Bosch ABS uses intelligent sensors on each wheel that detect the exact wheel speed and its rate of change and is particularly effective in an emergency braking situation. These sensors compare the front and rear wheel speeds, throttle position and other elements of the bike's status. This allows the wheel to maintain its deceleration but stay on the safe side of the slip threshold. It also detects if the rear wheel is lifting and modulates the brake force to make sure the wheels stay in contact with the road.
Bosch's MSC system was launched as a world's first in September 2013 on the back of studies which indicate that 24% of all motorcycle accidents occur when riders are accelerating or undertaking emergency braking on a bend.
The Bosch MSC System optimises braking and acceleration in these situations by constantly measuring all key motorcycle data including wheel speed, lean and pitch angles, acceleration and braking pressure.
This data allows the MSC to recognise critical situations and intervene, preventing the wheels from locking when braking, stopping the wheels spinning, mitigating the rear wheel from lifting during braking, as well as making sure that the front wheel stays on the ground during acceleration.