Boom Trike is getting two new powerplants so former Ulysses Club magazine editor and long-time trike tester Ian Parks checked out the new models and submitted this review.
Boom Trike review
Down through the years some of the most fun I've had behind bars has been on Johann Kastner's Oz Trikes machines including the German-built, VW air-cooled Boom Trike.
In recent years the Boom Trike has been powered by various engines from 1600cc to 2000cc and usually with a manual transmission. 
The two-litre-powered Peugeot has now been replaced by a 1.6 litre Peugeot coupled to an auto gearbox and a Mitsubishi 1.5 litre turbo-charged power plant with a CVT (continuously variable transmission).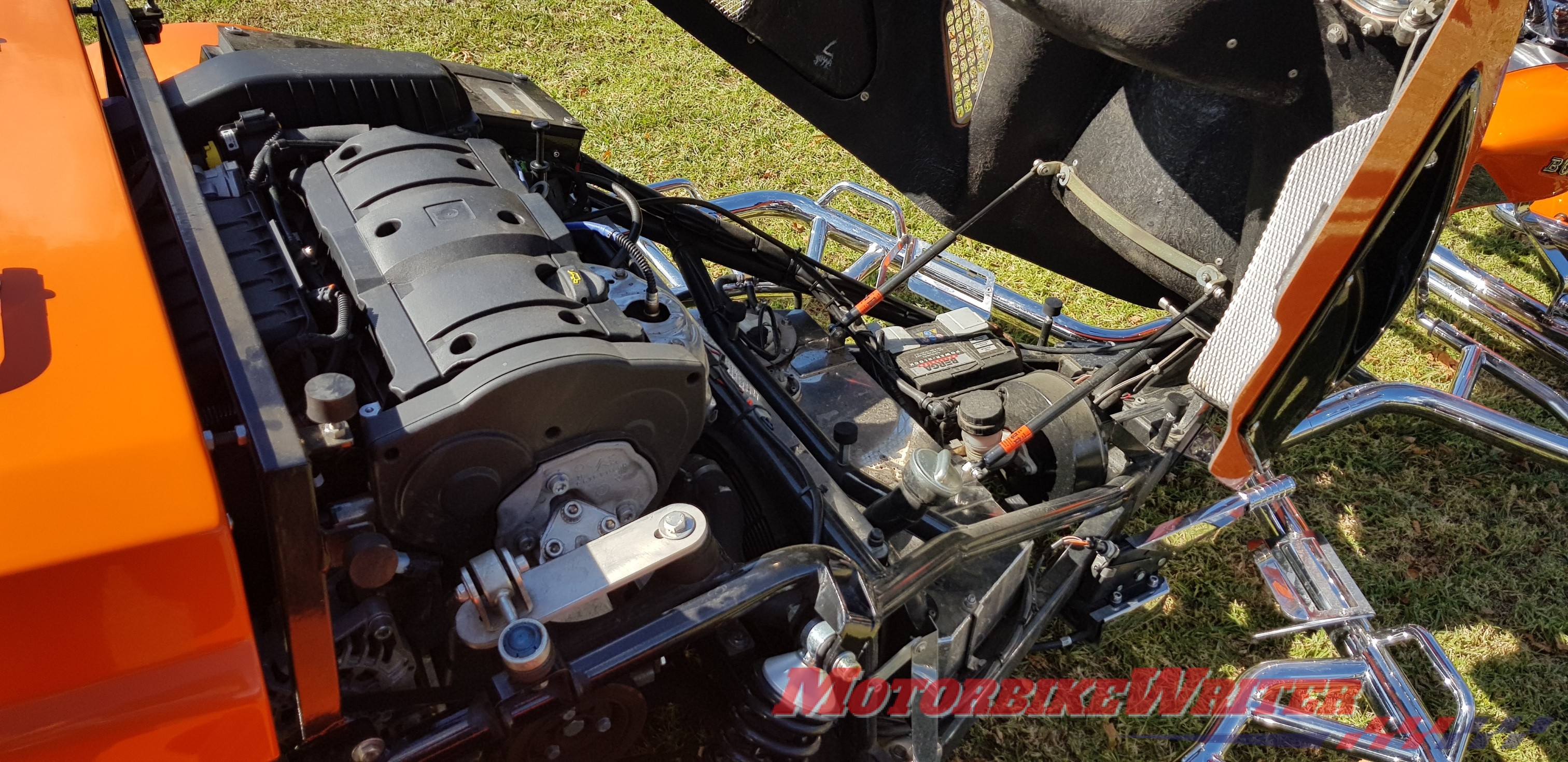 Johann says there is also a Boom Xtreme coming with a two-litre turbo Ford Mondeo engine developing more than 150kW (200hp).
New Boom Trikes
The current two 1.6-litre machines have similar equipment levels. The orange-coloured Peugot is a two-seater, while the red Mitsubishi is fitted for a rider and two passengers. 
The turbo Mitsubishi has plenty of acceleration and with the CVT is very easy to ride, but I like to use engine braking. 
There is a "tiptronic" shifter on the left switch block which allows you to shift seven ratios, but it was a bit of a waste using it entering and exiting corners, due to the lack of engine braking. 
Also, I don't particularly enjoy the turbo 'whoosh' whenever the engine is revved. 
Interestingly, those revs change depending on whether you are running along a flat or up a hill without moving the throttle, thanks to the CVT.
You also have to get used to the idle as it holds about 1800rpm for a few seconds after you stop. 
Pretty instruments
Both machines have "pretty" instrumentation with white facias, which made the indicator and other warning lights difficult to see in daylight hours. They were also difficult to read at night under streetlights, but were very good when there were no streetlights such as on country roads. 
Speaking of country roads at night, the headlights are absolutely brilliant. High beam would singe the fur on a kangaroo at 100m.
The left hand grip has all the usual switches which are set very close together and can present the problem of hitting more than one when wearing winter gloves.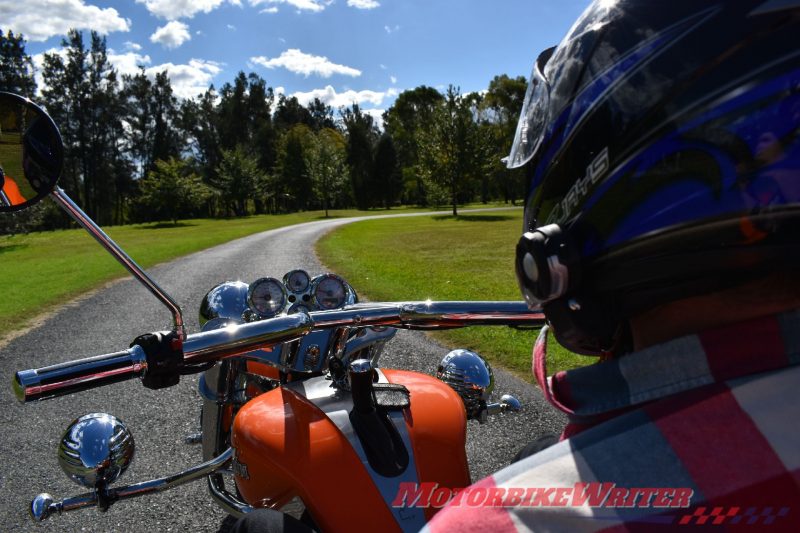 I also got caught out by the emergency kill switch that operates in the opposite direction to normal bikes. 
There's very few controls to operate; just a single right pedal for all the braking and a simple twist-and-go throttle.
Wide load
If there is one constant when riding/driving a Boom it would be the width of the rear end. The bum is as wide as a Ford Falcon and can be a major concern if you forget.
Negotiating speed bumps requires a bit of care as you sit very low in the trike. I scraped the heels of my boots a couple of times while heading through carparks. 
Sitting this low also means you have some difficulty in traffic seeing through a car's back window to view what's in front of them. I also found it surprising that there was very little air buffeting. There was good protection from behind the large instrument cluster.
At around 1000kg, the ideal balance would be for 330kg under each wheel. I placed a scale under the front wheel and got a reading of about 140kg. This means the Boom is well balanced on the three wheels once the rider and or pillion are aboard. 
Obviously, with this in mind, front tyres will need to be changed more often (about 25,000km) than the massive rear ones.
With a rear-mounted wing/spoiler and a low centre of gravity this good front-to-rear balance means the vehicle is very stable during high speed cornering. 
Attention getter
The Boom attracted attention wherever it went, parked by the kerb or out on the highway where car passengers even snapped photos of us.
It is comfortable, has huge storage, is safe and very stable, has excellent fuel economy and you can even tow a trailer up to 325kg.
I'd love to own one. It would be an awesome super tourer. My favourite pillion agreed wholeheartedly and also loved her time behind the bars. My own view as pillion was similar to hers; very comfortable and enjoyable.
I would add a screen for winter, black or charcoal facias on the instruments with white numbers, an extra set of mirrors at the ends of the light bar and maybe cruise control.
How much?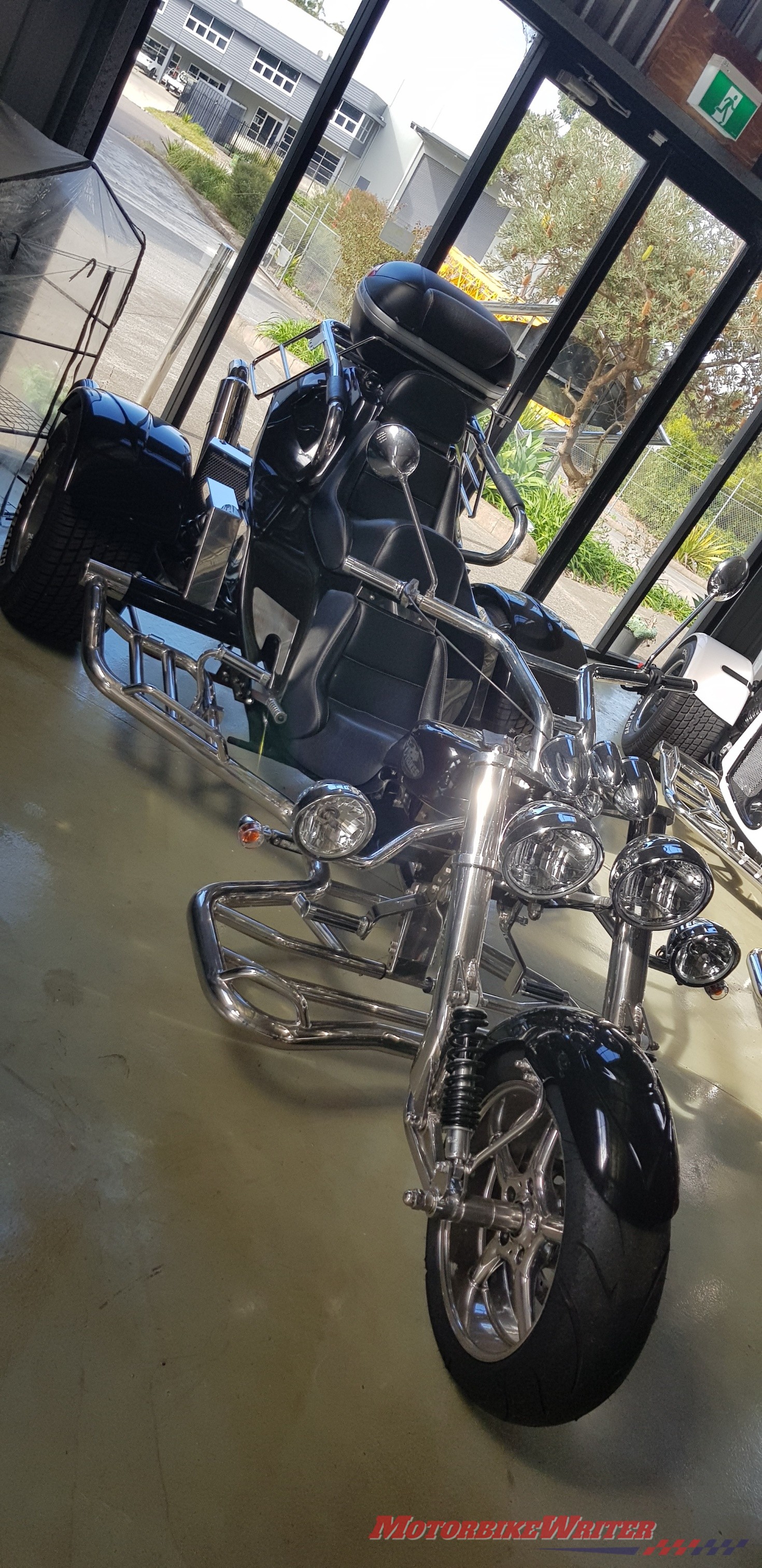 Starting prices are $34,000 for the "old style" 1.6 litre rear-engined Chopper with four-speed manual, although the most popular optioned variant is closer to $37,900. 
The base 1.6 litre mid-engined four-speed-manual Boom Mustang is $46,900. 
Go with the Mustang Advance and add options like automatic transmission or extra luggage frame and the price can climb north of $55,000.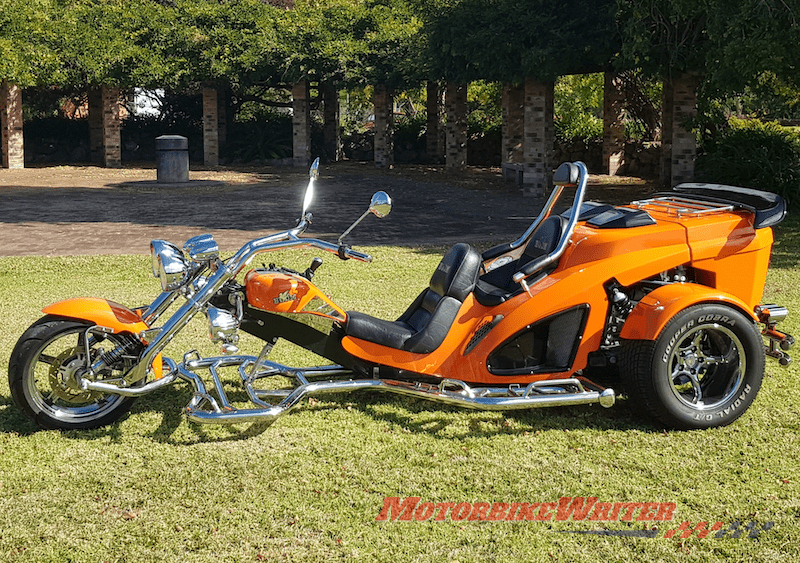 If you aren't convinced that a Chopper or Boom Trike is for you, you could hire one to help make up your mind. They cost about $340 for a mid-week day or $630 from Friday lunch to Sunday night.
These trikes can be driven on a car licence in NSW while other states require a full motorcycle licence.
You can contact Johann at Oz Trikes on 02 4372 1100 or visit at 6 Ainslie Close, Somersby, NSW.